Theresa May has been sent to the naughty corner by the Obesity Health Alliance (OHA), which last month insisted the government "must try harder" to protect children from obesity.
In an August report card issued to mark the one-year anniversary of the government's Childhood Obesity Plan, the OHE warned current proposals wouldn't be enough to significantly reduce levels, currently at an all-time high. One in three kids are either overweight or obese by the time they leave primary school.
That's not to say ministers have been playing truant on the issue. In the 12 months after the PHE revealed its obesity plan, the sugar tax on soft drinks has been confirmed and manufacturers have agreed to big sugar reduction targets across food and drink. May even backtracked on her flagship manifesto to axe free school meals for primary schoolchildren.

The pm's u-turn on free school meals has dealt another blow to lunchboxes at a time when food and drink brands are facing more scrutiny from health chiefs than ever. According to a Tetra Pak study in August, one in four parents finds it difficult to choose healthy food for their child's lunchbox, and 0ver 36% say they often choose convenience over health when purchasing. So what does all this mean for kids dairy brands? And how are they innovating to encourage children to consume more cheese, yoghurt and milk?

The government's free school meals programme is undoubtedly having a significant impact on the lunchbox market - with consumption among five to nine-year-olds slashed in half in the three years following the initiative's rollout [Kantar Worldpanel 52 w/e 26 February 2017].

But while overall lunchbox occasions are still falling, children's meal occassions for dairy products like cheddar (+4.4%), ice cream (+7.4%) and milk drinks (+12.7%) are actually on the rise, with only yoghurts and fromage frais in decline [Kantar 52 w/e 23 April 2017].

Cheddar in particular has bucked the wider lunchbox trend, making its way into 13.2 million lunchtime occasions as parents swapped sugary snacks for higher protein alternatives. Kids are also eating more cheddar for breakfast (+12%) and as part of the evening meal (+10%), while snacking occasions outside main meals are up 1%.

"Consumers are increasingly seeking out natural products and this is particularly true of parents when it comes to their kids' lunchboxes," says Stephen Gregory, marketing director at Bel UK. "Cheese is not only benefiting from the increased consumer focus on sugar but also from growing recognition from the media about its nutritional benefits. The health benefits of protein, for example, have become more well known."
The kids' cheese snacking market is now worth more than £198m [Nielsen 52 w/e 24 June 2017]. Growth is reflected in an impressive sales performance from leading brands over the past year. Mondelez's Dairylea saw sales surge 16% [Nielsen 52 w/e 31 January 2017], while Cheestrings from Kerry Foods is also in solid growth, claims Anna Moore, senior brand manager at Kerry, with 55% of all households with kids aged five to nine buying the brand.
The after-school occasion
While changing perceptions around health are helping boost kids' cheese sales, branded innovation has also played a role in the subsector's success. Faced with the decline in lunchbox opportunities, Kerry turned its attention to after-school occasions with the launch last autumn of Cheestrings Scoffies - a three-in-one snack with cheese, a carb element such as crackers, and a healthier sweet treat. "Kids are always really, really hungry when they come home from school, and mums are spending lots of money buying lots of different snacks," says Moore. "There was a real opportunity to provide a three-in-one solution. It's performing really well."

Dairylea also extended its snacking lineup with Dairylea Dunkers Nachos this spring. Even more significantly, it overhauled its flagship cheese to meet the 'good source of calcium' claim.
Dairy for Kids Category Snapshot 2017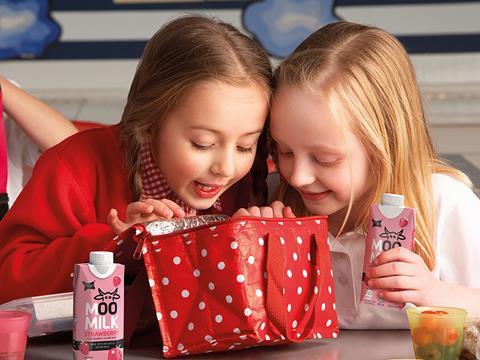 Kerry, which was already making on-pack proclamations about the calcium in Cheestrings, is now eyeing protein as the next big opportunity, says Moore. She predicts the success of the trend in adult food and drink will provide a halo effect for kids products. "Calcium has always been our lead claim in both cheese and yoghurt for kids, but protein is also vital for strength and brain power," she says. "Mums are seeing the benefits of protein."

Kerry added a 'high protein' claim to its Attack a Snack wraps range last year, and the redesign has been "a great success" Moore adds.

Of course, cheese isn't the only dairy product with nutritional benefits for kids. Milk is a "rich source of protein, calcium, vitamin B12 and iodine" - making it a vital part of kids' diets, argues Samantha Edgar, communications North West Europe at Tetra Pak. "The high-energy content and nutrient density of milk makes it an ideal drink for active children that will keep them full, while helping them stay hydrated," she adds.

According to Tetra Pak's April Making More of Milk report, only 55% of primary school-aged children drink milk at school on average, falling to just 35% of nine to 11-year olds.

"School milk needs to be safeguarded and policy best practice shared across different parts of the UK to encourage greater uptake," Edgar says.

In the meantime, dairy drinks brands are harnessing the health credentials of milk as they reposition themselves as a nutritional alternative to soft drinks. "The mixed messages in the press about dairy in recent years have caused mass confusion among consumers about the health benefits, but milk is an absolutely amazing product with countless benefits and an important part of our diet," says Andrew Howie, co-founder of Shaken Udder.

Parents are getting the message, with dairy drink packed lunch occasions up 25% over the past year, and children also consuming them more frequently for breakfast (+25%), in-home lunches (+28%), teatime (+23%) and evening meals (+40%).

"The sugar levy will no doubt encourage parents to look even more closely at not only the sugar content of the drinks their children are consuming, but the nutritional benefits." says Richard Duplock, marketing manager at FrieslandCampina's Yazoo.


Dairy drinks aren't quite as virtuous as fresh unadulterated milk, however, and Duplock warns some parents are still being put off by the perception they are laden in sugar. "Although nine out of 10 parents in the UK buy their children dairy snacks, only half currently buy milk drinks," he says. "Part of our marketing and PR challenge this year remains to boost awareness of the category, but also of the innovation within it."

The government is also stepping up its scrutiny of dairy drinks, with PHE in July urging manufacturers to agree to slash sugar levels or face the possibility of an extension of the soft drinks sugar levy in 2020.
Striking a balance
So, innovation and reformulation are moving at a rapid pace in the category, with brands looking to strike a balance between making drinks healthy and making sure they still taste good enough for children to want to drink them. Crediton Dairy recently relaunched Moo Milk as compliant with School Food Plan guidelines, containing less than 5% added sugar, while FrieslandCampina launched a Yazoo No Added Sugar range last year.

Kids' yoghurt brands are coming under even greater pressure to slash sugar. In March, after the National Diet and Nutrition Survey found yoghurt and fromage frais were among the foods contributing most sugar to children's intake, Public Health England set manufacturers a 20% sugar reduction target for 2020, as well as calling on brands to cut single-serve portions to a sales-weighted average of no more than 120kcal.

Brands are already taking steps towards this target. Müller has reformulated its Kids Corner range, cutting sugar by 50%, while Yoplait has rolled out a 17% sugar reduction across its entire Petits Filous range to 9.9g per 100g, as well as cutting sugar across its Frubes, Wildlife Choobs and licensed portfolio by 15%. "We're making a pretty significant contribution," says Rahul Gursahani, Yoplait marketing manager. "All of this work is not to force consumers to make a choice but to help them with the right offering."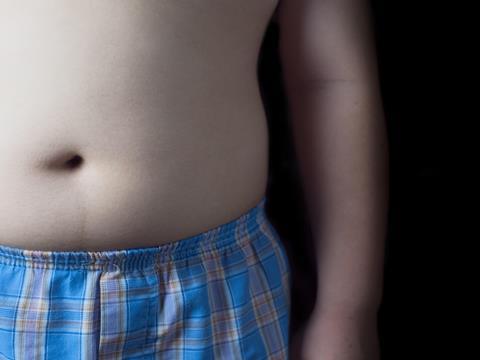 PHE to put calories under same scrutiny as sugar
In mid-August, PHE revealed new plans to scrutinise overall calories in food. Coming a year after the launch of the Childhood Obesity Plan, this latest initiative marks a significant step forward from its work to reduce sugar levels (which will see the Soft Drinks Industry Levy come into effect next April).
The new programme is aimed at both childhood and adult food - but with emphasis on kids, who are following grown-ups' lead by consuming hundreds more calories a day beyond the recommended daily amount, PHE said. "Reducing calorie consumption from sources other than sugar is critical to reversing the worrying obesity trend."
The public health body expects to publish its evidence early next year, with the aim of developing guidance, targets and timelines for a calorie reduction programme, consulting with the food industry, trade bodies and health NGOs.
The Department of Health has also funded a £5m National Institute for Health Research Obesity Research Policy Unit at University College London, which will look to develop a deeper understanding on the causes of childhood obesity - including marketing to children and families, social inequalities, and the early years of childhood.
Reformulation work isn't done yet, he insists, and the brand has also looked to boost the nutrient profile of its Petits Filous and Frubes range by ramping up vitamin D to around 50% RDA. "In the UK, where vitamin D is a top-five deficiency, we were making a meaningful difference to our consumers," says Gursahani.

Nevertheless, it has been a "pretty tough" trading environment for kids' yoghurt in recent years, he admits. Indeed, the key occasion for yoghurt and fromage frais among children, the evening meal, has slumped 3.8% year on year, while breakfast is down 7.4%. Even though consumption at lunch and teatime is in growth, it's not enough to pick up the slack.

"The kids yoghurt category has been showing steady decline over the last few years due to change in promo dynamics, the free school meals policy, and the press around sugar in kids yoghurt products," says The Collective brand manager Kate Collins.

The Collective has slashed the sugar in its Suckies pouches by 20% and is working with The Brownlee Foundation to encourage kids to get active. Big Tubes, its sharing pots range unveiled in the spring, contains no more than 9.5g of sugar - all natural - per 100g. "The Collective kids' yoghurt has absolutely no added nasties, and contains only naturally occurring sugars," Collins adds.

When it comes to kids meals, health isn't the only thing on parents' minds. They are looking for variety for their kids, with almost one-third of parents (31%) stating that finding variety is the most challenging aspect of lunchbox preparation," says Tetra Pak's Edgar. "They are also looking for convenience."
The mess-free factor
Kerry's Yollies and The Collective Kids are the only two ranges driving the kids' yoghurt category thanks to their convenient formats, claims Collins. "Both of these growing players are handheld convenient products, making it easy for parents to feed their kids their dairy intake in a mess-free way." Launched in 2014, The Collective's handy pouch range Suckies has "been growing organically year on year with trial-driving promotions and tactical marketing to get the goods into mums and kids hands" she adds.

Inspired by their success, other brands are dipping their toes in the category. Shaken Udder launched YogOaty, a fruit, oat and yoghurt pouch snack aimed at kids, in March. "The pouch format is mess-free, perfect for little hands and can be resealed," says Howie. "The need for on-the-go, convenient options goes hand-in-hand with healthy and low-sugar alternatives. Consumer expectation for products to provide multiple benefits - low sugar being one - is forcing brands like us to think more carefully about NPD, which is driving innovation."

YogOaty's launch was backed by activity including sponsorship of the Nuclear Rush Rookies, the series of outdoor obstacle races for under-14s. Meanwhile, other brands have taken a more typical approach to marketing to kids this year: licensed products and tie-ups with films. Kerry ran Emoji Movie promotional packs across all its children's brands, while Yoplait was one of the key UK grocery partners of Despicable Me 3. "We tend to lean quite heavily on partnerships with equities," says Gursahani.
"Consumers are seeking natural products particularly for their kids' lunchboxes"
The key benefit for such licensing is keeping a brand "relevant", Moore says. It's also extremely effective, she adds. "It's important to drive growth through engagement and excitement at the fixture. Kids' dairy is quite highly sold on promotion. The great thing about licensing is it adds value."

It's also safer and easier for makers of indulgent dairy products, given the tighter CAP rules that came in to effect on 1 July covering advertising of high in fat or salt or sugar (HFSS) food and drink to under-16s. These prevent HFSS products from appearing 'during or adjacent to TV programmes commissioned for, principally directed at or likely to appeal particularly to audiences below the age of 16 and cannot appear in non-broadcast children's media or media where the audience is more than 25% under-16s'.

While brands are doing everything they can to convince parents dairy products are a great choice for kids' lunchboxes, meals and snacking, they will need support from the wider sector, insists Shaken Udder's Howie. "We hope big dairy groups and official bodies will responsibly market the correct benefits of dairy in a consistent and clear way, to unclutter the myths and make it easier for consumers to understand. It's also important for us and other dairy brands to keep innovating."

There are lessons about the category to learn elsewhere, too - not least in government. The Obesity Health Alliance and other campaigners will be hopeful the prime minister is a fast learner.