Forget veganism. Flexitarianism is the biggest dietary trend making waves in dairy. While only 5% of British shoppers are eschewing milk, butter and cream altogether, one in three young adults (16 to 34) are now reducing dairy in their diet in pursuit of health and happiness, according to exclusive research by The Grocer.

This is good news for the dairy alternatives category, which is up 18.3% year on year to £384m as volumes surge 17.4% [Kantar Worldpanel 52 w/e 21 May 2017].

No dairy-free categories have seen volume or value decline this year. In fact, all but two are in double-digit volume growth, with only soya milk alternatives lagging behind (see table right). Butters, spreads & margarines, which only registered 1.2% sales growth last year, are in 25.9% value growth this year.
So what's driving dairy flexitarianism? How are retailers capitalising on demand? And are there any hurdles on the horizon, or is it blue sky all the way for dairy alternatives?

Shoppers are reducing dairy for a number of different ethical, lifestyle and health reasons, says Hamish Renton, MD of HRA Food & Drink Consultants. "The lifestyle consumer tends to be the biggest group. They participate for reasons it's difficult to pin down, including but not exclusively celebrity, influence of peer group, marketing claims and price promotions."

Rather than going the whole hog and embracing veganism, these "lifestyle consumers" are adopting a "flexitarian" approach, switching between dairy and dairy-free products, he adds. "They tend to be later to come in, and first to leave if there are any issues with it."

Shoppers tempted to dip their toe in dairy flexitarianism have more choice than ever. Not only are dairy alternative brands still pumping out NPD, but brands from other fmcg categories are starting to reach into the space.
Pip & Nut launched its first NPD outside the spreads category in June with three almond drinks, while coconut brand Vita Coco made its milk alternative debut in March.

Milk seems to be the product shoppers are switching out the most, with alternative 'milk' value sales reaching over £270m this year [Kantar], compared with £58m value sales in 'yoghurt' alternatives, and £26m for dairy-free spreads and margarines. "Plant-based or lactose-free milks are top of the list and while sales made up just 5% of cows milk's 15 years ago, they are predicted to reach 20% by 2021," says Scott Wotherspoon, CEO of The A2 Milk Company.
Dairy Alternatives Category Snapshot 2017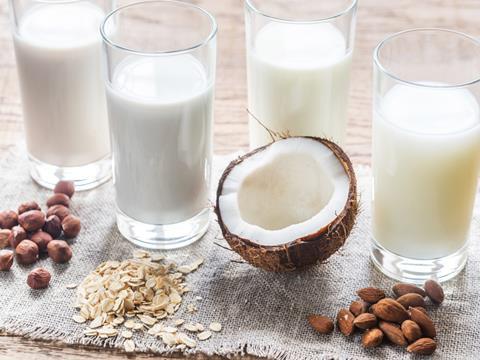 Within milk, nut & coconut-based products continue to enjoy strong growth - with sales up another 20.4% to £90.0m on volumes up 24.8%. But they are being outpaced by oat milk - which has enjoyed a 55% value sales surge to £15.5m on volumes up 47.5%.

Leading brand Oatly has enjoyed "significant growth" over the past 12 months thanks to greater distribution, says commercial director Johan Girdo. Its launch of a chilled foods range into selected Tesco stores last year - including 250ml tubs of Creamy Oat Fraiche (rsp: £1.55) - has also helped drive brand awareness.

This came as part of a wider push on dairy alternatives by Tesco, which launched a dedicated chilled fixture in collaboration with Alpro last October. Sainsbury's, which is enjoying the fastest growth in dairy alternative value sales, made a similar move in June. "Flexitarianism is having a huge impact on how retailers are merchandising the dairy aisle," says Julie Stevens, Alpro category controller for UK and Ireland. "Shoppers now see room in their fridge for a variety of dairy and plant-based options, and they want to see this reflected in what's available in store."

With the category given more prominence in supermarkets, it's "difficult to see growth slowing in the months to come" says Kantar analyst Chris Barron.


There is certainly no sign of NPD slowing down, with opportunities around on-the-go and kids' products set to shape the category in coming months, says Samantha Edgar, communications manager for North West Europe at Tetra Pak.

It won't be all plain sailing for dairy alternatives, though. A European Court of Justice ruling against TofuTown in June over the German company's use of designations such as 'milk' and 'cheese' on plant-based products has put the spotlight back on how brands are marketing their products. If UK dairy groups were inspired by the ECJ case to take action against brands, regulators here would likely take the same strict view as the ECJ, according to food labelling lawyer Katie Vickery, a partner at Osborne Clarke.
"Flexitarianism is having a huge impact on how retailers are merchandising the dairy aisle"
As consumers become more savvy about nutrition, brands are also facing growing scrutiny over product formulation, which Renton describes as the "dirty little secret" of dairy alternatives. He points to the fact many so-called coconut and almond milk alternatives actually contain less than 2% coconut or almond, with the main ingredient being water, followed by sugar. What's more, some dairy alternative brands use "numerous artificial ingredients and additives including stabilisers, emulsifiers and synthetic vitamins" to achieve the same nutritional profile as cows milk, adds Wotherspoon.

If the fickle 'lifestyle consumers' realise plant-based alternatives aren't the elixir of health they've been led to believe, there is a risk they'll abandon their flexitarianism and switch back to real cows milk products. In Renton's words, there could be a "day of reckoning coming" for dairy alternatives.