Cheesemakers across the Channel must have choked on their camembert the morning after the Brexit referendum. The sudden plunge in the value of the pound made their products around 7% more expensive overnight - a situation compounded in the intervening months as sterling has continued to slip. Add a resurgence of artisan British cheesemaking and continued demand from consumers for local products, and the prospects for Continental cheese sales in 2016/17 looked far from rosy.
In this report
But sales have defied expectations, posting healthy increases across the board. The market (excluding blues) grew by 5.5% in value to £488.3m, while volumes were up 5.8% to just over 65 million tonnes [Kantar 52 w/e 21 May 2017].

Part of the reason for this strong showing was that prices for Continental cheeses actually fell 0.25% during the period, with the supply chain taking a hit on margins and retailers protecting shoppers by repositioning ranges and reining in promotions. "After Brexit, most people had hedging policies so the drop in the value of the pound was offset by four to six months, but you can only hedge so far," says George Paul, executive director of Bradburys Cheese, which supplies Waitrose, Morrisons and Asda, and has been forced to increase prices on Continental cheeses by around 10%.
"We saw an initial round of price increases from October onwards when the pound was around €1.15. Retailers have countered it in the usual way by removing ranges, seeking alternative products and trading down in quality, such as taking the age profile down from 16 months to 12 months. Promotions have also been falling in a volatile market."

These tactics are only effective for so long, however, and Paul predicts there will be "another round of inflation-driven changes in the autumn".

While stable prices have helped, the main reason Continentals are performing so well is "a growing consumer appetite for more adventurous and indulgent variants" says Stephen Gregory, marketing director at Bel UK, which supplies Babybel, Leerdammer and Boursin. "People increasingly experience products out of home, in restaurants, on holiday or from celebrity chef inspiration, presenting big opportunities for Continental cheese brands," he adds. "Those who exploit this trend and invest in building long-term equity will attract new customers to the category and drive value growth."
Continental Cheese: Category Snapshot 2017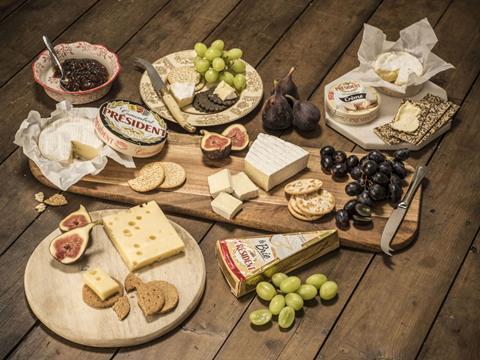 He points to recent investment in Boursin as an example of building brand equity. A sponsorship deal with Film4 was launched in April to coincide with new packaging and an improved recipe to target evening snacking.

Continental cheese sales have been largely flat in Tesco, Sainsbury's and Asda, with growth driven by M&S [value sales up 9.4%, the Co-op (+29.2%) and Aldi (+20%). Retailers have expanded their premium own-label ranges with seasonal lines and convenience products. Waitrose also had a decent year, growing value sales by 8.9%.

"This year has seen exponential growth in summer cheeses," says cheese buyer Rachel Gallo. "Feta has seen colossal growth in popularity - sales of the traditional Waitrose 1 Greek cheese have seen an increase of over 466% compared with last year. Waitrose 1 halloumi has also grown in popularity over the past 12 months."

Gallo tips stronger flavoured Continentals to perform well as consumer tastes evolve. "We expect blue, vintage, as well as washed rind cheeses such as époisses and reblochon to see significant growth."

Cooking trends, especially among younger shoppers, are also helping to shape the category, according to Mike Chatters, sales director for Lactalis McLelland, with big increases in sales of mozzarella, halloumi and feta for use in recipes. These lower-fat cheeses also tap health trends and the rise of vegetarian and flexitarian diets, he adds.

"UK consumers are increasingly adding new flavours, cuisines and products to their repertoires. Topping pizzas and pasta dishes with mozzarella is now normal for many households."
"After Brexit, most people had hedging policies, but you can only hedge so far"

The company's Galbani mozzarella and dolcelatte brands have recorded a 6.6% increase in value and volumes [IRI data 52 w/e 17 June 2017], helped by a £2.5m campaign including TV advertising and a digital campaign using loyalty card data to target shoppers with mobile phone advertising. The company is also putting the finishing touches to a digital campaign to bolster sales of its Président soft cheese, expanded last year with Camembert Crème - milder and less pungent than traditional camembert.

Such initiatives helped Continental brands outperform own label in 2016/17 (brands' value sales grew 7.4% versus own-label growth of 5.1%). Even so, in the long term supermarket own labels continue to take market share from brands, says Paul. "The main trend has been towards expanded own-label ranges. We're seeing cheeses such as gorgonzola, comté, taleggio, manchego and aged Dutch gouda in retailers' premium ranges. Quite a number of tertiary brands have lost their position on shelves."

Soaring import costs for Continental cheeses have made British cheeses more price-competitive, but this has not yet translated into UK producers taking shelf space from their European counterparts.

British versions of camembert and brie have not slowed growth of the original French products, while other imports such as parmesan, manchego and feta are protected under EU law and cannot be made in the UK. The scale and expertise on the Continent also make it hard for specialists in the UK to compete.

"There has been a huge renaissance in artisan British cheese, but these companies are still very small," says Paul. "People tend to lump speciality Continental in with artisan British but Italian, French, Spanish and Swiss companies are on a much larger scale. We're talking thousands of tonnes compared with hundreds."

That said, UK companies are making strides in this area with the Cornish Gouda Company recently winning a listing with Booths and Simon Weaver supplying Morrisons with Cotswold brie. As Paul says: "British versions of top Continental cheeses might be the place to be going forward."