The yoghurts category has found itself in the crosshairs of Public Health England's war on sugar and the signs are both consumers and suppliers are starting to turn their backs on sugary pots.
In this report
As The Grocer revealed in November, manufacturers faced calls to slash sugar levels as talks kicked off with government health bosses.
War was declared on big pots, deemed far too loaded with sugar for consumers' waistlines and teeth, despite their continued rise in popularity on the shelf.

So how has the category reacted and will it be enough to prevent companies being named and shamed by PHE when it makes its landmark report on sugar reduction progress next April?

Under its finalised targets, released in March 2017, yoghurt manufacturers were urged to slash average sugar content from the 2015 baseline of 12.8g/100g to 12.3g by August 2017, with a 20% reduction to under 11g recommended by 2020. The clampdown covers all sweetened dairy yoghurts, and fromage frais including non-dairy alternatives, with only natural yoghurt, unsweetened yoghurt and fromage frais exempt. Although voluntary, like the other targets, a controversial portion cap was also set for single-serve pots, with a maximum size of 175kcal but a smaller sales-weighted average size of 120kcal to be the norm.
With PHE promising to reveal the names of companies that fail to play ball, the scale of the change needed - and the sheer number of products that might have to be reformulated or shrunk - was made clear in research by The Grocer, which found a whopping 43% of single-serve yoghurts fell foul of PHE's proposals.

Out of a total sample of 892, 382 single-serve pots were over the proposed portion cap size, including 87% of Müller Rice products, 75% of Müller Corner pots, 42% of all Rachel's products and 29% of Yeo Valley. Many yoghurts on supermarket shelves came in above the baseline sugar figure, let alone that proposed for 2020.
Yoghurts Category Snapshot 2017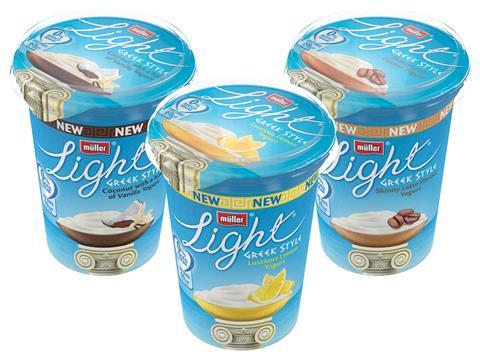 The increased focus on the category from health officials means shoppers are also more aware than ever about the sugar in their yoghurts, and latest sales data suggests they are starting to abandon the worst offenders.
With parents at the forefront of concern over sugar, kids' yoghurts in particular have suffered a big blow, with value sales down 14% on volumes down 16.% [Kantar Worldpanel 52 we/22 May 17].


Sugar reduction
Yoghurt manufacturers have responded by announcing drastic reductions in sugar to get sales moving back in the right direction.

In November, General Mills brand Yoplait announced a 17% sugar reduction across its entire Petits Filous range, bringing the products well below PHE's 2020 sugar content target, and in January it followed suit with its Frubes and Wildlife yoghurt tubes, with a 15% reduction announced. "We have had very positive discussions with PHE," says marketing manager of Yoplait Rahul Gursahani. "Our products make up 60% of the kids market and we have shown we are very serious about reducing the levels of sugar, to the extent that we are already well below the 2020 figure on these leading products."

The Collective also reformulated its range of Suckies pouches for kids last year, removing all added refined sugar. The luxury yoghurt brand has now reduced sugar content across its entire range by around 25% since it began "proactively" reformulating in 2014, says co-founder Amelia Harvey. "We hope to further bring down the average sugar content of our existing products in the next two years."

With all yoghurts now in the firing line, other manufacturers are being forced to follow suit. "The government has suggested that further action may be taken if the progress made against these targets turns out to be insufficient," says Clare Denham, head of category and market strategy at Danone Dairies. "Sugar reduction is one of the big trends shaping the market landscape and although the yoghurts & desserts category isn't one of the largest contributors of added sugar in the general diet, all categories need to play a role."

Danone has been taking steps to "actively reduce sugar content" across large parts of its portfolio," says Denham. Last year, it launched its new Light & Free brand, a Greek-style yoghurt with zero fat and sugar - and claims sales are growing at more than 130% year on year.
"43% of single-serve yoghurts were found to fall foul of PHE's proposals on sugar content"
Split pots, which have suffered double-digit falls in value growth, are another area being rapidly rethought by manufacturers. In March Müller launched a reformulated Müller Fruit Corner Strawberry recipe, the most popular flavour of the range, with 19% less total sugar. In January the company made its Müllerlight Greek Style range 0% added sugar, reducing the total sugar by more than 20%.

"We are taking a sensible, sustainable and considered approach to reducing added sugar in our products, and we're making real progress," says Michael Inpong, chief marketing officer at Müller. "Our strategy is to offer more choice in terms of portion size, introduce new products with lower or no added sugar, and reformulate existing recipes without compromising taste."

Industry sources suggest it is too soon for Kantar figures to show the full impact of PHE's clampdown - the body itself will release landmark figures on the first year of its reformulation programme in April. However, Sally Dorling, marketing manager of Tims Dairy, claims yoghurt in general has been "demonised" and that consumers are demanding change. "We have definitely received more queries via email, social media and at sampling events regarding the sugar content of our products, as consumers have grown more aware of the potential health impact."
Greek
Despite this, value sales across the category are holding up, with a 2.3% drop in branded value sales balanced by 5.8% growth from own label. This is primarily down to ongoing demand for Greek and Greek-style yoghurts, with value sales up 12% and volume sales soaring by 15% year on year compared with value and volume decline for non-Greek variants.

"Greek-style continues to be the fastest growing category for yoghurts and this is set to grow throughout 2018 - good fats are now deemed healthy and keep you fuller for longer," says Tims Dairy's Dorling.

Yoplait has launched a new Greek-style 450g pot under the Liberté brand, aimed at the breakfast market, and is set to launch a new "super indulgent" (6% fat) Liberté dessert yoghurt range in October. "I don't think consumers despise fat in the same way at the moment as they do sugar," says Gursahani.

Danone's Denham claims shoppers are split between two conflicting camps when it comes to yoghurt choices. "We actually see two concurrent growth trends in the category that are almost running counter to one another: health and indulgence," she says. "While consumers consider yoghurt to be an inherently health-focused category and are increasingly looking for natural, free-from products, they also want options that allow them to indulge and treat themselves."
"Increasing consumer awareness of sugar content and artificial sweeteners is currently reflected in the shift to more natural products,"

Harvey agrees shoppers are increasingly opting for luxury yoghurts as a "healthier" indulgence. She claims The Collective's 450ml range is currently growing at 26% year on year [IRI 52 w/e 18 June 2017]. "Many of the more indulgent yoghurts contain natural ingredients and do not contain artificial additives, which can sometimes be added to more 'health'-focused yoghurts to help achieve a low fat or sugar claim," she adds.

Indeed, while fat-laden Greek products have thrived, the active health category has seen a double-digit fall in value sales, with cholesterol-lowering products seeing even bigger falls in both volume and value. "Increasing consumer awareness of sugar content and artificial sweeteners is currently reflected in the shift to more natural products," agrees Gayle Harrison, marketing director at Emmi UK.

Retailers are paying close attention to these trends as they embark on a slimming process of their own, slashing promotional activity across the yoghurts category. "Own-label innovation has capitalised on the growth trends around health, with many major retailers creating own-label offerings of natural and flavoured big pots as well as free-from products. Tesco's dairy-free range of yoghurts is one example of this," says Denham.
Certainly, when it comes to health, the war on sugar is not the only big driver in the sector. Soya and dairy-free products saw an increase of more than 40% in value sales and over 30% in volume.

Meanwhile, big pot plain yoghurts, not covered by PHE's demands for reduced portion sizes, are still enjoying double-digit value and volume growth. "Rather than choosing a pre-sweetened or flavoured product, consumers are using great tasting, high quality natural yoghurt as a base for dishes and adding their own toppings such as granola, seeds and a range of fruits," says Azhar Zouq, managing director at Lancashire Farm Dairies.

With shoppers more clued up about nutrition than ever, manufacturers are also tapping emerging health trends to reclaim yoghurt's healthy halo. Arla extended its protein range with the launch of a new yoghurt pouch format in April, which rolled out alongside a new Protein Greens pot featuring kale purée. It also added fruit and veg combinations to its Skyr range earlier in the year.

The Collective has poured its yoghurts into pouches to offer adults an on-the-go protein hit. It launched its new Pro-yo pouches, which contain a blend of Collective yoghurt and quark, in June and Harvey says the feeback has been "fantastic".

As part of its marketing campaign, the brand teamed up with Harley Street nutritionist Rhiannon Lambert to "demystify" protein. "We found that many consumers were still a little clueless about protein and had a misconception that protein products were just for bodybuilders," says Harvey.

Faced with ongoing bad publicity over sugar, other manufacturers are upping their marketing game. Yoplait plans to use characters from Aardman, creators of Wallace and Gromit, in a new campaign to market its recently reformulated Frubes range, while Müller backed its recent launches with heavyweight TV, digital and print support and has sponsored five major athletic partnerships since last year to stress its health credentials.

For PHE, however, the proof is more likely to be in the pudding, or rather the results of its market data research, which is expected to kick off in the next few weeks and will show whether or not yoghurt manufacturers have actually stepped up to the plate on sugar.