Pre-pandemic, butter & spreads was one of the most lacklustre sectors in dairy. Covid changed that. How long can growth last?
Lockdown has been a boon for butter. Sales of block butter in particular have surged as housebound consumers have turned to cooking and baking to relieve the torpor of self-isolation.
Dairy alternatives, by contrast, have been left in the dust, with both functional and sunflower products returning negative growth.
Can butter sustain its recent momentum if and when coronavirus restrictions are removed? And how can dairy alternatives fight their way back into favour?
Prior to February this year, the BSM category was flatlining. Sales growth stood at just 0.3%, [Kantar 52 w/e 23 February 2020] as the spreadable subcategory in particular struggled with price deflation. Since then, lockdown has transformed the fortunes of the category.
A surge in usage occasions has driven value and volume growth of 10.2% and 12.1% respectively [Kantar 52 w/e 12 July 2020] with block (up 16.3%) and dairy spreads (up 14.7%) the engine of that value hike.
Toast in the morning, sandwiches at lunchtime, baking in the afternoon and scratch cooking in the evening – all of these have contributed to the stellar growth of butter and spreads over the past six months.
"Butter and baking subcategories have become more prevalent in lockdown, as shoppers moved to and continue to embrace scratch cooking and home baking," explains Rosie Bramley, category buying manager for dairy at Co-op, which achieved the greatest value share gain of the leading retailers.
"Butter and baking subcategories have become more prevalent in lockdown"
The leaders in branded block butter all claim to have benefited royally from the fact that an unprecedented number of consumers have been eating three square meals a day at home. Heloise Le Norcy-Trott, group marketing and category director for Lactalis UK & Ireland, declares Président Unsalted Block Butter "one of the biggest winners in the butter category during the pandemic" with 30.5% value sales growth year on year. "This growth was primarily due to the trend for home baking during lockdown," she adds.
Saputo Dairy says that Country Life is also outperforming the wider butter market over a six-month period, gaining 24% in volume sales, driven by strong availability and increased appeal of British products.
Rocketing in-home dairy consumption during the pandemic also helped boost UK sales for Arla in the first half of 2020, with the supplier reporting sales of Lurpak and Anchor up 20% and 17% respectively.
MD Ash Amirahmadi told The Grocer in September that a surge in lunch occasions had contributed to the increase. "As we have the two biggest butter brands… we benefited from that consumer change," he said.
Although spreadable butter has fared well (up 7.3% in value) it hasn't kept pace with block. Ornua Foods marketing director Mike Harper believes there are a number of factors in play.
"If you're making fewer shopping trips then block is more universally usable for different occasions," he says. "Block has also benefited significantly from the baking trend."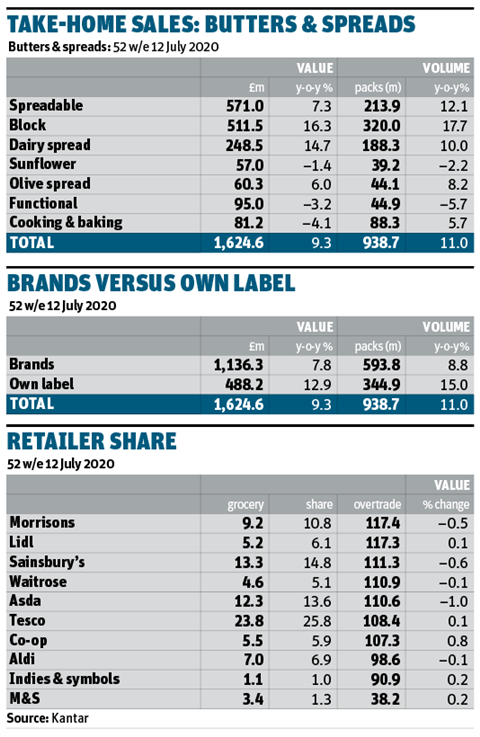 Discerning home bakers
Home bakers using butter as an ingredient in cakes and pastries have not been prepared to compromise on quality, according to Harper, who says Ornua's Kerrygold block butter has been a beneficiary of the trend. "We know from our consumer research that when people bake, because they put so much care and attention into it, they want to feel like they're buying the best raw ingredients."
Wyke Farms MD Rich Clothier concurs. "Home bakers are very discerning about what they are using and as a result we've seen good growth," he says. "If they're taking the care to make something themselves it's logical that they'd want to use the best ingredients they can."
This refusal to compromise on quality hasn't come at the expense of own label butter. In fact, own label block is growing at 16.9% versus branded growth of 15.3%.
Joel Barlow, senior category marketing manager at Müller Milk & Ingredients – a major own label supplier – says the key to own label's growth is penetration, which is up 29.5% year on year.
"Interestingly, the fastest rate of growth from a life stage perspective is actually pre-family, which is up 104% year on year, in terms of volume growth," Barlow adds.
Bramley says that both branded and own label products are driving strong value growth at Co-op, with Lurpak Spreadable and Co-op Unsalted Butter providing the highest growth in the past 12 months.
Within dairy spreads, meanwhile, brands such as Clover have benefited from growing weight of purchase among existing buyers as well as smaller gains from attracting new shoppers, according to Emilie Grundy, marketing controller B&S at Saputo Dairy UK.
She notes that Clover has gained 13% in volume sales over the past 26 weeks with both Original (up 14%) and Light (up 8%) ranges in good growth.
The same can't be said for dairy alternatives, a group that includes functional products like Benecol and sunflower spreads like Flora.
Functional sales slipped 3.2% in value during the past year, while sunflower recorded a more marginal 1.4% decline.
Suppliers say the lockdown period has simply accelerated a market move to dairy that was already apparent pre-coronavirus.
"The shift towards real butter was already on the increase as customers look for more natural, healthier products with fewer added ingredients," says Robert Graham, MD at Graham's The Family Dairy.
"This is making butter the more appealing option over new spreads that are generally made with additives and preservatives."
Wyke Farms' Clothier says he is not surprised that non-dairy butters are losing favour because people are looking for more "unadulterated" natural foods from naturally reared animals.
"That's great news for smaller and independent producers of butter," he adds.
Catherine Lloyd, marketing director at Flora owner Upfield, suggests that in recent months, uncertainty in the economy has affected shoppers' choice of healthier foods. As a result, some BSM segments perceived as healthier are either losing ground or "aren't growing quite as strongly as other segments".
Lloyd, however, strikes a more positive tone where Upfield's own hero brands are concerned.
"Flora and Stork are just two of our brands which have bucked the downward trends and excelled throughout this year," she says, adding that "plant-based eating is a major consumer trend and one that we believe is here to stay".
Since purchasing the Flora portfolio from Unilever in December 2017, Upfield has invested heavily in repositioning the brand as 100% plant-based in a bid to capitalise on the trend for vegan and flexitarian-friendly products.
And with Upfield viewing home working as a long-term trend, Lloyd says Flora can be another beneficiary of consumers having more time to bake and cook from scratch.
However, there are signs Upfield is starting to question its purely plant-based approach. In mid-October, after Lloyd made the above statement about the longevity of the plant-based trend, the company bowed to consumer pressure and reintroduced buttermilk to Flora Buttery.
"Consumers are seeking choice and every consumer is looking for a product which is specifically tailored towards their needs," said general manager Damian Guha.
Regional winners
Other beneficiaries of lockdown have been suppliers who have a strong regional presence. Bramley says the Co-op improved its regional offering with the likes of Shirgar in Wales, Longleys in Yorkshire and Trewithen in Cornwall, allowing customers to support local dairies and buy premium provincial products.
Graham, meanwhile, says the eponymous dairy very quickly mobilised its teams across the country to be in a position to offer a personal doorstep delivery service to more people in Scotland who were affected by lockdown.
"As we start to slowly get back to normal life over the coming months, we believe that consumers will continue to look for high-quality, local and great-tasting produce instead of imported brands as the importance of provenance increases," he says.
Harper agrees provenance is an area of growing interest to consumers, an insight reflected in Ornua's recent marketing.
In August, Kerrygold ran its first TV ad campaign for four years, highlighting the brand's Irish heritage and "unique grass-fed taste".
A further marketing push is planned for next year and Harper believes provenance, linked to production methods, will continue to grow in importance for UK shoppers.
"The trend is relatively emergent in the UK, but it is something that more and more people are focusing on," he says. "We've seen more people spontaneously ask about our grass-fed system."
If lockdown has had a negative impact on the BSM category it's been on the rate of new product development.
In part this is the result of retailers looking to streamline their operations in order to keep the shelves stocked during the recent periods of unprecedented demand.
Grundy says that in order to maximise availability of product during the early period of peak lockdown demand Saputo "took the difficult decision to focus on our biggest selling lines, working with retailers to proactively rationalise our range in order to ensure we could fulfil demand of core lines".
This meant temporarily deprioritising some larger packs and lighter SKUs, though Grundy adds that Saputo has since resumed and maintained full and consistent supply levels.
Clothier, meanwhile, suggests the pandemic has served to increase the risk around innovation. "NPD is risky enough anyway. When retailers are contracting their ranges that becomes even more difficult," he says.
Buoyed by the surge in at-home consumption, some suppliers, like Ornua, have been happy enough to sweat their core ranges.
"We are very much focusing on our core block butter brands," says Harper. "We think we've got a lot of headroom [for growth]."
As consumers hunker down for a long winter at home, he may just be right.
Innovations in butter 2020
This article is part of The Dairymen - our annual guide to the dairy industry that's packed with insight and analysis on all the latest trends. To read the report, subscribe here.
A new sugar tax? The Dairymen drinks category report 2020
1

2

3

4

5

Currently reading

Back by the basketful: The Dairymen butter & spreads category report 2020

6

7

8