Guess who's back. After years in decline, vegetable fat spreads are back in growth, with sales up £12.5m in the past year. What's behind this rebirth?
It's enough to give dairy farmers the heebie jeebies. For as butter slides down a slippery slope, butter alternatives are being resurrected.
Sector sales may be up 2.3% to £1.47bn, but this is purely inflationary. Volumes are sliding, with the supers shifting nine million fewer kilos of butters & spreads in the past year, a 2.4% fall [Kantar 52 w/e 19 May 2019].
Olive and low-fat spreads are the biggest contributors to this, with volumes down 19.3% and 16.3% respectively. Block and spreadable butters are down 0.8%, by 1.3 million fewer kilos.
Meanwhile, combined sales of vegetable fat spreads, including those blended with buttermilk and dairy-free lines, are up 5.6% to £223.7m on volumes up 3.9%. Such growth is hair-raising, considering sales have been in decline for years.
So what's behind the rebirth in such spreads? Is the growth sustainable or just a blip? And what can butter players do to stop sales slipping further still?
The first thing to note is that the butters & spreads sector has been struggling for years, thanks to macro trends such as the rise of food to go, changing ideas of what constitutes healthy eating and the switch from bread and potatoes to noodles, rice and other grains.
But beneath the headline figures, tectonic shifts are taking place. Just two years ago, butter was on the up as brands trumpeted butter's 'natural', unprocessed credentials. Meanwhile, vegetable fat spreads were down 10.3% on volumes down 7.8% [Kantar 52 w/e 21 May 2017].
"High prices are shaping shopper behaviour. They are choosing to manage spend by buying less"
How times change. Our 2018 Top Products report revealed who's fuelling the revival of these spreads. Upfield's I Can't Believe It's So Good grew 43.5% on volumes up 39.5% in 2018; Saputo's Clover, Vitalite and Utterly Butterly brands also achieved big gains [Nielsen 52 w/e 8 September 2018].
But before you start pointing the finger at the much-vaunted rise in plant-based dairy alternatives, think again. After all, Clover, Utterly Butterly and I Can't Believe It's So Good all contain buttermilk, so have been unable to cash in on the growing vogue for veganism.
No, their growth is more economic than ideological. "High retail price points continue to shape shopper behaviour," says Neil Stewart, butters & spreads marketing controller at Saputo, which acquired Dairy Crest and its spreads brands in April.
"Household penetration of butter remains flat year on year, with the majority of those who migrated to butter in the period of low retailer pricing staying in the sector as prices inflate, but choosing to manage spend by reducing volume bought."
Butter penetration may be holding steady, but this doesn't tell the whole story. According to Kantar, shoppers are buying less frequently and putting less in their baskets when they do. This is partly down to the macro trends described above, but it's also likely that shoppers are at times switching to alternative spreads as a way of sidestepping the rampant inflation butter has seen in the past year.
Inflation
Block butter prices are up 7.3% to an average of £1.62 a pack; spreadable butter is up 4.1% to £2.77. Vegetable fat spreads are up just 1.6% to £1.27 a pack, so the savings speak for themselves. Tesco is selling a 500g tub of Lurpak for £3.75. You can pick up the same volume of Clover for just £1.85 [Kantar].
Olive spreads have been hardest hit by inflation, with average price per pack up a staggering 17.9%. Not only does this explain the sub-sector's crash in volumes, it also suggests olive spreads' decline has been a key contributor to vegetable fat spreads' growth this year. The average price of a pack of olive spread was 8p less than vegetable fat spreads (not including dairy-free) in the year to 20 May 2018; this year it's 11p pricier.
Rather than switching from butter to cheaper vegetable fat spreads altogether, however, many shoppers are switching to own label. Own-label spreadable butter is now the fastest-growing part of the market as those still shopping the fixture look for ways to make a saving. "Own-label spreadable butter sees massive 24.5% growth in spend year on year," says Kantar analyst Michael Ndukwe.
And you don't have to be a mathematician to work out why. Own-label spreadable is 94p cheaper than branded, on average. No wonder spreadable brands are down 0.1% on volumes down 4.5%. A 500g pack of Tesco's Butterpak spreadable butter currently sells for £2.20. It will cost you that amount for 250g of market leader Lurpak and a 500g pack of Anchor will set you back £3.50. Head to the discounters and shoppers can pick up a 500g pack of Aldi's Valley spreadable for £1.99, and Lidl's Danpak for just £1.89.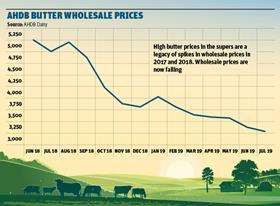 Although it's true that own label's success is partly being driven by the growth of the discounters, spreads brands also report booming sales in this channel. Utterly Butterly is among the brands to be featured in Lidl's latest 'big 99p event', where 500g packs are 99p as opposed to £1 in the supers, and Upfield says I Can't Believe It's So Good is now the second-largest spreads brand in volume terms within the hard discounters.
It means the big butter brands are having to work hard to justify their price. "Promotional de-escalation to manage ongoing high input costs has grown the need for brands to add value for consumers via other means," says Saputo's Stewart.
Following consumer research suggesting 57% of shoppers would be more likely to purchase block butter if the packaging was easier to open and reseal, Arla unveiled what it claims is the "first block butter packaging innovation in 60 years" earlier this month.
The resealable Lurpak Butterbox is a "convenient reclosable box that addresses the consumer barriers and frustrations with block butter in foil". It has an rsp of £1.95 for 225g, versus £1.95 for a 250g block of standard Lurpak.
Müller Milk & Ingredients has also hinted at future NPD. "We're in the middle of a comprehensive review to assess the opportunities that will enable us to unlock incremental category growth," says Joel Barlow, senior category marketing manager.
Other butter brands are turning to marketing to add value. Saputo is partnering with English Heritage and Cadw – the historic environment service in Wales – by offering 2-for-1 entry to historic attractions on packs of Country Life.
Kerrygold owner Ornua, meanwhile, is looking to address concerns about the dairy industry's environmental and animal welfare record with a new digital campaign.
"If consumers have made a belief-based decision to change their lifestyle, I think there's very little that can be done to bring them back," admits marketing director Mike Harper. "What we can do, and are doing, is be clearer about the way Kerrygold is produced to counter any concerns around animal welfare."
Plant-based
They'll need to step up such efforts. "The opportunity for plant-based is huge right now," says Steven Hermiston, general manager at Upfield, which relaunched Flora as plant-based in March. "The brand has gone through a huge transformative process: rebranding the packaging, improving the product's recipe and investing in a substantial advertising and consumer awareness campaign. Feedback is extremely positive."
The rise of plant-based is, arguably, a greater long-term threat to butter than growth in buttermilk/veg oil blends. With butter cost pressures now easing (left), shoppers who switched on price grounds may soon be lured back. Those who switched on ideological grounds will be tougher to bring back.
Indeed, you could say it would be akin to raising the dead.
Butter suffers hangover from 2017 cost spikes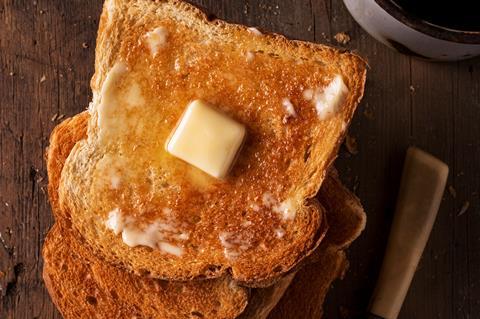 Ouch. The butters & spreads sector has seen average retail prices rise 4.8% in the past year [Kantar 52 w/e 19 May 2019]. Block butter prices are up 7.3%; spreadable is up 4.1%.
This inflation is a hangover from past events, of course. "We saw a huge uplift in wholesale butter and cream prices at the start of 2017, and then again at the start of 2018," explains head of market specialists (dairy and livestock) at AHDB Dairy Chris Gooderham. "But on-shelf prices didn't move for a number of months."
There are a number of reasons for this. "There is always a delay between wholesale markets and retail prices," continues Gooderham. "This is mainly because products into retailers will often be agreed for longer periods, so it takes some time for negotiations to flow through to on-shelf prices."
Own label has seen the greatest uplift in price per pack in the past year, up 5.9% versus brands' uplift of 4.4%. This has narrowed the gap in price per pack between branded and own-label block butter to just two pence (own label has been selling for an average of £1.61; brands £1.63).
If all this makes you wince, take a look at the olive spreads sector, where average prices are up 17.9% to £1.38 a pack. The price of branded olive oil spreads, led by Upfield's Bertolli, is up a staggering 35.2% to £1.69 a pack, while own label has climbed by just 2% to £1.01 per pack. This has been driven by poor olive crops in Europe and ongoing exchange rate volatility. And there's no let-up in sight for olive spread producers, adds Gooderham.
"Olive oil prices have increased according to Kantar," he explains. "The most recent 12-week period is showing a 17% rise versus the same period last year. If we look at the EU wholesale markets, prices have risen over the past few weeks amid some poor growing conditions for crops, but prices had fallen a lot prior to that. Given the level of imports for olive oil though, some of the rise will be driven by the movements in sterling."
With sterling nosediving as fears of a no-deal Brexit rise, there's not much relief on the horizon. The easiest way to avoid or reduce your exposure to exchange rate and Brexit risks is to source product from the UK, says Gooderham.
"That's not so easy if you're selling a product that we don't produce in the UK."
The Dairymen
From lab-made milk to butter shortages, our annual definitive guide to the dairy category is full of insight and analysis on the latest trends shaping the industry. This year, The Dairymen will explore how the UK's exit from the EU will affect British dairy, and ask how the industry can make sure it is prepared to tackle the supply chain pressures it might bring, as well as making the most of potential new export markets.
Gold and Platinum members will be able to download The Dairymen from 14 September. Subscribe now. We'll be publishing insight and analysis from The Dairymen online throughout September and October.