While ice cream vans were driven off our streets in lockdown, sun and staycations led to a boom in handheld frozen treats
The above image will have been a familiar sight for many Brits earlier this year. In parts of the UK, ice cream vendors were forced to stay home when councils withdrew licences for vans during lockdown.
In areas where vans were still allowed (as long as social distancing rules were observed), a few drivers were scared off the roads by death threats from locals. "Some of the general public were, quite understandably, stressing about the fact everyone should be at home," Ice Cream Alliance CEO Zelica Carr told The Guardian in May.
Stress understandable? Definitely. Also perfectly reasonable is residents of van-less neighbourhoods turning to grocery for their handheld ice creams and ice lollies. Such was demand that most handheld sectors enjoyed faster value growth than the overall ice cream market's 12.8% [Kantar 52 w/e 12 July 2020].
Chocolate stick snacks, including Magnum and Feast, grew by 17.3% to £323.8m, while kids' lollies such as Fab increased by 13.2% to £126m. At the same time, adult refreshment options – Solero and the like – shot up 19.9% and coated snack bars (Mars choc ices, for instance) rose by 14.8%. Only filled cones, a sector led by Cornetto, grew slower than the category. But it still added a respectable 10.9% to reach £126.4m. In total, the five handheld sectors were responsible for 64.5% (£88.6m) of the extra £137.3m the ice cream category generated over the past year.
Froneri customer marketing controller Henry Craven says the spectacular growth of handheld "has largely come from families, who have driven an increase in dessert and snacking occasions at home, where ice cream has played a starring role". He points to brands with broad family appeal, such as Rowntree's, as the most impressive performers.
"People aimed to recreate the holiday experience in their own back gardens"
Of course, some "great weather" helped drive sales too, adds Andre Burger, Unilever VP for foods & refreshment. Combined with the rise in staycations, summer sunshine resulted in strong lolly sales as people aimed to "recreate the holiday experience in their own back gardens".
Plus, handheld options have been popular during the pandemic for hygiene reasons. Shoppers see them as a safer bet than larger formats that could transfer the virus through repeated handling. That's according to Kat Jones, marketing manager for ice cream at General Mills, which early this year relaunched its Häagen-Dazs stick range with an improved chocolate coating.
The timing was perfect. The relaunch hit shelves just before Covid and Brits started reaching for comfort foods. In stressful times, people are more likely to crave sweet treats, Jones notes. "The demand for extra comfort and pleasure fits perfectly with what the ice cream category can deliver."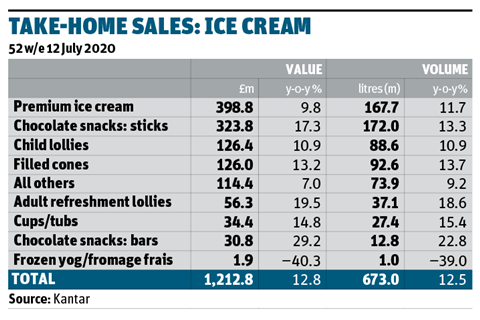 Better-for-you lollies
Traditionally, a comforting ice cream would be something indulgent. And that's still often the case. After all, indulgence remains a key motivation for shoppers choosing ice cream, says Kantar. But not always – and brands are increasingly catering for people wanting better-for-you options, even during a global crisis.
Take the new Wall's Guuud range available in Raspberry, Blueberry and Salted Caramel. It's a handheld ice cream made from Greek yoghurt with live cultures, providing no more than 84 calories per 80ml serving. But it still "delivers on the rich and creamy taste and texture that shoppers are looking for" claims owner Unilever, which launched Guuud in May.
"The demand for extra comfort and pleasure fits perfectly with the ice cream category"
Halo Top's similarly reduced-calorie handheld options have been around a little longer – and they continue to gain ground. The better-for-you brand has seen a 15% value sales uplift over the past 12 months, says Halo Top director Matt Fulbrook. The lollies are "a welcome addition to our tub range, enticing a new consumer that enjoys portion control".
Equally enticing to shoppers will be the price of handheld formats across grocery. Ice cream has long been a heavily promoted category. But average prices barely budged this year in spite of supermarkets axing most offers during the height of lockdown. In fact, chocolate snack bars and kids' lollies are actually a touch cheaper – by 0.8% and 0.7% respectively. Only chocolate sticks are pricier on average, up 3.3% [Kantar].
That's even though prices shot up temporarily for a short period during the pandemic, according to Froneri's Craven. "Lack of promotions led to heavy category inflation. But demand for ice cream remained high, with the category attracting more buyers and delivering strong volume growth."
And there's more opportunity for growth in handheld, he believes. The format is now a year-round favourite with shoppers, so retailers need to be more accommodating. "There's a sizeable opportunity for retailers to better utilise the space in their ranges," Craven says.
Looks like ice cream van operators could soon have even more to worry about.
Ben & Jerry's 'responsibility to use brand's voice for good'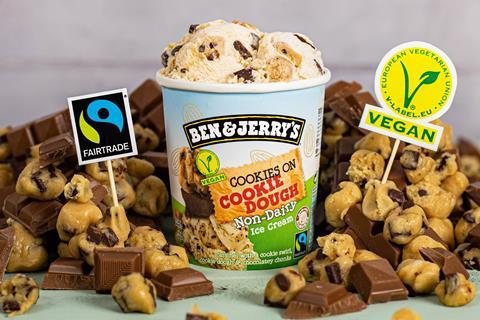 Ben & Jerry's hit headlines in August for a Twitter thread in which it challenged home secretary Priti Patel over her comments on refugees.
She had referred to an "unacceptable number of illegal small boat crossings" from France.
The ice cream brand responded that "people wouldn't make dangerous journeys if they had any other choice", adding it was "enshrined in the 1951 Refugee Convention that crossing a border 'illegally' should not impact your asylum claim".
The tweets attracted a pile-on from critics. Spectator chairman Andrew Neil, for instance, replied: "Stop posing as some kind of hippy ice cream play. You're now wholly owned by a massive global conglomerate called Unilever."
Ben & Jerry's shrugged off the attacks, which is no surprise given its history of backing the downtrodden and disaffected around the globe.
In 2017, for instance, it announced it would not serve two scoops of the same flavour in Australia, due to the refusal of the country's government to legalise same-sex marriage.
The brand says it has "a responsibility to use our voice for good".
Indeed, Ben & Jerry's has worked for some time to advance the rights of refugees and asylum seekers.
And earlier this year it backed Black Lives Matter protests with a call to "dismantle white supremacy" – while in September it renamed its Coconutterly Caramel'd to Save Our Swirled Now to raise awareness of climate change.
"Our fans care about systemic change just as much as they do about chunks and swirls," adds the brand.
This article is part of The Dairymen - our annual guide to the dairy industry that's packed with insight and analysis on all the latest trends. To read the report, subscribe here.
A new sugar tax? The Dairymen drinks category report 2020
1

2

3

Currently reading

Cold comfort: The Dairymen ice cream category report 2020

4

5

6

7

8