Branded butters and spreads are now cheaper on average than own label, but volumes are still suffering. What's going on?
Strange but true: branded butters & spreads now cost 32p per kg less than own label, following a year of rampant price inflation. The average price of brands is £3.83 per kg; own label weighs in at £4.15 [Kantar Worldpanel 52 w/e 20 May 2018].

It gets weirder still. Even though own label is now pricier than brands, shoppers have bought an extra 2.6 million kg of the stuff this past year. Own label average prices are up 29%, yet volumes grew 3.1%; branded prices rose just 9.5%, but volumes slipped 3.4% ahead of the overall market, which is down 1.8% in volume terms [Kantar].

Strangest of all, though, is that discounters are the driving force behind butters & spreads inflation. Aldi and Lidl have seen average prices spike by 25.2% and 24.3% over the past two years respectively, compared with an average market price rise of 14% over the same period [104 w/e 20 May 2018].

So what is going on? Can brands revive their fortunes? And will higher prices stop the discounter onslaught?

There are a number of dynamics at play here. Brands have been hit just as hard by eye-wateringly high commodity prices as own-label suppliers, and many have been forced to hike prices on block butter. "Against a backdrop of unprecedented cost inflation in the butters market, most brands are having a hard time," says Dairy Crest's marketing controller for butters & spreads Neil Stewart.
"Unprecedented cost inflation in butter means most brands are having a hard time"
However, their reliance on deals continues to weigh down on prices overall, with 65% of branded butters and spreads volumes sold on promotion last year [Kantar].

Shifts in consumer buying habits have also played a role. With block butter prices surging by over a third, some shoppers have started trading down to cheaper spreads. Just look at sunflower spreads' triumphant return to growth after years of decline, with sales up 7.1% on volumes up 6.9%.

"The shift in retail prices has caused a twofold shift in shopper behaviour: butter buyers have cut back on the amount they are buying, driving butter volumes down, and attractive pricing in spreads has caused some shoppers to switch out of butter, driving a revival of spreads," adds Stewart.

It's not just price that's causing shoppers to reappraise spreads. Changing ideas of what constitutes 'healthy eating' has also given butter alternatives a boost. "The spreads category is benefiting from the growing trend for plant-based eating, with more shoppers choosing free-from options and 'buttery spreads' as alternatives to traditional butter," says Steven Hermiston, general manager at Upfield Foods, home to Unilever's former spread brands Flora, Bertolli and Stork. "With one in three UK consumers now identifying as flexitarian and ongoing health concerns around salt and fat levels, plant-based spreads have become very relevant to consumers' lives."

That such spreads typically sell for significantly less than butter and are dominated by brands helps explain why brands are now cheaper than own label on average. But it doesn't tell the whole story.
Is there any end in sight to butter price inflation?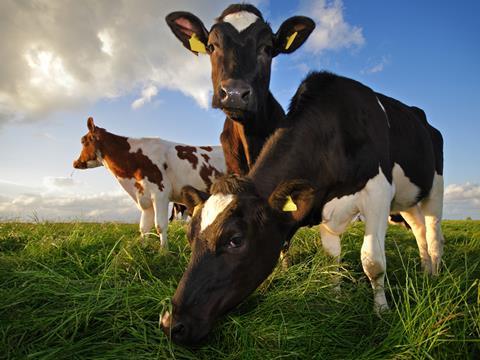 'Tight supplies' best describes the latest situation with the dairy commodities markets, according to AHDB Dairy.
Unfavourable weather in New Zealand and dwindling milk supplies in the EU sent global butter prices soaring to £6,000 per tonne last autumn. And while prices have since dropped thanks to a recovery in global production and the selling off of the EU's stockpile of skimmed milk powder, they are still high.
Wholesale butter prices have reached seasonal highs every month since March 2017, with prices at £4,660 per tonne in April 2018, up £935 compared with April 2017 [AHDB Dairy 16 May 2018]. Cream prices, meanwhile, are still 'all over the place' as thin trade means prices vary depending on how much cream is required and when deliveries are needed.
The market does appear to be stabilising. "Oceania's weather seems to have stabilised and production seems to be back on track," says Jana Sutenko, a dairy & processed commodities analyst at Informa's Agribusiness Intelligence. "The EU continues producing large amounts of butter and the skimmed milk powder intervention stockpile sellout seems to be successful so far, lowering the pressure on wholesale prices."
However, the impact of Brexit shouldn't be underestimated, according to Rabobank dairy analyst Richard Scheper. The UK currently imports more butter than it exports - particularly from Ireland - so butter could become more expensive if Britain fails to negotiate a free-trade deal with Europe. Any extra customs checks at borders could also push up costs for consumers.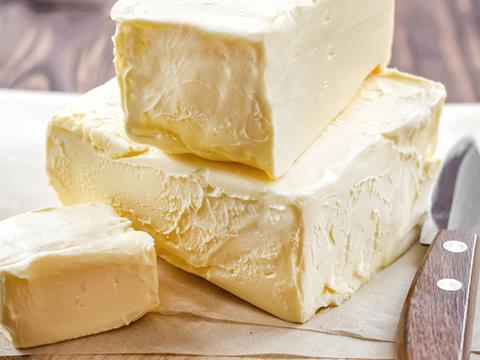 As the Dairymen went to press, there were also concerns about the impact of this summer's heatwave on production in the UK. "Farmers have been voicing concerns over the effects of the heatwave that might soon kick in," says Informa's Sutenko. "Dry weather has not affected the productivity of the cows yet, but if the situation stays unchanged, there might be water shortages in some regions of the country."
And with cream prices remaining volatile, the longer-term dynamic in butters and spreads remains difficult to predict, says Dairy Crest's marketing controller for butters & spreads Neil Stewart.
"It seems likely, however, that if retail pricing of butter remains high, spreads will continue to see a benefit as consumers switch to cheaper alternatives," he says.
Changing the mix
A sharp decline in sales of flavoured butters - which have average prices well over double the market average - has also accelerated the shift in brands' product mix to cheaper variants. Lurpak's Infusions range, including a sea salt & pink peppercorn blend, disappeared from the market within a year of launch and the brand's garlic butter variant has been removed from Sainsbury's in the past year, for example.

At the same time, avocado and coconut spreads from the likes of Flora Freedom and Vitalite - which commanded a considerable price premium over standard dairy-free spreads - have also disappeared from supermarket shelves.

With price pressures mounting in the category, mainstream lines are also taking a hit. Kerrygold Spreadable was axed by Tesco in May and the brand's block butters lost significant space as a result of the latest phase of Project Reset.

All this lost shelf space means branded volumes are suffering. And with "no end to the inflation of butter, maintaining a healthy brand and planning for the future continues to be challenging," says Mike Harper, marketing director at Ornua, which owns Kerrygold.

But all is not lost. Just as the vogue for plant-based diets is helping to fuel a tentative renaissance in butter alternatives such as sunflower, demand for foods perceived to be less processed (and therefore more 'natural') continues to fuel demand for premium butters that can demonstrate genuine provenance.

"Specific consumers want to go further in understanding where their food comes from," says Harper. "We'll be focusing on informing consumers about specifics of herd size and days on grass unique to Kerrygold."

Président, whose latest NPD is a spreadable butter with sea salt crystals, also believes premiumisation is the best way to get shoppers to swallow higher prices necessitated by cost price increases. "Health-conscious consumers are looking for more natural - in many cases, more premium - and less processed foods," says Lactalis McLelland's sales director Mike Chatters, who claims Président's sales are up 35.5% on volumes up 15%, with spreadable and block both in 'robust' growth thanks to its production processes and Normandy roots.

Taste is also crucial. Müller says it has identified a £201m opportunity with its foray into BSM - a spreadable butter made with 73% butter, rapeseed oil and buttermilk. In contrast, Anchor Spreadable contains 54% real butter, while Lurpak Spreadable contains 64%.

Tesco listed four variants of Müller's Spreadable range as part of its range review, as well as a Müller-branded block butter previously only sold in convenience. "We're confident we can shake up this sector," says head of customer value Rebecca Oliver-Mooney. "We can drive consumption across all age ranges, particularly families."

Graham's the Family Dairy's marketing director Carol Graham, meanwhile, thinks British butter brands will have a chance to shine as consumers look for "high quality, local and great tasting produce instead of imported brands".
Plant-based opportunities
Butter aside, the surge in demand for plant-based spreads also presents a "huge opportunity" insists Hermiston. But how much brands can capitalise on these opportunities will, of course, depend on whether the discounters can sustain their growth while keeping a tighter lid on prices than their rivals.

So far, they are doing just that. Volume sales are up 15.8% at Aldi and 11.6% at Lidl, which remain cheaper than the major mults for BSM despite big price hikes this year. Their own products sell for £3.59 a kilo, versus the market average of £4.15.
With 44% of own-label butters and spreads sales through the discounters, that explains why own label is growing ahead of brands, despite higher average prices across the market, says Kantar Worldpanel dairy consumer insight director Rachel Knight. "Volume growth is through the discounters; because the majority of their business is own label, that's boosting total own label performance."

Still, things are changing. In the year to 22 May 2016, Aldi was selling its butters & spreads for an average of 90p per kg less than brands. The price difference is now 35p. Lidl was selling for 64p less - now just 12p per kg separates them.

If that gap narrows any further, things could get even stranger. Brands might be down, but they aren't out yet.
Download the PDF version of this report
---
Back to the future: why doorstep milk delivery is undergoing a resurgence
1

2

3

4

Currently reading

Down & out? The Dairymen butters & spreads report 2018

5

6

7

8

9

10