Britain's cheesemonger shops are as varied as the products they stock.
Locations range from city centres to tiny rural villages. Some shops stock only cheese while others carry a full range of food and drink. Some focus on British-produced cheeses, while others have a more international outlook.
We ask a selection of shop owners – all finalists or winners of this year's Farm Shop & Deli Awards – about what makes their offer stand out from the crowd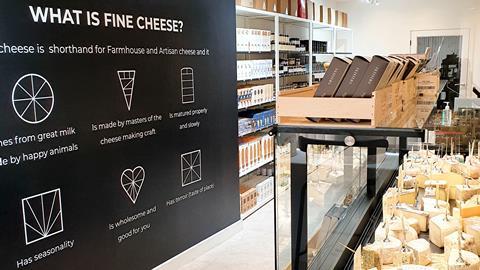 The Cheese Lady
Haddington, East Lothian, Scotland
Established: 2017
The Cheese Lady shop was built on a passion for farmhouse and artisan cheese, explains proprietor Svetlana Kukharchuk:
"I fell in love with cheese when I lived in New York City and worked at Murray's Cheese retailing, maturing cheeses and assisting at tasting events. After Murray's, I trained in France with the affineur Hervé Mons and made a farmhouse cheese by hand on a farm in Scotland. I opened my first cheese shop in St Andrews in 2010 and sold it in 2014. As my life took me from Fife to East Lothian, I opened the shop in Haddington and named it what my St Andrews customers used to call me: The Cheese Lady."
What is your business ethos? The vision of my business is lifelong wellbeing through natural food. I want to see a world where people enjoy natural foods, including real cheese, with joy, in balance and in good company and as a result enjoy lifelong wellbeing and strong social connections. In order to reach that vision, the mission of my business is to inspire wholesome and joyful living – one person, one fine cheese, one occasion at a time.
What makes you stand out? Cheesemongers are all unique and everyone brings their own vision to the world. My uniqueness is largely due to my international background. Because I'm not from one of the main cheese-producing countries you would normally find represented in a British cheese shop, I have a completely unbiased attitude to where cheeses come from. My main mission is to find cheeses that are wholesome and naturally good for you, that taste amazing and that will bring joy and happiness. At The Cheese Lady we also aim to personalise our recommendations based on each customer's unique taste, favourite drink or occasion, making sure every customer buys cheeses perfect for them.
What has been your best business decision? It's still very early days as my book launched only this month, but I feel that even writing the book was a really good decision. It helped me clarify my thinking about fine cheese, where it fits in our lives and how to enjoy it in a balanced and healthy way. I hope this book will help customers understand real cheese better and appreciate it year-round, and not just at Christmas.
How has the pandemic changed your business? It made me take another look at our digital shop and improve our customer experience online. Having taken on board all the customer feedback about our previous websites, we launched the third version of it this July.
What advice would you give someone opening a cheesemonger? Be sure you love cheese and business so much that you are prepared to live and breathe it 24/7. And, above all, stay curious and keep learning and tasting new cheeses every day.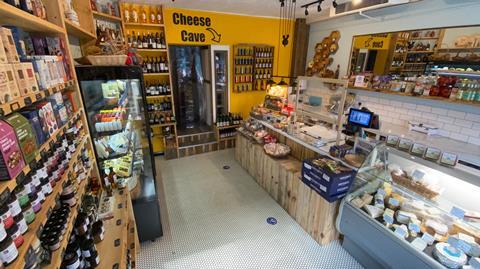 The Little Cheesemonger
Rhuddlan & Prestatyn, North Wales
Established: 2017
The Little Cheesemonger was established after redundancy left owner Gemma Williams jobless, she explains:
"I decided to lease a small shop in Rhuddlan and start selling the cheese I couldn't buy anywhere in the area. I'd been selling cheese across the country for many years and knew North Wales was missing the good stuff."
What is your business ethos? Life is too short for eating cheapo cheese. I strive hard to raise the standards of cheese consumption and local produce profile in the area. Opening eyes to what they could be enjoying rather that sticking to everyday ho-hum.
What makes you stand out? Passion, knowledge and personal sacrifice.
What has been your best business decision? Growing the business by expanding to another premises in December 2020.
How has the pandemic changed your business? It completely changed our online shop, I used the think our website was a waste of money until Covid kicked off. Then it became the main source of income. Now it's back to normal I'm still happy with how the web sales are going.
What advice would you give someone opening a cheesemonger? Don't do it for the money! Seriously, do it for the love of cheese.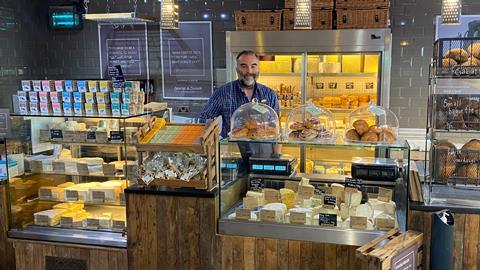 George & Joseph Cheeemongers
Leeds, West Yorkshire
Established: 2012
George & Joseph Cheesemongers started selling cheeses at farmer's markets and fairs in and around Leeds, explains founder Stephen Fleming:
"After establishing there was a demand for artisan produced cheeses, we opened our first shop in Chapel Allerton, Leeds in 2013, then moved to larger premises in 2017."
What is your business ethos? We support small-scale British cheesemakers in particular. We want to spread the word about great-tasting cheeses, and offer a range of products that are different from those in supermarkets. We love to educate our customers and have a fun and relaxed approach to our business, as we realise it can be a bit daunting for customers visiting a specialist shop for the first time.
What makes you stand out? We've got a great team of knowledgeable staff, who take the time and interest in each customer to help them get the best selection of cheeses. We have fun helping our customers and try to make buying cheese a relaxed and enjoyable experience.
What has been your best business decision? Moving to larger, more prominent premises in 2017. Our first shop was on a side street, and I realised that the high street around the corner was the place to be. We moved next to the butcher, fishmonger and greengrocer and our takings doubled. Everything they say about location is true.
How has the pandemic changed your business? We pivoted quickly to offering an online local delivery service, which had a great take-up. At its peak last year we had three drivers out delivering orders locally. We built a lot of processes and systems to handle the demand, and these are still in place. We're using the same systems to develop our wholesale offering and they've proven invaluable at Christmas time to give us accurate data about advance orders. We also developed Zoom-based tasting events, which have proven really popular, and these will continue to be part of our offering.
What advice would you give someone opening a cheesemonger? Think about what your offer is going to be. We started with a focus on Yorkshire-produced cheeses to give us a focus. Get out and talk to cheese producers, other retailers and wholesalers. Also make the business multi-strand. The best piece of advice I was given was that you won't make a living just selling cheese over the counter. Our events, online, and wholesale operations all contribute to the bottom line.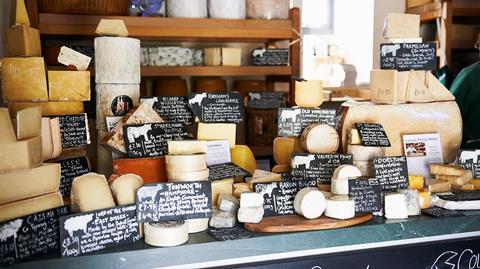 The Courtyard Dairy
Settle, North Yorkshire
Established: 2012
Founder Andy Swinscoe worked for some of the top cheesemongers in Bath and London before deciding to set up shop in the north of England, where he came from, he says:
"Initally we were in a very small shop just championing 25 raw milk, farm-made cheeses. As we visited each farm, selected batches carefully and matured them on-site our reputation for quality, unusual cheeses spread and we now employ 21 people and operate from a much larger site incorporating a restaurant, wholesale and mail order."
What is your business ethos? To champion and support on-farm cheesemakers, maturing them on-site and only selling them when they are in perfect condition.
What makes you stand out? We don't compromise. A limited range, but cheeses that are specially chosen. We concentrate heavily on service and staff training – the shop should be an experience akin to that of a top restaurant.
What has been your best business decision? To move to our current site was a huge gamble. It took every spare penny we had, selling my parents-in-law's house and a £500k mortgage on top. But it enabled us to grow and achieve our goal of helping a cheesemaker set up on site.
How has the pandemic changed your business? We became more delivery orientated initially and did a lot of virtual cheese tastings. But the main thing it did was focus our attention to what mattered in the business. Although retail is an area that struggled the most during the pandemic, it made us realise it is the one we enjoy the most and sets us apart from others. So next year we are concentrating on further improving our retail offering to make the shop an even more special experience.
What advice would you give someone opening a cheesemonger? Stay true to your opening mantra. Don't compromise just to make money.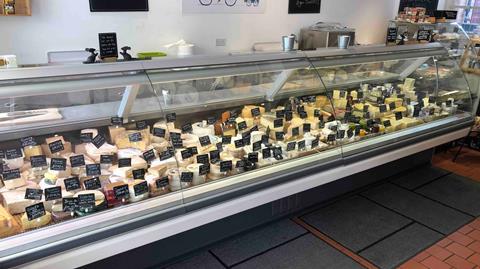 Cheese Etc
Pangbourne, Berkshire
Established: 2005
Cheese Etc has a strong bias on British cheeses and was "very loosely" modelled on Patrick Rance's shop a few miles away, explains co-owner Jen Grimstone-Jones. Many people remember author and cheesemonger Rance, who is credited with having saved the British artisan cheese culture, she adds.
What is your business ethos? To make people smile and be happy. We are customer-focused and our aim is for every customer to leave our shop happier than when they arrived.
What makes you stand out? We have a vast range of cheeses – about 150 different types in our cheese counter at any one time. We have a huge turnover of cheese with virtually zero waste, and our customers are always greeted with a smile. My partner and I are often in the shop serving behind the counter, and our customers like the fact that the shop's owners are there working alongside their staff.
What has been your best business decision? Opening six days a week. When we took over the shop, it was only open Tuesday to Saturday and was closed for an extra day following a bank holiday. Mondays are now just as busy as any other day. The other thing we did was to lower the prices of a lot of our products. We don't have loss leaders in the shop but we are very competitive and customers who come in each week for half a dozen eggs and a block of butter are just as important as those who order a large wedding cheese tower.
How has the pandemic changed your business? We launched a new website in April 2020, just as lockdown hit. We had been planning it for a couple of months and within days we were getting 100-plus orders a week. Initially we saw a huge uptake in web sales but the shop was open throughout and we had a steady stream of people coming in and shopping locally. Pangbourne has really good independent shops and customers can get all of their daily needs without having to leave the village. During the pandemic we have had a lot of locals staying at home and they have come out in their droves to support the shops.
What advice would you give someone opening a cheesemonger? Don't be scared of following your dreams. We knew nothing about cheese when we took over the shop in 2015 but since then we have won the Cheese Counter of the Year at the World Cheese Awards and the Cheese Shop of the Year at the Farm Shop & Deli Awards. It is a fantastic industry to be in; hard work but brilliant.
Are you a specialist retailer looking to source the best quality local and regional produce? Visit the Farm Shop & Deli Show 2022 to find trend-setting food and drink from hundreds of British suppliers, plus the latest technology and industry insight. Register your interest now.

This article is part of The Dairymen - our annual guide to the dairy industry that's packed with insight and analysis on all the latest trends. To read the full report, subscribe here.