Giants of yoghurt are racing for space in chillers with dairy-free offers. What prize is at stake – and who will come first?
Yoghurt is shaping up to be the next frontier of the plant-based trend. Over the past six months, mainstream yoghurt suppliers like Danone and Emmi have staked their claim on a share of the fast-growing subcategory with new dairy-free additions to their ranges.
And with experts predicting consumer penetration of plant-based yoghurt will more than double from its current 3% to 7% in the next three years, the sky's the limit for the sector.
So what's driving its growth? And what impact is the plant-based boom having on sales of dairy yoghurts?
As more consumers adopt flexitarian eating habits for health and environmental reasons, they are increasingly looking for dairy-free options across all categories.
Yoghurt is no exception. Value sales of dairy alternatives have grown 13.8% in the past year to reach £85.8m [Kantar 52 w/e 12 July 2020].
The incumbents
To date, the trend has largely benefited incumbent players. Alpro currently commands a 70.8% share of the plant-based yoghurt segment, according to the supplier, and does not plan to rest on its laurels, it says. In July, it added to its Big Pot line-up with the launch of its first 100% oat-based variant, Alpro Absolutely Oat.
"We recognised that oat drinks are now a firm favourite amongst consumers," says David Jiscoot, marketing director for Alpro UK&I. The company's read of the market sees "oat on track to become the number one ingredient in plant-based drinks by the end of 2020" he adds. "Naturally, this means that there's a huge opportunity to mirror this success in the yoghurt aisle."
Fellow plant-based giant Oatly feels the same way. In the same month as Alpro was launching Absolutely Oat, it introduced Oatgurt, an oat-based yoghurt alternative available in strawberry, blueberry, plain and Greek-style flavours.
"Before Oatgurt, the choice for consumers was really limited," says Ishen Paran, general manager at Oatly UK.
"The yoghurt alternative category was dominated by soya and coconut crops, leaving people with little choice outside of this," he adds.
"Due to this rising popularity of oat in alternative drinks, and the scale of growth in that category, we knew there was a real demand out there, and an opportunity for us to provide that choice."
"The category was dominated by soya and coconut, leaving people with little choice"
Rather than let dairy-free brands like Alpro and Oatly chip away at their market share, some of the category's leading dairy makers have responded by investing heavily in building their own plant-based manufacturing capabilities.
Take Danone. Writing in The Grocer in July, Warren Ackerman, head of European consumer staples research at Barclays, noted how the supplier has an objective to treble its plant-based sales to €5bn by 2025.
The fmcg giant recently created a plant-based acceleration team whose job it is to accelerate the growth of brands like Alpro, but also to launch plant-based versions of its biggest brands such as Activia and Danette.
Sure enough, in July, Danone launched the first dairy-free variant for its Actimel yoghurt drink in the UK.
Actimel 100% Dairy Free uses a blend of roasted almonds and oats along with two different strains of live cultures and vitamins D and B6.
The supplier also revamped its Oykos Greek-style yoghurt brand in October with the addition of a plant-based variant – and it added a dairy-free option made from almond milk to its range of yoghurt launched in January under the Danone masterbrand.
Mark Scannell, head of category at Danone Essential Dairy & Plant-based UK & Ireland, believes traditional dairy and plant-based alternatives are complementary categories "that can very much co-exist". Danone is predicting that in 2023, plant-based will represent 7% of the yoghurt category, attract one in three households and account for 200 million usage occasions.
Emmi is also banking on the flexitarian trend sustaining its current momentum. It has launched Beleaf, a range of drinks, yoghurt alternatives and cultured shots made with almonds and oats.
Beleaf is pitched as "a bold lifestyle brand with great shelf-standout and an unwavering commitment to delivering great taste".
Laura Graham, head of marketing at Emmi UK, says that while initial penetration of dairy alternatives was driven by young, affluent early adopters "we're now seeing shoppers from all walks of life buying into the sector, with penetration growth across all ages, life stages and affluence".
High-protein yoghurt still packs a punch say brands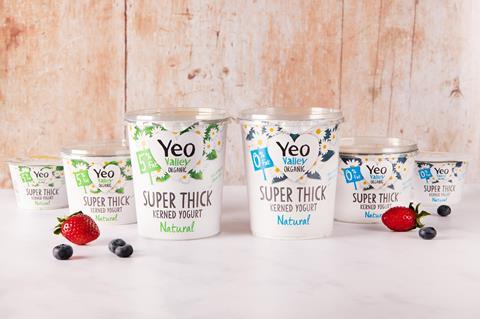 The flood of plant-based yoghurt NPD over the past 12 months should not detract from ongoing innovation in products that deliver a protein hit. Indeed, far from being yesterday's news, protein remains a trend of which many yoghurt suppliers are keen to take advantage.
"Many new product launches have evolved around positive health," says Jonny McIver, category manager at Yeo Valley, which recently launched a new Super Thick range. McIver says the range "brings together the important health trends of higher protein and lower sugars and carbohydrates".
Skyr, which is naturally rich in protein, is a popular delivery vehicle for fitness-oriented products. In June, Müller launched its first ever Skyr product, Müller Corner Icelandic Style Skyr, which head of category Carol Hand says taps into the dual trend for health that doesn't compromise on flavour.
"For shoppers, we know that taste is the most important factor when it comes to choosing yoghurt, but they're also telling us that health and happiness go hand in hand," she says.
In a clear signal that Müller is targeting young, fitness-obsessed consumers, the launch was supported by a multimillion-pound marketing campaign starring brand ambassador and world athletics champion Dina Asher-Smith.
Meanwhile, Graham's The Family Dairy has extended its own Skyr range with the launch of 'on-the-go' pouches, positioning them as pre- or post-workout snacks. The brand says the launch was so successful it will roll out its Protein 22 quark in the same pouches this month.
Room for growth
The Collective co-founder Amelia Harvey points to overseas markets New Zealand and France, where dairy alternatives represent 10% and 13% of the yoghurt category respectively, as evidence of why it sees "massive headroom" for further growth.
In January next year, The Collective will take its first steps into the dairy alternatives segment with Plant, a range of Greek-style, plant-based yoghurt alternatives with live cultures.
Not to be outdone, retailers are developing their own successful lines of dairy alternatives. Lidl's Just Free is the fastest-growing range in private label, according to Kantar. The range currently has two lines: a 450g soya yoghurt assorted case and a 2x125g coconut yoghurt assorted case.
"Although currently a small portion of the market, we see demand for alternative dairy products growing rapidly and as such we are hoping to expand the range early next year," according to Lidl.
Startups are also jostling to replicate the success of fast-growing peers such as the likes of Oatly. In July, Real Foodists, the 'clean label' startup backed by Müller and Bel Group, made its UK debut with Yo'ridge, a three-strong range of breakfast pots billed as a cross between yoghurt and porridge but entirely plant-based, combining bio-live cultures and a blend of oats, lentils, sesame and coconut, as well as fruit and maple syrup.
While plant-based sales soar, diet yoghurts are heading in the opposite direction (down 15.1% in value) as consumers reject products that promote the ingredients taken out in favour of those that make a virtue of what is put in.
"The diet category is based on older health messages such as [low] fat and calories, while health has evolved much more to goodness and what's in the product," says Harvey.
Fermented drinks
Fermented drink kefir is one of the beneficiaries of the trend. Harvey says sales of The Collective's kefir cultured drinks are growing at 6% year on year and its kefir cultured yoghurts are growing at 142%, "driven by consumers looking to proactively look after their health during and post the pandemic".
Biotiful and Actimel are among the dairy brands to have partnered with Sainsbury's this year in developing dedicated fixtures where products that can support immune system health are grouped together in the dairy aisle.
Danone's Scannell says initial results from the introduction of Actimel-branded 'Immunity Bays' in stores have shown a 26% rise in incremental purchase, with 78% of shoppers claiming they made shopping easier.
Biotiful founder Natasha Bowes notes that public interest in immunity as a result of the coronavirus pandemic has benefited sales of the brand.
"What we're finding is people can really relate to the natural immunity message that Biotiful essentially delivers through improved gut health," she says.
Current UK penetration of kefir products stands at around 10% compared with 90% in Russia and parts of Scandinavia.
Bowes believes there is significant headroom for further growth, though she says innovation needs to be delivered in a way where the product and messaging are relevant to consumers.
"I would say that our kefir protein is part of the new generation of dieting products because it's low in fat, high in protein, has a low calorific value and doesn't have any sugar in it," she says. "It's not that the diet is irrelevant, it's just that the old-school dieting products are no longer so relevant to the consumer."
Biotiful's latest attempt to boost penetration is through the launch of a range of Biotiful Kefir Shots and a four-strong Kefir Yoghurt range that marks the brand's first foray into the mainstream yoghurt category. Bowes says both products open up "wider horizons" for consumption.
"All of these ranges, no matter whether they are a little more functional or treat-like, will always look to combine the taste and health benefits," she says.
Such innovation puts even greater pressure on mainstream diet brands to reposition their products to win back custom. Carol Hand, head of category at Müller Yogurt & Desserts, admits Müllerlight "has had its challenges" but says she is confident a new split pot range, Müllerlight Crunch, will disrupt the diet and low fat yoghurt market.
"The response since launch has been really positive," says Hand. "We've driven further appeal with new shopper groups via social media activation and we think that we have found the perfect solution for many shoppers."
There is better news for Müller in the luxury subcategory, where overall sales are up 11% boosted by a lockdown surge. Hand says the supplier sold more Müller Corner yoghurts during lockdown than in any period in the past three years.
"We think this is being driven by four factors," she says. "We've invested heavily in the product, shoppers value trusted brands, people are eating at home more and it's a sub-sector with lots of growth potential."
In a year that has seen high levels of innovation in the yoghurt category, Müller has also introduced its biggest-ever Müller Corner, containing 13g of protein, and a transparent corner so shoppers can see the inclusions – a development Hand describes as "revolutionary" for the brand.
The Rachel's brand, meanwhile, has been extended with the launch of Cream Top, an indulgent 150g single pot of yoghurt with "an authentic cream top", and Naturally Gorgeous, a 390g big pot Greek Style natural yoghurt with a fruit compote.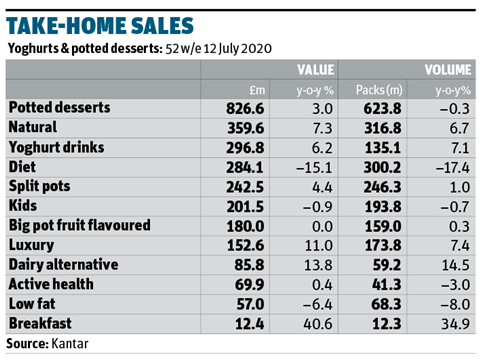 Kids' yoghurts
While lockdown has increased consumption opportunities across most yoghurt subcategories – thereby supporting high levels of innovation – kids' yoghurts have suffered as a result of school closures and a consequent drop-off in lunchbox occasions.
"In May, June, and July the category experienced some softness versus last year driven mainly by the portable and on-the-go segment of the category as the vast majority of kids were not at school so there was less of a need for inclusion in lunchboxes," says Joanna Goodman, head of marketing, yoghurt (Northern Europe) at General Mills.
Sales of kids' yoghurts are down 0.9%, and while most suppliers acknowledge the negative impact of home schooling, some believe the pandemic can't solely be blamed for the poor performance.
"An issue impacting the category is the perception that children's yoghurt is less healthy than adult yoghurt and as a result more parents are leaving the category than arriving," says Jonny McIver, category manager at Yeo Valley.
McIver believes delivering kids' yoghurts in the right format will be key to turning the situation around.
"An issue is the perception that children's yoghurt is less healthy than adult yoghurt"
"At Yeo Valley Organic, we've just launched our Little Yeos pouches, which are lower in sugar than other competitors but still taste great and are accessible to eat in snacks, picnics and on the go," he says.
Goodman supports the view that convenient formats are of growing importance to modern parents.
The supplier's Petits Filous Mess Free format boasts an "anti-spill cap" and has racked up sales of £3.7m in the past 12 months, according to Goodman, making it "the number one kids' innovation of the past three years".
Lowering sugar content remains firmly on the agenda for suppliers of kids' yoghurts. Lactalis Nestlé recently launched Munch Bunch Magic Fruit, whose 7.9% sugar level is "below the average of the market", according to marketing director Matt Brown.
Goodman, meanwhile, believes there is headroom for growth in dairy alternatives in the kids' subcategory. She says plant-based options only make up 0.3% of value for the segment despite estimates that around 10% of eight to 16-year-olds are vegetarian or vegan.
Further evidence, as if it were needed, that the plant-based yoghurt trend is here to stay.
Demand for puds in pots jumps in lockdown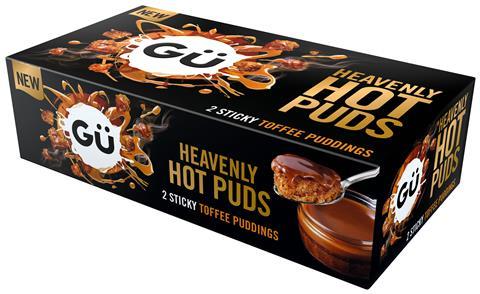 Potted desserts have benefited from the shift in consumer spend from outside to inside the home that has been a defining feature of the food market during coronavirus.
Value sales growth of 3% suggests people denied an indulgent pud in their favourite restaurant or pub are compensating by eating more at home. "Now more than ever, consumers are seeking out permissible indulgence," explains Carol Hand, head of category at Müller Yogurt & Desserts. "Our Müllerlight Chocolate Fix product, which is a silky and smooth Belgian milk chocolate dessert, but is 97kcal or less, has delivered significant uplifted performance," she adds.
Gü marketing director Amy Heap says premium brands like Gü have performed especially well, noting that the brand is now at its highest ever retail sales value of £60m, adding over £11m in value sales in the past year.
Gü has changed its approach to NPD over the past year, moving away from single products to new ranges. "Since launching our extended Hot Puds range in September 2019, it has doubled in size in less than a year and is now worth over £10m," says Heap.
Lactalis Nestlé is another supplier to report growing demand for desserts. "We've seen consumers returning to our established brands," says marketing director Matt Brown. Lactalis Nestlé's performance has been strong across its indulgent ranges. "During uncertain times consumers look for small ways to treat themselves," says Brown. "Food is seen as enjoyable pleasure, and yoghurt and chilled desserts satisfies the need for an affordable indulgence."
This article is part of The Dairymen - our annual guide to the dairy industry that's packed with insight and analysis on all the latest trends. To read the report, subscribe here.
A new sugar tax? The Dairymen drinks category report 2020
1

2

3

4

Currently reading

Plant-based splashes down: The Dairymen yoghurt category report 2020

5

6

7

8