An unprecedented wave of retail consolidation and changes brought on by Brexit mean the future is uncertain for dairy suppliers. What can they do?
There is no way to put this delicately: dairy suppliers are "quietly crapping themselves". That's how one dairy insider sums up the mood in the industry, as suppliers stare down the barrel of Brexit uncertainty and an unprecedented wave of consolidation in UK grocery retail.
From Tesco-Booker and Sainsbury's-Asda to Co-op-Nisa and Landmark-Today's, wherever you look the number of dairy industry customers is shrinking – and the prospect of supply consolidation looms large. No wonder dairy suppliers are feeling strained.
So how do they plan to respond to the changes facing their industry? Who is most exposed? And what's the best strategy for protecting your business during this time of uncertainty?
Arla Foods UK MD Ash Amirahmahdi is clear: pretending nothing has changed is not an option. The major mults need to do something to tackle the threat of disruptors such as the discounters, and suppliers will need to adapt. "They are rapidly trying to simplify their businesses and cut costs out as they simply cannot compete with the discounters on a cost to serve perspective," he says. "This will only continue as we go forward, and unless we adapt, consolidation will be a threat."
It's a sentiment shared by Müller Milk & Ingredients' head of customer value Rebecca Oliver-Mooney, who agrees suppliers will simply have to react to the changing retail environment. "The winners will be suppliers who see and embrace the opportunities that it brings. Müller understands this."
Indeed, Müller is a seasoned consolidator itself, she points out. It bought Robert Wiseman Dairies at the beginning of 2012 and Dairy Crest's dairy operations in 2015 to build its now substantial presence in the UK, and this year announced the acquisition of two Nampak fresh milk packaging facilities adjacent to its dairies, with plans to to complete deals on two more by autumn 2019.
To meet the challenges ahead, Müller is now focusing on "massively" increasing its production capacity in the UK to ensure it is "best placed to build long-term customer centric partnerships" with retailers, Oliver-Mooney says.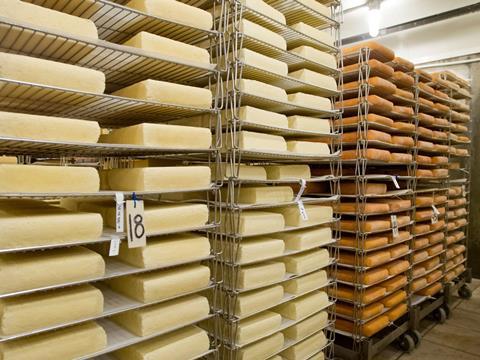 What are the opportunities for smaller dairy suppliers?
While the big boys are perhaps best placed to benefit, retailer consolidation could also open up new opportunities for smaller suppliers – particularly in own label, sources suggest. "We've already seen how Sainsbury's opened up its milk supply base to the likes of Medina and Tomlinsons after Müller acquired Dairy Crest's milk division, so it will be interesting to see if they roll out that format more widely once the merger with Asda is completed," says one dairy industry insider. "Arla have that sector sewn up with Asda at the moment, but with Sainsbury's in charge they may look to spread it out among other suppliers."
"This is an opportunity for us," agrees Wyke Farms MD Rich Clothier. "We could definitely see gaps opening up as they did in milk where the bigger independents come in."
"Own label cheese is becoming more and more like the milk sector has become. It's hugely commoditised, and has become consolidated between a couple of large suppliers such as Dairy Crest, Ornua and Arla.
"But as a result, this could offer opportunities to smaller, companies like Wyke, which thrive on their agility and customer service," he says.
"Consolidation could lead to gaps in consumer choice at a time when second-tier retailers and discounters are at their strongest."
The dairy giant pledged to invest £100m in its UK dairies operation in September 2016, announcing a further commitment to spend £100m in its yoghurt business last September. So far, it has "substantially" expanded capacity at Müller Milk & Ingredients' Severnside plant, giving it more "flexibility to make the kind of innovative, value added fresh milk products required by both scale and niche retailers across all channels, with milk produced by British farmers" Oliver-Mooney says. It has also doubled the size of its Müller Yogurt & Desserts facility in Telford, which has transformed its "capability and capacity for producing superb branded and private label yoghurt products" including big pots, which it couldn't previously make in the UK, she adds.
Arla, meanwhile, is focusing on doing more to understand its retail partners, says Amirahmadi. "Supermarkets are becoming more systematic in the way they buy products," he says. "They classify their categories as commodities, everyday essentials and anchor products, and buy differently, depending on how that category is classified."
This approach has had a "massive impact on the way Arla does business with its customers", forcing it to invest significantly in developing people and competencies to better understand its customers and "to work with them in a different way" he says.
"Historically the customer-supplier relationship was very much about negotiation, and was transactional," he adds. "But the nature of our relationship with customers is now becoming more partnership-based and more project-based."
Taking responsibility
This type of approach reflects the changes to supermarket buying teams over the past two years, suggests Hamish Renton, MD of consultancy HRA Global. Following recent head office job cuts, buyers are being given increased remits, which mean they are looking to outsource a lot of commercial responsibility to suppliers.
"Not only are we seeing consolidation within supply bases, we're also seeing it within retail buying teams," says Renton. "So where a buyer may have initially covered yoghurt, they may now look after yoghurt and desserts. And as a result of these changes, they are expecting suppliers to do more of the legwork, particularly on the admin side."
Innovation is also important in this climate of consolidation, says Dairy Crest CEO Mark Allen. "If you do a good job with quality products, and if you invest in innovation and market them and promote them, the retailers tend to want to stock them."
If suppliers stop innovating, marketing and promoting "the retailers don't particularly like it but even more importantly neither do consumers", he says.
Dairy Crest works "very hard" to establish differentiated positions for its brands and make sure "they are the ones retailers want to stock" Allen adds. "We've demonstrated over many years that we've been able to do that with Cathedral City in cheese, and I think we've got a very interesting position with Clover in spreads where we've taken out artificial ingredients."
With the mults still very much focused on price cuts – Asda and Sainsbury's claim their merger will help them cut the price of everyday products by 10% – the ability to deliver ongoing efficencies will also be vital to surviving retail consolidation, Allen suggests. "We still challenge ourselves to take cost out every year."
Meanwhile, when it comes to which supplier is most vulnerable to a merged Asda-Sainsbury's, several industry insiders point to Arla. It is the main liquid milk supplier to Asda as part of a long-term strategic partnership with the retailer, but only supplies about 20% of Sainsbury's milk, after the supermarket diversified its supply in 2016.
The dairy co-op also lost a major contract to supply Sainsbury's with own label cheddar to Ornua earlier this year, leading to question marks over its future supply relationship with Asda-Sainsbury's, as "its biggest customer for milk and cheese will now be the weakest partner from this merger" one industry source points out.
The loss of the Sainsbury's cheddar contract to Ornua, representing some 25,000 tonnes of cheese a year, was a blow for Arla, Amirahmadi admits. "It was a wake-up call." But he insists the business, with its newfound focus on customer relationships, will "win more contracts than we lose" in the long run.
"Losing the contract isn't something I would have wished for, but what it has done is prompted us to get together with Sainsbury's to look at the whole relationship. We're still one of their biggest suppliers in own label and branded dairy and in an odd way it has brought us closer together," Amirahmadi adds, insisting Arla is "well positioned" to service a more consolidated retail environment.
Huge pressure
Indeed, retailer consolidation should on the whole "benefit the big boys" says Renton, who points out some smaller suppliers don't have the resource to do the extra legwork required.
While the UK's major processors remain confident, however, British farmers are worried. Rightly so, suggests dairy industry analyst Ian Potter, who warns it would be "optimistic for farmers to think they are going to be one of the winners".
Many are already under "huge pressure" to meet the current demands of retailers and processors, and are braced for more onerous targets and lower prices from a stronger, more consolidated retail sector.
Even farmers who are part of the cost-of-production farmer groups run by the likes of Tesco and Sainsbury's could be under threat, he warns. "From a farmer's point of view, as long as you are a member of a retailer-aligned cost of production model, they're great," Potter adds. "But there has always been the question about what the retailer gets in return. Tesco or Sainsbury's could have a lot easier life just buying their milk like Asda does."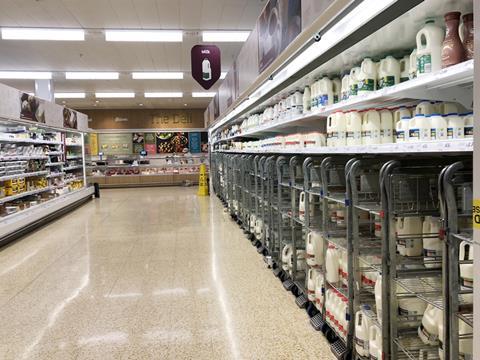 Sainsbury's has so far insisted it will keep its cost of production model. "Our plan is to continue with our dairy farmers in that system," the retailer's director of brand Judith Batchelar told the Efra Committee during its inquiry on the proposed merger in June.
However, with Lidl signing up to long-term milk and cheddar supply deals with Müller and Dale Farm earlier this year, and Aldi sealing a similar strategic partnership with Arla, the cost of production model could soon be seen as an unwarranted cost among the big supermarkets, agrees another source.
"There are big questions over the future of the Sainsbury's Dairy Development Group after the Asda merger. These new deals which Aldi and Lidl have signed recently with Arla and Müller offer a lot of the same benefits without the cost," the source says.
"It essentially means the whole milk supply chain is outsourced to the supplier. These dedicated pools got the supermarkets out of trouble in the 2000s, but they've become a bit of a monster, and are hugely expensive. What benefit do the retailers get?"
With Tesco planning to launch discount chain Jack's within weeks, the future of its own Sustainable Dairy Group could become clearer sooner rather than later. "I don't think retailer pools in their current format have long left," suggests the industry source. "And I would be very surprised if they used milk from this source with Jack's, as it's really expensive."
With competition reducing as a result of retail consolidation, consumers could ultimately lose out, some sources warn. Speaking about the Sainsbury's-Asda merger in June, the NFU's director general Terry Jones said: "If buyers working for this enlarged business abuse its market power and make unreasonable demands on suppliers by transferring excessive risk and unexpected cost, ultimately this will impact on choice and availability for shoppers."
However, others argue consumers will benefit in the long run. More efficient, consolidated retailers provide "stronger and less fragmented platforms" for product innovation and category growth, says Müller Yogurt & Desserts commercial director Bill Mathieson, who insists the supplier is confident "dairy has a good future in a changing retail environment".
Mike Coupe was infamously caught on camera singing 'We're in the Money' when the Sainsbury's-Asda merger was first announced. Whether the two retailers can find a way to leave shoppers and dairy suppliers in the money could well decide whether this particular retail marriage can stand the test of time.
Download the PDF version of this report
---