Sales have shot past the £1bn landmark, with supermarkets taking tips from ice cream parlours to up their ranging game
Phew, what a scorcher! This year's sweltering summer - the hottest since 1976 - surely made ice cream a near-essential part of every Brit's diet. Which was sizzling news for a market on fire even before the heatwave hit: take-home sales smashed the £1bn ceiling as value shot up 9.9% [Kantar Worldpanel 52 w/e 18 May 2018].

While this growth was largely down to inflation driven by higher prices and an abundance of premium NPD, volumes also rose (by 2.8%) thanks to new shoppers continuously entering the ice cream category while established shoppers bought more per trip, more often. Average price per litre rose by almost 7% to £2.78. Increased footfall has given stores the impetus to do more than simply stuff their chest freezers with two-litre tubs of vanilla, strawberry and chocolate. While not quite as outrageous as the mayonnaise ice cream from the artisanal Ice parlour in Falkirk, the mults' approach to ranging frozen desserts has definitely become more imaginative, rivalling the food-to-go giants. And this could be the key to making sales last beyond this year's heatwave.
Take Sainsbury's, whose £139m ice cream sales make it second only to Tesco's £281.5m. In June, the retailer claimed a UK first with a Unilever tie-up to open in-store ice cream parlours. The trial began with a Ben & Jerry's parlour in three south London branches, and a Carte D'Or outlet in two stores in Hertfordshire and Surrey.

"As a business, we look to make the ice cream occasion accessible to as many people as we can and our new partnership with Sainsbury's is designed to do just that," says Unilever VP for refreshment Noel Clarke. "This activity is part of a wider movement at Unilever in which we look to bring our customers new and exciting in-store initiatives that enhance their overall shopping experience, while also tapping into the growing food-to-go trend."
Is boozy ice cream set to be the next big thing?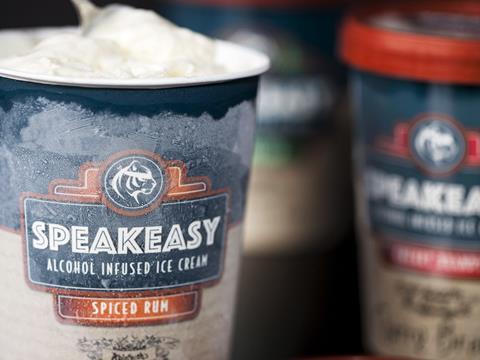 Forget rum-raisin! When it comes to booze-flavoured ice cream, cherry brandy and gin fizz are where it's at. So insists Jane Woodhead, co-founder of Speakeasy, the alcoholic ice cream startup that made its retail debut in November.
Playing it safe is no longer an option. "In terms of flavour trends and what's on the shelf, the biggest development is with flavour: the more creative the better," she says.
With premium sales in strong growth, suppliers are increasingly turning to their drinks cabinet for inspiration. "As amazing craft spirits have been hitting the market, so has awareness of new flavour profiles, and we're seeing a crossover in consumers coming from the craft spirit section to ice cream," Woodhead adds.
This is the sort of innovation helping to drive trial in the category, claims Chow Mezger, MD of Jude's, which collaborated with London distiller Sipsmith to produce a G&T variant. "Consumers are looking for new sensory experiences and are prepared to trial their favourite traditional drinks in innovative new ice creams."
While reflecting the general trend across grocery for alcohol-infused products, boozy ice cream is currently making "a very small value contribution to the category" notes Froneri marketing boss Charlotte Hambling. But there is promise. "It's an area in which we may see more products introduced, especially in premium ranges," she adds.
There's one potential obstacle to growth, though: the UK's licensing laws. With alcohol content in lines such as Speakeasy's at or above 1% abv, they can be sold only to shoppers aged 18 and above.
However, that might prove to help rather than hinder sales. "Consumers are wanting a more adult-focused offering in the frozen dessert aisles," claims Yee Kwan, founder of premium Asian-inspired brand Yee Kwan Ice Cream.
That desire to tap on-the-go was also behind Asda and Co-op welcoming F'real, the 'drinkable ice cream' foodservice brand from the US that allows shoppers to serve themselves a thick shake as they would a cup of coffee. First, they select a 350ml pot containing a 'puck' of ice cream. The machine whips up the contents to make them potable at the touch of a button, and the punters pay at the till. In the UK, F'real flavours are available in Vanilla, Chocolate, Strawberry and Cookie Dough.

It's a proposition that's "ideal for front of stores, where impulse items can add incremental sales to retailers" says Emma Wood, head of F'real EMEA. "Adults often choose a coffee or cold drink, and their children can now have a quality milkshake. We are seeing a strong purchase opportunity in the after-school and after-college slots, when parents and young adults are dashing to the supermarket."

At around 500 calories per shake, F'real also forms part of another trend: indulgence. Arjoon Bose, head of marketing for ice cream & snacking at Häagen-Dazs maker General Mills, says a growing love of indulgent, premium options has caused a notable shift in ranging at the supermarkets. Luxury ice cream has become a shopper destination, he says, with the whole gamut of high-end formats consolidated in a single in-store location, rather than scattered across freezers as they once were.

Luxury, in fact, is very much where it's at for shoppers and the category, Bose believes. "It's clearly the number one driver for growth across the ice cream category." Nearly 80% of premium growth has come from leading brands Häagen-Dazs, Magnum and Ben & Jerry's, he says, and they've been the biggest contributors to innovation. Häagen-Dazs, for example, launched handheld multipacks and trendy mini cups last year amid a brand relaunch - helping to fuel a mammoth 41.3% value surge [Nielsen 52 w/e 30 December 2017].
Such impressive growth is unsurprising, claims Charlotte Hambling, head of UK marketing for Froneri, which in January unveiled Extrême - a high-end ice cream cone range to take on Unilever's mid-tier Cornetto. "Luxury and premium ranges have been driving the market for some time as consumers continue to trade up, especially around the treat occasion that ice cream offers," she says. "Consumers are happy to compromise on a slightly higher price for the promise of exceptional quality."
"This was the summer of mass market healthy ice cream, from the big four to health retailers"
Yet it seems Brits are a nation of two extremes when it comes to ice cream. Luxury options are increasingly finding themselves seated alongside their opposite: lower-cal formulas. US smash hit Halo Top and the UK's own Oppo are among the brands in the fast-growing better-for-you subcategory, with Birthday Cake and Choc Chip Cookie Dough among the hip flavours.

"Previously, healthy ice cream was reserved for specific niche dietary requirements such as non-dairy," says Oppo co-founder Harry Thuillier. "This was the summer of mass-market healthy ice cream, and you can see this in the big four retailers and more health-focused retailers like Holland & Barrett."

In spite of the battle for freezer space, Bose is convinced luxury and better-for-you can live in peace. "They serve different occasions," he says. Indeed, low-cal is attracting a younger audience to the wider ice cream category and generating trial.

Which likely means more success in store for the category.
Download the PDF version of this report
---
Back to the future: why doorstep milk delivery is undergoing a resurgence
1

2

3

4

5

6

7

8

9

Currently reading

Who needs a hot summer? The Dairymen ice cream report

10