Forget cultured meat. 'Animal-free' dairy proteins made using GMO yeast could be the next big thing to shake up the food industry
The future is now. Somewhere in a lab in San Francisco, scientists at Perfect Day are making 'real' milk proteins from yeast, not cows. And they aren't just working on a proof of concept for some fantastical far-off launch. Having raised a staggering $24.7m in a series A funding round this February, the company promises products containing its animal-free milk proteins will be on the market "within the next couple of years".

That's an impressive feat for a startup formed just four years ago when two strangers embarked on an internet working relationship. Perfect Day's founders Ryan Pandya and Perumal Gandhi had never met when they were approached by Isha Datar, executive director of US non-profit cellular agriculture research institute New Harvest Foods, in April 2014. She'd heard Cork-based synthetic biology accelerator IndieBio was looking for applicants for its summer 2014 programme, and asked if Pandya and Gandhi - both volunteers with New Harvest who had expressed an interest in making milk without the cow - wanted to apply. They agreed, and after pulling together a presentation in just four days through "Google Hangouts, Google Docs and Prezi", they were accepted into the programme, winning lab space for the summer and $30,000 of initial funding.
So the vegan duo quit their jobs, founded the company they initially named Muufri (Moo-Free) and flew to Cork, where they met for the first time in May 2014. Their concept - to produce 'real' milk in a lab without touching a cow - soon caught the attention of the international press. And after penning an article in the New Scientist on the potential environmental and societal benefits of their project, Pandya and Gandhi were approached by "disruptive" Hong Kong investment group Horizons Ventures, which also has the likes of Facebook, Siri and Spotify in its portfolio, alongside fellow cellular agriculture startups Hampton Creek and Modern Meadow.
Impressed with their vision, Horizons agreed to invest $2m, enabling Pandya and Gandhi to move to San Francisco, expand their team and set up a lab to continue their ground-breaking work.

Before long, they had successfully developed a genetically engineered yeast that could make dairy proteins through a fermentation process they describe as similar to craft brewing beer.
Essentially, the process involves "reprogramming" yeast by inserting the genes for casein and whey proteins into the yeast cells. "We've developed a type of microflora, using bio-engineering, that can produce dairy proteins using fermentation," Pandya told The Grocer.
"The fermentation process is akin to craft brewing, similar to how vitamins, probiotics, enzymes, natural flavours, and many other everyday products have been made for more than 40 years."
"The fermentation process is akin to craft brewing, similar to how many other everyday products are made"
Through the fermentation process, the microflora ferments a carbohydrate source and converts it into casein and whey. "The resulting proteins - identical to the proteins in cows milk - are pure and highly functional and can be applied individually or in combination to make the delicious products we love, like ice cream, yoghurt or cheese - which will taste exactly the same as those made with conventionally produced dairy proteins", he adds.
They won't just taste the same, they'll have the same nutritional value as conventional dairy, says Pandya - something plant-based alternatives can still only aspire to. And because the dairy proteins are man-made, rather than coming from a cow, they contain none of the less desirable "stuff" in conventional dairy, like lactose, saturated fat, cholesterol, antibiotics and hormones. Importantly, while the dairy proteins are made using genetically engineered yeast, they are "carefully filtered and purified" to ensure no GMOs remain in the final product.

Pandya and Gandhi argue that producing dairy proteins in this way is "cleaner, healthier, and more resource-efficient than animal farming". And they've got the science to prove it. In 2015, Dr Mark Steer, a practical conservation biologist at the University of West England, conducted a preliminary life cycle analysis and environmental impact study comparing animal-free milk made using Perfect Day's process with milk from cows. He found the animal-free milk produced 84% less greenhouse gas emissions, as well as using 91% less land, 98% less water and 65% less energy than traditional milk.

That same year, Muufri - as it was then still known - produced its first prototype milk by blending the dairy proteins with fats sourced from plants and water. It also claimed the €200,000 runner-up prize in the Dutch Postcode Lottery Green Challenge, which aims to promote a low carbon future by investing in emerging green entrepreneurs. "Muufri makes milk without using cows and its unique process for "brewing" milk could eliminate vast amounts of greenhouse gas emissions that are being generated by commercial dairy farming," said the award's organisers. "The company has identified the necessary proteins, fats, vitamins and minerals found in dairy products to blend the milk of the future."
Feature continues below infographic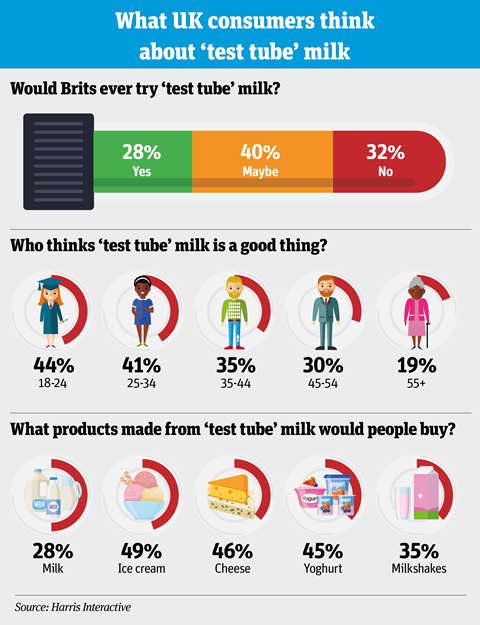 Dairy products made using bio-engineered milk proteins would offer consumers the "best of both worlds", according to the scientists working hard to get them on to our supermarket shelves.
There are no cows involved in the production process, so they would have the same environmental and welfare credentials as plant-based alternatives, they argue. And while a "good majority" of existing plant-based products are "missing the mark" on nutrition, taste and functionality," these products would be "indistinguishable" from conventional dairy on all fronts.
But would bio-engineered - or 'synthetic' - milk sell in the UK?
While the majority (83%) of consumers have never heard of synthetic milk, nearly three in 10 (28%) say they would buy it, with less than half (40%) refusing to consider it, according to exclusive research for The Dairymen by Harris Interactive.
This makes it a more attractive option than lab-grown meat, according to a previous survey by The Grocer, which found only 16% of consumers would be willing to try cultured meat, with 50% refusing to consider it.
"Immediate reactions are somewhat positive," says Celia Ward, a senior research executive at Harris Interactive UK. "Clearly there is scope to spread the word about synthetic milk and its benefits."
Younger consumers are more open to the idea of synthetic milk than older ones, our research suggests. Almost a third of consumers (31%) agree it is a 'good thing' for society, but that falls to just 19% of over-55s. In contrast, 44% of 18 to 24-year-olds are in favour. People were more likely to buy ice cream (49%), cheese (46%) and yoghurt (45%) made from bio-engineered dairy proteins than milk.
A change of focus
As they inched ever closer to getting their 'milk of the future' on supermarket shelves, however, Pandya and Gandhi began to dream of bigger things. After changing the name of their company to Perfect Day in 2016 to "focus on what we're bringing to food, not what we're leaving out of it", the pair announced in November 2017 they were also shifting to a new B2B model. Instead of developing their own milk or cheese products, they decided to focus on producing their dairy proteins as an ingredient for food industry partners.

In a LinkedIn post explaining the change of direction, Pandya said that having connected with "innovators and visionaries across the food industry", they had come to appreciate dairy proteins were one of the "world's highest-quality sources of nutrition" and the "base for so many of the foods we all love, not just dairy products".

With global demand for protein set to increase by 80% by 2050, the duo wanted to help the world meet one of its toughest challenges yet - "producing enough nutritious protein to feed a global population of over 9.5 billion while at the same time preserving the planet", he added.
"What started as a love for cheese has grown into a mission to create a world of delicious food products"
"By partnering with food companies, Perfect Day dairy proteins can extend to foods in every aisle of the grocery store, not just the dairy case, and not just a single product," Pandya said. "We can have an even greater impact on our food system, making high-quality protein accessible to more people than ever before.
"What started as a love for cheese has grown into a mission to create a world of delicious food products, including animal-free dairy products - and an evolution of our food system."

This shift in focus was no doubt a major factor behind the $24.7m investment Perfect Day secured during its funding round earlier this year - which "signifies the biggest raise in the history of the emerging food tech space", they claim. It was led by Temasek, a Singapore state-owned investment company committed to helping create a more sustainable world. "Perfect Day's goal to pioneer a more sustainable approach to dairy aligns with Temasek's belief that collective action is needed to achieve the United Nations Sustainable Development Goals by 2030," says Gandhi.

The funding has enabled Perfect Day to expand its team and accelerate its efforts. Earlier this year, it appointed world-renowned protein technology expert Henk Hoogenkamp as its senior advisor for strategic development, and received its first patent for the use of animal-free dairy proteins in food application. It is now focusing on "scaling up our fermentation process to produce animal-free milk protein at commercial quantities, and forging partnerships with brands around the globe that will enable us to bring a whole new variety of animal-free products to market," says Gandhi. "Expect to see products on the market within the next couple of years."
Feature continues below infographic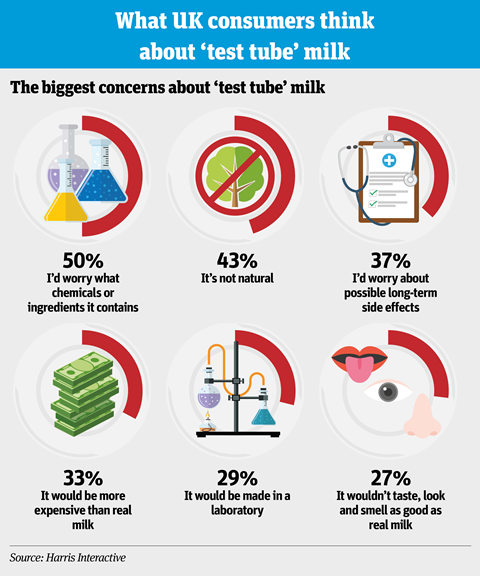 With most shoppers still in the dark about synthetic milk, there are some concerns "to be overcome for consumers to be more open to the idea", says
Harris Interactive's Celia Ward.
Almost half of the shoppers (50%) we surveyed were worried it might contain dodgy chemicals or ingredients, with the fact synthetic milk wasn't 'natural' (43%) and anxiety over possible long-term side effects (37%) also major factors.
However, most consumers (43%) said they'd be more likely to try it if they knew it was safe. And it is, insists Marc Juul of the Real Vegan Cheese project, who points out "fermentation is a process that has been used for thousands of years to produce yoghurt, kombucha, kimchi and a range of common food items."
Some shoppers might be put off by the use of GMO yeast in the production process, but Juul stresses the final product "will not contain any genetically modified organisms."
Over a third (35%) of consumers said they would be more likely to give synthetic milk a go if it had the same taste and texture as real milk - something both Perfect Day and the Real Vegan Cheese Project promise they can deliver. "With 17% of consumers saying they want to try alternative milks but don't think they taste the same as real milk, a synthetic milk that tastes like real milk could be a winning proposition," says Ward.
Other players
While Perfect Day might be the biggest success story in bio-engineered milk, it isn't the only player. The Real Vegan Cheese project - a collaboration between US-based citizen science laboratories Counter Culture Labs and BioCurious - is also exploring the use of genetically modified yeasts to produce milk proteins with the goal of "making affordable high-quality vegan cheese without animal agriculture", says Marc Juul, one of the project leaders and co-founder of Counter Culture Labs.

Having raised $37,369 on crowdfunding platform IndieGoGo, the team of self-proclaimed "biohackers" built up their labs "using donated equipment and used equipment from local biotech auctions." A subsequent grant from the Tarshis Foundation has funded two part-time researchers working at Counter Culture Labs and another researcher in Los Angeles. They are supported by a "crew of volunteers" helping out with everything from social media to lab experiments, says Juul.

So far, the team working on the project has "engineered yeast and bacteria to produce small amounts of milk protein and demonstrated how to take the base ingredients of milk and reconstitute them into a milk with the correct molecular structure that makes it suitable for cheesemaking," Juul says.

What really makes the project stand out, though, is the fact everything is developed openly, with experimental results posted daily to its website and any interested person able to participate in the project.

"We decided early on that an ethical genetically engineered system should be free and open to anyone," adds Juul. "Not just free to use, but open so others can understand the science and participate in development. We are not patenting any of our work and everyone is free to start their own company using our technology without paying us a licence fee."

It's an honourable commitment, and one that could open up bio-engineered dairy proteins to an even wider section of industry. Which seems appropriate. The future, after all, is for everyone.
Download the PDF version of this report
---