The gut health trend is giving dairy drinks reason to smile, as kefirs and probiotics gain ground. Can these go mainstream?
Turns out, it pays to trust your gut. Almost 70% of Brits now view gut health as essential to their overall wellness, according to Mintel figures.
That's translating into a boom in all things probiotic and fermented. And the dairy drinks industry is leading the charge. The latest offerings include everything from kefir paired with spices known for their anti-inflammatory properties to probiotic-packed milks boasting billions of live active cultures.
"Gut health is a hot topic, with consumers identifying improved digestive health as a key driver of purchase consideration, second only to reduced levels of added sugar," says Natasha Bowes, the founder of probiotic kefir brand Biotiful Dairy, whose drinks contain more than 40 strains of gut-friendly bacteria.
There's no doubt gut health is the latest buzzword in dairy drinks. But just how big is the potential of fermented? Why is it proving such a big draw? And what is happening in the wider flavoured milk category?
Overall, the dairy drinks market is looking in pretty healthy shape. Sales are up 11.5% to £204m on volumes up 7.6%, making it one of the jewels in the UK dairy sector's crown.
"When you look at the key metrics across dairy drinks you see that penetration is up, frequency and spend are up – they're all good stats for the category," says Will Jones, the new MD at FrieslandCampina UK, which has secured 30,000 new distribution points for its Yazoo brand in the past year, including Tesco Express.
"Penetration is up, frequency and spend are up – they're all good stats for the category"
Flavoured milks such as Yazoo still dominate the market. Indeed, Yazoo is worth a whopping £54.8m, up 9.6% [Nielsen 52 w/e 29 December 2018]. In terms of growth, though, these category stalwarts have a rival: gut health brands.
Granted, they remain small fry compared to giants such as Yazoo. The entire kefir market was worth £23m in 2019, according to Biotiful Dairy's Bowes, quoting IRI figures. Yet brands such as hers are racking up some stellar gains. Biotiful nearly tripled in value to be worth £9.8m in 2018 [Nielsen].
That figure looks set to grow even further this year, because Biotiful has won one of the nine places in Tesco's 2019 incubator scheme, designed to help small fmcg brands go mainstream.
Bowes says the brand is now "well on its way to becoming a household staple" with 21 units sold every minute.
Where Biotiful is leading, -others are following. Gourmet dairy brand The Collective has also won listings for its kefir drinks, launched last April. They are offering something beyond simple kefir with the addition of ingredients known for their 'health -yielding' properties, such as turmeric for its anti-inflammatory effect and hibiscus for its antioxidant benefits.
Still, The Collective co-founder Amelia Harvey says fermentation is the key part of its kefir drink proposition. "Fermented foods have been enjoyed for thousands of years and consumers are jumping on board and driving its resurgence as a trusted tradition," she says. "Retailers are making space for fermented drinks like kombuchas, kefirs, probiotic-packed snacks and sourdough, which is going mainstream – they're even creating exclusive 'gut health' destinations for consumers to shop in order to support this high-growth area."
"Retailers are creating 'gut health' areas for consumers to support the high growth"
Indeed, the rise of all things fermented is making retailers rethink their merchandising. Sainsbury's has created a functional dairy bay, which brings together all its functional products including active health drinks and kefir. Waitrose is merchandising kefir with other gut health, heart health and high-protein drinks. And Morrisons has expanded its range to give kefir two dedicated shelves in the majority of stores.
There's a clear incentive to do so. Not only are kefir sales growing fast, but these sales are higher value than your average dairy drink. The Collective's kefir retails at £2.50 per 500ml, almost triple the category average of 89.5p [Kantar]. Biotiful's kefir isn't far behind with a price tag of £2.25 per 500ml. That's down after the company slashed the price from £2.50 last September to make its products "accessible to a greater number of consumers".
Still, it's not exactly cheap. Crucial to commanding this higher price point are the purported benefits of being 'gut-friendly'. While suppliers are careful to avoid making too many claims on pack, the media hype is largely doing that job for them. Better gut health has been linked to a range of benefits including clearer skin, protection against antibiotic damage, a reduction in bloating and gas, an improvement in IBS symptoms and better digestion.
Education, education
Now Biotiful is looking to take a lead in education with its latest 'Don't fear it, kefir it' campaign. It focuses not only on educating shoppers on the importance of maintaining a healthy gut, but also on demystifying the fermentation process behind creating kefir. Activity includes pop-up 'fermentation stations' showing shoppers what's actually in kefir, and 'cultured' cocktail tastings to prove it hits the taste mark, too.
That will be a key element in taking kefir mainstream, suggests The Collective's Harvey. The brand ran an educational campaign with the launch of its kefir drinks, but it is also keen to communicate taste credentials. "Early adopter brands will have to break the barriers of kefir being a medicinal product by dialling up brand experience, taste cues and formats for different occasions."
One company looking to do just that is Danone. In August, it took probiotics into the smoothie world with the launch of its Activia-branded Live Culture Smoothies. Available in Orange and Red Fruit & Veg variants, the smoothies boast billions of live cultures and no added sugar. Alongside these health cues, Danone is keen to point out they taste "delicious", too. Plus, they play into the demand for convenient formats, says Activia brand manager Ben Kind.
"We are continually adapting our range of fermented products to ensure we are meeting evolving consumer demands," he says. "We know younger consumers in particular want both nutrition and convenience, rather than having to choose between one or the other. Our Live Culture Smoothies will launch in a convenient bottle format, ensuring this product can be enjoyed on the go."
For that reason, Kind is feeling pretty positive about the launch. "This is a big step change for Activia, entering into a new category and shelf position," he adds. "We're confident our brand credentials and fantastic new range will open up great potential to leverage the growth of fermented products."
Sugar reduction
There is another reason why Danone may be feeling positive about the launch. Because, as talk grows of extending the soft drinks levy to dairy drinks, no added sugar is a good place to be. Many of these kefir drinks would be safe from any sugar tax. Biotiful's original kefir, for example, contains just 3.7g of sugar per 100g. The Collective's kefir drinks contain just 3.8g.
The giants of dairy drinks won't be feeling quite as safe. Take Yazoo, whose chocolate milk has 8.9g of sugar per 100g. Still, it's taking pre-emptive action. It's focusing sugar reduction efforts on its kids offering, which uses lactose-splitting technology to create natural sweetness and negate the need for added sugar.
Yazoo has also "dialled down" colours on new packaging to "land a stronger message with mums" and has partnered with Public Health England's Change4Life campaign to display 'good choice' badges on its bottles.
It's not the only one taking the health tack. Mars is also going down that route with 702ml bottles of Mars Milk with no added sugar, designed to be consumed at home. Kantar says this kind of health-orientated innovation is paying off. "Not only are new shoppers entering the market, adding £7m to the category, but shoppers are also buying more often," says analyst Maria Calugareanu.
"There's been a lot of change and retailers are taking dairy drinks much more seriously"
Crucially, that's despite a rise in prices. Average prices in dairy drinks are up 4.1% to £1.79 per litre. According to Kantar, that accounted for £6.9m of the category's £21.1m growth. The new wave of premium-priced gut health drinks are not the only driver of this growth. Nor are the growing range of coffee drinks. Kantar says Yazoo, Alpro and Starbucks have all managed to attract new shoppers despite price increases.
FrieslandCampina's Jones says the price increases are largely due to changes in promotional strategy. "Quite a few brands are trying to explore different promotional mechanics that raise the pence per litre ultimately, and there have been successes in that area, which is part of the reason we're seeing inflation," he says. Indeed, almost 63% of milk drinks were sold at full price in the past year, a rise of 17.5%. Price cuts, the biggest promotional mechanic, saw a decline of 0.7% [Kantar].
That consumers are willing to pay more for brands is even more impressive considering the activity in own label. Own-label sales climbed 11.7% to £58.6m in the past year. At an average of £1.24 per litre, they are around 93p cheaper than brands. And they are upping their game in terms of quality and ranges.
"There's been a lot of change and the retailers are taking it [dairy drinks] much more seriously now," says FrieslandCampina's Jones. "People like Tesco and Morrisons have had a real refresh of their design and packaging and I do think with their clear bottles, very clear labelling and fresh proposition inside, they've done a wonderful job and it's echoed in some of their numbers."
Retailer performances
Indeed, the big four have all seen growth in their total dairy drinks sales. Sainsbury's is leading the way with a 24.8% jump in value sales, followed by Tesco with a 14.1% rise. Morrisons has delivered value growth of 4.1% and Asda has edged up 3.5%. Not all of that will be down to own-label sales. But it goes to show brands can't afford to rest on their laurels, especially if they continue upping prices.
With that in mind, many brands are testing out new ways to tempt consumers beyond sugar reduction. One strategy is new formats. Shaken Udder launched 750ml 'uber udder' bottles for at-home consumption, a format that helped win it Morrisons listings for the first time in October. It names this as a driving force behind its 65% gain.
New formats
Meanwhile, Müller is looking to battle disappointing sales of Frijj – it's the only big player in value and volume decline [Kantar] – with a 900ml bottle targeting 'additional consumption occasions'. Plus, Müller is targeting convenience and foodservice with a new long-life recipe, while offering shoppers the chance to win £1,000 (winners will be greeted with a 'moo' sound upon opening their bottles, thanks to sound-chip technology).
New flavours are another way of securing growth. Although chocolate remains the most popular – worth £68.6m – more niche propositions are gaining ground. Flavours such as masala, cardamom and vanilla chai are far smaller, but they are showing the fastest value growth, up 136.1% for brands on volumes up 73.4%.
If you can combine those flavours with some gut health credentials, then all the better. So, who's up for a grab-and-go, probiotic vanilla chai latte?
Coffee fuels dairy drink growth with £40m gain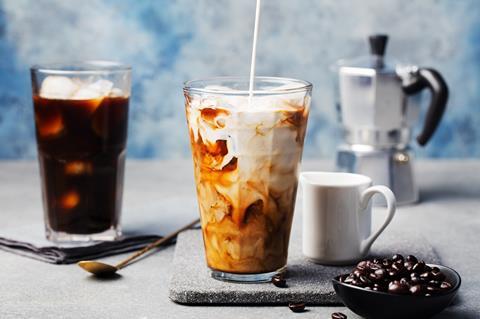 Dairy drinks players are waking up and smelling the coffee. Sales of barista-worthy RTDs are booming and brands are tripping over themselves to cash in.
Branded sales of coffee flavoured milk are up 46.4% to £31.3m on volumes up 56.8%, and own label is up 27.7% to £8.6m on volumes up 23.3%, making coffee worth a combined £40m to dairy drinks [Kantar 52 w/e 19 May 2019].
Jimmy's, one of the early entrants into the market, says value and volume sales of its iced coffee range have risen 30% every year since it launched in 2012.
"Iced coffee is having a moment right now, especially among the younger generation," says Jim Cregan, co-founder of Jimmy's. "Previously, coffee fans had a limited choice between a tasteless instant coffee and an expensive coffee shop purchase. What ready-to-go iced coffee offers people is the barista bar taste with the ease and affordability of picking up a soft drink."
Crediton's Arctic Blast is the fastest growing brand [Kantar] with recent NPD including a new cold brew range featuring coffee with a 15g shot of protein, supported by a £1.8m marketing campaign.
It's got some competition, though. After venturing into RTD coffee for the first time with the launch of organic cold coffee brand Honest in 2018, Coca-Cola European Partners (CCEP) launched a trio of Costa Coffee cans in June – Classic Latte, Caramel Latte and Black Americano. It also expanded its Monster Energy drink range to include two coffee flavours in March.
"The range is already worth £2m in just four months and is the number two ready-to-drink coffee brand in value within impulse, contributing 14% of the value growth to the total RTD coffee category," says VP Simon Harrison, quoting Nielsen.
Brands are also rolling out more plant-based options for those avoiding milk. Alpro has added an oat caffé cup to its lineup, for example, while Starbucks has launched an almond plant-based coffee.
"The demand for chilled coffee is huge and there is still room for further growth and innovation with many seeing it as a good alternative to sugary drinks," says Michael Lomas, commercial marketing manager at Arla Foods, which manufactures, distributes and markets Starbucks RTD coffee.
Innovations in Dairy Drinks 2019
The Dairymen
From lab-made milk to butter shortages, our annual definitive guide to the dairy category is full of insight and analysis on the latest trends shaping the industry. This year, The Dairymen will explore how the UK's exit from the EU will affect British dairy, and ask how the industry can make sure it is prepared to tackle the supply chain pressures it might bring, as well as making the most of potential new export markets.
Gold and Platinum members will be able to download The Dairymen from 14 September. Subscribe now. We'll be publishing insight and analysis from The Dairymen online throughout September and October.