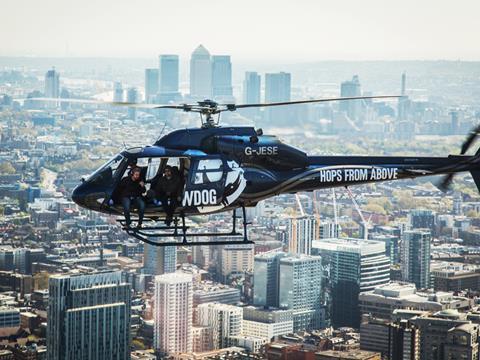 1 (1) BrewDog
Formed: 2007

Sales: £29.6m

2yr CAGR: 66.7%

Owned by: Co-founders Martin Dickie and James Watt, and more than 35,000 crowdfunded investors.

How? Not known for their understatement, BrewDog founders took to the sky in May, after raising a record-breaking £5m in 20 days from its £25m crowdfunding campaign, to rain down monocled taxidermy cats on the City of London. CEO James Watt called it a "glorious combination of art, guerrilla warfare and feline sartorial elegance" that heralded the extinction of the City fat cat.

No stranger to anti-establishment agitprop, the self-proclaimed "libertine" and "maverick" has also called BrewDog the Guy Fawkes of brewing: "We are burning the established system - the status quo - down to the ground and forging a new future for business from the flames." His latest book Business For Punks includes advice such as 'don't start a business, start a crusade', 'make banks your bitch' and 'networking is for fools'.

The annual report for 2014 also lists installing a new jacuzzi permanently filled with Punk IPA in its offices as one of the highlights of the year. "This is obviously a lie," it goes on to say. "But next year we just might make it a reality."

However, none of this should distract from the fact that BrewDog has doubled turnover every year from 2008 to 2013, with another 64% hike in the top line coming last year. The business now has 28 bars worldwide, with sites as far afield as Brazil and Japan, exports a million litres of beer to 55 countries and employs more than 350 staff - all paid the living wage since 2014, a first in the brewing industry.

Founders Watt and Martin Dickie haven't achieved this massive growth on their own; they are backed by an army of 35,000 'Punk' investors. All have bought shares in the company under BrewDog's own crowdfunding platform, Equity for Punks, with £7m raised in the first three rounds from 2009 onwards.

The latest £25m campaign, launched in April this year, will be used for a new Brewhouse in Aberdeen, investment in technology and more bar openings. It values the group at an eyewatering £305m, which has drawn heavy criticism from some quarters in the world of finance.

Watts and Dickie don't care a jot, though, with the pair expecting sales to hit £50m in 2015 and £100m by 2017. The City also won't care either, if a planned £1bn IPO is launched by 2020.