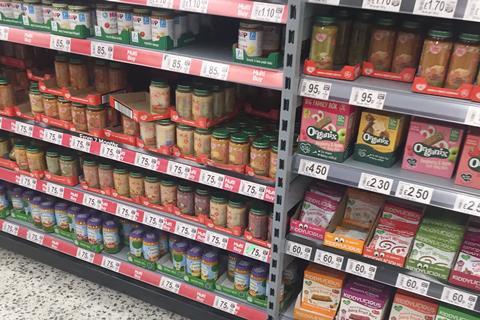 Asda has landed its first Grocer 33 win in over three months thanks to a strong performance from staff.
The team at its branch in Westmead, Farnborough pushed it into the top spot with their "polite" approach to service. An employee helped our mystery shopper find items she couldn't locate, while the till operator handled her products with care.
Asda had near-perfect availability, only missing straw-berries, but staff replenishing shelves left cardboard boxes "strewn down various aisles".
There were plenty of available checkouts, meaning there was no need for our shopper to queue despite the store being noticeably busy on this Saturday afternoon visit.
Our shopper noted posters asking customers to wear face masks and floor stickers to remind them to practise social distancing. However, she felt staff should have intervened more to restrict the number of shoppers entering the store.
Waitrose in Comely Bank, Edinburgh took second place this week, falling just one point shy of Asda. Our shopper encountered polite staff and high overall standards at what she called a "very nice store".
The branch had strong coronavirus measures in place, including all partners wearing masks and gloves, staff maintaining social distancing, and clear screens at checkouts. It was rounded off with well-managed queues at the tills, but the employee who served her was "not very pleasant" and failed to make eye contact.
Waitrose was also let down by its layout and availability. There were four out of stocks (tinned mixed vegetables, Bourneville, chocolate eclairs and Warburtons toastie loaf) and two not-stocked products.
Morrisons in Peckham proved a mixed bag. Staff were placed at its entrance to monitor customer numbers, hand sanitiser was available, social distancing reminders were scattered throughout the store and employees wore masks. The team was also "hugely helpful and there in abundance", while its logical layout gave our shopper a "swift" experience and a "great trip" overall.
But its store standards were lacking as staff restocked shelves. The frozen, pasta, crisps and dry goods aisles had several cages and pallets blocking walkways, which made it "slightly difficult" for our mystery shopper to find her way around, and "impossible" to maintain social distancing. Poor availability was also a factor that held it back.
Lacking Covid-19 protocols and unhelpful staff at Tesco in Wolverton, Milton Keynes made our shopper feel uneasy. She said employees failed to ensure social distancing, causing customers to "bunch together" down the aisles, and there was no sanitiser for shoppers.
There weren't enough staff on the shop floor to help our shopper with her queries, and those she did encounter were "rude" on occasion. One employee did not show her where an item she needed was and didn't maintain social distancing, another told her to look on its website for a product she wanted, and a couple of others were on their phones and socialising.
Sainsbury's in Southend-on-Sea, Essex finished bottom of the pile with "quite a few" empty shelves and restocking trolleys blocking some aisles due to a lot of stock replenishment going on.
It had an effective one-way system, but its hand sanitiser and wipes were placed behind a barrier that was out of reach of customers, and not all employees wore PPE.
This week's results:
WEEK 13: Saturday, 05/09/2020 (3.00pm - 6.00pm)
WINNER
Asda
Morrisons
Sainsbury's
Tesco
Waitrose
Location
Farnborough
London, Peckham
Southend-on-Sea
Milton Keyne
Edinburgh
Date
05/09/2020
05/09/2020
05/09/2020
05/09/2020
05/09/2020
Time slot
3pm-6pm
3pm-6pm
3pm-6pm
3pm-6pm
3pm-6pm
Shop starts
03:18pm
05:49pm
01:09
03:00pm
03:05pm
Visit Duration
00:52
00:48
01:09
01:36
00:55
Shop Duration
00:37
00:41
01:02
01:33
00:50
Car Park (10)
8
10
10
9
9
Signposting (up to 1)
1
1
1
1
1
Queueing time to park (up to 2)
1
2
2
2
2
Trolleys (up to 2)
2
2
2
2
1
Queueing time from parking the car to enter the store (up to 3)
3
3
3
3
3
Feedback (up to 2)
1
2
2
1
2
There were no staff on the door restricting customer numbers into the store, however there was a hand/trolley sanitiser station and big posters reminding shoppers to wear a face covering. Unfortunately with only one sanitiser station it did cause a bit of a bottleneck trying to enter the store (which seemed very busy!) There were no other barriers to indicate entry/exit for customers, however the store does operate a normal "entrance/exit" system so I suppose these would be superfluous.
Members of staff were placed at the entrance along with hand sanitiser.
There was a one way system on entry. You couldn't enter through the car park entrance as that was being used as the exit. There was a member of staff on both the entrance and exit. The stickers were still on the floor to show the two metre gap but were rather worn. At the tills they had barriers between you and the cashier and also the next till.
There was a clear one way in and out system, however no staff manning this so people were just walking in together. There were red 2mtr lines going down the aisle but no stickers on the entrance.
After parking we had to go down in the lift into the store. Out the front door and on to the pavement to join the end of the queue into the store. There was no queue to enter the car park but lots of cars parked on the street near the entrance to the car park.
Store standards (20)
14
15
7
9
18
First impression (up to 5)
2
4
2
1
5
Feedback
There were a lot of customers milling about in the entrance which meant the store felt a bit chaotic, however the hand/trolley sanitiser station seemed well stocked and sufficient. There were large posters dotted around the store reminding customers to wear face masks, and there were 2m distance stickers on the floor in every aisle.
Plenty of social distancing guides around, staff wearing masks and visors, screens in place.
The hand sanitiser and wipes were in a rather strange place behind a barrier which was out of site from the entrance.
The staff appeared calm and very relaxed, no staff by the entrance making sure people were keeping their distance. I didn't notice any hand sanitiser or pray anywhere to clean down the trolley. I didn't notice the staff wiping them down either.
Quite tidy. No spillage or anything lying on the floor.
Displays (up to 3)
2
3
0
0
2
Availability and replenishment (up to 5)
4
4
2
3
4
Feedback
There were a lot of empty cardboard boxes strewn down various aisles - particularly notable in the nappy/baby aisle. There were a few empty sections in the fresh fruit aisle. There were absolutely NO strawberries in stock. There seemed to be a lot of staff replenishing other areas (not the fresh fruit) who were considerate of customers and keeping a safe distance.
The frozen aisle, pasta and dry goods section and crisps aisles both had a lot of cages and pallets in the aisles, making it slightly difficult to get round and impossible to maintain social distancing if people were coming from opposite directions. Carrots were also stripped almost bare. However, for the most part, the shop was exceptionally well-stocked with a host of staff replenishing shelves in chilled and ambient sections.
There were quite a few shelves that were empty. There were quite a few large trollies left on the end of aisles, some causing obstruction, for staff to replenish the shelves but not a lot of replenishing going on.
The young man stacking the bread kept his distance, however the older man replenishing aisle 25 fridge section didn't and walked straight past me twice. All of the shelves looked fully stocked. In the same area their were two lads and a girl one was stocking shelves.
Quite a few spaces on shelves but lots of staff replacing products. Still easy to get round the store. Not an easy store to navigate. Didn't think there was any logic to the general layout. Poor grocery selection at this store.
Obstructions (up to 3)
3
0
0
2
3
Spillages (up to 2)
2
2
2
2
2
Condition of the store in terms of cleanliness (up to 2)
1
2
1
1
2
Feedback
N/A
Store was very clean and well maintained. Exceptionally tidy shelves and helpful and smiling staff.
t's an older store which could do with a revamp. It was tidy apart from the trolleys for restocking.
Store looked generally tidy and clear of obstruction no rubbish or boxes lying around.
Very nice store and quite busy too!
Store layout (10)
8
8
3
7
6
Did the store layout seem logical and intuitive? (up to 2)
2
2
1
1
0
Was it easy to navigate the store while also feeling safe? (up to 6)
4
4
2
4
4
Did the store offered any Click & Collect services? (up to 2)
2
2
0
2
2
Shop Floor Service (20)
15
17
14
9
20
Product location (up to 5)
3
3
3
0
5
Staff politness/responsiveness (up to 5)
5
5
3
3
5
Feedback
I could not locate an item and asked a member of staff (Julie) if she could help. She was very polite and told me I needed to go one aisle over, in approximately the same place as we were standing in the current aisle. Julie then wished me a pleasant weekend. The item was then located in the aisle Julie had directed me to.
Sandra and Chloe were very polite and helped me gladly, suggesting multiple items that might help or interest me as I described what I was looking for.
When I couldn't find the beef joint I wanted I spoke to Amy who said that all the meat they had was out on display. I spoke to Robert when I couldn't find the swede and he said they didn't have any but he would show me where I could buy it ready prepared in the fridges. I spoke to Gemma when I couldn't find the cheese and jalapeno pastries and she said as there wasn't a price label for them that they obviously don't stock them. I spoke to Gary when the yorkshire pudding cabinet was empty and he said they were out of stock of their own brand and Aunt Bessies already cooked ones.
It was hard to find a member of staff to ask, however there were 4 members of staff in aisle 24 the fridge department. An older man who did not show me where i needed to go, he just said he didn't know when I asked for chorizo, i helped him by saying maybe its by the cold meats and he then said over the other side, bearing in mind he was actually on that section i was surprised. He showed no social distancing and carried on walking past me filling the shelves. The two young lads also in that area one was Luke who was on his phone and mucking about with another Asian colleague who punched him in the shoulder! (sorry he didn't have a name badge). The Asian lad was quite rude as I had asked the girl member of staff, (i couldn't see her name on her badge) if they had any mild choritzo as stated they do on their website, she told me that the website is not of the stuff they have in their shop. She looked at the shelf with me and pointed at another type of choritzo i could maybe have instead. I went round the aisle then back down the same one again to see if the two boys were still mucking about and the asian lad looked at me and said quite loudly joking with his friends that "choritzo is supposed to be spicy" I found this rude. Aisle 22 a youngish lad was taking empty boxes off the shelves and putting them into a big cage, (not obstructing ) he had a high vis jacket on but no name. I asked him to help me find the juice pods, he looked it up on his device and showed me where they were and helped me look for them, he said have a nice day and was very helpful and pleasant. Generally the rest of the time I found it hard to find help, and the staff in the fridge section had all disappeared.
All staff in uniform. And very smart. Masks worn by all staff. Great assistance when I asked for it.
Was it easy to find a member of staff (up to 3)
2
3
3
1
3
Were staff easy to identify through their uniform or name badges (up to 2)
2
2
2
2
2
Staff presentation (up to 5)
3
4
3
3
5
Feedback
0
All kept a safe distance and didn't approach me closer than I was comfortable with.
Some of the staff wore masks but none wore gloves. Not all stayed a safe distance when I spoke to them but I was wearing a mask.
As previously stated their was only one male member of staff who was collecting the empty boxes on aisle 22 that did social distance and was wearing a face mask and gloves. The 4 staff members in the aisles 24-26 fridge section didn't have face masks on and were not social distancing when I saw them.
The check out operator was the worst one ever!! Looked and acted like he would rather have been anywhere else but where he was! Just threw the products down the counter for us to pack. Eventually mumbled Afternoon. I said sorry did you say something? He mumbled it again. Tried to start a conversation but no response! Not the usual standard for this "upmarket" store!!
Tills and checkouts (20)
15
20
15
14
14
How well managed were the queues leading up to the till-operated checkouts in terms of maintaining order and social distancing? (up to 2)
1
2
0
0
1
How well managed were the queues leading up to the self-service checkouts in terms of maintaining order and social distancing? (Please observe after you've completed your shop, and include observations around attentiveness to customers requiring help due to flashing lights/unattended items in bagging area) (up to 2)
1
2
1
1
1
How long did it take to queue (prior to scanning) (up to 4)
4
4
4
4
4
Please rate checkout staff on their customer service and safety (up to 7)
4
7
5
4
3
Time for G33 items to be scanned (including payment) (up to 3)
3
3
3
3
3
Was the till receipt free of mistakes? (up to 2)
2
2
2
2
2
Feedback - please provide any further details/feedback on the tills and checkout:
There didn't seem to be a great deal of social distancing measures in place at the checkout/queue area, however there were a good number of checkouts open and as a result I did not have to queue at all, despite the busy-ness of the store on a Saturday afternoon. My checkout operator was very polite and handled my goods carefully and wished me a pleasant evening as I left.
Very swift check out process. No queue at all. I walked up to the conveyer and was able to unload and have my items scanned immediately.
All the tills had screens between you and the cashier and a screen to separate the customers between the tills. My cashier was very friendly and asked if I needed any help.
Till 24 Aranaca. She did tell the person behind me to step back until I was finished packing, she didn't however demonstrate very good handling skills as she was just rolling stuff at me. No one was in front of me when I came to que. There wasn't many ques to the tills, only a couple of people at a time, however there wasnt any staff watching to make sure, only blue stickers on the floor dotted around to remind us to keep 2mtrs. I waited 30 minutes watching the self service area, the girl was relaxed and calm who was working on there. I didn't see her guiding people to keep their distance though.
Checkout operator not very pleasant. Did not make eye contact or chat at all.
Availability score (20)
18
6
11
17
10
Of the 33 items on your shopping list how many were:
Available (up to 20)
32
25
28
30
27
Out of stock (-2 per item)
1
6
4
0
4
Not stocked (-1 per item)
0
2
1
3
2
Availability %
97.0
80.6
87.5
100.0
87.1
Please note down the items on your shopping list that were out of stock (please highlight the products that have managed to get a satisfactory substitutions)
The only item that was out of stock was the strawberries. I was able to find all other items on my list with no substitutions necessary.
Tex Mex dip (subbed for smaller size)
Method Floor Cleaner rhubarb
Hovis Wholemeal
Tinned peaches (substituted for a brand)
Carrots 1kg (substituted for 500g chanterey)
Pineapple and coconut yoghurt, 450g
Swede - got substitute
Own label tomato ketchup 680g - got substitute
Aunt Bessie 12 golden yorkshire puddings - got substitute
Mature beef roasting joint
N/A
Canned mixed vegetables. Got Carrots and Green Beans instead.
Casburys Bournville so took Fruit and Nut
4 pack Chicolate Eclairs so took Fairy Cakes.
Warburtins Toastie Loaf so Waitrose own taken.
Please note down the items on your shopping list that were not stocked (please highlight the products that have managed to get a satisfactory substitutions)
N/A
Captain Morgan White Rum
Frozen kale
Cheese and jalapeno pastries
Mild choritzo - no substitute
Cherry Onken yoghurt - Substitute Strawberry
Robinsons apple & blackcurrent pods- Substitute orange
Belhaven Best beer. Bought Peroni instead.
Richmond Irish Recipe Sausages. Got Waitrose own make equivalent.
Please give any other details or info about your shopping trip, good or bad
Asda Farnborough is a big store and I feel it could benefit from an additional sanitising station to minimise the bottleneck at the entrance to the store. I was pleased to see that the fresh counters (such as the pizza counter) were fully stocked and manned.
Really was a great trip. Staff were hugely helpful and there in abundance. It was swift because the store layout was logical and laid out exactly how I'd expect.
The only click and collect available was for clothing.
The car park you had to pay for and they refunded it off of your bill. There is and upstairs to the car park but the stairs and escalator were shut you had to use the lift.

This store has an Argos, Lloyds Pharmacy and a Foreign exchange.

The toilets are still closed
There didn't appear to be enough staff on the shop floor to ensure social distancing and apart from the lines going down the aisle there was no one way up or down them and everyone was bunching together. Not enough staff to ask either once they staff members at aisle 25/26 had gone i found it hard to find someone. Shelves were well stocked. The whole experience didn't make me feel particularly safe due to the customers wondering everywhere and lack of staff helping to maintain social distancing.
This store is not easy to navigate and no flow to the layout at all. Much prefer Sainsbury and Morrisons layout much easier to follow.
TOTAL SCORE (100)
78
76
60
65
77