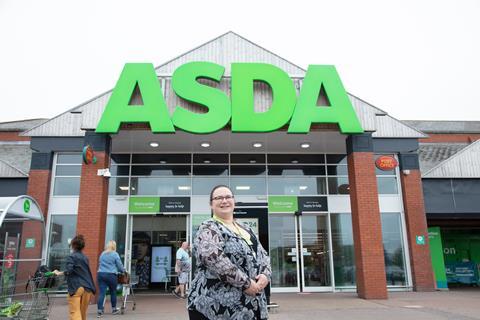 Winner: Asda Westmead, Farnborough
Store manager: Joanne Grover
Opened: 1999
Size: 85,000 sq ft
Market share: 12.5%
Nearest rivals: Sainsbury's – 0.9 miles, Waitrose – 1.6 miles, Morrisons – 2.3 miles, Tesco – 4.7 miles
Store data source: Analysis by CACI
Call the market planning group on 020 7602 6000
Availability was strong, with only strawberries out of stock. How do you ensure that high level? The team works very collaboratively to ensure we have the products customers want as quickly as possible. It's also important to find out why a product is out of stock and get to the root cause fast. If the team spots a gap during the day, it is filled by 9pm that evening, as long as we're not having supply problems. The strawberries that were out of stock for your mystery shopper have been undergoing some issues with suppliers.
How is footfall right now? We've just had an increase in footfall with schools opening again. That custom has mostly been online for the past few months, so it's good to see some faces again. Shoppers were very nervous and anxious about coming into store at the beginning of the pandemic, so what we've tried to do is reinvigorate delivering easy, fast and friendly service alongside safety measures.
How have you found Asda has handled coronavirus protocols? What's really helped is that the communication from Asda to the store has been very clear. I have then communicated what needs to be done to the team with video messages, notices on our staff notice board, huddles and on our Facebook group to ensure everyone knows what they need to do. It's taken a lot of adaptation from everyone; it was a very tricky time when the government first announced lockdown. What was amazing was how quickly Asda put actions into place, such as social distancing stickers on the shopfloor and screens at the checkouts. This was across the estate, sometimes within 48 hours of the government announcing a change.
How is your online side doing? We doubled the number of slots over lockdown to ensure we were meeting as much demand as possible. I had six days' notice to recruit team members and get everything ready for that increased capacity, but the support from Asda was great. The online deliveries were especially popular with vulnerable shoppers, and we've seen some of that growth maintain since. Click & collect is up 200% too; customers love the service.
Our shopper called the pizza counter well-stocked and eye-catching. Are customers enjoying it? We're actually trying to get customers back into pizza; it's one of the areas shoppers have stepped away from. But with children returning to schools I expect we'll naturally see more reliance on quick and easy meal options like pizza. We're trying to get sales back to what they were pre-Covid by reminding customers about the selection we have and our 'create your own' option..
What do you make of the return of Asda's 'pocket tap' ads? The team loves them, and I find them very nostalgic, so it's good to see them back. My daughter used to ask me to do the pocket tap when her friends visited and they loved it. The pocket tap is just so synonymous with Asda – if you tap your pocket, people know you're referring to us.