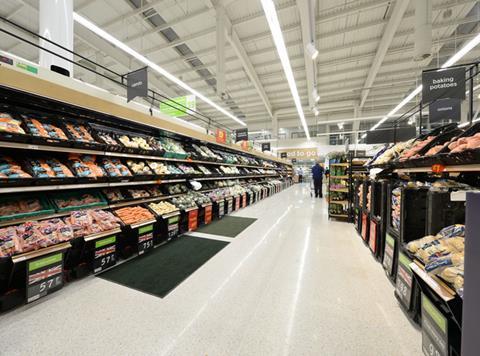 Featuring a pork joint with lots of trimmings, plus a celebratory cake, chocolates, and lashings of Coke, our basket was comfortably won by Asda this week.
Asda's £82.89 basket was £2.29 cheaper than nearest rival Tesco, with 10 items exclusively cheapest, including the eclairs, coffee, milk, mint imperials and Kellogg's cereal (see full details by clicking the + icon) which benefited from fortunate phasing of its Rollback as rival promos expired.
Asda's comprehensive rout of its rivals came despite a 4.8% year-on-year increase in the price of the basket, and price increases on six lines – more than any other retailer.
Tesco – which has been struggling to land its EDLP strategy – was cheapest (six) and exclusively cheapest (two) on fewer items than any other retailer, and appears heavily reliant on its Clubcard promotions to be competitive. If you include these and other multibuy promotions (press the 'all-inclusive' button on the table) the gap closes to £1.38.
Sainsbury's continues to eschew multibuys and so it's perhaps no surprise that it offered more price-only promos (five) than any other retailer in its £88.97 basket. And on four of the five occasions (the apples, mouthwash, carrots and pizza), it came out exclusively cheapest as a result. But it was over £6 dearer than Asda.
As was Morrisons, which conversely is focusing its promo strategy on multibuys. Factor in the seven multibuys in our 'all inclusive' view and its basket falls from £89.18 to £85.24. That's still a £4.11 gap on Asda but – if you're prepared to buy into these multibuys – makes it significantly cheaper than Sainsbury's basket.
In the week that CEO David Potts admitted that food prices were rising, its basket was up by 8.2% yoy – more than any other retailer – as a result of significant price hikes on the Coca-Cola 24-pack and Lenor Scent Booster. Waitrose wasn't too far adrift of Morrisons – another £1.32 behind – and was exclusively cheapest on five items, including a £1 price difference vs its big four rivals on both the Super Mario celebration cake and the Marston's six-pack. It was even cheapest on the 24-pack of Coca-Cola, though the £10.50 price point is still a full £1.50 more than this time last year.
Amid the current can shortage, the cost of the Coke was up 8%, but the biggest price hike was on the Lenor scent booster, up 9.9% year on year. The largest price fall was on the own-label frozen french fries which were down 29.3% year on year, followed by the Maris Piper potatoes (–12.6%). Average inflation across the full assortment supermarkets is running at 1.8%, with 16 items up in price year on year and 14 falling.