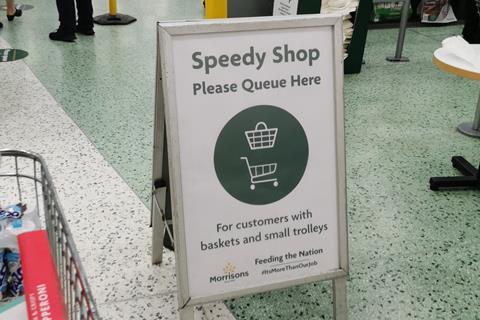 Morrisons picked up the store of the week gong thanks to excellent service and strong store standards.
Staff as its Stewartfield, East Kilbride branch were "helpful" and "friendly" when our shopper visited on Sunday. The experience was positive from start to finish. On arrival, the car park was easy to navigate, there was an abundance of trolleys, and the atmosphere was calm and well-ordered.
An employee monitored customer numbers entering the store, staff wore masks, screens were installed at the tills and there were floor stickers and announcements to remind customers of protocols. Our shopper did not see any staff wearing gloves, but there were enough hand sanitiser stations.
She found the lines at the tills well-managed with an additional checkout being opened and a team member directing customers to the self-scan area. The checkout operator was also "extremely helpful" and made an effort to chat.
Availability was strong, with just one out-of-stock item and "very few shelves low on stock".
Sainsbury's St Ann Way, Gloucester, missed out on the win by just one point, with availability holding it back. It had three out-of-stock items.
The store scored highly for customer service and had an effective store layout and full marks for its car park. Our shopper said the latter was clearly signposted and they had no trouble finding a parking space.
There were plenty of coronavirus procedures in place, including a one-way system, hand sanitiser, disinfectant spray for trolleys, and signage to remind customers to wear a face mask and keep their distance from others.
Staff were able to maintain a sense of order and were "friendly, polite, helpful and seemed very aware of their surroundings," according to our shopper. The team also made good use of their digital handsets to help her find items.
Our shopper felt safe and reported a "pleasant" shopping experience overall. However, there was a mistake on the receipt whereby she was not charged for the brioche rolls.
Our shopper at Tesco in Park Road, Liverpool, said she enjoyed a "successful and very speedy" visit and gave the store full marks for its logical layout. She called it a "truly impressively stocked" supermarket.
Although our shopper found staff were attentive and approachable, she felt "dismayed" that employees were not wearing PPE.
The store's other snags were its unclear entry and exit signage, alongside having one SKU out of stock and one not stocked.
Waitrose Wimbledon provided a full basket. But it was let down by an incorrect till receipt, empty bakery shelves, gaps at some gondola ends, and restocking trolleys causing obstructions.
There was a spillage on the shop floor too, but employees attended to it, and it was staff who bumped up Waitrose's score. Our shopper found they were "helpful in assisting customers".
Asda Newport had one out-of-stock item, while two more were not stocked. The milk section was "very bare" but team members were restocking it.
The store got full marks for its "easy to navigate" layout and "immaculate" car park, but our shopper was disappointed by the implementation of coronavirus measures. Although the store provided hand sanitiser and cleaning materials for trolleys, there were no limits on customer numbers, and the one-way system was not followed.
This week's results:
WEEK 11: Sunday, 23/08/2020 (12.00pm-3.00pm)
WINNER
Asda
Morrisons
Sainsbury's
Tesco
Waitrose
Location
Newport
East Kilbride
Gloucester
Liverpool
Wimbledon
Date
23/08/2020
23/08/2020
23/08/2020
23/08/2020
23/08/2020
Time slot
12-3pm
12-3pm
12-3pm
12-3pm
12-3pm
Shop starts
12:35pm
12:09pm
01:09
12:08pm
12:40pm
Visit Duration
01:00
00:46
01:09
01:09
01:10
Shop Duration
00:58
00:40
01:02
00:54
01:00
Car Park (10)
10
10
10
9
10
Signposting (up to 1)
1
1
1
1
1
Queueing time to park (up to 2)
2
2
2
2
2
Trolleys (up to 2)
2
2
2
2
2
Queueing time from parking the car to enter the store (up to 3)
3
3
3
3
3
Feedback (up to 2)
2
2
2
1
2
The car park was the cleanest car park I've seen on my visits. Trolleys were really neat and appeared very new. There was no queue outside and it didn't appear that anyone was monitoring this but there was a security guard inside the store so possibly they were counting people inside the store. There was a station set up with spray and blue cloth to clean trolleys just outside the store should you wish to clean your trolley, which I did. On the door entrance there was a hand sanitiser block that you could use on entry. The foyer was divided so you could only enter and exit through one of the two doors.
There wasnt a queue to enter the store when i arrived however there were baricades up to direct people and a member of staff at the door to let people in
The car park was well signposted and although it looked busy it was easy to find a space. The trolley parks in the car parks seemed to be mainly full, but there were plenty of trollies neatly stacked at the entrance. The trollies were coin operated, which I wasn't expecting - I don't believe I've been to a Sainsbury's store before where I've had to use one. There was plenty of social distancing and mask signage around the entrance to the store, and painted footprints on the floor outside the entrance to indicate where to stand if there was a queue (which there wasn't at the time I shopped). There was a one way system in effect for entering/leaving the store, with a sanitising station by the entrance, with spray for the trollies and hand sanitiser.
Social distancing measures had been put in place, meaning there was a one way system on entrance to/exit from the store. BUT the signage was awful - I got a trolley and went into the exit (following the store entrance signage) and a member of staff was standing on the closed travellator, waving people back out of the entrance door (I wasnt the only one) and gesturing around to another entrance point. So - I potentially could have walked straight into people leaving the store (luckily I didnt). Then, as i already had a trolley I had to wait for a lift up to the store (there was a queue and this took a little time). Bit of a mess. But once up to store entrance level the entrance and exit doors were clearly marked and barriers were in place.
There are lots of signs to indicate social distancing is required and show what 2 metres looks like. There was a staff member at the entrance who was offering disinfectant and paper towels to clean the trolley handles. There was no queue to either enter or leave both the carpark and the store.
Store standards (20)
17
18
17
18
16
First impression (up to 5)
3
5
5
3
4
Feedback
It is strange these days to go to a large supermarket and have no-one at the entry limiting numbers. There was a security guard and a one way entrance but other than that it seemed like business as usual. There were some large signs highlighting the rules on "Social Distancing - what to do" as well as no entry signs and arrows on the floor but it seemed no-one was following these at all. There was no customer flow to the store and I saw several people moving down aisles that said no entry.
There were a lot of sanitizing stations throughout the store and a trolley cleaning station on the way in so people could ensure their safety. There were stickers on the floor to help maintain distance
The store has a light and airy feel, and is very big. It didn't feel very busy - there was plenty of room to shop socially distant, with coloured tape across the floor to indicate distance (although this was faded in some areas). I noticed several announcements as I shopped regarding social distancing, and letting a team member know if you needed any assistance. As you enter the store there is an attractive and enticing home display, featuring new items, and it was easy to see that the clothing and homewares were to the left, with groceries to the right of the store.
This is a huge space with very wide aisles - the sense of space and organised, tidy displays makes it appealing to the eye on entering the store.
he store looks great on entry. There is a large space to work out where you want to go first if you are not familiar with the layout. There were staff members present and there were attractive displays of appropriate items visible. There were lots of hand sanitiser stations and they were activated by your foot so you didn't even have to handle the pump.
Displays (up to 3)
3
3
3
3
3
Availability and replenishment (up to 5)
4
4
3
5
3
Feedback
The store was well stocked I felt. The milk section was very bare (see picture) but aside from that there were not any other glaring gaps. There were several staff members re-stocking but they were aware of customers and moved trolleys or kept them in a good space for customers to get around.
Very few shelves were low on stock, there were staff in a couple of the aisles replenishing things but mostly the store was well stocked
The store didn't feel messy, but there were many empty shelves (mainly through the fresh and fruit/veg areas). Some of these were being re-stocked, but others didn't appear to be.
This was a truly impressively stocked store - perhaps the best I have visited during this lockdown period. The shelves were full and very tidily stacked - and staff were still stocking. I was quite impressed by the gondola offers. There were lots of half price or BOGOF deals for home and car (quite practical offers during these times I thought) and seasonal promotions.
There were good stock levels of most items though some shelves were looking a bit empty - this was particularly apparent in the bakery section and on the special offer gondalas. In the latter case, however, it was usually possible to find the item in the normal aisle with other similar products. There were plenty of staff about in the store and they were working hard to replenish stock but also keeping a safe distance away whenever possible.
Obstructions (up to 3)
3
2
3
3
2
Spillages (up to 2)
2
2
2
2
2
Condition of the store in terms of cleanliness (up to 2)
2
2
1
2
2
Feedback
The general standard of the store was very good. It appeared neat and tidy and well stocked.
The store was very clean and tidy, there were a few people restacking or moving items from shelves but they didnt block the whole aisle so there was still space to move past. In the first aisle though there was a member of staff talking with what appeared to be a few friends and the group distanced between themselves meaning they blocked most of the aisle and it made it difficult to pass them so i ended up going a different way to get into that aisle
The store as a whole felt very pleasant to shop. It was bright and airy, and large enough that it did not feel uncomfortably busy (despite the car park seeming quite busy). Where re-stocking was going on cages were neatly placed, and staff seemed very aware of remaining socially distant with customers and moved in order that they weren't in the way.
As previously mentioned the sense of order in the store was excellent. The size of the store meant wide aisles, and so I felt quite safely social distanced in what was a busy store. The floors were sparkling.
There were two areas where a stock cage was left and not being attended to although it had been pushed to the end of the aisle and right into the side so it was causing the minimum of disruption as possible. Whilst I was in the store a man dropped a bottle of wine which smashed and broke. Immediately a staff member appeared and took control of the situation, ensuring that the glass was swept up safely, that the liquid was mopped up and that no one slipped on the wet floor.
Store layout (10)
10
8
10
10
8
Did the store layout seem logical and intuitive? (up to 2)
2
2
2
2
2
Was it easy to navigate the store while also feeling safe? (up to 6)
6
4
6
6
4
Did the store offered any Click & Collect services? (up to 2)
2
2
2
2
2
Shop Floor Service (20)
10
19
19
15
19
Product location (up to 5)
3
5
5
3
5
Staff politness/responsiveness (up to 5)
0
5
5
4
5
Feedback
Pain Au Choc 4pack - I asked a chap if they had any 4 packs as I could only see an 8 pack. He showed me the gap where the 4 pack was and explained that they only have a few packs a day that sell pretty quickly and they had all gone. I chose the 8 pack instead. He was very polite and really seemed to know his department well. Milk - the milk section was almost completely empty (see photo). I asked Chris if they had any and he explained that they hadn't had any for 2 days due to a problem with their supplier but that they would have some more in tomorrow (Monday). Penne Pasta - 1kg bag. I asked a lady with a Scottish accent if they sold the 1kg bag of penne. She explained that they don't but that larger Asda stores would. She pointed out the 3kg bags of fusilli that I may be interested in but I chose 2 of the 500g bags of penne instead. Baby Spinach - I asked a lady who was doing replenishment in fruit and veg where the baby spinach was as it wasn't next to the spinach. She explained it was with the bagged salad at the aisle end. Houmous and Texmex selection - again, the lady on the fruit and veg section explained that this was on the aisle end of aisle 6 which was where I found it. I did wait for a lady (long brown hair in a ponytail) to ask her but she appeared to be talking to a friend about a holiday to Tenby so after waiting for a little while I moved on.
The staff i spoke to were very helpful, they were able to show me where the products were, i was in the right section just not looking in the right place so they didnt need to accompany me anywhere but they were able to help me and maintain social distancing. All staff i spoke to were very friendly
There were no New York Sesame Bagels on the shelf, so I asked Fahama, who was re-stocking the aisle if they had any more. She checked on her scanner and informed me that they were currently out of stock. She was friendly, polite, and kept at a safe distance. I was unable to find the Taste the Difference White Sourdough Half Bloomer, so I asked a tall young man who was re-stocking the bread aisle. He looked not he shelves and then checked his scanner, and informed me that they did not sell the smaller loaf, but directed me to the larger loaf, which I bought as a substitute. He was friendly, polite, and kept at a safe distance. I was unable to find the Thatchers Cloudy Lemon Cider on the shelf, and I found Maz two aisles away, who went to check for me if they had any more in the stockroom. She came back to say they were out of stock. She was friendly, polite, and kept at a safe distance.
Very lovely friendly staff, the only reason I scored 4 is that, of the two staff I approached, one told me where the product was instead of taking me to the aisle, and the other didn't offer to check in the stock room for the unavailable product, but did tell me when the next delivery was expected.
Staff were very helpful in assisting customers in general - not just me. On one occasion I heard a customer say "now where are" and a staff member immediately said "what are you looking for Sir, can I help you?" When the customer said he was looking for his family the staff member joked "Well, that's one thing I probably can't help you with but anything else just ask".
Was it easy to find a member of staff (up to 3)
2
2
3
3
3
Were staff easy to identify through their uniform or name badges (up to 2)
2
2
2
2
2
Staff presentation (up to 5)
3
5
4
3
4
Feedback
All of the staff I spoke to seemed to really know what was happening in their store / department. The team members that I spoke to knew exactly where things were and what was happening to stock that wasn't there. They were all polite, knowledgeable and engaging.
All staff i seen wore masks,i didnt see any wearing gloves
Most staff appeared to be wearing masks. Everyone I encountered was friendly and helpful, and seemed very aware of their surroundings and customers, constantly remaining a safe distance.
There was great staff availability and staff were friendly and approachable. I was a bit dismayed to see that hardly any staff wore PPE - but they were very aware of social distancing.
Staff were all aware of social distancing. There were a variety of PPE items worn - those stocking shelves were all wearing gloves and the people behind the meat/cheese counters also had masks on. There were plenty of staff available.
Tills and checkouts (20)
15
16
17
16
15
How well managed were the queues leading up to the till-operated checkouts in terms of maintaining order and social distancing? (up to 2)
0
2
2
1
1
How well managed were the queues leading up to the self-service checkouts in terms of maintaining order and social distancing? (Please observe after you've completed your shop, and include observations around attentiveness to customers requiring help due to flashing lights/unattended items in bagging area) (up to 2)
1
2
2
1
0
How long did it take to queue (prior to scanning) (up to 4)
4
2
4
4
4
Please rate checkout staff on their customer service and safety (up to 7)
5
6
6
5
7
Time for G33 items to be scanned (including payment) (up to 3)
3
2
3
3
3
Was the till receipt free of mistakes? (up to 2)
2
2
0
2
0
Feedback - please provide any further details/feedback on the tills and checkout:
There were 9 tills which are close together. Tills 1-4 were closed and 5-9 were open. I didn't understand why they didn't open every other till to ensure social distancing. They had screens between them but I did feel very aware that I was right next to the till operators on both sides of me. My operator was incredibly speedy and friendly. There was no-one operating the line at the tills or a system of any kind that I could see. I just created a line next to what I thought would be the shortest wait. I waited just under 5 minutes to join my till. Perhaps they didn't feel there were enough of us waiting to start a system? As the self serve tills there were 3 areas:- 1. The Scan & Go tills (four) 2. Self checkout with conveyor belt (5 with 4 in operation) 3. Self checkout for baskets (10) These were really busy and especially the basket areas were very close together. I watched for a while and saw 2 very busy ladies running from till to till helping customers, including changing a till roll. Early on during the pandemic I saw people distinctly asking people to stand aside when helping them with issues on the tills. I didn't see this today. The tills were also really close together (although they did have plastic up). In other supermarket I've seen some of these tills closed to maintain distancing. I didn't note this happening today.
There was quite a long queue for the tills but it was very well managed and went down really quickly, a member of staff was there to direct people to a specific till and when she seen the queue had gotten quite long she had another till opened and directed me to that. There was also someone directing people at the self scan tills and ensuring people distanced. I was served by John and he was extremely helpful, he began packing my bags for me while i unloaded onto the belt and continued to help me pack after i finished putting my shopping up. He was very friendly and had a chat while scanning my shopping.
There were no queues for the checkouts, so I was able to load my shopping straight away. The till operator was friendly and polite. She wasn't wearing a mask, but there was a clear barrier. There are no separators to put in between your shopping and the next customer, and I noticed the customer behind me just left a large gap on the till belt. All the tills had been separated by large perspex barriers, meaning that if there was enough capacity, they could operate all tills at once. As it was relatively quiet, they had spread the open tills out, so that customers were not close together. It felt like a safe and practical set up. The only mistake on the receipt is that I appear to have not been charged for the brioche rolls.
Again the checkout staff was friendly and handled the items carefully. BUT - one thing I have noticed in recent times, and this visit bore it out, is that checkout staff race through the scanning process as fast as possible - like they traditionally do in the budget supermarkets. In my experience Tesco checkout staff have always scanned according to how fast the customer was packing, but this time a large pile of stuff built up as I was unable to pack at the speed of the checkout. It's a bit of a bugbear to me - like the staff just want you out!
Queues for the till are being managed through stickers on the floor so the whole of the area in front of the till is kept clear. However, it is not clear which till you are queuing for so there is a degree of confusion amongst shoppers who are queuing in two different aisles for the same till. Not too much of a problem as the store was not very busy but may be more of an issue at other times. The staff member at the till was very aware of social distancing between groups of customers and checked we were happy to start and the previous customers had cleared the area before starting to scan the items. The receipt did not feature the prawns which had no shelf label to indicate the price and did not scan. This was not picked up by the staff member, however, and I packed them without realising that I had not been charged for them.
Availability score (20)
15
18
15
17
16
Of the 33 items on your shopping list how many were:
Available (up to 20)
30
32
30
31
29
Out of stock (-2 per item)
2
1
2
1
0
Not stocked (-1 per item)
1
0
1
1
4
Availability %
93.8
97.0
93.8
96.9
100.0
Please note down the items on your shopping list that were out of stock (please highlight the products that have managed to get a satisfactory substitutions)
4 pint semi-skimmed milk - out of stock - didn't select anything else
4 pack Pain Au Choc - selected 8 pack instead
They had sold out of red seedless grapes so i swapped them for green ones
New York Sesame Bagels (no substitute bought)
Thatchers Cloudy Lemon Cider (no substitute bought)
Linda McCartney pies - no substitution I wanted.
N/A
Please note down the items on your shopping list that were not stocked (please highlight the products that have managed to get a satisfactory substitutions)
Penne pasta - 1kg - didn't stock so selected 2x 500g bags instead
N/A
Taste the Difference White Sourdough Half Bloomer 400g (bought the larger 800g loaf as an acceptable substitution).
Own label tuna in olive oil (substituted for tuna with spring water).
Not stocked - Lazy Garlic (able to get Waitrose own brand);
Albert Bartlett chunky chips (able to get Waitrose own brand)
Yum yums x4 pack (able to get raspberry yum yums x2)
Pimms & Lemonade x4 cans (no alternative available)
Please give any other details or info about your shopping trip, good or bad
The store was easy to navigate. The only thing I had a problem finding was the houmous and texmex selection which was on an aisle end. Usually, this is in with the deli items and aisle ends are for offers so I had to ask where this was. Although there was a one way system. I had to work it out myself and it didn't seem like anyone was really following it. When I tried to see if I was following the right way I took a while to work it out. There were a lot of people in the store and in several aisles I didn't feel that we weren't 2 metres away from each other - especially in the fruit & veg aisle..It felt like there were more people in the supermarket than previous weeks (I have noticed this in other stores over the past 3 weeks). I didn't notice any staff wearing masks / gloves at all either. It was a great store though, with an immaculate car park and a plentiful feel throughout with only one or two exceptions.
There was a sign in the car park showing where to go for click and collect, but i didnt see any other information about it as i walked round.This was smaller than the normal shop i would go to but it was really well stocked, well laid out and i felt like the staff were doing a really good job at helping people to maintain social distancing. They had a really good selection and i was able to get everything i wanted
Overall it was a pleasant shopping experience. On entering the car park there were large signs directing click and collect customers. I have tended to avoid the larger supermarkets since the start of the pandemic, feeling safer in smaller store, but this shopping experience has shown that the larger stores can also feel safe and welcoming. One item to note is that in the reduced area there was a large stack of Petit Filous yoghurts, all of which seemed to have a use by date of 22/08 - the day before my shop. I will attach photos in the email.
Overall it was a successful and very speedy shop. I found that there was a flow to the store that I found extremely easy to navigate. This was the quickest shop yet at less than an hour. I had to ask staff only once to find an item. Store signage helped in one or two cases. The products were easily located and the flow of the store made it easy to navigate. The size of the store made for a safely socially distanced environment. The signage outside the store left a lot to be desired was the only snag.
There were designated spaces in the carpark for Click & Collect customers but I did not see anyone using these and there were no staff waiting there.. Two items had no shelf price labels - the Spinach & Feta parcels but they were labelled as being in the 3 for £7 deal and the raw frozen prawns where there were three bags mixed in with the cooked prawns but no shelf label. They did not scan at the till so I didn't pay for this item. The store is in very good order - immaculately clean, attractive, easy to shop in and has a very good range of products throughout every department. Staff are plentiful, looking to assist customers and happy to sort out any problems. There were plenty of places on entry to sanitise hands and the trolley and the packing shelf on exit has more hand sanitiser available. This was a stress free shopping experience.
TOTAL SCORE (100)
77
89
88
85
84