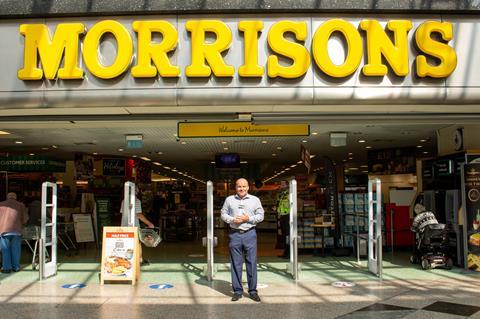 Winner: Morrisons Gyles, Edinburgh
Store manager: Scot Culliven
Opened: 1994
Size: 40,000 sq ft
Market share: 8.2%
Nearest rivals: Tesco – 1.9 miles, Sainsbury's – 3.2 miles, Asda – 3.7 miles, Waitrose – 5.7 miles
Store data source: Analysis by CACI.
Call the market planning group on 020 7602 6000
The store scored very highly for standards and service. How do you maintain them? That's down to the team. They have reacted really well to all the changes that have come into play in retail, and are really passionate about delivering exceptional standards for customers, particularly when it comes to availability. In fact, it's almost at the level it was before the crisis began. Great customer service is about always putting shoppers' needs first, and if a customer needs something the team does their best to help them in any way they can.
Have customers and staff taken to coronavirus measures well? The protocols have worked very well so far and everyone has responded positively. Social distancing has been very good from employees and we have a strong marshalling team at the front of the store to monitor the number of customers coming and going. Shoppers have embraced the measures as well and truly played their part, including wearing face masks, staying socially distanced and following the markings directing them around the shop floor.
Has the Speedy Shopping lane been a success? Yes, plenty of customers have used it and it's been very well-received. It's great for those who still prefer to do their food shopping every couple of days with basket shops, as the lane allows them to get in and out of the store as quickly as possible. But we are also seeing some customers doing larger trolley shops than usual and visiting us less often.
Has this helped drive food to go and impulse lines? These ranges have always sold well with our shoppers. Our fish and meat counters are also doing good sales at the moment.
Have customers utilised the Doorstep Delivery service? Yes, it's been fantastic. It's so convenient for elderly and vulnerable shoppers who find it difficult to get out and about, especially at the moment because they can phone us to order the items they need. Our Community Champion has also given these customers additional support and called them to check on their wellbeing and maintain a bit of communication with them. Anything that the team can do for these customers in particular, we're doing for them right now.
How did the reopening of the in-store café go? Has the Eat Out to Help Out scheme helped trading? Using the government scheme has made the reopening go remarkably well and customers are loving it. They're also enjoying the fact Morrisons has extended its use of Eat Out to Help Out to cover Thursday and Friday as well as the assigned Monday-Wednesday. There are quite a lot of families making use of the café as well, making the most of time together. The team in our café is working so hard and trading is getting close to where it was pre-lockdown.
Its a big moment in Scotland with the schools reopening, how has that affected sales? We've got a strong selection of stationery, lunchboxes and plenty of school uniforms in stock. We're well prepared for when children go back to school this week.