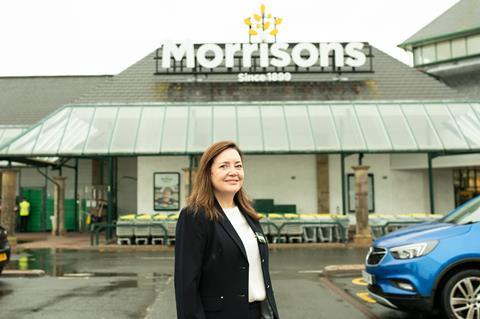 Store: Morrisons Stewartfield
Store manager: Lee McMillan
Opened: 1993
Size: 25,000 sq ft
Market share: 8.7%
Nearest rivals: Sainsbury's – 1.8 miles, Tesco – 4.9 miles, Asda – 6.4 miles, Waitrose – 8.9 miles
Store data source: Analysis by CACI.
Call the market planning group on 020 7602 6000
You've just come back to the store after a long time. How has that been? I moved from being manager at Morrisons in Gallowgate, Glasgow about 12 weeks ago because I wanted a new challenge. I was assistant manager here around 1995, and a lot has changed in retail as a whole since then, but what I really liked about the store was the committed colleagues and community spirit.
Your availability was strong this week. How are you managing to keep shelves stocked? We have a new dedicated team focused on getting our availability as good as it can be. They joined around 10 weeks ago and really want to get availability right for our customers and do a fantastic job in doing so. Our supply chain has become much better as well.
The store scored highly for standards and service. How do you maintain these? They come hand in hand with keeping up staff morale and ensuring they feel safe at work. We've started doing weekly themed food in the canteen celebrating different cultures, such as Spanish and Italian, to help keep spirits up. The events have been good fun and kept everyone going, especially with all the hard work everyone has put in.
How have customers and staff taken to the store's coronavirus measures? Employees have been fantastic with everything they've taken on. They have also supported customers very well, especially when it comes to politely reminding them to socially distance. The vast majority of customers have embraced the changes though, and staff haven't had to ask them to use sanitiser for themselves or the trolleys because they've been doing it.
How have shoppers' habits changed since lockdown has eased? I've seen a lot of customers going for fresh items, particularly at our meat and fish counters and across the Market Street offer. Confidence has returned around the counters and there's a shift towards fresh items and away from ambient ones. We've also got our Scottish Favourites offer happening, which is very popular, and includes a variety of brands such as Irn-Bru and highlights local suppliers – good news in the current climate.
How has trading at the café been since it reopened? It's done really well and been received very positively by customers. Some shoppers have made friends in our café and it's a great place to socialise. Customers are enjoying getting out of the house, having a chat and getting a good deal, especially when they can get half-price items with the Eat Out to Help Out scheme.
How is Morrisons' revamped food-to-go range selling? Very well. The new lines were added a couple of weeks ago and have been popular despite the presumption food to go might not sell well currently. Sandwiches and ready-cooked chicken have sold particularly well. We've really made the effort to make sure the area is immaculately hygienic and appealing for customers, and we've had plenty of compliments about the variety in the range.