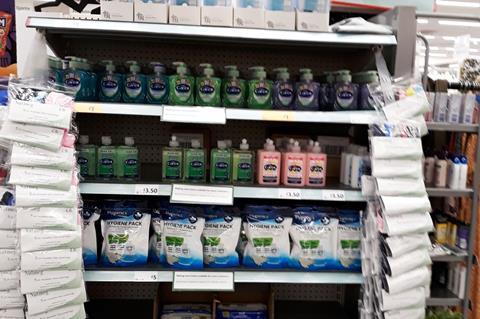 Morrisons has come top in this week's Grocer 33 after our shopper was impressed by its standards and customer service.
Our mystery shopper felt safe at its Longrock, Penzance branch, and found coronavirus measures were well managed. The safety protocols included clear signed advice, marshalling at the front door, trolley cleaning equipment, hand sanitiser, and staff overseeing checkout queues.
Our shopper was pleased to spot Halloween and Christmas displays during her Saturday afternoon visit, and availability was near-perfect with just Opies sliced lemons out of stock.
Employees were also "friendly and kind", and maintained social distancing while ensuring that customers followed suit.
Waitrose in Salisbury missed out on the winner's podium by just one mark due to having two out-of-stock lines. The John Lewis-owned supermarket's score was bumped up thanks to there being "very few" bare areas, and employees constantly replenishing shelves.
Our mystery shopper had a positive impression of its coronavirus measures, including "friendly" staff monitoring the outside queue, which made her feel safe. She was impressed by the number of clean trolleys made available near the entrance as well, but did spot several people adding their used trolleys to the area.
The "quiet" store's aisles were also clean and obstruction-free. "Polite and friendly" partners kept a distance from customers, but were happy to accompany our shopper to the correct departments to find the items she needed.
Tesco in Dereham was the only retailer to achieve a full basket, but suffered lower marks due to its confusing layout and inconsistent service.
Employees were replenishing during our mystery shopper's visit, and although the majority of fixtures were tidy and well-stocked, its fruit aisle was not. On the plus side, staff escorted her to items she couldn't find, and the checkout operator was pleasant but not "overly chatty".
It was a mixed bag for Asda in Altrincham, Greater Manchester. It had the worst availability among the supermarkets, with five out of stock and three not stocked lines.
Although it had a one-way entry and exit system, it was difficult for our shopper to keep a safe distance from others because the branch was so busy. This was not helped by restocking trolleys left on the shopfloor.
But the mystery shopper found Asda "orderly" considering how many customers were around, and found shelves were well-stocked. The team were happy, on the whole, to stop their duties to help her, and the till operator was "chirpy" and patient. There was one employee, however, who seemed "more keen to finish her chat" with a colleague than assist our shopper.
"Frustrating" Sainsbury's in south west London took last place owing to a lack of cleaning materials for trolleys and hand sanitiser. Although there were employees at the front doors, they were "staring at customers" and blocked coronavirus advice signage.
Employees were "polite" and knowledgeable about products but hard to spot and there were several empty and dirty areas. The team were not all wearing masks and some were not sporting them incorrectly.
As for the tills, the operator became impatient when our shopper tried and failed to scan her Nectar card, eventually taking it from her.
This week's results:
WEEK 19: Saturday, 17/10/2020 (12.00pm-3.00pm)
Asda
Morrisons
Sainsbury's
Tesco
Waitrose
Location
Penzance
Date
17/10/2020
17/10/2020
17/10/2020
17/10/2020
17/10/2020
Time slot
12-3pm
12-3pm
12-3pm
12-3pm
12-3pm
Shop starts
01:55pm
12:30pm
12:50pm
02:37pm
01:40pm
Visit Duration
01:15
01:30
02:10
00:53
01:30
Shop Duration
01:09
01:15
01:50
00:48
01:20
Car Park (10)
10
9
6
8
9
Signposting (up to 1)
1
1
1
1
1
Queueing time to park (up to 2)
2
2
2
2
2
Trolleys (up to 2)
2
1
2
1
2
Queueing time from parking the car to enter the store (up to 3)
3
3
0
3
3
Feedback (up to 2)
2
2
1
1
1
No staff in car park but didn't need it at the time I was passing through as there were lots of trolleys all in neatly stacked in the trolley bay
As the busy summer season has finished, there were lots of free spaces in the Car Park. Outside the store, there were staff allowing entry to the shop once a person left. There were two trolley sanitizers/hand sanitizers, one next to the trolleys, and another by the entrance of the store. There was also a track and trace symbol on the front door (none on Sainsbury's). It was all very well managed, and clearly signed.
The store has 2 entrances and they are only using one. The second is closed with A4 sized notices stuck to the door telling you to go round the corner. You then follow a series of A4 sized arrows around the building and encounter the queue. There were no markings, barriers or signs to indicate where or how you should queue and no staff member overseeing this until you get to the front where you are told if you can enter or not. The queue snakes through the carpark and it is up to customers to work out where it ends and where the pedestrian crossings are. There are very few trolleys in the carpark as customers are not expected to pick them up until they are immediately at the entrance to the store itself (carpark is downstairs and you access the store via an escalator). Staff are moving the trolleys quickly and there are lots upstairs.
No barriers outside the store, or staff on carpark duty, however it wasn't that busy, clear one way stystem on entering the store and on exiting the store,
The car park had lots of spaces with clear signs. The barrier and queue system was clear and worked smoothly, with cleaned trolleys available as you go in. For some reason when leaving, the trolley parks further away from the store where i was parked had orange barriers across them with a sign saying "No parking beyond this point". When i asked a trolley attendant coming past what it meant, he said it was there to stop people putting trolleys in, although people still do. Whilst i was getting my things sorted in the car the sign was removed.
Store standards (20)
16
20
14
16
19
First impression (up to 5)
3
5
3
3
4
Feedback
Lots of staff around and all busy - no one standing doing nothing good and spacious as you enter
First impressions were that I felt safe to go in the store as from the onset there were clear labels indicating what I should do, i.e. sanitize my hands after handling each item. There were good promotions for both Christmas and Halloween in the entrance as you entered. There were clear signs and areas taped off so you knew which way to proceed around the shop. Should I have wanted a coffee and a meal the cafe was clearly signposted and very clean.
The store is strictly regulating how many customers are allowed in at one time so it is never crowded and there is a great feeling of calm everywhere. Staff do not seem to be contributing to this, however, and there were three members of staff stood by the entrance doing absolutely nothing but stare at customers. There was no offer or help or even a welcome and they were obscuring the sign advising customers of mask wearing and social distancing. There are no hand sanitisers available anywhere but there is a station at the entrance with disinfectant and paper towels. Nobody is using this and there is no indication that customers should do so but also nothing that says the trolleys have already been cleaned. There are announcements constantly throughout the store reminding customers to socially distance and to wear masks. There are also announcements telling customers that some people are exempt from wearing masks.
2 metre distance floor marking visible
There were friendly staff managing the queue and the store felt very open as you went in which gave a feeling of safety
Displays (up to 3)
3
3
2
3
3
Availability and replenishment (up to 5)
4
5
3
4
5
Feedback
Nowhere was particularly bare - just some places were missing 1 of the products within that product line … e.g. the Youngs Basa Sal & Pepper fillets on my list I could only get 2 out of the 3.Also there weren't any ASDA 12 Large Free Range eggs - but other lots of options to choose from. The Gluten free section was a little bare but probably can be expected with those speciality products? Considering the amount of people shopping I thought the shelves looked quite orderly.
The only aisle which needed to be replenished was the tinned fruit, but these are exceptional times, and there may be issues with where the factories are located and due to local lockdown's in that particular area. Otherwise, the aisles were very tidy and well stocked.
The first aisle on entering has an extensive and very attractive display of Halloween items and it would be very easy to get everything you wanted for a party without entering the rest of the store. In other parts of the store the first Christmas items are appearing and there are already discounted items of seasonal foods (eg tubs of Quality Street chocolates) and these are at the ends of aisles and in prominent positions. In some parts of the store large shelving units are completely bare and I guessed (and it was confirmed when I overheard two staff members talking together) that these were being cleared for more Christmas displays. There are no notices indicating this so the impression is that there are whole areas with no stock at all. Other areas are well stocked and staff are working hard to keep levels high
Shelves were fairly well stocked, and staff were replenishing whilst I shopped, one point knocked of for the fruit isle as it was not as well stocked or tidy as the rest.
There were very few bare areas - one where i was looking for semi skimmed UHT multipack - but single packs were available. There were staff replenishing shelves all around the store and there were no expanses of emptiness that i saw.
Obstructions (up to 3)
2
3
3
3
3
Spillages (up to 2)
2
2
2
2
2
Condition of the store in terms of cleanliness (up to 2)
2
2
1
1
2
Feedback
The store was extremely busy among the aisles so it was tricky to find a place out of the way of customers for restocking trolleys to stand. A couple of boxes were stacked up on the floor ready for restocking shelves but with noone doing them at that point in time
The store was very clean and both the women's and men's toilets were exceptionally clean. We would be very happy and feel safe to visit here again. Not all the other supermarkets have been as clean.
Restocking trolleys and cages are either at the ends of aisles or in the middle of aisles where there is still space for a trolley to pass on either side. There are no spills or litter anywhere and the floor is clean. At first glance the store looks clean throughout but a closer look at the shelves that had been completely cleared showed them to be very dirty along with the walls behind the shelving units. Nobody was cleaning these.
The store appeared clean, however I didn't notice any cleaning staff anywhere on the shop floor.
The store seemed clean - i saw a lady sweeping the floors with a large soft broom and she managed to do it without getting in anyone's way.
Store layout (10)
8
5
6
7
8
Did the store layout seem logical and intuitive? (up to 2)
2
1
0
1
2
Was it easy to navigate the store while also feeling safe? (up to 6)
4
2
4
4
4
Did the store offered any Click & Collect services? (up to 2)
2
2
2
2
2
Shop Floor Service (20)
17
18
12
14
17
Product location (up to 5)
5
5
3
5
5
Staff politness/responsiveness (up to 5)
4
4
2
0
5
Feedback
A particular young lady was so lovely to deal with - she went out to the back to check for a frozen fish item then came out to find me that there wasn't any but then also did a double check on her hand held device to see what stock levels were showing on there - then took me on to a further aisle for the next item I couldn't locate. She was happy to do this even though she had been half way through stocking shelves. Did also on the other hand experience 1 young lady seemed more keen to finish her chat with her restocking colleague than spot I was waiting to ask something - but then did direct me properly to the Prawns I needed!
We couldn't find the "Opie lemon slices" in the store, and "Igor" was kind enough to show us where they might be, however as it was during lunch time and there were not many staff available we did not ask him to check out the back of the shop. I have no doubt he would have should we have asked.
It was eventually possible to find all the items on the list or to discover if they were not available. Staff members were knowledgable about where items were to be found but they did not accompany me to the spot to check and just said "oh, that will be aisle 15" or "no, I'm sorry we are out of that item". They were polite.
I asked on 3 separate occasions for help with a product, the first occasion I was told where it was and offered to be shown but declined, the second time I asked one of the managers on the bakery who took me to the product and the last occasion I was taken to the product also.
Staff were polite and friendly and showed me where things are, and also explained when something was not available (multipack of UHT milk) that new stock is coming in often, but unfortunately there is no more at the moment as it is selling out quickly,
Was it easy to find a member of staff (up to 3)
2
2
1
3
1
Were staff easy to identify through their uniform or name badges (up to 2)
2
2
2
2
2
Staff presentation (up to 5)
4
5
4
4
4
Feedback
N/A
We only asked one member of staff and he maintained social distance when helping. I noticed when we were walking around, other staff were keeping an eye on the shoppers to make sure they were distancing themselves, especially when approaching the tills.
Staff were socially distancing but not all had masks on and some had masks but they were not being worn correctly to cover their noses and mouths - in contrast, ALL customers I observed were wearing face coverings correctly. None of the staff were wearing gloves. There were very few members of staff available and it was quite a trek to find someone to assist - eg no staff members in a large fruit & vegetable section so I had to go to dairy items for help. All staff observed had name badges and were obviously in uniform.
0
0
Tills and checkouts (20)
17
19
11
17
19
How well managed were the queues leading up to the till-operated checkouts in terms of maintaining order and social distancing? (up to 2)
1
2
1
2
2
How well managed were the queues leading up to the self-service checkouts in terms of maintaining order and social distancing? (Please observe after you've completed your shop, and include observations around attentiveness to customers requiring help due to flashing lights/unattended items in bagging area) (up to 2)
2
2
1
0
2
How long did it take to queue (prior to scanning) (up to 4)
4
4
2
4
4
Please rate checkout staff on their customer service and safety (up to 7)
5
7
5
6
6
Time for G33 items to be scanned (including payment) (up to 3)
3
2
2
3
3
Was the till receipt free of mistakes? (up to 2)
2
2
0
2
2
Feedback - please provide any further details/feedback on the tills and checkout:
The lady at checkout waited patiently until I had unloaded all my items before she started - she was so chirpy and nice to deal with & was actually humming away (so sweet!) as she scanned. ?Looked me in the eyes to say Goodbye ….
Sue was really on the ball. The lady who was in charge of keeping those waiting for tills was called to the self scanning department. We were next to go to a free till, and someone just walked past us . Sue told them they should get in the line behind us and called us over. (We hadn't really paid much attention, but she saw them). She was really friendly and kind.
The fact that checkout queues are being managed well is entirely down to the actions of customers. There is no supervision from staff anywhere in this area of the store. The staff member at the till did not wear gloves. She started the interaction well with a greeting, asking how I was and how my day was going and she was quick and efficient at the scanning process. However, when it came to pay she was very impatient as I tried to scan my nectar card - eventually taking it from me, wiping it clean, scanning it and handing it back - and tutted when I inserted my debit card before she told me to. Two of the items were charged differently from the shelf labels - the Mange Tout was 25p cheaper than the shelf label, the prawns were £1.50 more than the shelf label which made them double the price I was expecting!
The lad on the checkout wasn't overly chatty but pleasant enough
There was no queue on the tills
Availability score (20)
7
18
14
20
16
Of the 33 items on your shopping list how many were:
Available (up to 20)
25
32
29
33
31
Out of stock (-2 per item)
5
1
2
0
2
Not stocked (-1 per item)
3
0
2
0
0
Availability %
83.3
97.0
93.5
100.0
93.9
Please note down the items on your shopping list that were out of stock (please highlight the products that have managed to get a satisfactory substitutions)
Own Label British Large free Eggs 12pk - substituted with Staveleys 12 Large Free Range eggs

Youngs Gastro 2 Lightly Dusted Sea Salt & cracked Black Pepper Basa Fillet - substituted with Youngs Gastro Sicilian Lemon & Parsley Basa Fillets

Own Label Premium Richly Fruited Hot Cross Buns 4 - substituted with Bakers Selection Hot Cross Buns 6 Pack

Jacob's Tuc Crackers 150g - substituted with Jacobs Cheese Sandwich Tuc Crackers

Walkers French Fries Variety Pack 12x18g 216g - substituted with 2 of 6x18g 216g
The Opies sliced lemons were not available
Little gem lettuce x 2 - not replaced

Organic cauliflower - replaced with non organic variety
N/A
Multipack of UHT Semi Skimmed MIlk - 6 x 1litre. Single litres were available so I bought one

Own Label Cooked King Prawns Medium - i thought i bought the right one from what was available as they had none labelled as medum packs (only the size of the prawns was written on the pack and the shelf) but I think i got something similar instead. It was a bit confusing as all the packs looked very similar so it may be a substitute.
Please note down the items on your shopping list that were not stocked (please highlight the products that have managed to get a satisfactory substitutions)
Doves Farm Gluten Free White Self-Raising Flour Blend 1000g - substituted with ASDA Free From Gluten Free SRF

Coca Cola Zero Bottle 4x 250ml 1000ml - substituted with Coca Cola Diet Bottle 4x 250ml 1000ml

Birds Eye Petit Pois 645g - substituted with Birds Eye Petit Pois 1.05kg
N/A
In store bakery hot cross buns - replaced with Taste The Difference pre packaged variety

Rothmans Superkings - not replaced
N/A
N/A
Please give any other details or info about your shopping trip, good or bad
As I walked in, the store had a positive vibe - no queues, a clear cordoned off In & Out system & there were staff on hand at each type of customer point. It did feel busier than other times I've been shopping and was hard to always social distance from other customers. I asked 4 members of staff for assistance - 3 were really fab and just 1 girl did direct me but wasn't overly going out of her way as she was working alongside another member of staff. the other 3 were super helpful and cheery. There were 2 or 3 tills available to walk straight up to & the lady I went to gave perfect service - she was obviously happy in her job as she was having a little sing to herself then as I went through she turned it into a hum :0)
Morrison's had a local eggs for sale and I think they do their upmost to try and promote local growers in West Cornwall, which I think if the way forward.
Store signage was not correct at all in many places and it was difficult to find many items - eg biscuits are in two different aisles, fresh meat is separated with pork at the end of the aisle but fish next to sausages. I gave up trying to use the signs and went backwards and forwards trying to find things which is why the shop took so long. The UHT milk is in one aisle and the only other thing here is chocolate and sweets! Aisles are very wide throughout and it is easy to get around the store. The store offers click & collect for clothing but not groceries.

I was frustrated with the shopping trip. The store is very large so there is a lot of walking to do and with a shopping list you should be able to leave whole aisles out but that doesn't work as they mix things about too much - eg I didn't need to look at chocolates and sweets but that's where the UHT milk is. I found the biscuit aisle but not the biscuits I wanted so assumed they were not stocked only to discover another biscuit section somewhere completely different. Given the number of customers in the store I should have been able to accomplish this in much less time. Staff are very few and far between and there is no real interaction between them and customers - certainly no one is looking to offer assistance. There were several huddles of staff who were doing nothing. Any success in social distancing and managing the queues both for entry into the store and for checkouts is entirely down to the behaviour of the customers with no staff intervention. There is no feeling here that everyone is working together to make this a pleasant and easy shopping trip.
The store was not as busy as I expected it to be, all areas seemed clear, neat and tidy. Staff about to help with any queries.
The store was quiet, and the queue to get in very fast (under 3 minutes). The labelling on the floors was clear for covid safety and it felt safe.
TOTAL SCORE (100)
75
89
63
82
88