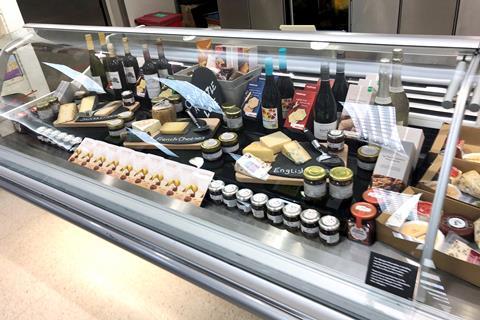 As supermarkets came under pressure to up their Covid-19 precautions last week, Waitrose's Spring Garden Centre store in Buxton took our store of the week award. That was largely thanks to its strong coronavirus safety measures.
Our mystery shopper praised the "safe environment". Plus, availability was strong. She picked up 31 of the items on our list with just one out-of-stock and one not-stocked product – though she did spot some gaps on the shelves, most noticeably in the fruit & veg aisle.
Our shopper at runner-up Tesco Batley had to push her trolley through snow to get to the store. However, she was glad to find there was no queue on the cold day.
Employees were "friendly and polite" while assisting our shopper, and were working hard to replenish items across the store.
As with Waitrose, our shopper spotted some issues with availability, particularly on the store's deli and meat counters.
She also spotted several empty boxes strewn on the floor as staff looked to replenish shelves. There were no out-of-stocks on our list, however, and just two not-stocked lines.
At the end of her trip, our shopper found the checkout areas somewhat "chaotic" with customers standing in the aisles due to a lack of staff managing the queues.
Third-placed Morrisons had the worst availability among the grocers, with four out-of-stocks and one not-stocked item.
Customer service was much better though, as staff were easy to find, knowledgeable about product locations and explained why some items were missing. They made our shopper feel safe throughout her trip to the Abergavenny store through well-executed and managed coronavirus safety measures too.
Several pieces of rubbish on the shop floor and a spillage in the milk section dragged the score down, but the majority of the supermarket was kept to a high standard. It had "enticing" displays of special offers and ranges in its service counters were "plentiful and attractive".
Our shopper was pleased her visit ended with strong service from the "friendly and super speedy" checkout operator.
Asda in Oadby, Leicester made a poor first impression on our mystery shopper: she said customers were crowding around the hand sanitiser station by the store's entrance, with not enough management from staff. The same went for its one-way system, which was not being enforced by employees on the shopfloor.
She praised the stand-out service demonstrated by the checkout operator, who she described as "very pleasant and conversational" and handled customers' shopping with care.
In terms of availability, the store had two out of stock lines.
Sainsbury's came in last with gaps throughout its Stoke-on-Trent branch, particularly in the frozen section due to "delays at Dover", according to staff who spoke to our shopper. This led to four out-of-stock SKUs.
Our shopper expressed disappointment that staff were not checking customers were wearing face masks and felt they were not properly managing customer flow.
The store came across as "dated" and "in need of a refurbishment," mainly owing to its illogical layout, with frozen items near the entrance at the front and fresh produce towards the back.
However, our shopper praised the store's "clean and tidy" standards and "helpful" team members who escorted her to the items she needed.
This week's results:
WEEK 30: Saturday, 16/01/2021 (10.00am - 1.00pm)
WINNER
Asda
Morrisons
Sainsbury's
Tesco
Waitrose
Location
Oadby
Abergavenny
Stoke-on-Trent
Batley
Buxton
Date
16/01/2021
16/01/2021
16/01/2021
16/01/2021
16/01/2021
Time slot
10.00am - 1.00pm
10.00am - 1.00pm
10.00am - 1.00pm
10.00am - 1.00pm
10.00am - 1.00pm
Shop starts
12:pm
11:12am
11:58am
12:28pm
12:30pm
Car Park (10)
7
10
8
9
9
Car park management (3)
2
3
2
2
2
Queueing time to park and finding a parking space (2)
2
2
2
2
2
Exiting the car park (2)
1
2
2
2
2
After exiting your car please rate your experience before entering the store? (3)
2
3
2
3
3
Feedback
There was no queue to enter the store, I couldn't see any staff counting people on the outside, there may have been someone stood by the entrance counting. There was a barrier separating the entrance and exit and it might have been useful to have a member of staff inviting people in to avoid crowds forming around sanitising stations.
The car park was very clean with excellent signage and well maintained foliage around the outside of the parking spaces. On the far side of the car park there were signs on the walls showing that a lot of the products were Welsh / British - the lamb, beef and many of the fruit and veg. The click and collect was also over at the far end, well sign posted throughout. There were cash points here too.
Easy access, only half full. Trolleys stacked near the doors, but still using the £1 access fee. Really? I thought we were wanting less contact. Barriers to doors ensuring one way system, but no staff visible checking for masks or too many customers arriving together.
It was very busy and quite chaotic. Because of the recent snow some cars had parked across bays, presumably unable to see the lines. Snow/slush had been cleared from one side of the road only leaving very narrow passing areas. Also the trolley was a nightmare to try to push through the slush
The store is located in a small shopping mall consisting of largely non essential stores (which were closed as per currently covid rules). As a result the car park was very quiet with plenty of spaces to choose from. There was a row of disabled spaces adjacent to the mall entrace but I couldn't see an parent and child spaces. There were trolley parks located around the car park and I could see an attendant collecting and returning them to the store entrance. There was no visible litter but the surface of the car park and markings were quite tired and as it is a council owned car park, there was charging in place (£1.50 for 1 hour, £1.80 for 1-2 hours). I noticed that the Aldi store on the opposite side of the road had a free car park which looked full.
Store standards (20)
7
16
11
16
17
First impression (6)
0
6
4
6
6
Displays (4)
1
3
2
3
3
Fruit & vegetables section (3)
1
3
1
3
2
Store standards - remaining sections (3)
2
2
1
1
2
Obstractions (2)
1
1
1
1
2
Spillages (2)
2
1
2
2
2
Feedback
Several gaps on shelves, particularly frozen and produce sections
Overall I thought the store looked great. The entrance displays were enticing, there were many fresh sections on the left of the store - deli, fish counter, butcher, pizza which all were plentiful and attractive. The aisle ends were relevant and full. There was a little rubbish on the floor and a spill on the floor by the milk fridges but it had been dealt with a wet floor cone. Generally it was a great shop.
The store was clean and tidy, but several areas were low on stock - especially the frozen section. This is an old store and really needs a bit of refurb but I understand (friend in the council) that it will be closing as the nearby Lidl is expanding soon. It obviously won't be worth investing. One of the front windows had been broken (not unusual in this area !!) but was neatly boarded and covered. Judging by the board this was a very recent happening. All the fresh counters were closed due to covid precautions although the bread was still being made and put out.
There were easter egg displays and racks of offers (photo supplied) as you enter the store. There were a couple of sanitiser stations, one at the entrance and one a little further inside. The fruit and veg was well-stocked and looked attractive. It was being replenished by staff in several areas. There were quite a lot of empty boxes throughout the store, many on the floor (photo supplied)
The store was extremely quiet at the time of the shop (no queue to enter). There was a member of staff on the door counting shoppers in and out, checking for masks and requesting that, when shoppers were arriving in pairs, that one person waited outside where possible. There was a row of trolleys at the entrance to the store but I was unable to tell if they had been sanitised before being stacked. There was also a well placed foot operated hand sanitiser for customers convenience. The store is fairly compact as you would expect for a store located in a mall but it was well laid out, clean and with attractive displays (I particularly noted the fresh flower and plant display). I noticed that although there was promotional displays on each aisle end, there were far fewer stands that one might expect which may have been deliberate so as not to impede shoppers and to allow effective social distancing. On the latter, the layout and carefully controlled numbers made this possible throughout the shop, which made for a very safe shopping experience. The only downside to the standards was that there were a few gaps in the displays, particularly fruit and veg and also the counters were noticeable less abundant than you might expect. I also noticed that there was a lot of yellow stickered products throughout the store with members of staff in the process of removing and reducing produce during the shop. Despite the gaps in stock, remaining produce was neatly and attractively displays throughout.
Store layout and services (10)
8
10
8
10
10
Did the store layout seem logical and intuitive? (4)
2
4
4
4
4
Available services (6)
6
6
4
6
6
Feedback
Middle aisle became busy, one-way system unmanaged
There was a clothing section to the right of the entry and a good selection of home products in the lower aisles. I really liked the free water, both sparkling and still on the entry to the store / cafe.
As stated the counters were all closed. The layout was ok, but why would you put the frozen at the start, and the veg at the end? I would have thought heavy non-breakable (ie. spuds) would go in the trolley first and you pop the frozen in last to get it home asap? Other than that, it was a normal Sainsbury's
The bakery was well-stocked and attractive. The deli counter had a lot of gaps, as did the meat counter, which looked to only offer about 4/5 different products spread out to try to cover as much space as possible
The store was well laid out and I found it very easy to locate the items on the list. The aisles were wide enough to keep a safe distance from other shoppers. The counters were open, although with a reduced offer. The fish counter was really attractively displayed but had a lot of gaps, the cheese less so with plenty of varieties to choose from but there was a very reduced deli section and one counter was completely empty. I noticed a 'Give a little love' display on the end counter which was well thought out and contained a variety of wines, cheeses and accoutrements. There was a click and collect visible at customer services (also for John Lewis C&C) but the free coffee was closed. The store was extremely quiet and felt (understandably) very functional with sense that customers were being gently encouraged to progress through the store perhaps a little quicker that in 'normal' times.
Shop Floor Service (20)
14
19
13
19
19
Finding a member of staff (5)
3
5
3
5
5
Shop floor staff helpfulness in locating items (5)
2
5
3
4
5
Shop floor staff diligence and hard work in replenishing shelves and picking in-store orders (5)
4
4
4
5
5
Staff presentation (5)
5
5
3
5
4
Feedback
Friendly but no one offered to check the back for my missing products
I asked several of the team about missing products. They all seemed very knowledgeable about their sections. Colin, for example, when I asked about the medium noodles let me know that they were out of stock as he had gapped them that morning. Another chap on the vegetable section went out the back to look for the Albert Bartlett potatoes and let me know they didn't have any. When I asked for help finding Lavazza coffee a chap let me know he stocks that section all of the time and that they don't stock the product. The same chap helped to look on the top, storage shelf for 500g sultanas but was unable to find them. Another lady let me know that the Warburton Sandwich Thins were out of stock.
I spoke to 4 members of staff. They were all helpful and took me to the items I needed. Only 2 of the 4 had name badges on. Scott was great, and helped me find the gluten free, no-name girl helped with the mini peperami (we had a laugh, cos I was right by them. Senior moment !) No-name chap found the Warburton's thins - they weren't in their usual place (apparently), and finally, Alex was great in the veg section.
I asked Taylor for the potatoes and he said he didn't think they did them. I then noticed there was no pak choi so asked him about that as well. This time he went to ask someone and disappeared in the back. he was gone quite a long time and then appeared saying they had none. He was friendly and polite. I asked another member of staff where the mustard and gravy were and she told me aisle 7 which was correct. She was also friendly and polite
All the staff were well presented (a few name badges were missing) and very polite and helpful. I found the pak choi crate empty so I asked a female member of staff if they had any. She went to check stock and returned 5 mins later to tell me that she hadn't found any but they had just taken a large delivery that was being prepared to re stck shelves and that there may be some later or the next day. I asked Keeley at the deli counter if they stocked garlic and herb Philidelphia as I could only find the plain variety. She said that they didn't stock it (but didn't check). I also asked a male member of staff for help to find the peaches and he was very helpful and took me to the correct aisle and pointed it out. All members of staff were working hard and were quick to stop and help customers when required.
Tills and checkouts (20)
15
17
18
15
14
Rate how well managed were the queues leading to the tills? Were a sufficient number of checkouts open for the volume of staff? Were staff on hand to advise on checkouts with shorter queues, or manage social distancing (5)
4
5
5
2
4
How long did you have to queue? (5)
3
3
4
4
3
Please rate checkout staff on their customer service (8)
6
7
7
7
5
Was the till receipt free of mistakes? (2)
2
2
2
2
2
Feedback
Daxa was very nice. I think the receipt was free from mistakes, the abbreviations for the products aren't very clear. The number of items is correct.
The floors had arrows on and showed the customer where to stand to queue for the tills. I was able to go straight to a check out and unload my trolley but the lady in front of me took a while to pack her products. The younger chap that served me was very relaxed and friendly and was super speedy on the till but didn't make me feel pressured to hurry.
There wasn't a queue, so I just had to wait while the previous customer cleared away from the packing area. They had plenty of tills open, even though the shop wasn't very busy. Janet was polite, friendly and very good. She didn't rush everything through, giving me time to pack.
Bradley served me. Again friendly and polite. There weren't any staff managing the queues and it was a bit chaotic with people queueing up the aisles.
Around half the tills were in use at the time I checked out. All were serving customers, with one other in the queue. There was a supervisor helping where required. There was very clear floor markings and signage showing shoppers were to stand and when to start loading their shopping. The person who served me was polite but didn't make small talk. There was a few minutes to wait as she wasn't old enough to serve me alcohol. The supervisor looked quite busy doing this as most of the till staff looked to be under 18. All tills had high screens to protect staff and customers and all staff members were wearing cloth masks. The till was clean and the goods were scanned carefully and at an appropriate speed.
Availability score (20)
12
2
4
10
14
Of the 33 items on your shopping list how many were:
Available (up to 20)
31
28
29
29
31
Out of stock (-2 per item)
2
4
4
1
1
Not stocked (-1 per item)
0
1
0
3
1
Total number of products boughts-incl. substitutions
31
19
29
31
31
Availability %
93.9
87.5
87.9
96.7
96.9
Please note down the items on your shopping list that were out of stock (please highlight the products that have managed to get a satisfactory substitutions)
Product 1: Pak Choi
Product 2: Birds Eye Garden Peas
Product 1: 500g Sultanas
Product 2:Albert Bartlett Rooster Potatoes
Product 2:Warburtons Soft Brown Things
Product 4:Amoy Soft Medium Noodles -subs. for thick noodle
Product 1: Albert Bartlett potatoes
Product 2:Amoy soft medium noodles
Product 2:Birds Eye garden peas
Product 4:Frozen cauliflower florets
Product 1: Own Label Pak Choi
Product 1: Pak choi
Please note down the items on your shopping list that were not stocked (please highlight the products that have managed to get a satisfactory substitutions)
0
0
0
0
0
Please give any other details or info about your shopping trip, good or bad
N/A
Product 1: Lavazza Prontissimo Intenso Coffee
N/A
Product 1: Albert Bartlett Rooster Potatoes 2kg (no substitute)
Product 2: Philadelphia Light Garlic and Herb (substituted)
Product 3: Biotiful Dairy Kefir 500ml (substituted)
Product 1: Philadelphia cheese
TOTAL SCORE (100)
63
74
62
79
83