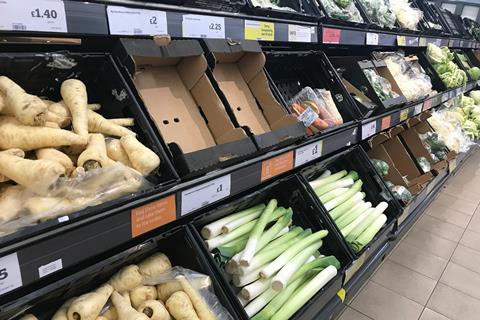 Sainsbury's Sprucefield store in Lisburn, Northern Ireland claimed this week's service and availability award. This was despite the added challenges of filling Brexit-related supply chain gaps during what is always a difficult week for supermarkets, as they execute the post-Christmas transition.
The store, along with the retailer's other Northern Irish branches, was bringing in hundreds of lines from local Spar wholesaler Hendersons to plug gaps resulting from the red tape associated with bringing certain goods into the province from GB. Despite this, it only had one out of stock and two not-stocked lines.
Staff were "polite and helpful" throughout our shopper's Sunday afternoon visit. From the start, they were on hand to greet customers and ensure the one-way entry and exit system was used, both of which created a "calm" atmosphere.
Its coronavirus safety protocols were plentiful and generally well-executed, which pleased our shopper given Northern Ireland's current 'stay at home' measures.
Tesco missed out on the winner's podium due to a "lack of order" outside and glaring gaps throughout its Diss, Norfolk supermarket.
Several shelves were either empty or low on stock, and availability for this week's basket didn't fare much better with three out of stocks and one not-stocked item.
In contrast, it racked up marks owing to its impressive Covid-19 measures. As for its team members, they weren't always easy to find on the shopfloor, but showed a "reasonable level of professionalism and politeness" once our shopper did come across them.
Waitrose in Harborne, Birmingham was the only store with no out of stocks despite its many empty shelves.
The mystery shopper had a negative first impression due to encountering litter around the entrance as well as in the produce department.
Staff "seemed rushed" and were unable to help our shopper find products he was looking for, leaving him with no choice but to continue trying to locate them himself.
Narrow aisles made social distancing difficult, not helped by a couple of restocking trolleys causing obstructions.
Fourth-placed Morrisons in Camden Town started strong with plenty of neatly stacked trolleys and no wait to enter.
However, there were no barriers installed if a line did form, nor any other coronavirus measures. Special offers piled in the entrance way had the potential to cause crowding if shoppers stopped to browse.
Our shopper came across employees chatting without keeping a distance from each other or her when she asked for help. She was also disappointed just one of the five workers she asked for assistance in finding products escorted her to what she needed.
Morrisons had four out of stocks and one not-stocked line and the "rusty" meat cabinet was "stripped bare".
Asda in Wrexham, Wales returned this week's worst availability with eight out of stocks and one not-stocked item, alongside poor standards and service.
The mystery shopper's frustration deepened owing to "quite a few" gaps that were not being replenished.
She also found its layout tricky to navigate, which was not helped by staff's lack of product knowledge in terms of location and stock issues.
The team failed to manage checkout queues too.
This week's results:
WEEK 28: Sunday, 03/01/20210 (12.00pm-3.00pm)
WINNER
Asda
Morrisons
Sainsbury's
Tesco
Waitrose
Location
Wrexham
Camden Town, London
Lisburn, Northern Ireland
Diss, Norfolk
Harborne
Date
03/01/2021
03/01/2021
03/01/2021
03/01/2021
03/01/2021
Time slot
12pm - 3pm
12pm - 3pm
12pm - 3pm
12pm - 3pm
12pm - 3pm
Shop starts
01:14pm
12:33
01:05pm
01:36
12:05pm
Visit Duration
01:05
01:24
01:45
01:06
01:06
Shop Duration
00:55
01:17
01:25
00:59
01:04
Car Park (10)
9
7
10
9
8
Signposting (up to 1)
1
1
1
1
1
Queueing time to park (up to 2)
2
2
2
2
2
Trolleys (up to 2)
1
1
2
1
1
Queueing time from parking the car to enter the store (up to 3)
3
3
3
3
3
Feedback (up to 2)
2
0
2
2
1
No staff managing entry to store. There were lits of stickers on the floor to follow social distancing and a barrier to seperate entry and exit to store.
Firstly there was not a queue so you right in. If there had been a queue there were no obvious barriers. There were no staff at the entrance to the shop to check if people entering are wearing masks. There were no obvious stickers to provide guidance on social distancing that were obvious to me
There was a member of staff at the entrance to ensure customers were safely entering the store. There were barriers in place ensuring clear instructions for the entrance and exit. There were hazard stickers in place marking out the 2 meters distance to adhere to if queing. There was a clean sanitising station available on entrance to wipe down your trolley and hands.
All covid measures looked like they were being followed by the store.
Security were at the door looking at everyone who entered.
Store standards (20)
10
7
17
13
7
First impression (up to 5)
2
1
4
3
0
Feedback
Store quite busy. One cleaning station at front was a bit untidy
There is a notice on the entrance door about social distancing and you can only enter the store via one door and come out the other door. There is a hand sanitising station as you walk into the store but it was very messy. By the time I have completed my shopping this had been tidied. Shop offers were neatly stacked to the left of the entrance floor which makes you stop to have a look to see if there is anything you need from the offers.
The store was calm, tidy and staff visible and all wearing suitable PPE. There was visible notices up regarding masks and social distancing.
Staff not very easilty identifiable. Lack of order outside store. trolley wise etc.
Entering the store, cluttered and few items of rubbish on the floor and bags around the veg area.
Displays (up to 3)
0
0
3
2
0
Availability and replenishment (up to 5)
3
0
3
2
3
Feedback
Quite a few gaps in stock that i couldnt see being replenihed. There were a few people unpacking trolleys and a fair few trolleys full of boxes left in aisles
The only section which was not stripped bare was a double meat cabinet which had one sirloin steak left in it. The cabinet was not very clean and looked rusty
The sections that I found were bare were the dairy products especially the yogurts and the pizza isle had very little stock available. The tea isle had a very limited selection available and no PG tips brand available at all. The frozen end had no Yorkshire puddings available at all just the baked ones or giant ones this fridge compartment was completely empty. The bread isle wasn't well laid out the Hovis brand was mixed in with various other brands across two isles. I only saw staff replenishing the Fruit and veg isles on my visit nowhere else in the store.
About an eighth of the shelves were empty or low on stock. No particular area spread around the isles and product types.
Aisles are narrow so staff could not keep a safe distance away. Store looked tired as did car park. Lots of entry selves and mother to give the store a wow factor.
Obstructions (up to 3)
2
3
3
3
2
Spillages (up to 2)
2
2
2
2
2
Condition of the store in terms of cleanliness (up to 2)
1
1
2
1
0
Feedback
It was ok, I thought stock levels and availability was a bit low but i am not a regular Asda shopper so can't compare. End of isle displays nothing special and not tempted to purchase from these.
The store was generally clean. There was nothing that stood out as being in poor condition.
The floor, fridges and shelves were very clean. No litter, spillages or obstructions. The clothing department was well laid out with Sale stock neatly displayed and good merchandising of the new stock and colours.
Apart from lack of stock the shop was clean and tidy.
I nearly tripped on a mat by the veg items, my foot went under, should be stuck down.
Store layout (10)
5
5
6
8
5
Did the store layout seem logical and intuitive? (up to 2)
1
1
2
0
1
Was it easy to navigate the store while also feeling safe? (up to 6)
2
2
2
6
2
Did the store offered any Click & Collect services? (up to 2)
2
2
2
2
2
Shop Floor Service (20)
12
15
18
8
8
Product location (up to 5)
3
3
5
0
0
Staff politness/responsiveness (up to 5)
2
4
4
4
1
Feedback
Staff didn't have much idea and said if it wasn't on shelf then they don't have it. They was a lot of young staff. I asked about Elderflower Presse and she didn't think they stocked it but i found it myself.
I had to ask at least five members of staff for the location of items and only one of the five actually went to get the product for me. The others pointed me in the direction of the item
I was unable to locate the Sainburys corn on the cob. I requested assistance from a member of staff who informed me that the alternative brand was the new range they were carrying and that Sainburys corn on the cob was no longer available. I thanked the staff member and he replied "if there is anything else that you need help with please just let me know." A very polite, helpful young man.
Reasonable level of professionalism and politeness once found and identified.
I asked on the caramel cream, assistant put caramel in her system and no such item. I used Google to see a picture and located the item myself.
Was it easy to find a member of staff (up to 3)
1
3
3
1
1
Were staff easy to identify through their uniform or name badges (up to 2)
2
2
2
0
2
Staff presentation (up to 5)
4
3
4
3
4
Feedback
N/A
Two members of staff ( who were not wearing masks) were having a conversation with out social distancing. I asked for their help to locate an item and they made no effort to social distance
N/A
All out in store wore gloves/masks but checkout staff did not. Gloves advisable in my opinion.
N/A
Tills and checkouts (20)
11
14
12
13
15
How well managed were the queues leading up to the till-operated checkouts in terms of maintaining order and social distancing? (up to 2)
0
1
0
1
1
How well managed were the queues leading up to the self-service checkouts in terms of maintaining order and social distancing? (Please observe after you've completed your shop, and include observations around attentiveness to customers requiring help due to flashing lights/unattended items in bagging area) (up to 2)
1
1
1
0
1
How long did it take to queue (prior to scanning) (up to 4)
2
4
2
2
4
Please rate checkout staff on their customer service and safety (up to 7)
4
4
5
5
4
Time for G33 items to be scanned (including payment) (up to 3)
2
2
2
3
3
Was the till receipt free of mistakes? (up to 2)
2
2
2
2
2
Feedback - please provide any further details/feedback on the tills and checkout:
A few staff standing around.
The store was not busy. Queues were short and moved quickly. I noticed that there was no one present to monitor whether people were maintaining social distancing
While having to que to maintain social distancing I noticed that a lot of people were blocking the isle and I think a member of staff should have been present to resolve this. I noticed some customers having to go down isles and back up to get to other tills.
Would prefer checkout staff to wear gloves as handling many customers goods.
Not long queues and distance maintained by shoppers.
Availability score (20)
3
11
14
13
17
Of the 33 items on your shopping list how many were:
Available (up to 20)
24
28
29
29
30
Out of stock (-2 per item)
8
4
2
3
0
Not stocked (-1 per item)
1
1
2
1
3
Availability %
75.0
87.5
93.5
90.6
100.0
Please note down the items on your shopping list that were out of stock (please highlight the products that have managed to get a satisfactory substitutions)
Own label cauliflower

Own label potato salad

Mini cheddars x12

Aunt Bessies honey roast parsnip

Own label yorkshire pudding

Own label pain au chocolate

Yo yo mango bear nibbles

Illy cafw espresso ground coffee
Own label cox apples ( bought gala apples as substitution)

Youngs Scampi 220g ( bought youngs crispy prawns instead)

Own label Pains Au Chocolat

Own label green lentils in water 390-400 g ( bought butter beans as a substitution)
Own Label Yorkshire Puddings – Bought Aunt Bessis's homebake ones instead

Deli Kitchen Greek style Flatbread – Bought Sainsburys Greek Flatbread.
Carnation caramel cream 397g - Carnation extra thick cream 170g

Deli kitchen greek style flatbreads x4 320g - no alternative

Bear nibbles yo yo mango 5 x 20g - Tesco dried mango 1x 100g
0
Please note down the items on your shopping list that were not stocked (please highlight the products that have managed to get a satisfactory substitutions)
75ml L'Oreal elnett normal hold hairspray
Mini Cheddars Original 12 x 25g- I bought the 6 pack instead
PG tips Tea – I bought Namosa tea instead

Own Label corn on the cob. I bought Huerca corn on the cob which was the only alternative. This is a long life Corn on the cob and no a satisfactory substitute for fresh corn on the cob.


Nakd Cocoa Orange 35g - According to staff when could not find.
Fairy dishwasher liquid, not substituted

Cox apples, labelled but none seen.

Scampi, shelf empty.
Please give any other details or info about your shopping trip, good or bad
I had to backtrack a few times as not used to layout. Condensed caramal a bit hard to find.

Shop quite busy, number of people entering did not seem to be monitored. Queues on every till going down isles at least 4 people long. Otherwise experience ok, took a bit longer than i expected due to trying to keep to social distancing.
Generally I found finding the items on the list fairly easy and did not leave feeling stressed by the experience. I was also expecting the cost to be higher than it was so it was a nice surprise to pay less than predicted.
Generally, the store was well laid out and products easy to find. I did overhear at the checkout the staff member telling a customer about a change in supplier due to Brexit and that was why there was isles very sparse. I thought this was quite alarming and didn't think a customer should have been aware of this staff knowledge as it may have put her off returning to Sainbury's.
Prefer being able to get vegetables and fruit at the end so they do not get bruised. Most trolley veg compartments not big enough for current 5 a day practices. Improved covid practices at the till.
Busy and staff seemed rushed. Had trouble finding Bear Nibbles then saw end aisle as I joined the queue. Should be some in the main aisle
TOTAL SCORE (100)
50
59
77
64
60