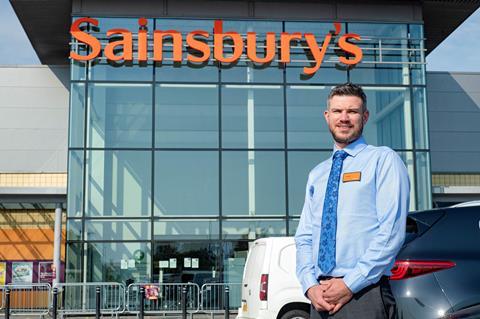 Winner: Sainsbury's Tritton Road, Lincoln
Store manager: Scott Ward
Opened: 1994
Size: 104,000 sq ft
Market share: 19.8%
Nearest rivals: Asda – 1.5 miles, Morrisons – 2 miles, Tesco – 3 miles, Waitrose – 4.8 miles
Store data source: Analysis by CACI.
Call the market planning group on 020 7602 6000
Our mystery shopper spotted signage about an Argos coming to the store. Are your customers looking forward it? Yes – anything that minimises the number of places shoppers have to visit to get what they need is ideal right now. It will be an Argos Hub – the second of its kind from Sainsbury's. These have around 10,000 lines stocked back of house and serve customers and other local stores, and offer click & collect and deliveries. It's a relocation-led project, as the Argos on the nearby high street has closed so we can open ours. It's a massive undertaking but it should boost footfall, alongside the Sushi Gourmet counter we're getting at the same time.
Speaking of new additions – how are the Zizzi pizzas and Leon loaves selling? Very well. Products like these really inspire customers, especially as Zizzi and Leon are familiar brands. The Leon items have been pushed by the four-foot display bay we've had installed to promote them, while Zizzi's pizzas having been flying off the shelves since they arrived last week.
What have customers said about the store's coronavirus protocols? Shoppers are very happy with the precautions we've taken. We encourage all staff to wear face masks, unless they are medically exempt, so they opt to do so. And we've just received reusable ones for employees that match the uniform. Wearing one not only tells customers we are taking the pandemic seriously, but also makes colleagues feel safer. Shoppers are also very supportive of the fact we still count the number of customers coming into the store. If we were to get long queues outside again, we'd make little changes to make the experience as easy as possible for our loyal customers. That could be in the form of umbrellas or other rain gear.
Are more shoppers using your click & collect option? Yes, it's really taken off. It's fantastic for customers who don't want to come into the store right now. Shoppers can order their products at home, book a half-hour slot to get to the car park, and have someone place their shopping into their car. We implemented the service because of the coronavirus outbreak back in March, and were maxed out on capacity at the beginning. That's waned off a little, but it's picked up again recently. Online deliveries have also gone up by 100% since the virus came into the picture, and those levels have maintained. There's also been great shopper comments on [customer feedback app] Lettuce Know about the strong level of service from both delivery drivers and click & collect staff.
How is The Great Big Fruit & Veg Challenge going? As it offers additional Nectar points there's definitely an appetite for it. Produce is already up 12%, which can only have been driven through this scheme. This spike has been quickly supported by the supply chain to meet the increasing demand. There are lots of PoS signs about it throughout the store, and there have been emails sent to shoppers about it.