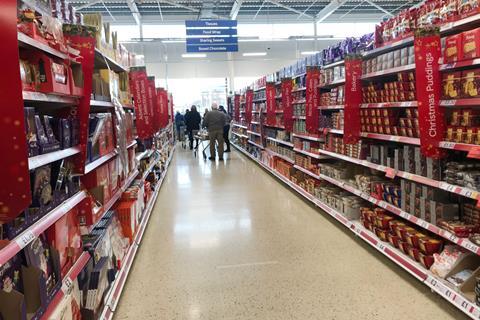 Tesco Kilmarnock took the store of the week title this time around, as it secured a full shopping basket while impressing our shopper with well-executed coronavirus safety protocols.
Our shopper had a positive experience from the outset at the "spacious, open and bright" store, where she was pleased to see staff working hard to ensure high levels of hygiene were met.
The safety measures included ample cleaning supplies for trolleys, marshalling at the front door and all employees wearing face masks.
Shelves were well stocked too, and staff replenishing them kept a safe distance from customers and each other. Employees were helpful and polite while assisting our shopper as well, despite "clearly being under pressure".
Sainsbury's in Camberley narrowly missed out on the winning spot, due to having two items out of stock.
Our shopper was impressed at how tidy and well stocked it was, and felt relaxed making her way around, despite being the first weekend in England's latest lockdown. The only significant availability issue she noticed was a "fairly empty" toilet roll section.
Employees stacking shelves also kept out of the way of customers, and service was strong overall, with staff directing our shopper to an item she needed help finding.
Third-placed Waitrose in Northwich started strongly with a "very well organised" car park, security staff managing customer flow and markers on its floor to remind shoppers to keep their distance. There were plenty of clean trolleys, barriers separating its entrance and exit, and hand sanitiser.
Our shopper felt safe in the store and found partners were easy to spot and well mannered. Those picking for online orders made considerable efforts to keep out of customers' way.
Our shopper's visit ended with a small, orderly queue for the tills, where she was served by a "polite" operator, but she was disappointed to see fellow shoppers skipping the queue.
Fourth-placed Morrisons' store on Prince Charles Road, Exeter was impacted by a wave of panic buying, with many of its shelves "emptied".
Service was a different story, however. Our shopper noted a very high standard, with staff doing their utmost to replenish products in this busy store.
Although general standards were good too, its Covid-19 measures were not up to scratch. Only some staff members wore face coverings and many failed to keep their distance from each other, which caused customers to follow suit. Checkout queues were also not managed effectively, leading to a lack of social distancing and our shopper waiting almost 20 minutes to have her shopping scanned.
Guest retailer Iceland in Caversham, Reading had the lowest availability levels this week, with four out-of-stock and six not-stocked SKUs, despite our mystery shopper reporting its shelves were full.
Service was inconsistent as well, with one team member escorting our mystery shopper to products, while another only gave directions.
Asda in Birkenhead came bottom of the pile owing to our shopper's encounters with "rude" staff. Team members stacking shelves pushed past her, the majority did not offer to show her items' locations and the till operator did not even make eye contact.
The store also had a lack of control over customer numbers, which led to "far too many" being in the store at once.
This week's results:
WEEK 22: Saturday, 07/11/2020 (10.00am - 1.00pm)
WINNER
Asda
Morrisons
Sainsbury's
Tesco
Waitrose
Iceland
Location
Birkenhead
Exeter
Camberley
Kilmarnock
Northwich
Caversham Reading
Date
07/11/2020
07/11/2020
07/11/2020
07/11/2020
07/11/2020
07/11/2020
Time slot
10am - 1pm
10am - 1pm
10am - 1pm
10am - 1pm
10am - 1pm
10am - 1pm
Shop starts
11.15am
11:20am
10.01am
11:15am
10:00am
10:06am
Visit Duration
01:17
02:10
00:43
01:30
01:26
01:00
Shop Duration
01:07
01:40
00:38
01:20
00:59
00:48
Car Park (10)
6
9
9
9
10
9
Signposting (up to 1)
1
1
1
1
1
1
Queueing time to park (up to 2)
2
2
2
2
2
2
Trolleys (up to 2)
0
2
2
1
2
2
Queueing time from parking the car to enter the store (up to 3)
3
3
2
3
3
3
Feedback (up to 2)
0
1
2
2
2
1
No barriers or social distancing, huge car park that you had to pay and display
The car park was busy but it was easy to enter it and to find a parking space. There was a one way system for entering and exiting the car park with clear signage.
There was no queue to enter the carpark and no queue to enter the store. There was a clearly marked entrance and a separate exit door. Hand sanitiser was provided in the foyer on entrance and exit
Entrance to the store was clearly marked with a one way system of in and out, there was plenty of trolleys to the side of the front door and a member of staff at the front door with the "sanitation station" with antiseptic spray alcohol gel and paper towels etc, staff made sure to control traffic at the front door so many people weren't waiting to clean trolleys all at once and there was another station as you entered the store
The car park was very well organised with security working it. There was a constant steady flow of cars entering and parking with no issues whatsoever. Social distancing was noted on the floors of the car park, doors of the building and throughout. Clean trolleys were near the entrance and barriers were apparent on entry along with hand sanitiser.
No staff directing, no queue to get in store, one way stickers in floor.
Store standards (20)
9
15
18
15
15
13
First impression (up to 5)
0
2
4
3
3
1
Feedback
It was crazy busy, no real covid measures except for stickers on floor. Far too many people there.
I didn't need to queue for entering the store. There were hand sanitisers and wipes for cleaning trolleys available at the entrance. There was a staff member managing the entrance.
The store was fairly quiet for a Saturday morning and it was very spacious when you walked in to give a sense of calm and space. There were hand sanitisers available in the foyer and notices regarding social distancing
As stated in previous comments plenty of staff at entrance controlling flow of traffic but very well spaced out, front entry is very open and bright with a clear view of where you need to go. Signs asking to social distance and floor markings were prevalent
The store felt organised and safe with lots of staff both stocking shelves and working on what I imagine to be online orders.
Store was relatively empty on arrival, no staff guidance
Displays (up to 3)
3
3
3
3
3
1
Availability and replenishment (up to 5)
1
4
4
3
3
4
Feedback
Staff were rude and pushed past.
The shop was particularly busy and shelves were emptied quickly. However there were staff working to replenish shelves.
Generally the shelves were well stocked and nearly all of the products I needed were in stock. I was impressed at how well stocked the shelves were, especially after reading articles this week about customers stock piling as we enter this second lockdown. Most shelves were tidy and well stocked. I even went to check the toilet roll which was fairly empty (see photo) but not completely bare. The staff were restocking but not causing obstruction.
The busiest aisles such as fruit and veg and meat and poultry were being stocked as i was in store, there was plenty of staff with face masks and keeping a safe distance from customers
I wouldn't say that anywhere was messy however certain sections didn't have a lot of choice. Some of the fresh fruit was limited. Conference Pears were individual however other varieties were prepacked… Items in the freezers were very limited with Chicago town pizza only available in cheese, no pepperami but there was the option of own label pepperami pizza. There was no choice of vegetarian pies. The only PG Tips stocked were caffeinated, there was no decaff apart from Tetly, Yorkshire, Clipper and Twinnings. Toothpaste was limited with choices of either Oral B Pro expert variants or 3D White. There was no Pro Health available. Pepperami was only available in minis but they did stock similar products ie, Greisinger hot smoked sausage. Laundry softeners also had several items out of stock but fortunately comfort blue skies was available.
Only saw 1 girl stacking shelves, all shelves were nicely stocked
Obstructions (up to 3)
2
3
3
2
2
3
Spillages (up to 2)
2
2
2
2
2
2
Condition of the store in terms of cleanliness (up to 2)
1
1
2
2
2
2
Feedback
Was bit chaotic.
The store appeared clean, tidy and free from litter. The shelves appeared well maintained and the products displayed in an inviting manner.
The store felt very light and clean and the shelves were tidy. I did not notice any litter etc on the floor
Very busy time of day but the store was kept to a high standard of cleanliness, senior staff were visible on the floor checking
The Northwich Waitrose store is always very clean and tidy. If anything, today there were more than usual obstacles in the isles due to the online pickers. They did move to one side wherever possible.
All looked clean, tidy and orderly.
Store layout (10)
3
6
8
8
5
5
Did the store layout seem logical and intuitive? (up to 2)
1
2
2
2
1
1
Was it easy to navigate the store while also feeling safe? (up to 6)
0
2
4
4
2
4
Did the store offered any Click & Collect services? (up to 2)
2
2
2
2
2
0
Shop Floor Service (20)
9
16
18
19
19
11
Product location (up to 5)
3
3
5
5
5
3
Staff politness/responsiveness (up to 5)
2
5
4
5
4
0
Feedback
Nne member of staff was helpful when asking about tea, others just told me aisle number but didnt offer to go with me, staff restocking shelves pushed past me.
The staff members were polite and very helpful. When I couldn't find a couple of products the staff I asked for help showed me where to go and searched if they were in stock for me.
I only had to ask for one item and I was directed to the correct aisle. I felt there were enough staff on the shop floor that if I had needed more assistance the staff would have been easy to find.
I was able to find all products easily but for the sake of the survey I had approached a couple of members of staff for assistance, they were both very polite and pointed me in the direction of where the product was and offered to take me to it
Personally I didn't have to ask for assistance on this occasion however I did hear staff helping other customers politely.
1 staff just said no that's all we've got for now, 1 staff gave directions, 1 staff took me to product area (x2) and offered alternative both times
Was it easy to find a member of staff (up to 3)
2
3
3
2
3
2
Were staff easy to identify through their uniform or name badges (up to 2)
2
2
2
2
2
2
Staff presentation (up to 5)
0
3
4
5
5
4
Feedback
Staff were generally rude.
0
All staff on the shop floor wore masks but I noticed that the lady (Jacqui) who served me and the lady on the till next to her were not wearing masks. There were plastic screens up around each till though so it didnt feel unsafe in any way. I didnt notice any staff wearing gloves.
Michael at fruit and veg was very helpful despite being clearly busy, he kept a distance and was polite
0
N/A
Tills and checkouts (20)
9
8
19
18
18
12
How well managed were the queues leading up to the till-operated checkouts in terms of maintaining order and social distancing? (up to 2)
0
0
2
1
2
1
How well managed were the queues leading up to the self-service checkouts in terms of maintaining order and social distancing? (Please observe after you've completed your shop, and include observations around attentiveness to customers requiring help due to flashing lights/unattended items in bagging area) (up to 2)
0
0
2
1
2
1
How long did it take to queue (prior to scanning) (up to 4)
4
0
4
4
4
2
Please rate checkout staff on their customer service and safety (up to 7)
0
4
6
7
6
5
Time for G33 items to be scanned (including payment) (up to 3)
3
2
3
3
2
3
Was the till receipt free of mistakes? (up to 2)
2
2
2
2
2
0
Feedback - please provide any further details/feedback on the tills and checkout:
Staff member didnt ask if i wanted bags, didnt look at me, very rude
I had to wait 18 minutes in a queue before being able to approach a free check out. There were queues in each aisle for each manned check out and there were no measures for social distancing. When I finally approached the check out the staff member was polite and helpful. Even though there was a screen at the till the customers stood at the bagging area very close to the staff member.
I only had to queue for 2 minutes before I could start to unload my trolley which I was impressed with - I thought the queues might be longer on a Saturday morning. There were 9 tills open and none had large queues. There were a couple of members of staff near the tills monitoring the queues.
Marianne was friendly on tills but didn't chat much but had all correct PPE on and was cautious with shopping. The general till area was very busy with people queuing for tills at every aisle, it was difficult to see what one had the smallest queue and felt very tense and stressful, it was hard to make your way down the bottom of aisles because it was so busy and made for a stressful shop
Whilst there was a small orderly queue awaiting the next available checkout, I did notice that certain people were avoiding queuing and going straight to checkout. The young person serving me was very polite and clean looking.
Checkout queue slow, although cashier was helping OAP to pack bags. Queue to start with the bell rang x2 to open another checkout(s)
Availability score (20)
11
17
16
20
16
6
Of the 33 items on your shopping list how many were:
Available (up to 20)
27
31
31
33
29
23
Out of stock (-2 per item)
3
1
2
0
0
4
Not stocked (-1 per item)
3
1
0
0
4
6
Availability %
90.0
96.9
93.9
100.0
100.0
85.2
Please note down the items on your shopping list that were out of stock (please highlight the products that have managed to get a satisfactory substitutions)
Coke zero,

Maltesers reindeer,

Hellmans salad dressing
Own label fresh whole milk - 2 pints
Ben and Jerry's flavour I needed was out of stock but I picked up an alternative.

Comfort fabric conditioner was also out of stock but I picked up an alternative fragrance.
N/A
N/A
Malteser mini reindeer-malteser biscuit

Comfort blue skies 3L- comfort blue skies 2L

Linda McCartney vegetable country pies

Coca Cola Zero 2L - Coca Cola Zero 3L
Please note down the items on your shopping list that were not stocked (please highlight the products that have managed to get a satisfactory substitutions)
Decaffinated tea

Sweet pickle,

Ben and Jerry's ice cream
Hellmann's fat free salad dressing 210ml
N/A
N/A
Pepperami Original (alternate Greisinger hot smoked sausage.

Chicago Town Pizza (no Pepperoni only Cheese stocked)

PG Tips( No decaf stocked only std caffeine)

Oral B Pro health Professional not stocked only Pro Expert or 3D white ranges.
Kronenbourg 1664 - Carling

President Brie - Iceland Somerset Brie

Herta frankfurter hotdog

Yoplait pepos pig fromage Frais - yoplait wildlife choobs

Oral B pro health toothpaste- Colgate toothpaste

Branston's original sweet pickle 720g *only had label for 520g same product but that was out of stock
Please give any other details or info about your shopping trip, good or bad
It was very busy, you can claim parking back but cashier didnt ask me if i had paid and i forgot to ask.
The store layout made the products easy to find. On top or each aisle there were big signs and at the gondola ends there were products on special offers.

The shop was busy and people were moving freely between the aisles without following social distancing. There wasn't any indication or rules for the customers apart the one to wear a mask. Not all the staff members wore a mask and they didn't seem to keep social distancing either.
There was a click and collect service outside in the car park which was clearly signposted and the area was undercover.

I was pleased at how spacious the store felt and how the items were all easy to find due to good store signage. The store felt calm and relaxed and the aisles were wide enough to easily social distance. The store had an attractive christmas display as you walk into store which was a nice way to start the shop and gave a good impression. All of the deli, butchers etc counters were closed, the only one that was serving a limited selection was the hot food, with freshly roasted chickens and some fresh pizzas. There was an attractive, well stocked sushi counter which was fully open and a well stocked and tidy clothing and homewear department.
Overall a spacious shop with lots of attractive displays and seasonal offers, i felt personally the shop was too busy and with no one way system in place it was a free for all. Staff were helpful despite clearly being under pressure but they were working very hard.
All in all a pleasant trip. I image as the day progressed the car park and store was probably a lot busier. Even though some isles had several people trying to navigate their way around everyone was very well mannered and considerate.
Home delivery service available.
Store tidy, bright, well stocked. Did notice spoiled oranges on display bit later saw store manager with them in his hand removed from display. Some nice seasonal displays/products. Small store, so limited space for stock.
TOTAL SCORE (100)
47
71
88
89
83
56