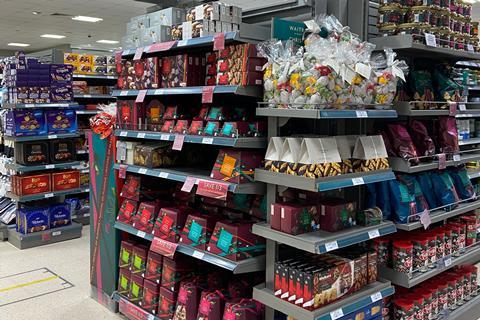 Waitrose's Paddock Wood store claimed a comfortable service and availability victory this week. The store took the win with an impressive score of 93, well ahead of the chasing pack.
Our shopper praised the "friendly and helpful" team. Shop floor staff impressed by escorting her to items she couldn't find, while the cashier was "efficient and chatty".
The store was spacious, which helped make social distancing easy. A couple of restocking trolleys caused only mild obstructions.
She picked up 32 out of 33 items on her list, with just one out of stock.
There was an "attractive" display of Waitrose's Christmas range, too. The only snag was the instances of mislabelling on the shelf edge due to products being moved to make way for festive items.
This was a close week for the rest of the retailers, with just five points separating runner-up Morrisons on 78 points and fifth-placed Sainsbury's.
Morrisons' store in Gloucester was "easy to shop", with a logical layout and high standards. Our shopper was impressed by how "clean and tidy" the store was. Its layout and signage made it easy to find most items on her list, while "polite" staff were happy to assist her with finding the rest.
She spotted a "half full" bakery fixture and "empty shelves" in the fresh pizza and vegetable areas. However, staff were working hard to restock, and managed to do so without getting in the way of customers. There were just two out-of-stocks.
There were no queues for the tills and social distancing markers were clearly placed. But our shopper felt rushed while at the checkout as the operator started scanning her shopping immediately and failed to greet her or make eye contact.
Asda Accrington had hand sanitiser, trolley cleaning products and posters to remind customers to wear face coverings, but the lack of staff supervising customer flow led to a busy shop floor and made social distancing tricky.
Our shopper only managed to pick up 27 products with two out-of-stocks and four not-stocked products. She described some of the shelves as "messy" with empty packaging and knocked-over items.
Tesco in Batley had a "chaotic and busy" entrance due to staff failing to enforce its one-way entry and exit system. This was followed by a "stressful" experience inside the store caused by "lots" of large families shopping together, making it "impossible" to keep a two-metre distance from other customers.
However, shelves were well stocked, and there was just one out-of-stock product.
The biggest concern at Sainsbury's store in Croydon was a lack of staff presence and slipping coronavirus safety protocols. Social distancing markers were worn and shoppers took little notice of them, plus the one-way system was unclear and some employees were not wearing face masks.
The only employees our shopper came across were those operating the checkouts and two team members restocking shelves. This meant a lack of checkout queue management. Our shopper felt it was left to customers to keep their distance from one another. Its self-service checkouts, however, were overseen by a team member who was "very proactive" in keeping customers moving.
Sainsbury's score was bumped up by strong availability, with "very few" gaps to speak of, and wide aisles that created a "stress-free" shopping experience overall.
This week's results:
WEEK 24: Sunday, 22/11/2020 (12.00pm-3.00pm)
WINNER
Asda
Morrisons
Sainsbury's
Tesco
Waitrose
Location
Accrington
Gloucester
Croydon
Batley
Paddock Wood
Date
22/11/2020
22/11/2020
22/11/2020
22/11/2020
22/11/2020
Time slot
12.00pm - 3.00pm
12.00pm - 3.00pm
12.00pm - 3.00pm
12.00pm - 3.00pm
12.00pm - 3.00pm
Shop starts
01:52pm
12:03pm
12:00pm
02:37pm
01:59pm
Visit Duration
00:50
00:51
01:25
00:57
01:15
Shop Duration
00:43
00:45
01:10
00:50
01:07
Car Park (10)
9
7
8
9
10
Signposting (up to 1)
1
1
1
1
1
Queueing time to park (up to 2)
2
2
2
2
2
Trolleys (up to 2)
2
0
1
2
2
Queueing time from parking the car to enter the store (up to 3)
3
3
3
3
3
Feedback (up to 2)
1
1
1
1
2
There were no staff supervising but the entrance and exit doors were clearly signposted. There wasn't a queue, I was able to enter the store immediately. There was a very clear sign on the door to state that a face covering had to be worn.
The front lobby had been divided in two to provide a one way system, with one door as an entrance, and the door on the other side as an exit. From the side of the car park that I approached (the entrance door), there were no trollies by the entrance, and I had to go back out into the car park to find one. On exiting the store, there was a large trolley park right by the door, which was full, but I hadn't been able to see this from the entrance door. There didn't appear to be any staff member on the entrance counting the number of customers in and out, but the store didn't feel overly busy. There were two A-boards by the entrance, one stating that it was OK to enter the store, and one reminding people to wear face coverings. Just inside the lobby there was a sanitising station, and a larger sign reminding customers to sanitise, wear a mask, and remain socially distant.
There was no queue to either enter or exit the carpark. The trolley parks in the supermarket were empty and most trolleys were scattered around the carpark blocking parking spaces. At the entrance there is a one way system in operation but this was not clearly marked. Social distancing is indicated by a sign outside and footprints which have been painted on the floor at 2 metre intervals. There is a barrier in place to indicate a queuing system but there was no attempt to limit the number of customers entering the store and everyone was simply walking in. At the entrance a member of staff greeted us and using a disinfectant spray and paper towels he wiped out trolley handle. He did not have a mask or gloves on.
The moment I left my car as I was approached by a man asking if I had money for food. Their was also someone begging outside the front of the store, sat on the floor near the exit. The entrance/exit has been divided into two so it can be one way. There was someone manning the entrance but not very well because they let someone use it as a n exit as I was coming in. There were no queues to enter the store.
Drove in and parked easily without having to queue, very clearly signposted. Got a trolley and entered store - no queue. Trolleys were all disinfected thoroughly before being placed at the collection point.
Store standards (20)
11
13
18
16
18
First impression (up to 5)
3
2
3
2
4
Feedback
There was a sanitising station near the entrance, this had hand gel and antibacterial spray (for the trolleys ). There was also a security desk next to this, occupied by a female member of staff. There were none of the tannoy announcements which ASDA was using earlier in the pandemic.
There was another sanitising station just inside the store, and plenty of hand sanitising spots as you went around the store. In the lobby there was a large seasonal display of Christmas trees and accessories, which looked festive and inviting.
The store was quite calm and in good order when we entered. There was a hand sanitisation station available and there were signs asking people to use it. There were constant announcements throughout the whole time I was in the store. The announcements were advising people to socially distance, to wear masks and to give space and time to those with disabilities or needed help.
It was quite busy and seemed a bit chaotic but only due to the number of people milling around the entrance. There were hygiene stations at the entrance and a kiosk where you could buy masks.
There was an attractive Christmassy display at the store entrance. plenty of space created a calm atmosphere. Two members of staff in face masks standing at the entrance to answer queries. Separate entrance and exit.
Displays (up to 3)
2
3
3
3
3
Availability and replenishment (up to 5)
0
2
5
4
5
Feedback
There were 4 members of staff carrying out replenishment. A few sections were messy, with empty packaging and items which had been knocked over. Staff were wearing masks and were maintaining social distancing.
As I entered the store there were a couple of small bakery fixtures which were only half full, and several shelves in the fresh pizza and vegetable aisles which were either completely empty or mainly empty (although there did appear to be some re-stocking going on as I was shopping in the fresh fruit and veg). As I was shopping, most aisles apart from fruit and veg appeared to be well stocked, with only a few gaps here and there (notably in bakery and the frozen section.
The store was extremely well stocked throughout with very few empty spaces anywhere. Ends of aisles had either good special offers or items from the Christmas collections - eg mince pies, Christmas cakes and chocolates. There was no restocking in the store whilst I was shopping.
Every area overall seemed very well-stocked. No areas were messy or bare.
Aisles very well stocked and neat, no spillages observed. A couple of instances where restocking trolleys were in the way of products e.g. in the frozen aisle.
Obstructions (up to 3)
3
3
3
3
2
Spillages (up to 2)
2
2
2
2
2
Condition of the store in terms of cleanliness (up to 2)
1
1
2
2
2
Feedback
The store had some Christmas sections, with gifts and food products. As you entered the store there were some "Black Friday" deals, including a 50 inch TV and a piled high display of boxed microwave ovens. There were a number of rails with clothes as you entered the store. Christmas trees were the first item that could be seen. Announcements were about the cafe, which was offering drinks to take away.
In general the store felt clean and tidy. Where restocking was happening it was done neatly and in an un-obstructive way.
The store is in very good order. There were one or two restocking cages which were empty or contained empty boxes and they were being collected from around the store by a staff member. Whilst waiting to be collected they were stored neatly at the side of the aisles and were not obstructing any customers' access. All shelves, chillers & floors were clean and well maintained. There were no leaks or spills anywhere.
Lots of xmas displays and goods. Lots of special offer displays. All plentifully stocked. Decorations were up. Seemed quite festive. Black Friday offers advertised.
Very clean and neat store. Well stocked and tidy with plenty of space in the aisles.
Store layout (10)
8
7
8
8
9
Did the store layout seem logical and intuitive? (up to 2)
2
1
2
2
1
Was it easy to navigate the store while also feeling safe? (up to 6)
4
4
4
4
6
Did the store offered any Click & Collect services? (up to 2)
2
2
2
2
2
Shop Floor Service (20)
19
18
4
10
19
Product location (up to 5)
5
5
0
0
5
Staff politness/responsiveness (up to 5)
4
5
0
3
5
Feedback
I spoke to 2 members of staff. One was regarding the location of the sugar snap peas. The man took me to the correct location (on the next aisle) and lifted out the empty tray. He then put the full tray so it was clearly visible. I couldn't find the hot cross buns so asked a young lady, who was reducing the price of the fresh baguettes. She said that this item is frequently moved and took me to the correct gondola, at the end of the bread aisle.
In the freezer section, there were no Birds Eye Chicken Dippers in the right bag size. I asked Michael, who was re-stocking the freezer section, and he took me to the end of the aisle, where they had more stock of them. He was friendly, polite and helpful. The frozen County veg mix had an Out Of Stock label, therefore I did not ask about them. I did not buy a substitution. The Chilli shelf was completely empty. At that time I was unable to find a nearby staff member to ask for help.
There were NO staff to be found. The only staff I saw in the store other than on the tills was a staff member who was collecting the empty cages and taking them off the shop floor and the staff member restocking doughnuts who was only present when I was exiting the store. There was nobody to ask any questions of at any point whilst I was shopping.
There wasn't any sweetcorn, neither cobettes nor whole cobs. I asked a gentleman but he said they didn't have any. He was polite and looked smart but did not offer to look in the back.
Asked a couple of different staff members where different products were and all were very friendly and helpful. One man in particular, I asked for the locations of two different items and he knew exactly where they were and lead me to them.
Was it easy to find a member of staff (up to 3)
3
2
0
1
3
Were staff easy to identify through their uniform or name badges (up to 2)
2
2
2
2
2
Staff presentation (up to 5)
5
4
2
4
4
Feedback
The members of staff did not have name badges but were wearing the blue livery of ASDA staff. They were both wearing gloves and masks.
All members of staff around the store were wearing face coverings, but not all on the tills (but they were behind protective screens). Some were wearing gloves.
Comments on presentation of staff is based on the till staff as it was impossible to find a staff member to assist on the shop floor at any time. On the tills some staff members had gloves, some had masks and some had both. It seemed to be a matter of personal choice.
Took me a while to find a staff member in the fruit and veg section. In fact I left the area, shopped a different area and came back. Staff members wear both blue and green so wasn't always sure straight away if someone was staff or not.
N/A
Tills and checkouts (20)
18
17
18
15
19
How well managed were the queues leading up to the till-operated checkouts in terms of maintaining order and social distancing? (up to 2)
2
2
2
1
2
How well managed were the queues leading up to the self-service checkouts in terms of maintaining order and social distancing? (Please observe after you've completed your shop, and include observations around attentiveness to customers requiring help due to flashing lights/unattended items in bagging area) (up to 2)
1
2
2
1
2
How long did it take to queue (prior to scanning) (up to 4)
4
4
4
4
4
Please rate checkout staff on their customer service and safety (up to 7)
6
4
5
4
6
Time for G33 items to be scanned (including payment) (up to 3)
3
3
3
3
3
Was the till receipt free of mistakes? (up to 2)
2
2
2
2
2
Feedback - please provide any further details/feedback on the tills and checkout:
The lady was very professional. I asked her for her opinion on the occupancy of the store. She thought it was quieter than usual, the time from entering the checkout to leaving was exceptionally quick. She always works on a Sunday, from 10-4pm.
There were no queues as I approached the tills, but I could see stickers on the floor to tell customers where to queue. When I approached the till and started to unload my items, Maddison started to scan them straight away, meaning that I felt rushed as a backlog of items was at the end of the till by the time I'd unloaded everything. She didn't greet me or make eye contact.
There was no queue at the till I used but other tills had queues going back into the aisles. Customers were socially distancing whilst queuing but this was their own doing and there were no staff assisting with this. There was a staff member who was very busy and observant in the self service till area who was very proactive and keeping customers moving quickly through the area. The staff member at my till was careful with the items and handled things very quickly. There are screens between each till .
There wasn't anyone managing the queues for either the tills or the self-serve but there didn't need to be so marked as 'well'. People just joined whichever queue they wanted as we used to do pre-Covid. There were plenty of tills open. The lady on the checkout was OK. She could have been friendlier. It's hard with a mask on maybe but her eyes definitely weren't smiling!
Very friendly and helpful cashier, smiled and was chatty. Also very efficient at scanning products.
Availability score (20)
12
16
17
18
18
Of the 33 items on your shopping list how many were:
Available (up to 20)
27
31
31
32
32
Out of stock (-2 per item)
2
2
1
1
1
Not stocked (-1 per item)
4
0
1
0
0
Availability %
93.1
93.9
96.9
97.0
97.0
Please note down the items on your shopping list that were out of stock (please highlight the products that have managed to get a satisfactory substitutions)
Schweppes Slimline Tonic Water with Lemon (substituted for with Elderflower)

Kelly's Cornish Vanilla 2000ml ( there were other manufacturers, but the ice cream section was depleted)
The red chillies appeared to be out of stock (empty shelf, no team member to ask).

The Chunky Veg mix was out of stock (label on shelf) I didn't substitute for either item.
Birds Eye 38 Chicken Dippers - substituted with own label
Own Label sweetcorn cobettes 4
Own label double concentrated tomato puree tube 200g (substituted with Mutti branded equivalent)
Please note down the items on your shopping list that were not stocked (please highlight the products that have managed to get a satisfactory substitutions)
Tassimo Kenco Decaffeinated Coffee Pods (there were numerous Tassimo choices, just not the decaffeinated)

Cathedral City Kids Nibbles (there were nets of cheese but they were aimed at adults and were a different weight)

Truvia sweetener (Canderel and ASDA had similar products, but there were no Truvia products)

Hovis Soft White Medium, 800g ( Kingsmill, Warburton and ASDA had white bread. The only Hovis products were wholemeal or seeded)
N/A
Cathedral City Kids Nibble Cheese 5 x 16g - substituted with Cathedral City 20g portions x 6
N/A
N/A
Please give any other details or info about your shopping trip, good or bad
The store was fairly busy and in certain sections I felt social distancing wasn't being correctly observed (by the sweets and on the tinned goods aisle). One young woman was openly vaping, which is obviously against the store's rules.

There were no delays to enter the car park but there was a long queue to leave the store. The store is dated and would benefit from a refurbishment. It does offer a pharmacy, a key cutting service and a photo booth. There were sections that felt a bit cluttered because of all the deals which were stacked high. There were plenty of tills that were open and many options to pay, including Scan and Go, self scanning long conveyors and the Self scan for small baskets. There were 10 staffed checkouts and all of these were open, hence the speed in my shopping being processed. I feel the cost of £40.69 represents good value, many of the products were on a "drop down" deal.
There were signs in the car park advertising a click and collect service. As this is not a shop I regularly shop in, I was not used to the layout, and it didn't seem very logical to me (fresh pizza and garlic bread as the first thing you come to, within the fruit and veg aisle), but I was easily able to find everything with the store signage.

Overall, the store was easy to shop, and I like the sanitising stations placed around the store. The entrance lobby with Christmas trees, and the flower section felt particularly inviting, but the entrance to the store properly felt understocked, as my first view was of low stock levels.
The store has wide aisles and moving about here is very easy. The signs above the aisles were correct and it was very easy to find every item - I did not have to backtrack once. There is no one way system in operation and the tape strips on the floor to advise on 2 metres for social distancing are very old and worn and nobody is taking any notice. There are signs indicating click & collect is available but I could not see where this was taking place.

This was a very easy, stress free shop with well stocked shelves, a great order to the store that made finding every item very easy and a clean and comfortable environment. Every item was clearly priced and displayed in the correct place on the shelf. The only problem was the lack of staff when I could not find the not stocked item. I spent a long time searching a whole aisle of cheese to see if it was present or had a shelf label anywhere. The other item that was out of stock was clearly labeled as such.
They've moved the baking section but it was easy to find due to the signage.

It was busy with lots of large families shopping together. Impossible to keep proper distance. Found it a bit stressful
A couple of instances were labels were incorrect on aisles, e.g. frozen chicken not where it said frozen poultry was (but I think this was because some of the freezers were temporarily being taken up by Christmas turkeys). Mostly good though.

A very good experience all round. Very friendly and helpful staff, well stocked store, efficient checkout and nice atmosphere in store.
TOTAL SCORE (100)
77
78
73
76
93