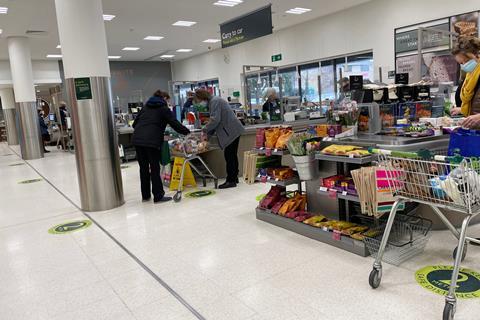 Waitrose has claimed a third Grocer 33 service and availability award within the past four weeks thanks to excellent shop floor standards, friendly staff and good stock levels.
Our shopper praised the "friendly and helpful" security guard at Waitrose Chichester, who was doing a good job managing the queue.
Inside, she described the fixtures as "sparkling" and noted how clean the store was.
The store was quiet when our shopper visited on Friday morning, and spacious aisles made social distancing easy.
Service was strong on the whole and it gave our shopper the impression the team would be able to manage customer flow at busier times. However, some partners were difficult to spot on occasion as our shopper was confused by the uniforms worn by staff transferred from John Lewis' Chichester branch.
She welcomed the fact there was no wait for the checkouts and that the operator was "friendly and polite".
Staff were the stars of the show at runner-up Morrisons. Our shopper who visited its store in Stirchley, Birmingham, described the team overall as having a "friendly and attentive" attitude, and the checkout operator was also polite, efficient and careful while scanning items.
Our shopper said she felt reassured by the strong coronavirus safety protocols, especially noting how cautious staff were about keeping their distance, and the high number of hand sanitiser stations dotted across the store.
The store missed out on the top spot this week as result of three out-of-stock products.
Staff at Tesco in Bridlington also delivered a strong performance. However, our shopper's visit got off to a bad start. Intertwining queues for the entrance to the Bridlington store and the cash machines outside made social distancing tricky.
She was also disappointed to note several gaps in availability throughout the store, particularly in the fresh produce and cereal departments. Having said that, there was only one item in our basket out of stock.
Her visit ended better than it started with a short and well-managed line for tills, with staff on hand to point customers in the direction of the next available checkout.
In Sainsbury's South Benfleet, the queue outside was "orderly and well managed". A member of staff was on hand to ensure customers were complying with Covid-19 measures as well.
Our shopper felt availability was strong across the store but despite this, she was only able to pick up 29 items because of three out of stocks and one not-stocked line.
The store's staff were "friendly" and happy to share information about deliveries for those items.
Service at the tills was of a high standard too, from clear floor markings to show customers where to stand to maintain social distancing, and the operator handling products carefully and being polite throughout the process.
Asda in Birkenhead came in last this week, not helped by four out-of-stocks alongside two not-stocked lines.
Our shopper's experience was also hindered by the branch's "confusing" new layout.
Service was strong in parts, with some staff sharing information about why some products were no longer sold and offering to escort the shopper to items she was looking for.
However, there were only two manned checkouts open, leading to queues.
This week's results:
WEEK 32: Friday, 29/01/2021 (8.00am - 11.00am)
Asda
Morrisons
Sainsbury's
Tesco
Waitrose
Location
Birkenhead
Stirchley
Benfleet
Bridlington
Chichester
Date
29/01/2021
29/01/2021
29/01/2021
29/01/2021
29/01/2021
Time slot
8am-11am
8am-11am
8am-11am
8am-11am
8am-11am
Shop starts
08:30am
10:46am
10:30am
10:45am
09:52am
Visit Duration
00:46
00:59
01:23
01:33
00:54
Shop Duration
00:56
01:04
01:38
01:40
00:54
Car Park (10)
8
10
8
9
10
Car park management (3)
3
3
3
2
3
Queueing time to park and finding a parking space (2)
2
2
2
2
2
Exiting the car park (2)
1
2
0
2
2
After exiting your car please rate your experience before entering the store? (3)
2
3
3
3
3
Feedback
Quite empty and clear, sanitation sanitations as entrance
Tidy and not busy, plenty of trolleys
The car park is well signposted and large with lots of disabled and children spaces. I like that at the edge of rows of cars there is a section for you to walk without hopefully getting run over!
Several people were queuing for the Cash Machine outside the store and the shoppers trying to enter the store had to cut through the cash machine queue (not always social distancing). It would have been better if the two queues had been separated.
The car park was easy to navigate with a one way system and plenty of spaces. It was litter free, clean and tidy.
Store standards (20)
12
15
12
14
19
First impression (6)
2
4
4
6
6
Displays (4)
3
1
1
2
3
Fruit & vegetables section (3)
2
3
2
2
3
Store standards - remaining sections (3)
2
3
1
2
3
Obstractions (2)
1
2
2
0
2
Spillages (2)
2
2
2
2
2
Feedback
Clean, quiet, lots of staff stocking
The store was calm and orderly, not busy and I was particularly impressed with the amount of hand sanitizer stations around the store.
This is a nice big store. At the entrance there was a lady staff member checking that you were wearing a mask and directing you to the sanitising station. The entrance was wide and free from the normal offers and notices so that there was plenty of room to stay distanced. The seasonal Valentines promotions were further down and to one side.
There were some empty shelves particularly in green grocery and cereal aisle.
The store was clean, bright and spacious. On entry there was a really friendly security guard greeting and counting customers in and out and the foyer hosted a really attractive arrangement of flowers and plants, which enticed me to stop and look.
Store layout and services (10)
6
10
8
8
8
Did the store layout seem logical and intuitive? (4)
2
4
4
4
4
Available services (6)
4
6
4
4
4
Feedback
They have changed the layout since i last shopped there about two weeks ago, and changed fruit and veg around -so bit confusing
All the extra counters were open, including fish and meat counter, pizza station, delicatessen
This store has a wide range of services. There is a large cafe to the right when you enter although this is shut at the moment due to lockdown although the toilets were still open for customer use. It has a large household and clothing section. There is a travel money counter. Further into the shop there is a bakery which was open and baking, a pizza counter that was well stocked, a meat, fish and hot food counter that were all closed.
The bread counter was operating as normal and was well stocked. All of the food on the fish, chees & deli counters was pre-wrapped and only self-service was available.
The store was really spacious especially in the fruit and veg area. The layout made it easy to see where things were within the departments. The counters were all manned and the displays full and glass was sparkling.
Shop Floor Service (20)
16
20
15
20
14
Finding a member of staff (5)
5
5
3
5
5
Shop floor staff helpfulness in locating items (5)
4
5
4
5
3
Shop floor staff diligence and hard work in replenishing shelves and picking in-store orders (5)
3
5
3
5
3
Staff presentation (5)
4
5
5
5
3
Feedback
Some staff were very helpful, telling aisle, offering to show me, explaining items were no longer sold, others just said 'end of aisle' and not as helpful
Every member of staff had a facemask on and was careful to socially distance when approached
I spoke to a member of staff when I couldn't find the Deli Kitchen focaccia they explained that the only ones they sold were fresh and I could help myself to a bag and choose how many I wanted. I spoke to another lady when the shelf was empty for the Cadbury hot chocolate, she apologised and said they were waiting for a delivery. I spoke to a young man when the shelf where the Sprite was meant to be and he said they were out of stock but that 7up was very similar. I spoke to another lady when the section where the porridge oats should be and she said the large was out of stock but the had a small pack.
1. There were no cottage pies on display, Jan B immediately offered to go and look in the back for me. She returned within 5 mins and advised that there were none left. 2. I asked Gary who was stocking the dairy cabinet where the UHT milk was, he told me aisle 7 and offered to show me. 3. I asked the man who was restocking bread if the store sold sliced Focaccia and showed him a photo, he said that they occasionally sold it but not right now. 4. Peter was restocking butter and when I approached he offered to move out of my way to ensure social distancing. They were all very polite and cheerful.
There were lots of staff in this store, mostly stocking shelves but a few were idly chatting. They didn't all wear uniform so it was difficult to see if they were store staff. They were customer focused when approached and gave a good basic level of service.
Tills and checkouts (20)
7
17
15
14
18
Rate how well managed were the queues leading to the tills? Were a sufficient number of checkouts open for the volume of staff? Were staff on hand to advise on checkouts with shorter queues, or manage social distancing (5)
0
5
5
5
5
How long did you have to queue? (5)
4
4
3
0
4
Please rate checkout staff on their customer service (8)
1
6
7
7
7
Was the till receipt free of mistakes? (2)
2
2
0
2
2
Feedback
Only two staff checking out, everything else was self check out. Wasnt very friendly, didnt ask re bags, or anything.
The staff member on the checkout was friendly and attentive, we had a chat about the great in-store music and I said I'd love to work there whilst listening to 'The Jam' and that I'd be dancing around!
The tills all had screens to protect you and the cashier. There were markings on the floor to show you where to stand although I went straight to the till as my cashier was serving an older lady and she was at the end so we were socially distanced.
The till queues were well managed, staff were on hand to direct customers to specific tills and to self service tills
The colleague was bright, friendly and polite asking if I was having a good day and whether I needed any bags. They had difficulty scanning an item and were really apologetic for the delay. At the end they asked whether I wanted a receipt, said goodbye and told me to have a nice day.
Availability score (20)
0
8
6
10
16
Of the 33 items on your shopping list how many were:
Available (up to 20)
27
30
29
29
32
Out of stock (-2 per item)
4
3
3
1
1
Not stocked (-1 per item)
2
0
1
3
0
Number of bought items (incl.subs)
27
33
29
32
32
Availability %
87.1
90.9
90.6
96.7
97.0
Please note down the items on your shopping list that were out of stock (please highlight the products that have managed to get a satisfactory substitutions)
Product 1: Flora pro activ
Product 2: Sprite olympic
Product 3: Mushrooms
Product 4: Mediterranean vegetables
Product 1: Closed cup mushrooms
Product 2: I kg own label porridge oats
Product 3: Deli kitchen sliced focaccia
Product 1: Sprite 2000ml
Product 2: Cadbury instant hot chocolate 400g
Product 3: Own label porridge oats 1000g
Product 1: Own Label Premium Cottage Pie - subs
Product 1: Cadbury Instant Hot Chocolate
Please note down the items on your shopping list that were not stocked (please highlight the products that have managed to get a satisfactory substitutions)
Product 1: Crisps
Product 2: Paste
N/A
Product 1: Deli Kitchen sliced focaccia x 4 360g
Product 1: Deli Kitchen Sliced Focaccio
Product 2: Sprite Olympic 2000ml - subs
Product 3: Colgate Caries Protection Tandpasta 75ml - subs
N/A
Please give any other details or info about your shopping trip, good or bad
Generally good, but annoyed at lack of check out staff,
We found alternative products for the items that were out of stock. Overall I was very impressed with the store, it's layout and the staff attitudes.
t's a nice shop with a wide variety of sections i.e. clothing and homeware. There is also a petrol station also. The staff that I spoke to were all friendly and the queues would have been managed well if there had been any as they had barriers outside.
The shopping experience was pretty good, obviously some products are no longer sold or were unavailable. I often used the fresh fish counter but no longer have that option. The social distancing was well marked out and all the shoppers and staff were obviously taking care. The reactions of the staff in dealing with my queries was particularly good.
The store was the bright, clean and very well stocked. The displays were enticing and there was a good selection of products. The store was spacious so it was easy to avoid customers/staff and whilst it wasn't busy during my visit I got the impression it would be well managed if it was as there were plenty of staff. I would most definitely shop again at this store.
TOTAL SCORE (100)
49
80
64
75
85