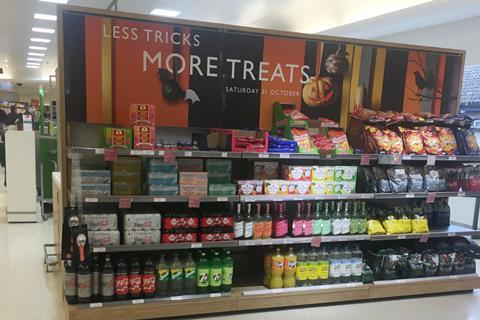 Waitrose has continued its form in service and availability, picking up a 10th store of the week award in the first 21 weeks of the current Grocer 33 year.
Availability was strong at its Monmouth store, despite being a week into Wales' firebreak lockdown. The mango chunks were the only out-of-stock product, while the store didn't range two items on our shopping list.
Our shopper found the branch "very organised". There was a short socially distanced queue that was being well marshalled, alongside plenty of clean trolleys, hand sanitiser and floor markers to encourage social distancing.
All partners were wearing masks and the team was "helpful, efficient and polite".
This week's second place went to Tesco, which lost marks due to staff failing to distance from one another.
The rest of the Covid-19 safety protocols at the Cefn Mawr, Wrexham store, however, were well-managed.
They included marshalling at the entrance, a one-way entry and exit system, sanitiser for trolleys and hands, and social distancing markers.
Customer service was also generally good, including the till operator, who was "very pleasant".
In terms of availability, there were two out-of-stock and two not-stocked products. As with the Waitrose store in Monmouth, there were not many gaps throughout the store, suggesting the lockdown in Wales and fears over panic buying had not had a dramatic impact on availability.
Morrisons in West Kirby, Wirral had the best store standards this week and was "clean and tidy" throughout.
Our shopper reported that hygiene standards and customer safety were strong across the board, especially thanks to its cleaning materials for trolleys, hand sanitiser, and plenty of staff helping to maintain a sense of order.
Staff were "helpful" but the store lost marks because social distancing was not adhered to by all employees. There were also three out-of-stock products.
Asda and Sainsbury's shared last place this week, with four out-of-stock items each.
Our shopper at Asda in Bodmin, Cornwall was alarmed by customers failing to socially distance. He said there were no announcements to remind them to do so and a lack of staff on the shopfloor in general to help encourage distancing.
Customer service was a mixed bag. Although some employees didn't offer to find items he was looking for, our shopper noted the checkout operator was "efficient and engaged".
Meanwhile, our shopper at Sainsbury's in Farnborough, Hampshire, had a shaky start. She struggled to navigate the car park and noticed trolleys that hadn't been sanitised at the entrance.
The store had better Covid-19 measures inside, however, including barriers separating different queues and floor stickers as social distancing reminders.
The branch was tidy overall, but there was problem with a leaking ceiling, which had led staff to place several buckets on the floor.
On top of the three out-of-stock lines, our shopper also spotted major gaps in the fresh produce section.
The last part of her shopping experience was more pleasant than the beginning. She had a positive interaction with the checkout operator, who waited until she had her bags ready before scanning and was "polite and chatty" while handling the products carefully.
This week's results:
WEEK 21: Friday, 30/10/2020 (12.00pm-3.00pm)
WINNER
Asda
Morrisons
Sainsbury's
Tesco
Waitrose
Location
Bodmin
West Kirby
Farnborough
Cefn Mawr
Monmouth
Date
30/10/2020
30/10/2020
30/10/2020
30/10/2020
30/10/2020
Time slot
12pm-3pm
12pm-3pm
12pm-3pm
12pm-3pm
12pm-3pm
Shop starts
01:42pm
02:00
01:53
02:25pm
12:24
Visit Duration
01:43
01:25
00:58
00:57
00:57
Shop Duration
01:33
01:20
00:48
00:50
00:50
Car Park (10)
9
8
7
9
10
Signposting (up to 1)
1
1
0
1
1
Queueing time to park (up to 2)
2
2
1
2
2
Trolleys (up to 2)
2
1
2
1
2
Queueing time from parking the car to enter the store (up to 3)
3
3
3
3
3
Feedback (up to 2)
1
1
1
2
2
There were no staff members monitoring customers entering and leaving the store. Although there were painted yellow lines outide the entrance which could have indicated social distancing queuing positions there was no signage indicating this. There were no barriers in place at the entrance.
Sanitizer available, and one way systems
After deciphering which was the "Entry" into the car park, I circled round twice with no success in finding a space, before I realised that there was an extension to the store car park on the opposite side of the road! This was not very clear. There were ample trolleys, although no staff disinfecting them - customers just took their own from the trolley park. The automatic doors to the store were clearly marked, one as ENTRY and one EXIT ONLY
No one outside, no queue. Someone inside the doors monitoring. One way enttance and exit. On the whole welk managed. Cleaning station outisde with psper towel and disinfectant.
There was a staff member on the door with a clicker to keep a count on how many people were in the store and when I got there, there was a socially distanced queue with 8 people ahead of me. This moved pretty quickly on a one out, one in basis. There were stickers on the floor to indicate where to stand and trolleys were moved from the trolley store to the line so you could pick one up on your way in.
Store standards (20)
15
19
17
16
18
First impression (up to 5)
2
5
4
2
4
Feedback
There was a member of staff just inside the entrance cleaning trollies when they were being returned. However she gave no greeting or instruction when entering the store. No announcements were heard during my visit.
Store was tidy and clean
The store had a vast entrance foyer so it felt very quiet inside which was nice. The kiosk immediately inside the main doors had a barrier queueing system to avoid too much congregating which seemed to be working well. All aisles had stickers on the floor marking out 2m distances, and the shelves all had reminder to "wear a face covering at all times".
One person at door, I felt quite at ease
It was a good first impression with a friendly staff member on the door explaining that the queue was moving fast (it was). There was a hand sanitiser station on entrance with a help-sheet. There was a lovely Halloween display (although we're on lockdown in Wales so maybe no trick or treating?) and another display with "Less Tricks, more treats" section with drinks, crisps and sweets on offer. Photos sent on email for these.
Displays (up to 3)
3
3
2
2
3
Availability and replenishment (up to 5)
3
4
4
5
4
Feedback
There were a number of shelves that had gaps throughout the store. They included the electrical aisle, computer games, baby milk, wines and beers, toiletries, chilled meats and dairy. There were a number of empty cardboard outers seen on shelves around the store including the cleaning products aisle. I noted a packet of bagels on a shelf in the electrical aisle.
Shelves were geerally well stocked.
There were not many areas where shelves were bare! The fresh fruit was a little lacking, and the items on the "Free From" section were not lined up against the correct price stickers. I did not see a lot of staff on the shop floor replenishing, but the store was tidy and not really in need of a great deal of replenishing!
I could see no empty shelves, planty of staff floating about, only saw one staff member unloafing a trolley.
Aisles were mostly plentiful but there were some shelves that started to show a few items that were missing during the initial lockdown were starting to go first (flour and pasta - see photos emailed). There weren't any glaring gaps but you could see that some items had been pulled forward to make the shelves seem fuller than they were. There were staff in most aisles replenishing the store but they weren't in the way.
Obstructions (up to 3)
3
3
3
3
3
Spillages (up to 2)
2
2
2
2
2
Condition of the store in terms of cleanliness (up to 2)
2
2
2
2
2
Feedback
The aisles in the store were clear of litter and obstructions. There was a staff member seen cleaning aisles during my visit. A number of stock replenishments were taking place but this was well managed and did not cause an obstruction to shoppers.
Was generally very clean, and well stocked
There were a number of buckets placed around the store. It was raining heavily during my shop and the roof obviously has a few leaks! These were marked with warning signs to the customer that the floor could be slippery, but other than this the store was clean and tidy.
No issue with hygene standards, all isles were tidy and clean.
The store was very organised. There seemed to be more staff on than I am used to on a shop. There seemed to be one staff member per aisle almost.
Store layout (10)
7
8
8
7
8
Did the store layout seem logical and intuitive? (up to 2)
1
2
2
1
2
Was it easy to navigate the store while also feeling safe? (up to 6)
4
4
4
4
4
Did the store offered any Click & Collect services? (up to 2)
2
2
2
2
2
Shop Floor Service (20)
14
11
14
17
19
Product location (up to 5)
5
3
5
5
5
Staff politness/responsiveness (up to 5)
3
2
3
4
4
Feedback
A number of staff members were asked for the location of some products and the responses were mixed. In the fruit and vegetables section a female staff member was asked if there were any swedes and she replied ' if there's none out we don't have any sorry.' She did not offer to look. I returned later to the same section and asked a male team member the same question and he said ' Yes we have some out the back I will go and get them.' When he returned he also asked if there was anything else he could help me with. I also asked a female staff member in the bakery section where the free from rolls would be and she stopped what she was doing and accompanied me to the aisle and located them for me.
Staff were polite and helpful
I asked a member of staff to direct me to the Free From section (even though it was quite clear where it was), and was accompanied to the correct area.
Staff said items were not stocked in this store - tesco organic milk.
Milk - I asked for help finding the 2l organic milk and a lady helped me. Mango - this was all out and a chap went out the back to see if they had any more - they didn't Aveeno Dermexa - I found several Aveeno items but not the Dermexa. A lady filling this section found the right one for me. Veetee rice - I asked a lady on this section if they had the rice and she said they didn't stock this. All staff were very efficient and polite but not overly friendly hence the 4 not 5.
Was it easy to find a member of staff (up to 3)
1
2
1
3
3
Were staff easy to identify through their uniform or name badges (up to 2)
2
2
2
2
2
Staff presentation (up to 5)
3
2
3
3
5
Feedback
N/A
Some staff tried to socially distance
N/A
Staff talking with staff were not social distancing.
This is the first time I've seen all staff wearing a mask in a supermarket, so worth noting.
Tills and checkouts (20)
18
17
19
16
19
How well managed were the queues leading up to the till-operated checkouts in terms of maintaining order and social distancing? (up to 2)
2
2
2
1
2
How well managed were the queues leading up to the self-service checkouts in terms of maintaining order and social distancing? (Please observe after you've completed your shop, and include observations around attentiveness to customers requiring help due to flashing lights/unattended items in bagging area) (up to 2)
2
2
2
1
2
How long did it take to queue (prior to scanning) (up to 4)
4
4
4
4
4
Please rate checkout staff on their customer service and safety (up to 7)
6
4
6
5
6
Time for G33 items to be scanned (including payment) (up to 3)
2
3
3
3
3
Was the till receipt free of mistakes? (up to 2)
2
2
2
2
2
Feedback - please provide any further details/feedback on the tills and checkout:
There was one customer being served at the till I used. After a short wait of one minute thirty three seconds I was greeted at the till and asked if I wanted any bags. The staff member was quick and engaged with me during the checkout process. Items were carefully handled and after payment was taken she handed me the receipt and said ' goodbye.' When passing the self service check out area there was no queue.
Didn't ask me if i had a rewards card
The checkout operator that served me (Antalya?) was very polite and chatty. She waited until I had my bags for life lined up in my trolley before starting to scan, and made conversation throughout. She handled the products carefully and wished me a pleasant afternoon when I left. The checkouts all had plastic screening between them and markings on the floor to ensure social distancing. I felt very comfortable.
Chap was very pleasant. Didn't offer to pack bags.
The chap that served me was amiable in both his welcome and goodbye. The till belt had just been cleaned so was a little wet when I put my things on. There wasn't enough of a queue to dedicate someone to controlling the flow. There were markers on the floor showing us where to stand. At the self service there were only 2 customers with one staff member overseeing this. She came to the help on one chap, socially distancing herself as she did.
Availability score (20)
11
14
9
14
16
Of the 33 items on your shopping list how many were:
Available (up to 20)
28
30
26
29
30
Out of stock (-2 per item)
4
3
4
2
1
Not stocked (-1 per item)
1
0
3
2
2
Availability %
87.5
90.9
86.7
93.5
96.8
Please note down the items on your shopping list that were out of stock (please highlight the products that have managed to get a satisfactory substitutions)
Own label honey roast ham,

Own label blanched almonds,

Munch bunch squashums strawberry and raspberry yoghurt

Philadelphia light garlic and herb.
All of the above items were substituted.
Vegggie kebab,

Philadelphia soft cheese,

Aveena body wash
Hovis bread - Substituted with Warburtons

S Free From rolls - Substituted with Genus FF rolls

JS Organic whole milk - Substituted with S/Skimmed

Savoy cabbage - Not substituted
Veetee easy cook long grain rice 1000gm.

Own label Cheshire cheese
Mango chunks - these were out of stock - didn't select an alternative
Please note down the items on your shopping list that were not stocked (please highlight the products that have managed to get a satisfactory substitutions)
Veetee easy cook long grain rice 1 kg.
This was substituted for Asda own long grain rice.
N/A
Aveeno body wash 300ml - Substituted with 900ml

JS Blanched almonds - Substituted with whole almonds

Veetee Long grain rice - Substituted with JS rice
Aveeno Dermexa Emollient bodu wash 300ml.

Own label organic whole milk.
Wafer Thin Honey Roast Ham - they only had the larger packets (double the quantity) or a 6 slice non-wafer thin pack at the same weight so I chose the latter.

Veetee Long Grain white rice - they only had ready made long grain Veetee, Basmati Veetee or own label long grain rice - I chose the latter.
Please give any other details or info about your shopping trip, good or bad
There was no one way system in place and customers were not observing social distancing. No annoucements were made to remind customers to adhere to social distancing requirements. A staff member was asked about a stock product and although helpful stood next to me when answering my query. Aisle signage was generally helpful though when looking for rice found a sign saying 'Packet rice and pasta.' No packet rice was found as this was located in a different aisle. Click and collect was well sign posted.

The store was modern and with some attractive displays throughout the store including Halloween and Children in Need. Some aspects of managing social distancing were a concern with no annoucements reminding customers and staff to observe social distancing requirements.
Store was clean and tidy, staff were helpful, social distance was mostly demonstrated. Only negative was didnt ask about rewards card.
N/A
C&C question - I had to google the answer for this as i did not know and did not see any signage.

Very good, no queues anywhere, even though i thought the store was quite busy. Isles were well marked with social distancing. No one way system which is great much better than before as i found i needed to double back all the time. All in all quite pleasant.
It was a really pleasant shop. I missed the Free From section on the first trip around the store so I walked back along the aisles and it was clearly signed above the aisle, where I found all of my products. They had closed one entrance of the store so that they could keep a count of people going in and out. There was a very attractive meat section and fresh fish section. Some areas of the store (books I noticed) were cordoned off as with the lockdown, only essential items are allowed to be sold. Altogether a very enjoyable shopping experience.
TOTAL SCORE (100)
74
77
74
79
90