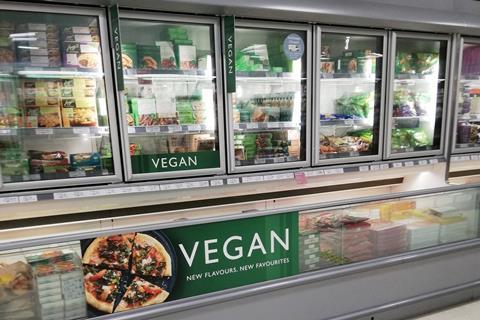 Waitrose has won its fifth Grocer 33 award in as many weeks. A score of 75 was enough to take Waitrose Peterborough to victory this week, which saw fairly low marks across the board.
Availability was strong and our shopper only failed to pick up one out-of-stock item. However, efforts to replenish shelves caused problems. One member of staff almost collided with our shopper at one point as they stacked shelves, while restocking trolleys blocked the aisle on a couple of occasions.
The store also dropped marks as employees failed to enforce coronavirus safety measures, despite several reminder announcements being made.
Our shopper was relieved there was no queue for the tills, while the checkout operator took great care with products.
Tesco in Riverside, Dundee narrowly missed the top spot with 73 points. The shop floor team were the stars of the show and escorted our shopper to items she couldn't find.
An employee rapidly cleared up a broken bottle in the drinks department, while staff did "all they could" to ensure customers felt safe.
On the less positive side, our shopper had to queue to pay due to a lack of open checkouts. And its victory chances were ultimately scuppered by poor availability, with two out-of-stock and three not-stocked lines.
Our shopper in Morrisons Southwood in Farnborough also only managed to collect 28 products – with two out of stock and three not stocked.
A few unattended replenishment trolleys made social distancing hard to maintain in the narrow aisles. Its signage was clear and made navigation easy, but plenty of staff were around to point her in the right direction of items.
She waited around five minutes for the checkouts, where the operator was "very friendly", handling her shopping carefully.
Our shopper at Asda Torquay praised the marshal who helped her get a sanitised trolley as she forgot her pound coin.
The wide product selection also earned a mention, though there were two out-of-stock and five not-stocked SKUs. Shop floor service overall was strong, with the team happy to take our shopper to items amid replenishing the shelves.
But the store looked "dated" and its small size created bottlenecks of customers.
The store didn't fare so well on checkouts either, as the area was "cluttered" with plants on promotion alongside queues.
Sainsbury's took last place for the second consecutive week. Despite racking up full marks for service on the shop floor, the Falls Road, Belfast branch scored just 49 points overall.
Our shopper had to wait over 10 minutes to find a parking space. Availability was also the lowest among the grocers this week: our shopper left the store missing six items on our list. Its fresh produce section was cited as particularly "sparse", though employees were apologetic.
Our shopper was particularly frustrated with how busy the branch was. Although marshals by the entrance made her feel safe as she went into the store, once inside she felt "under pressure" to select items quickly due to potentially holding up fellow shoppers. She had to double back several times, though staff were happy to take her to items and were "very polite".
Lines for the tills ran "halfway down" each aisle and our shopper had to wait five minutes to pay. However, a staff member was on hand to direct customers to the next available checkout and the cashier was "friendly and efficient".
This week's results:
WEEK 36: Saturday, 27/02/2021 (10.00am - 1.00pm)
WINNER
Asda
Morrisons
Sainsbury's
Tesco
Waitrose
Location
Torquay
Farnborough
West Belfast
Riverside, Dundee
Peterborough
Date
26/02/2021
27/02/2021
27/02/2021
27/02/2021
27/02/2021
Time slot
10am - 1pm
10am - 1pm
10am - 1pm
10am - 1pm
10am - 1pm
Shop starts
10:29am
11:18am
10:55am
10:00am
12:37pm
Visit Duration
00:56
00:57
01:00
01:24
00:36
Shop Duration
00:58
01:02
01:20
01:30
00:46
Car Park (10)
7
8
3
9
8
Car park management (3)
1
2
1
3
2
Queueing time to park and finding a parking space (2)
2
2
0
2
2
Exiting the car park (2)
2
2
0
2
2
After exiting your car please rate your experience before entering the store? (3)
2
2
2
2
2
Feedback
The car park entrance is on a bend on a hill at the beginning of an industrial estate and it felt busy and a little unsafe. The junction is close to the traffic lights and T junction that meet the main Newton Rd and this was backed up with cars queueing at the lights. The car park is small and has a one way system which was fine but it felt very congested. There was an ATM at the far corner and a few handicap/parent spaces near the front of the store.
There was no queue so queue management wasn't an issue
The one way system allows you to go to the carpark beside the entrance of the centre, however this was very busy and I was unable to get a space. I then had to come out of that carpark and drive to the main carpark for the centre a bit further away but access to trolleys prior to entering the centre were good.
The carpark was orderly and not too busy. The trolleys were neatly stacked in most cases. There was a manned Click and Collect booth near the carpark exit, with a separate parking bay booth
A bit awkward to get in or out of some spaces. Otherwise good.
Store standards (20)
14
15
10
18
13
First impression (6)
6
6
4
6
4
Displays (4)
2
3
2
3
2
Fruit & vegetables section (3)
2
2
1
3
2
Store standards - remaining sections (3)
2
2
1
3
2
Obstractions (2)
0
0
0
2
1
Spillages (2)
2
2
2
1
2
Feedback
The store was bright, the music was at a good volume and it felt very welcoming. As you went in through the entrance the clothing and tobacconist was on the right and the self serve tills just to the left.
I was welcomed by a Safety Marshall who was very happy to help me as I didnt not have a coin for the trolleys. You used her little gizmo to get me a trolley and then brought it in to me and sanistised the handle before passing it over. Lovely lady but i did not see her name tag.

The store is small and feels dated but that said, the atmosphere was not that way at all and the space is well utilised. I found there was a natural bottle neck in the aisles at the back of the store with the corner by bakery being particularly busy with shoppers struggling to maintain social distance but move past each other.
The aisles are narrow and there were a few unattended restocking trolleys in the way. Generally the store was well stocked and the displays were good.
The store was well manned at the entrance by staff. It was very impressive when entering with well merchandised Homeware displays. The fruit and veg section was a bit sparse there were staff filling it out at the time but the parsnips were out of stock, spring onions very limited and Sainsbury don't currently stock their own brand of fresh corn on the cob. The staff in this section were very polite and apologetic for this inconvenience.
The store was very clean and there were numerous assistants filling shelves and generally keeping things going. In one of the drinks aisles an assistant was sweeping up the remains of a broken bottle. On the way in I noticed that outside the store there were not the usual attractive displays, rather movement control signs and sanitisers. Inside there was a large seasonal display of Easter eggs, and one aisle with lots of special offers (groceries, homeware, Easter goods) down both sides.
Mostly well stocked with only a few gaps. A lot of staff restocking but most were not causing obstruction.
Store layout and services (10)
5
5
4
8
6
Did the store layout seem logical and intuitive? (4)
2
3
1
4
2
Available services (6)
3
2
3
4
4
Feedback
The sections were very small but had most products I needed. The Fresh Produce did not have an Organic section. The layout for chilled confused me a little as the meat was next to the fruit and veg and some of the aisles were short and the merged into other departments. The signage was good and at the back of the store was a compact hot food, takeaway and bakery section. Very few of the sections had bare shelves or big holes where the products were missing so on the whole it did not feel like they were lacking stock.
Click and collect is available but I couldn't see enough to comment on how well managed it is. This isn't a huge store, so although it has all the deli counters, stock is limited.
The layout is quite good, although I did find myself having to go back down isles as I had missed products. Staff were very helpful though and did walk me to the product I was looking for.
The bakery counter was self service and the deli counter too. The hot takeaway counter had hardly anything on it but a few chickens. The meat and fish counters were both very attractive.
Asked at the till about click and collect as only saw signage for the John Lewis click and collect service. Fish, meat, sushi and bread counters. The Fish counter was a bit bare. The sushi counter looked very enticing.
Shop Floor Service (20)
19
18
20
20
16
Finding a member of staff (5)
5
5
5
5
5
Shop floor staff helpfulness in locating items (5)
5
4
5
5
3
Shop floor staff diligence and hard work in replenishing shelves and picking in-store orders (5)
5
4
5
5
3
Staff presentation (5)
4
5
5
5
5
Feedback
There were many staff and management on the shop floor restocking with cages and boxes as fast as they could but were all happy to interact with customers. I spoke to five staff in total, 3 with name tags that were readable, one no tag and one with her name tucked below eyeline on the tag. Les was on his knees restocking meat (next to F&V) so when i asked him about organic peppers he wasnt sure if there was any organic produce. He happily went off to find the produce man but he couldnt be found and so he came back and apologised to me. I then went and asked Patricia who said no there was no organic section. The safety mearshall at the front door was really helpful and friendly, another lady who helped me to find Sandwich filler was really friendly. My cashier was Joyce and for the first time I can remember I wasn't greeted or asked if I needed any help etc. That said, when she noticed a split in my bag of flour she did offer to put it into a little bag for me. Her family were shopping at the till to us and she was chatting with her little granddaughter.
There were plenty of staff around, all were helpful and all the ones I noticed were wearing masks
Staff were visible throughout the store, working at replenishment and customer orders. I approached a few throughout my visit and they were very helpful at assisting me.
I had to ask for help finding items and all staff were very helpful and easy to find. I didn't manage to note any names except I think Isabella.
Staff seemed very focused on restocking/their tasks which meant they nearly collided with me more than once.
Tills and checkouts (20)
8
13
12
12
16
Rate how well managed were the queues leading to the tills? Were a sufficient number of checkouts open for the volume of staff? Were staff on hand to advise on checkouts with shorter queues, or manage social distancing (5)
5
4
3
3
5
How long did you have to queue? (5)
0
0
0
0
5
Please rate checkout staff on their customer service (8)
3
7
7
7
4
Was the till receipt free of mistakes? (2)
0
2
2
2
2
Feedback
The checkout area was very busy and cluttered with large plants on sale on the far side which made it feel even more cluttered. The queues were short and there were two announcements for till trained staff to assist so they were tryingto manage it as best as possible.
The member of staff at the till was particularly friendly, making the checkout a pleasant experience.
Queuing system for the checkout was about half way each isle. This moved quickly under control of a staff member at the front who diverted each customer to the checkout. The till staff member was very friendly and efficient at putting the food through the system.
There was no member of staff allocating shoppers to queues but there were markings on the floor telling us where to stand and most shoppers were following common sense. I queued for 6.01.33 minutes which I think is quite long. There were 7 tills open but there were also 4 self-scanning tills and 8 self-service ones, so if I had not had so much shopping I could have been quicker using one of these.
Very smooth process but cashier was not very engaging.
Availability score (20)
2
6
0
6
16
Of the 33 items on your shopping list how many were:
Available (up to 20)
26
28
27
28
32
Out of stock (-4 per item)
2
2
4
2
1
Not stocked (-2 per item)
5
3
2
3
0
Number of items bought (incl.subs)
32
33
31
33
33
Availability %
92.9
93.3
87.1
93.3
97.0
Please note down the items on your shopping list that were out of stock (please highlight the products that have managed to get a satisfactory substitutions)
Product 1: Soreen Banana lunchbox loaves
Product 2: Own Label Mango chunks
Product 1: PG Tips teabags x80
Product 2: Own label sirloin steak
Product 1: Soreen Moist Fruit Loaf Banana 5 Lunchbox Loaves 150g
Product 2: Own Label Gnocchi 500g
Product 3: Weetabix Crispy Minis Chocolate Chip 600g
Product 4: Own Label Parsnips 500-600g 500g
Product 1: Own label pancakes - I took a different brand
Product 2: Organic peppers - I took non-organic
Product 1: Lurpak slightly salted spreadable 500g
Please note down the items on your shopping list that were not stocked (please highlight the products that have managed to get a satisfactory substitutions)
Product 1: Organic Peppers
Product 2: Cheese and Onion sandwich filler 200g
Product 3: Febreze Aerosol 300ml
Product 4: Wrigleys spearmint 60 ea
Product 5: Blanched Almonds 100g
Product 1: Estrella Damm Damm Bottles 12x330ml 3960ml
Product 2: Own Label Gnocchi 500g
Product 3: Own Label Organic Peppers 2-3 3ea
Product 1: Warburtons White Toastie Loaf 800g
Product 2: Own Label Sweetcorn Cobettes 4ea
Product 1: Farrows marrowfat peas - I took a different brand
Product 2: PG tips 80s - I took 40
Product 3: Cravendale skimmed milk - I took semi-skimmed
N/A
Please give any other details or info about your shopping trip, good or bad
The friendliness of the staff and the overall atmosphere in the store made it an enjoyable shop on a busy Saturday morning. It was busy with both staff restocking and customers shopping but everyone seemed in good spirits.
For the items that were out of stock or DNS, similar substitutes were purchased. Overall the shopping experience was fairly good, although narrow aisles made it harder to social distance
I found the store busy with Staff, there was a majority of isles with trolley obstructions. The store itself was very busy with customers so I did feel I was either waiting on isles to clear so I could go down and then felt under pressure when viewing products that I was holding up people behind me as with the replenishment trolleys there was only one route past. This did take extra time for the shop. The staff members were very helpful and pleasant.
It was generally a good experience. The shop had done all they could to make it safe and easy. I found other shoppers sometimes did not keep to social distancing despite the many reminders on display. The store has an excellent range of goods and I would certainly return there with pleasure.
There were good announcements about social distancing guidelines and only shopping alone if possible but this did not seem to be enforced despite there being door staff as there seemed to be lots of couples in the store. This made it feel busier and definitely caused me to have to slow down/wait at times.
TOTAL SCORE (100)
55
65
49
73
75