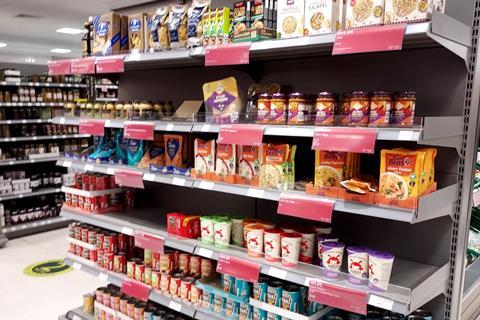 Waitrose has claimed a fourth consecutive store of the week award with its Horley branch in Surrey, which racked up an impressive 93 points.
Our mystery shopper was able to navigate the store easily on Friday evening thanks to its wide aisles and logical layout. That only fell down on one occasion, when he was obstructed by a restocking trolley in an aisle.
Staff were "polite and helpful". One team member shone in particular, as she knew precisely what wine our shopper needed and was able to find it quickly. There was no wait for the tills and the checkout operator took great care while handing our shopper's items.
Asda Livingston was another strong performer with 81 points. The store scored well from the off with a strongly enforced one-way entry and exit system.
A handful of restocking trolleys in the chilled section caused obstructions, however, and the high number of large groups shopping together unnerved our shopper.
Shelves were generally well-stocked, although our shopper failed to pick up three items, with two out of stocks and one not-stocked item.
Third-placed Tesco Pitsea, Basildon was the only supermarket to achieve a full basket of 33 items. However, it fell down on store standards.
Our shopper spotted signage reminding customers of its coronavirus safety protocols, but was disappointed these rules were not enforced.
Rubbish was scattered on "almost every aisle" and our shopper was shocked as staff made no attempt to pick it up.
The small number of employees on the shopfloor were focused on replenishing stock but left several restocking trolleys in their wake. Several aisles had "rows of cages" along them and our shopper had to move replenishment trolleys herself to find what she needed.
An employee left our shopper waiting as she socialised and others failed to maintain a two-metre distance while chatting. She also had to prompt an employee twice to take her to the shampoo.
Her trip was however rounded off with a "friendly" cashier who was careful not to rush any customers.
Morrisons in Cannock, Staffordshire had the worst availability, with three out of stocks and two not-stocked items. Our shopper found it tough to keep her distance from others owing to several restocking trolleys obstructing her as well as narrow aisles.
But she had no trouble finding products thanks to its logical layout, useful overhead signage and helpful staff.
And although a lack of open tills led to a long wait to pay, the cashier was "friendly".
Sainsbury's fell into last place this week, scoring just 34 points. Our shopper said the car park at its Etruria Road, Stoke-on-Trent store was tidy but she could not say the same for the store itself.
She described the floor as "grubby" while she found the overall layout confusing. Throughout her visit she was left frustrated by a lack of staff and when she did manage to find employees, she said they appeared too busy chatting to each other to focus on the needs of customers.
Availability appeared to be an issue across the store with lots of gaps visible. In terms of our basket, this translated into three out of stocks. There was also one not-stocked item.
The checkout operator was "polite and friendly" but our shopper had to queue for a long time to pay.
This week's results:
WEEK 34: Friday, 19/02/2021 (4.00pm - 7.00pm)
WINNER
Asda
Morrisons
Sainsbury's
Tesco
Waitrose
Location
Livingston
Cannock
Stoke-on-Trent
Pitsea
Horley
Date
19/02/2021
19/02/2021
19/02/2021
19/02/2021
19/02/2021
Time slot
4pm - 7pm
4pm - 7pm
4pm - 7pm
4pm - 7pm
4pm - 7pm
Shop starts
05:05pm
04:28pm
04:16pm
06:30pm
04:03pm
Visit Duration
00:55
01:16
01:21
01:30
00:55
Shop Duration
01:03
01:19
01:33
01:39
01:03
Car Park (10)
9
8
6
8
10
Car park management (3)
2
3
1
2
3
Queueing time to park and finding a parking space (2)
2
2
2
2
2
Exiting the car park (2)
2
2
2
2
2
After exiting your car please rate your experience before entering the store? (3)
3
1
1
2
3
Feedback
Very large car park. One way system in store i.e. entrance into store on one side and exit via another door at the far end of the store.
The car park was approximately half full so it was quite easy to find a space. There were no n ma takings on the floor to indicate social distance or where the queue should be. There were no staff outside and only a security guard near the entrance inside the store. There was a sanitising station with hand gel, spray and paper towels to wipe trolleys down.
No queue and tidy car park. Parts of it could do with a bit of resurfacing but nothing major. Trolley shelters empty or just one or two trolleys. No litter. But - there was no sign of any staff at the door to either check/insist on face masks or regulate numbers entering the store. It was quite quiet, but a sudden rush (at 5pm when offices empty) wouldn't have been controlled. The doorway is quite narrow so customers have no choice but to pass each other, although a well "barriered" one way system is in place, There are 2 very obvious and well stocked sanitizer stations, one in the lobby and one immediately entering the store.
There are two entrances to this car park from opposite ends od the store. There is an area outside the store entrance where there are spaces reserved for the Disabled to park with a blue badge and parents with children. The trolleys are all neatly stacked to the sidesof the entrance. At one entrance to the car park there is a petrol station. The car park littered esepcially to the reserved sapces area. I visited this store the rpevious day to get shopping fro myself and it looked the same in daylight. Some rubbiush was still there from previous day as I took photos both days to compare 24 hrs later
Loads of space in the car park, lots of trolley's and very clear entrance
Store standards (20)
13
9
4
14
18
First impression (6)
6
0
0
4
6
Displays (4)
1
2
0
3
3
Fruit & vegetables section (3)
1
2
0
2
3
Store standards - remaining sections (3)
2
1
0
2
3
Obstractions (2)
1
2
2
1
1
Spillages (2)
2
2
2
2
2
Feedback
Very large store. Well organised and staff busy restocking shelves. Mostly chill area affected by trolleys .
The store entrance felt quite cluttered with easter displays, special offer displays and clothing stands all near the front. There were not many customers so there wasn't a queue to enter. The store was tidy and only a couple of restocking trolleys around which were not causing any obstruction, although some were unmanned. Aisles are quite narrow so I did have to give way when other customers were stood looking for items. There were attractive Easter egg displays around the store.
On entering there is a huge empty area, admittedly it helps customers keep away from each other, but it meant no room for entry promotions. I felt the store was grubby and not well managed. There were loads of empty shelves. The fruit and veg section (for a Sainsburys) was very small with hardly any stock, and certainly very little choice. For example, no cauliflowers at all, and it was "this aubergine or that one", only 2 and they were not good. I appreciate they have to stock for their socio/economic group and the large display of Polish goods emphasises this.
Outside the store entrance there was nobody at the door but signage about shopping alone and must wear a face covering plus socila distancing instructions whilst in-store. There was nobody checking the many people I saw entering without a mask or stopping groups of single sex, large familes and couples entering. I found this disappointing and immediately was wondering what kind of shop I was in for and if I would feel safe. I have only shopped jphere once since last March due to how unsafe i felt with no staff enforcing the pevious one way markings. I used to shop here every week. I had only popped in day before to get some easter eggs on offer as I was out to collect something and Tesco was near. Otherwise I wouldn't have gone. The store had alot of litter on the floor in especially outside the entrance and around the sanitising station outside the entrance. The fruit and vegetable isles had one assistant putting out stock but he made no attempt to pick up the odd carrot leaves and rubbish on teh floor down nearly every isle. It was very off putting and I persoanlly wouldn't have purchased anything if I had not been doing this mysetry shop. I was shocked how the assistant didn't make any attempt to pick anything up as he walked over or by any of it.
When finding the wine there was a restocking trolley in the aisle but also the lady restocking was very helpful to find the wine I needed
Store layout and services (10)
10
6
3
4
8
Did the store layout seem logical and intuitive? (4)
4
2
1
1
4
Available services (6)
6
4
2
3
4
Feedback
Very well laid out store. Lots of staff visible. All busy.
The store was quite logical in its layout and the overhead signs were helpful.
The Click n Collect terminal was just inside the main entrance and I assume the collection point was in the car park somewhere, but it wasn't obvious. They have the usual and comprehensive range of counters, Fish, Butcher, Deli, Cheese - all closed and empty. There were some pizzas on display but no hot food, and the bakery was open. The layout is difficult, I didn't feel the items were grouped efficiently. I took ages wandering up and down looking for things (total zero of staff didn't help).
There are several hand sanitiser and trolley cleaning stations, including one outside which was left very untidy with rubbish around it. At the entrance to the store they have an attractive display of flowers. Attractive, eye catching world book Day display which is coming up on 4th March with dressing up outfits for kids and books.
Counters had removed fish, meat, hot food and food at pizza to go by Pizza express displays. Pizza Express was exciting new addition, but no advertising about it in store. No staff around apart from those clearing away the pizza area. Deli and Sushi by YO in this store is self-service with everything pre-packed. Layout of the store was logical but the store was littered with cages everywhere down isles blocking promotion end displays. Some full of empty cardboard or rubbish. But there were many isles towards the end of the store which had rows of cages with stock down whole aisles, such as cereal aisle.
I was looking for canned peaches and wasted a lot of time with two unhelpful assistants and another took me to the canned peaches down the tea and coffee aisle.
I wanted to purchase some Bahlsen Plain choco Leibniz biscuits and they were on promotion. However, all boxes were empty on the biscuit isle. So decided to look on ends as very unhelpful assistant said "if they are not out we haven't got any and walked off. After moving the cages I found plenty of them, so took the pack and as he walked by said" I found the biscuits but had to moved several cages to get them" He turned his head and walked off into the
warehouse. I explained the situation to a young lad called Brin who was new and he said "Sorry about that" then walked off as well. I feel as a customer I shouldn't be having to find stock myself by moving big cages out the way to get to the food on offer.
The floor was dirty down one of the meat aisle, which I found very off putting and it was like mud on the floor. On the fresh sections I
found some of the isles had lots of gaps or empty boxes filling the spaces which when were removed had stock behind. Cooked meat area was
one big mess with lots of empty boxes however as I was leaving two more assistant appeared to help the lady already starting the tidy
up of the cooked meat chillers.
Very nice layout including wide aisles, great signage and very clear labelling for each product
Shop Floor Service (20)
20
11
6
9
20
Finding a member of staff (5)
5
1
0
1
5
Shop floor staff helpfulness in locating items (5)
5
4
2
2
5
Shop floor staff diligence and hard work in replenishing shelves and picking in-store orders (5)
5
3
2
3
5
Staff presentation (5)
5
3
2
3
5
Feedback
Very helpful and easy identified aisles where I would find products I asked for.
Firstly I approached a male staff member to ask about the skimmed milk. He was in the next aisle stocked up the alcohol section but he came and checked the shelf and then fetched a pack from the store for me. He did not have a nance badge but was young with short, dark hair. I then asked Caitlin in the chilled section about the half leg of lamb and the honey roast ham. She said that they had no lamb or ham available. She did tell me that the deli counter would be able to slice some ham for me if required but didn't check the store too as she seemed confident that there was none available. Finally I had to ask at the tills as there was no one to ask about the other items, the girl on the till called Karen over who was wearing a headset and she checked for the head and shoulders shampoo. She returned to say that they did not have the type I wanted. I also asked about the andrex and the mini eggs but they did not stock the pack sizes I needed.
I hunted high and low for a staff member. Eventually one chap (no name) came out of the back store room and I was able to ask for the fresh cheese sauce. He was quite scruffy with his shirt hanging out at the back, but he did take me to the top of the relevant aisle and pointed to the sauce area, which was almost at the other end. The store, wasn't at all busy, so he had time to take me to the sauces and make sure I found what I was looking for. One interesting item - when I had finished my shop and was making my way to the tills, I came across a group of 3 staff in a corner of the drinks area having a good natter and laugh. Maybe they could spread some of that happiness among their customers - would have saved me about 20mins of my life !!!!!
First, I asked Michelle in the pharmacy who was chatting to somebody she knew at the pharmacy counter with no hurry to end their
conversation why I waited to be served. I asked for her help on the Head and shoulders Shampoo. I had found it confusing as there were several rows of it all looking similar plus the Tesco range looking identical above. She directed me to which aisle it was, I explained I knew where it was I just couldn't
locate it. Thought her uniform looked marked and scruffy and as if it didn't fit properly.
I also asked for help from a member of staff in the fruit and veg aisle, who pointed me in the direction of the aubergines, but Iater, saw him talking to a colleague, and they were not talking about work. They were almost touching each other they were so close.
I next was looking for chickpeas and a man directed me to isle 39 quite a few aisles away. He then left a cage of cardboard in the centre of the aisle and checked I had found the chickpeas before he left.
Was very helpful when looking for the wine i needed plus she already knew what the bottle looked like.
Tills and checkouts (20)
19
11
9
13
19
Rate how well managed were the queues leading to the tills? Were a sufficient number of checkouts open for the volume of staff? Were staff on hand to advise on checkouts with shorter queues, or manage social distancing (5)
5
2
0
3
5
How long did you have to queue? (5)
5
0
0
3
5
Please rate checkout staff on their customer service (8)
7
7
7
5
7
Was the till receipt free of mistakes? (2)
2
2
2
2
2
Feedback
Very helpful girl at the till. Very pleasant and chatted while putting our items through.
There were a couple of people in each queue as there were only 3 out 10 tills open, with 4 self service tills. I joined a queue with one person being served and one person loading the conveyor and had to wait 7 minutes until I could begin to load my shopping. The cashiers swapped before the person in front of me was served. The cashier was friendly and said hello when I approached her. She was efficient when scanning my items and chatted with me. She smiled and said 'have a nice weekend' as I left.
There were only 2 tills open (apart from the self serve). No one was helping/controlling queues or approach to the tills. We customers were controlling themselves. BUT the chap on my till was excellent. He was polite, friendly and without being asked got up to put the heavy milk box in the trolley for me. He didn't have a name badge obvious, but he had an American accent. Best man in the shop.
The assistant was called Steph. She was very friednly didn't not rush me handled my shopping with care. She was neat and tidily presented with a lovely welcoming smile. She ask if I neded bags and ask if I had a clubcard. She wished me a nce evening and didn't not rush onto the next customer as I was leaving. There was one person just paying as I had loaded my shoppping on to the coneyor. So apart from not saying hello Steph had good eye contacted and chatted in a friendly manner whilst serving me efficiently. I near perfect checkout experience
Not long waiting at the till. Staff member was helpful and polite.
Availability score (20)
10
4
6
20
18
Of the 33 items on your shopping list how many were:
Available (up to 20)
30
28
29
33
32
Out of stock (-4 per item)
2
3
3
0
0
Not stocked (-2 per item)
1
2
1
0
1
Number of items bought (incl.subs)
31
28
29
33
32
Availability %
93.8
90.3
90.6
100.0
100.0
Please note down the items on your shopping list that were out of stock (please highlight the products that have managed to get a satisfactory substitutions)
Product 1: Barefoot Sauvignon Blanc
Product 2: Single Aubergine
Product 1: Head and shoulders itchy scalp
Product 2: Half leg of lamb
Product 3: Honey roast ham
Product 1: Limes
Product 2: Cauliflower
Product 3: New York Onion & Chive bagels
N/A
N/A
Please note down the items on your shopping list that were not stocked (please highlight the products that have managed to get a satisfactory substitutions)
Product 1: PG Tips decaffeinated Tea bags
Product 1: Andrex supreme quilts
Product 2: Mini eggs 130g
Product 1: Itsu frozen vegetable dinner dumplings
N/A
Product 1: Itsu Vegetable Fusion Gyoza 20x15g 300g
Please give any other details or info about your shopping trip, good or bad
Not a bad experience but did notice a good number of young young couples with 2 or 3 children doing their shopping. This is a very large store so there are normally a lot of people in this store. This is the first time I have shopped in this store in a long while as there are always big queues at the entrance. Fortunately no queue Friday evening.
It was quiet in the store as there were not many customers or staff around so it felt safe and easy to maintain social distancing. It would have been good if they had opened another till as there were a number of customers waiting.
Not a good experience. I am inclined to create on open letter to the boss !
Dear Mr Sainsbury,
Please get your act together. The store was grubby, and grossly understocked. The staff (in the main) were not helpful or attentive. This is my second Sainsbury in the last couple of months and both have been very disappointing. As a long standing, regular Sainsbury customer, I'm seriously thinking of making the longer weekly journey to Tesco.
Yours Loyal Customer
I found the experience stressful and was in there far too long trying to locate things I needed to buy. There very few staff around to
assist and when you asked for assistance with exception of the fruit and veg assistant nobody offered to take me to the items. Store was
scruffy with litter throughout. The entrance and the trolley areas outside were littered with rubbish. This is my second trip to this store for shopping in two days and it was exactly the same the previous 24 hrs before. The floor was dirty in parts but the windows to the front were clean. It was busy but not as busy as I had expected.
The large number of cages everywhere full of rubbish was off putting as they were mainly full and often sticking out in the isles. I was put off by the rows of cages of food to be filled in the dry foods area. Blocking many promotional ends with two cages of food against each one was annoying as you couldn't see what was on offer and had to move them yourself with no offer of help from employee who was in this area. If I had been shopping for myself I would have left without getting half the shopping I got. I find Tesco no longer competitively priced against other local supermarkets too.
When I left at just gone 8pm there was a security officer outside the entrance
It was a good experience, polite staff, well stocked shelfves and a good car park.
TOTAL SCORE (100)
81
49
34
68
93