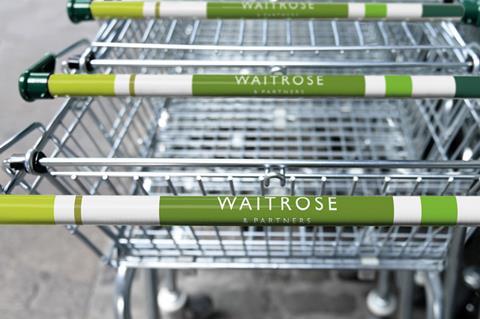 Waitrose has bagged a hat-trick of Grocer 33 store of the week awards thanks to excellent customer service and consistently high standards at its branch in Saltash, Cornwall.
Our shopper was immediately impressed with the neatly stacked trolleys and the short, well-managed queue to enter the store. Once inside, she found every aisle neat and tidy aside from one stray wrapper in the produce section.
Availability was solid too, and our shopper only missed two products on our list: one out of stock and one not stocked. However, she did spot some gaps on shelves.
Staff were friendly and helpful and were happy to escort him to items she couldn't find.
There was a brief wait at the checkout, but staff were on hand to direct shoppers to the next available till.
Runner-up Tesco in Shaftesbury, Dorset scored full marks for shopfloor service due to "attentive and helpful" staff from beginning to end.
Employees were "working well together" to keep standards high and ensure shelves were being restocked efficiently. They were also careful to keep their distance from one another and customers while doing so.
Although this was a relatively small Tesco branch, our shopper managed to pick up all bar two items, which were both out of stock.
However, our shopper felt the fixtures and signage were "dated" and impacted the overall ambience of the store.
The store layout near the checkouts also made it tricky to queue while maintaining social distancing, but staff did help manage the flow of people.
Availability was the biggest issue for Asda in Benton, Newcastle-upon-Tyne. There were seven products out of stock and our shopper said the fruit and veg section had been "decimated", which she thought was down to shoppers stocking up in advance of snow forecast for the days ahead.
The store was busy and the wet conditions outside had led to the floor becoming dirty.
Staff, however, were excellent and our shopper described them as "very helpful" while assisting her.
Colleagues were also the stars of the show at Morrisons in Stockport. Employees were happy to share their product knowledge with the shopper and answer her queries.
The employee manning the deli was "extremely friendly and chatty" with all customers he served, those replenishing the produce department "went above and beyond" to escort our shopper to items and the till operator was "smiley" while scanning her shopping.
However, she was forced to wait for a long time in the rain in what she called a disorganised queue. And when she did get inside, there were "too many" customers to keep a safe distance.
There was also three out of stocks and one not-stocked product missing from our basket of items.
Our shopper's trip to Sainsbury's Castle Vale, Birmingham, did not start well either. Although there was no queue, he had to wait for a trolley to become available.
There were several empty shelves, especially in the produce and deli sections. In terms of the items on our list, there were three out of stocks and one not stocked.
He found the store layout confusing and had to rely on staff to help find items. However, he did feel staff were friendly and knowledgeable, and the checkout operator provided excellent customer service.
This week's results:
WEEK 33: Saturday, 06/02/2021 (12.00pm - 3.00pm)
WINNER
Asda
Morrisons
Sainsbury's
Tesco
Waitrose
Location
Benton
Stockport
Castle Vale, Birmingham
Shaftesbury
Saltash
Date
06.02.2021
06.02.2021
06.02.2021
06.02.2021
06.02.2021
Time slot
12pm-3pm
12pm-3pm
12pm-3pm
12pm-3pm
12pm-3pm
Shop starts
01:45pm
03:00pm
12.00pm
01:25pm
02:20pm
Visit Duration
00:46
01:05
00:52
01:05
01:12
Shop Duration
01:20
01:15
01:01
01:10
01:19
Car Park (10)
5
6
5
9
9
Car park management (3)
2
1
2
2
3
Queueing time to park and finding a parking space (2)
0
2
2
2
2
Exiting the car park (2)
0
2
0
2
2
After exiting your car please rate your experience before entering the store? (3)
3
1
1
3
2
Feedback
Car park was extremely busy. I think this was just a consequence of the time being a busy saturday afternoon. We also had some quite extreme weather forecast so I'm guessing folk were going out to stock up.
1 attendant at door entrance but people walking in directly and not being told to use section fenced off to make a queue
Retail park car park, plenty of spaces
There were no people managing g the car parking, but it didnt need it as it was not too busy.
The car park was tidy, litter free with trolleys neatly stored. There was no car park attendants seen in the car park. Access was straightforward with good signage.
Store standards (20)
16
13
8
11
17
First impression (6)
6
4
2
2
6
Displays (4)
3
2
1
1
3
Fruit & vegetables section (3)
1
2
0
3
2
Store standards - remaining sections (3)
2
2
1
1
2
Obstractions (2)
2
1
2
2
2
Spillages (2)
2
2
2
2
2
Feedback
The weather was dreadful and the store very busy. I noticed most shoppers were shopping in pairs. The staff at the front of the store were managing the queue (I queued for 19 mins to get in) the floors once inside were dirty but again I think this was a consequence of awful weather and volume of shoppers. I guess if they kept cleaning the floor, it would have made it even more sloppy so a no win situation really. Fruit and veg aisle was pretty decimated. I guess a lot of shoppers were stocking up as we are forecast a week of pretty extreme weather.
Couple of promo stand alone islands had no stock on them & bread was just muddles up and a mess
Poor selection fruit and veg
The floors were clear and clean, shelves were being restocked efficiently by teams who were clearly working well together. However the fixed displays and signage seemed dated and tired which brought down the feel of the shop. The end of aisle offers were there, but it was not always clear what was on offer where. There was a random fridge of offers between the fish counter and the bread with what I think were offers on a range of provoked items, but I couldnt really see why they were there. Thexstacks of offers near the tills made it difficult to queue safely or pass others so again nadecthe store feel more budget end - although staff were working to fi d people free cashiers as quickly as possible.
There were some attractive and seasonal displays with Valentines Day heavily promoted. A small number of Easter products were also displayed. There were a number of empty shelves in different sections in the store. Aisles were tidy and free of debris apart from the fruit and vegetable section
Store layout and services (10)
6
6
3
6
8
Did the store layout seem logical and intuitive? (4)
4
3
2
3
4
Available services (6)
2
3
1
3
4
Feedback
Pizza counter seemed very busy.
The Deli counter guy was very knowledgeable & helpful. Lots of bread stocks from inhouse bakery. Good layout good amount of space all food on 1 side and home good and non perishables together on other.
Deli counter, empty. Maybe a new addition as all machery covered.
The aisles had signs at the checkout end but the ones at the back of the store were less clear - the aisle saying 'Pets' had a great deal of non pet stuff but there was no further signing indicating what. Also at the back of the store there were no signs at all for the last 2 aisles. The layout was on the whole intuitive.
The store was easy to navigate around with wide aisles. Replenishment trolleys were easy to pass as they were conveniently placed. The meat, fish and deli counters were well displayed and had some good promotions.
Shop Floor Service (20)
20
20
16
20
19
Finding a member of staff (5)
5
5
5
5
5
Shop floor staff helpfulness in locating items (5)
5
5
4
5
4
Shop floor staff diligence and hard work in replenishing shelves and picking in-store orders (5)
5
5
3
5
5
Staff presentation (5)
5
5
4
5
5
Feedback
Gery helpful store staff and very easy to find.
Again … The Deli counter guy was extremely friendly and chatty with all his customers. The fruit and veg stockers went above and beyond - said they would go now to find the missing item (Apricots) and showed me exactly where they would be when I came back to look at the end of my shop. Sensible and helpful. Another walked me to the exact spot for an item.
Staff knowledgeable of locating items and out of stock.
The staff were friendly, respectful of distancing, made eye contact and smiled. They were clearly busy stacking shelves, but did not mind being interrupted. I noticed some had shirts with 'fruit and vegetable' aisle (or similar) written on the back and this made me confident that if I needed to fi d somethi g here I could.
Staff were well presented and wore name badges. Most staff when asked the whereabouts of a product checked their hand-held devices and led me to the item if it was stocked. There was an occasion where I asked about a product and was informed the store did not stock it and no alternative was suggested.
Tills and checkouts (20)
18
12
15
17
15
Rate how well managed were the queues leading to the tills? Were a sufficient number of checkouts open for the volume of staff? Were staff on hand to advise on checkouts with shorter queues, or manage social distancing (5)
5
3
3
5
4
How long did you have to queue? (5)
5
0
3
3
3
Please rate checkout staff on their customer service (8)
6
7
7
7
6
Was the till receipt free of mistakes? (2)
2
2
2
2
2
Feedback
Absolutely lovely lady called Susan on my checkout. Has worked there for 15 years. Very friendly and helpful.
Very nice girl at checkout - smiley and said clearly goodbye with eye contact. Well presented
Tills and checkout: narrow due to screens but not crowded.
Tills were moving quickly. Thete was an issue with the previous customer's payment bit a member of staff was able to assist the cashier quickly and professionally.
Queuing was quick but no clear signage on the floor about where customers had to wait and socially distance. A staff member saw me waiting and directed me to an empty till when she went to open. Unfortunately the till was defective and I was quickly directed to another till.
Availability score (20)
0
6
8
12
14
Of the 33 items on your shopping list how many were:
Available (up to 20)
26
29
29
31
31
Out of stock (-4 per item)
7
3
3
2
1
Not stocked (-2 per item)
0
1
0
0
1
Number of items bought (incl.subs)
32
32
30
32
33
Availability %
78.8
90.6
90.9
93.9
96.9
Please note down the items on your shopping list that were out of stock (please highlight the products that have managed to get a satisfactory substitutions)
Product 1: Little dish fish pie
Product 2: Own label double cream
Product 3: Own label rhubarb
Product 4: Itsu chicken gyoza
Product 5: Kelly's cornish ice cream honeycomb
Product 6: Own label 5% pork mince
Product 7: Own label beetroot salad.
Product 1: Little Dish Fish Pie 200g
Product 2: Cadbury Dairy Milk Bar 200g
Product 3: Own Label Frozen Raspberries 350g
Product 1: Blueberries
Product 2: Rhubarb
Product 3: Beetroot salad
Product 1: Fresh Apricots
Product 2: Bare foot Moscatel
Product 1: Own label beetroot salad
Please note down the items on your shopping list that were not stocked (please highlight the products that have managed to get a satisfactory substitutions)
N/A
Product 1: Graze Punchy Protein Nuts 118g
N/A
N/A
Product 1: Own label fresh rhubarb
Please give any other details or info about your shopping trip, good or bad
Overall a good experience. Although I was slightly shocked at the size of the queue outside. This has always been a very busy / popular store and not one I would choose to visit at this time on a Saturday. I have used this store off and on over the past few decades and I have to say I'm pleased they rarely change their layout so even though I may not have visited for a while, it's still easy to follow and find things.
Too many people in the store felt everyone was much too close for Covid restrictions. No hand sanitiser at final exit …. Loads of choice. Even though there were queues people were choosing to stand 1mtr apart
Trolley park empty, had to wait before shopping. Returning shopping to local drop no keys on chains so had to return back at the store.
Staff were attentive and helpful and there was a surprising range of food there although it did not feel like a very big store.
I was surprised to see a number of empty shelves in the store during my visit. There was no fresh rhubarb stocked so I checked the availability of tinned rhubarb. I was disappointed with the limited choice of tinned fruit available.
TOTAL SCORE (100)
65
63
55
75
82