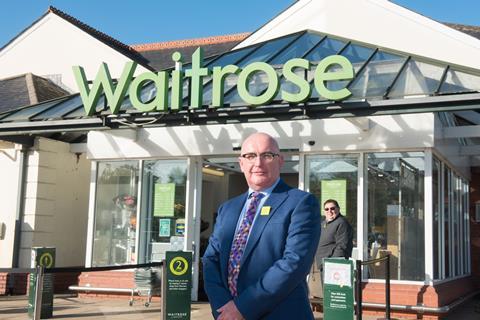 Winner: Waitrose, Monmouth
Store manager: David Ellis
Opened: 1995
Size: 16,000 sq ft
Market share: 34.8%
Nearest rivals: Tesco – 0.3 miles, Sainsbury's – 11.7 miles, Morrisons – 11.8 miles, Asda – 20.4 miles
Store data source: Analysis by CACI.
Call the market planning group on 020 7602 6000
How has the store been impacted by the Welsh firebreak lockdown? The main thing has been the huge deluge of collections and dotcom orders since the firebreak was announced, in contrast to our in-store sales slowing. There's certainly been some confusion for shoppers and staff as the Welsh assembly's initial announcement didn't make what was deemed a non-essential item clear. It was very ambiguous. For example, we can't sell hosiery (the only type of clothing we stock), books or candles right now, but we initially blocked off greeting cards too before the assembly's second announcement informed us cards were fine. We've not had any customers demanding to buy books, for example, but if we did our policy was to explain the rules clearly to them.
How were Halloween sales this year? Sales held up really very well despite the current lockdown restrictions. I was pleasantly surprised. I spoke to a lot of customers who said they decorated their homes and had a party with their household to celebrate. Christmas is our next focus, and there's a lot of gifting products selling very quickly already, rather than the family-size boxes of chocolates we tend to sell a lot of at this time of year. We're seeing a lot of festive online delivery and click & collect orders coming through early too. Our online delivery sales are four times up on 2019 and the shift has changed the business beyond belief. Covid-19 has truly changed the way people shop, and many have recognised the convenience of e-commerce that hadn't before. I think that will remain the case.
Availability was very high. How do you ensure that is the case for all customers? We follow the stock management routines set up by Waitrose to the letter. It's vital to remember the process is only as good as the information you give it, however, and keep on top of that. This is helped by the handsets all partners have, which allow them to scan shelf-edge labels to get more details on products for customers, such as why something is out of stock or when the next delivery of it is due. The team also makes good use of our 'It's On Us' initiative when the item a shopper wants isn't available. This allows partners to suggest an alternative product and offer it to the customer for free.
Service was also very strong. What do you think makes good customer service? It's about showing shoppers the store in the best way possible, almost like you're having guests visiting your house. That means going the extra mile to delight them, which I think is heavily reliant on recommending items using our product knowledge. When Waitrose introduces a new range or standout item, the entire shopfloor team will sample it to ensure we're giving customers accurate insight into how it tastes. And new employees are given a product quiz to help them understand the breadth of our range, gain information about what we sell and know the location of items in the store.