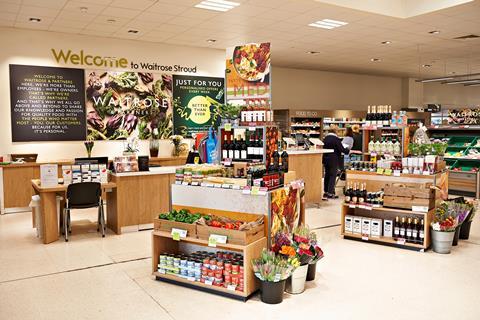 The "lovely" Waitrose in Stroud was this week's store of the week with 78 points, as it excelled on shop floor and checkout service – with staff helpful and mindful of shoppers – as well as an array of enticing seasonal displays.
The in-store café, which appeared to have been recently refurbished, was "very inviting". Due to its smaller size, the branch did not have as much food counter variety as a larger one would. But the available counters were fully stocked.
The main issue this store faced on this Friday evening shop was with availability, with four out of stocks. There were visible gaps on the shelves across the shop floor but particularly in fruit & veg. Our shopper also said some areas of the store looked "a bit tired".
Asda's branch in Southgate Circus, London took second place with 67 points. This store was described as easy to navigate and tidy – earning it good marks for store standards.
Some of the highlights included the well laid-out produce section, a food area serving Japanese, Thai and Korean food, as well as the diversity of services available such as pharmacy and click & collect. Staff were also helpful, friendly, efficient and seemed happy.
However, this Asda bagged no points for availability as 10 of our items were out of stock. Additionally, our shopper pointed out some areas of the store had "no stock at all".
Tesco Plymouth Roborough Extra followed with 57 points. Even though store standards were below average, our visitor noted the branch was generally clean and tidy. There was a spillage in one of the aisles but it was being taken care of.
The layout wasn't always intuitive, but the store signage helped overcome this. The supermarket scored only four points (out of 20) for availability as three of our items were out of stock, while two were not stocked. Plus the fruit & veg section was only "average".
Even though the store was quite busy during our shopper's visit on Friday evening, the checkout queue was small and moved quickly. Shop floor and checkout staff were friendly, available and helpful.
Fourth-placed Sainsbury's left our shopper feeling "underwhelmed". Upon entry, there were no eye-catching displays or enticing offers. There was an alcohol display that "deserved more space", and the food-to-go section had a small selection available but was "in disarray".
The fruit & veg section was clean and tidy but stock levels were poor. In fact, availability was an issue throughout the store – our visitor said it reminded them of "the height of Covid". They only bought 26 items as seven were out of stock.
The store also felt understaffed and the available colleagues were not particularly helpful. On the other hand, the checkout assistant provided great friendly service. Overall, Sainsbury's Waterlooville scored 48 points.
Lastly, Morrisons' Bracknell branch bagged only 43 points after failing to impress our shopper. Many shelves had gaps and weren't neat, with a few empty boxes taking up space. The cooking oil section was particularly low on stock, and there was a spillage in the sugar aisle that no one was attending to.
Our visitor also pointed out the store was very understaffed, and they often had to walk up and down several aisles before finding a store colleague (though the ones they encountered were helpful and polite). The lack of staff also meant there was not much replenishing taking place.