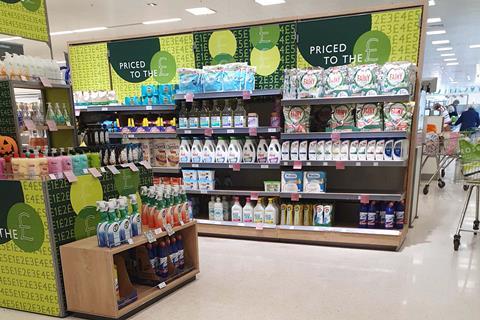 Waitrose has secured another service and availability win thanks to "helpful, efficient and friendly" partners during our mystery shopper's Friday afternoon visit.
He found staff at its Cheadle Hulme store made good use of handheld devices to collect stock information and kept a safe distance.
There was no queue outside the store and coronavirus safety measures were strong from the outset, including posters reminding shoppers to maintain social distancing and wear face masks, hand sanitiser, cleaning equipment for trolleys and signage indicating where the clean trolleys were. He was pleased to see all partners wearing face masks and gloves too.
The branch had high standards overall, and though a couple of restocking trolleys caused obstructions, aisles were wide enough to continue shopping.
The only negative feedback was on the "unfriendly" security guard.
Runner-up Asda impressed our mystery shopper, who said it was difficult to "find anything wrong" with the store in Benton, Tyne & Wear.
Trolleys were plentiful and neatly stacked, and there was an abundance of signage marking its one-way system. Our shopper was greeted by a "welcoming" employee at the entrance, alongside cleaning products for the trolleys and hand sanitiser.
She found the branch well-ordered and safe. There was plenty of space to maintain social distancing, helped by staff keeping their distance.
Although five SKUs were out of stock, service was "brilliant". Employees came across as focused on their work, and politely directed our shopper to items she couldn't find.
Third-placed Tesco Market Deeping, Lincolnshire had pallets outside the entrance that gave a "messy" first impression, as well as an unclear entry and exit system.
It had the best availability this week and was generally well-stocked, with intermittent bare shelves being replenished. The only untidy areas were an aisle blocked by a restocking cage and the reduced-to-clear gondola end.
Our mystery shopper was happy to see social distancing encouraged by staff. She felt its layout required improvement, however, due to the frozen department being in the middle of the store, and a sign for dairy items hanging over the juices.
Morrisons in Morley, Leeds started strong, with a noticeable one-way entry and exit system, two hand sanitiser stations and cleaning materials for trolleys.
However availability and standards were mixed, with a few employees replenishing stock to fill gaps in some areas, while other departments looked "messy". A few plinth ends had fallen, but the store was generally clean.
Our shopper was also left feeling "embarrassed and uncomfortable" after asking a member of staff to help her find an item. He "couldn't have been less helpful" when he informed our shopper a product she was looking for wasn't part of the department he worked in.
Last-placed Sainsbury's let our shopper down with an almost two-hour-long trip on Friday evening, caused by difficulties locating items.
Its Ladbroke Grove, London branch had six items out of stock and one not stocked. Several staff did not show her where products were, and failed to socially distance when they did. Employees restocking shelves blocked aisles with their carts, making our shopper feel the store was "dangerous".
This week's results:
WEEK 18: Friday, 09/10/2020 (3.00pm-6.00pm)
WINNER
Asda
Morrisons
Sainsbury's
Tesco
Waitrose
Location
Benton
Morley
London
Peterborough
Cheadle Hulme
Date
09/10/2020
09/10/2020
09/10/2020
09/10/2020
09/10/2020
Time slot
3-6pm
3-6pm
3-6pm
3-6pm
3-6pm
Shop starts
03:59pm
03:12pm
05:10pm
05:15pm
03:00
Visit Duration
01:15
01:06
02:05
00:56
01:35
Shop Duration
00:56
01:00
01:50
00:46
01:25
Car Park (10)
10
10
8
9
9
Signposting (up to 1)
1
1
1
1
1
Queueing time to park (up to 2)
2
2
2
2
2
Trolleys (up to 2)
2
2
1
2
2
Queueing time from parking the car to enter the store (up to 3)
3
3
3
3
3
Feedback (up to 2)
2
2
1
1
1
Very impressed. Trolleys plentiful and neatly stacked. Plenty of signage to explain one way entry and exit points. Welcoming staff member pointing out the vast array of cleaning products for trolley hands etc.
There are normally two sets of automatic doors that can be used to both enter and exit. They had been altered so that one was enter and one exit. There was a member of staff on the entrance and no queue at all.
Barriers were in place so customers could enter one way and exit the other. There were two members standing outside close to the entrance but it was not obvious that they were managing the queues. There were notices on the doors/windows to advise about social distancing
Staff observing exit, separate entrance and exit but not very clear as signage wasn't visible when door was open (saw someone nearly enter through the exit).
At the store entrance, there was no queue and a (rather unfriendly) security guard present. There were signs notifying customers where the clean trolleys could be located and reminding customers to maintain a safe distance. In the foyer, there was hand sanitizing equipment available.
Store standards (20)
19
11
12
15
17
First impression (up to 5)
5
4
3
3
4
Feedback
Couldn't fault them
Inside the entrance there were two hand sanitiser stations with gel, spray for the trolley handles and blue roll. A member of staff was on duty inside the entrance door
I could not see staff in place to stop people who were entering the shop without masks. If they were on hand it was not obvious. a table with hand sanitizer was on the left of the entrance so could easily be missed.
Lots of displays at entrance but looked neat.
The store was reasonably well equipped with sanitizing materials and there were some helpful notices around the entrance. However, on entering, I would have preferred to have been greeted by a staff member, rather than given an unfriendly look.
Displays (up to 3)
3
0
2
3
3
Availability and replenishment (up to 5)
4
2
2
4
4
Feedback
There were a few gaps on shelves. Tinned soups were very low. Chilled and frozen foods were also low in places, however I could see staff visibly restocking in these sections.
Some areas seemed well-stocked and others didn't. There were several staff replenishing but not many and a few areas looked messy. Nothing was stripped bare. The fruit and veg section was probably the best stocked.
There was a lot of staff stacking shelves but I felt that with the carts in the middle of the aisles that they were getting in the way of people shopping. In one fruit aisles they had left a crate in the middle. This was actually dangerous for anyone who is partially sighted
Generally well stocked with bare shelves only intermittently and some of these were being restocked. Only messy area was Reduced to Clear gondola end with bulk stock in outer cases ripped open.
There was an attractive Hallowe'en display and a range of cleaning items on promotion by the store entrance. Availability was generally good around the store with only a few gaps noticed in the fruit and veg section.
Obstructions (up to 3)
3
2
2
2
2
Spillages (up to 2)
2
2
2
2
2
Condition of the store in terms of cleanliness (up to 2)
2
1
1
1
2
Feedback
This is not a store I have shopped in for a long time, so I really took my time to look around. I have to say that I was hugely impressed and they seem to be running the show very well indeed. Very difficult to find anything wrong. The main thing that stood out to me is that that they really seem to have a lot of space within their aisles. I don't know if this is usual for this store, or if they have changed to allow for social distancing. Hats off to them though as I felt a lot less anxious there than in the likes of Aldi where I feel things are bit crammed in.
There were a few areas with baskets, presumably for online shopping, on the floor. Lots of plinth ends had fallen off which contributed to it looking untidy. The store was clean though, no spillages and the flooring and paintwork were fine.
Seeing staff on the shop floor pulling large trolleys to stack the shelves made the shop look messy. There should be specific time slots to re stock shelves so that they do not get in the way of customers. I had to move out of the way of staff pulling carts several times. I should not have to do this
Front of store (external) offers on pallets looked messy and not particularly attractive. The area in front of the unused deli was being used well for promotional stands, a good proportion of promo stands were for Christmas season products. Trolley area at front of store was very neat. One narrow aisle particularly obstructed by a cage that had been left without anyone around using it.
The store was generally clean, tidy and well maintained. There was some restocking equipment causing a mild obstruction in one aisle, but the store was otherwise fine.
Store layout (10)
8
5
3
2
10
Did the store layout seem logical and intuitive? (up to 2)
2
1
1
0
2
Was it easy to navigate the store while also feeling safe? (up to 6)
4
2
0
2
6
Did the store offered any Click & Collect services? (up to 2)
2
2
2
0
2
Shop Floor Service (20)
17
7
13
19
17
Product location (up to 5)
3
0
5
5
5
Staff politness/responsiveness (up to 5)
5
0
3
5
4
Feedback
Brilliant customer service. I had to ask on 4 occasions for help in finding items (not my usual store, and obviously not necessarily getting items I'd usually buy) they were all helpful. All were able to direct me politely and didn't seem aggrieved to be asked as I have found occasionally with some staff in certain stores. None of the staff were gossiping. All just getting in quietly with their work. Have to mention a bug thank you to Dawn and Lindsay on Tobacco kiosk. My shop included a pack of 20 cigarettes. I stupidly walked away without the receipt and had to go back and ask for one. They both went through the bin to see if they could retrieve the original receipt then Dawn went to the office to print a new one for me.
The mandarins in juice were out of stock and there were not many staff around. I found the nearest person, a couple of aisles away. He had a 'key worker' fluorescent tabbard on and was next to a restocking trolley with a couple of products in his hand. I asked if he knew if there were any more in the back. He said,'I don't know. It's not my department. I only deal in fresh foods' and walked away. He couldn't have been less helpful and his attitude made me feel embarrassed and uncomfortable. He wasn't nasty but he made me feel I was wrong for asking him. I didn't see a name badge.
I had to ask several staff members to help me find items. they varied in their approach. one was not able to show me where Atora Shredded Beef Suet can be found I had to ask another member of staff who told me to go to the aisle which has flour but did not tell me which aisle this was. I was told Baxter's favourites scotch broth was in aisle 21 but it was in aisle 22. initially I could not find anyone in the alcohol aisle to help me find Edinburgh Gin Rhubarb and Ginger Gin Liqueur, returned 20 minutes later found Jeremy with a crate of alcohol ready to stock the shelves. He took me the shelf he thought it should be on and then told me it looks like they do not stock it. When I was looking for the melon, I was pointed to where it should be, not actually taken to the section and told that if it is in stock I will find it here. I looked several times and could not find it so did not purchase this item
Taken by staff member to correct location.
Staff were generally helpful when I made my enquiries. When I asked a female with long brown hair whether there was any Ambrosia creamy macaroni in stock, she helpfully scanned the label before replying that it would be in stock tomorrow. When I asked a male with short dark hair where the Bonne Maman salted caramel creme was in stock, he scanned the label before replying "no". When I asked the same staff member where the Almondy daim tart was in stock, he checked with a manager who checked the fixture before replying that they do not stock it. When I asked a male with short brown hair whether they stock Edinburgh gin rhubarb and ginger, he seemed reluctant to assist me before replying that they only stock the plain variety. When I asked a male with brown hair whether Graze smoky barbecue crunch was stocked, he helpfully checked the fixture before replying that it definitely used to be, but is no longer stocked.
Was it easy to find a member of staff (up to 3)
3
1
1
3
2
Were staff easy to identify through their uniform or name badges (up to 2)
2
2
2
2
2
Staff presentation (up to 5)
4
4
2
4
4
Feedback
Didnt see a single member of staff without a mask and all were social distancing.
N/A
They did not keep a 2 meter distance when speaking to me
Also encouraged keeping a safe distance from others as told to stay back when someone else was turning a corner.
Staff were respectful and kept a safe distance when talking with me. Staff were smartly dressed and some wore gloves and masks.
Tills and checkouts (20)
17
15
16
17
19
How well managed were the queues leading up to the till-operated checkouts in terms of maintaining order and social distancing? (up to 2)
1
1
1
2
1
How well managed were the queues leading up to the self-service checkouts in terms of maintaining order and social distancing? (Please observe after you've completed your shop, and include observations around attentiveness to customers requiring help due to flashing lights/unattended items in bagging area) (up to 2)
2
1
2
2
2
How long did it take to queue (prior to scanning) (up to 4)
4
2
4
4
4
Please rate checkout staff on their customer service and safety (up to 7)
6
6
5
5
7
Time for G33 items to be scanned (including payment) (up to 3)
2
3
2
2
3
Was the till receipt free of mistakes? (up to 2)
2
2
2
2
2
Feedback - please provide any further details/feedback on the tills and checkout:
The store was not too busy so I did not see anyone needing to help with direction to available checkouts. I looked along the line for a free checkout and my lady gave me a wave to signal that she was free. She was very friendly and welcoming.
There were several products I was unable to see a price for including bacon and milk. The queue was short when I arrived but had been very busy earlier. It was well managed by one lady who told me which checkout to go to. Sandra on the checkout was very friendly and chatty. There weren't any queues for the self-serve checkouts. I had to queue separately for the cigarettes. The lady at the cigarette counter was also very nice.
It was not busy so this was very easy. I was asked if I needed bags and then he started scanning my items
Scanning time also includes visit to tobacco counter. Checkout operator pointed out damage to packaging on one product to check if I still wanted to buy it. Asked to scan Clubcard.
When I arrived at the checkout area, I had to wait a moment before I was attended to. Shortly afterwards, I was directed to an available till. The till service was friendly and efficient. The cashier greeted me and ensured that she scanned my items at an appropriate speed. After payment, she thanked me for my custom and wished me a pleasant evening.
Availability score (20)
10
16
7
14
11
Of the 33 items on your shopping list how many were:
Available (up to 20)
28
31
26
28
28
Out of stock (-2 per item)
5
2
6
1
4
Not stocked (-1 per item)
0
0
1
4
1
Availability %
84.8
93.9
81.3
96.6
87.5
Please note down the items on your shopping list that were out of stock (please highlight the products that have managed to get a satisfactory substitutions)
Cadbury Dairy milk cake slices were sold out so replaced with Cadbury dairy milk cake bars.

Almondy Daim Tart was sold out (frozen desserts cabinets were very low) substituted with an Asda strawberry cheesecake.

Youngs Gastro Tempura batter Basa Fillets Lemon and Herb subbed with the same product, but Black Pepper variety.

Own label half leg of lamb - none left. Lamb stick quite low. Substituted with the last available shoulder of lamb on the shelf instead.

Graze smokehouse barbecue crunch was not available, so subbed with Graze salt and vinegar crunch.
Nature's finest Mandarins in juice were out of stock. No sub.

Substituted Genius brown sliced bread for Genius white sliced bread.
Managed to get satisfactory substitutions:
Almondy Daim Tart 400g

Young's Gastro 2 Tempura Battered Crispy Lemon and Herb Basa fillets 310g

Aptamil 1 First Baby Milk Formula multipack from Birth 800 ml

Bonne Maman Salted Caramel Creme 2 x 90g 180 g

Cadbury Dairy Milk Cake Slices x 6

Out of stock and did not get substitutions:
Ambrosia Creamy Macaroni 400g
Canteloupe Melon - not substituted
Ambrosia creamy macaroni (replaced with Ambrosia rice pudding),

Bonne Maman salted caramel creme (replaced with coffee creme),

Edinburgh Gin rhubarb and ginger (replaced with Edinburgh Gin),

Graze smoky barbecue crunch (replaced with Graze sweet chilli crunch).
Please note down the items on your shopping list that were not stocked (please highlight the products that have managed to get a satisfactory substitutions)
N/A
N/A
Edinburgh Gin Rhubarb and Ginger Gin Liqueur 250
Allinson Easy Bake Yeast Tin (not sub),

Cox apples (sub Braeburn apples),

Ambrosia Macaroni cheese tin (sub Tesco Macaroni cheese tin),

Bonne Maman Salted Caramel Creme (sub Gu choc salted caramel spread).
Almondy Daim tart.
Please give any other details or info about your shopping trip, good or bad
All in all, a pleasant shop. A good vibe. Did not see any customers going without attention. All was quiet and well ordered. I noticed the self serve checkouts were running smoothly. No back up of flashing red lights.
The overhead aisle signage was helpful in locating items but the plinth signage was incorrect for the baby milk (see pic). The queue for the tills was down one of the aisles which made shopping that aisle extremely difficult and it was impossible to keep a safe distance. There was no one way system and the only tape was at the end of the aisle used for the till queue to stop others cutting in.

It was fast. Easy to find everything. Spoiled by the attitude of the staff member I spoke to.
I felt I had to ask too many times to be shown where to find items and only two out of about 10 times was I actually taken to the aisles. This meant that the time in the shop took longer then it should have.
Freezer aisles were in middle of store which does not seem logical to me, Dairy sign was over juices rather than dairy, cooked meats were difficult to locate, ham was in a separate aisle to other cooked meats (eg. salamis)
The in-store cafe was closed and the hot drink machine was not currently in use. There was a sampling display of baguettes and croissants, however, it was empty.
TOTAL SCORE (100)
81
64
59
76
83