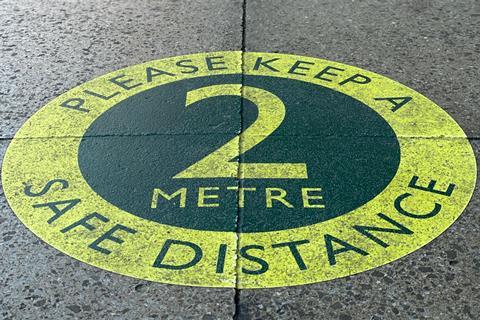 Waitrose nabbed its third consecutive win with a "spacious, clean and calm" experience for our mystery shopper on their Saturday morning visit.
The upmarket retailer's store in Wootton, Northamptonshire, came top this week with a near-flawless score of 93, as its "respectful" staff not only adhered to social distancing guidelines but checked customers were wearing face coverings when entering the store, after it became mandatory to wear one in English shops from this week.
While most employees wore visors or masks, few also sported gloves, however.
The trolley sanitising station for customers and clear entry and exit routes at Waitrose also impressed our shopper, with the floor markings proving particularly helpful when navigating the checkout area.
Their checkout experience was very positive, thanks to the "charming, friendly and helpful" operator. Our shopper noted the partner was chatty and offered to help pack the shopping. Social distancing was maintained during their time at the checkout too, with partners and floor markings working in tandem to show shoppers where to stand.
Despite the shop not being busy during their visit, our mystery shopper outlined that their entire experience was "well managed," and would be happy to return to the supermarket.
Morrisons' Harehills store in Leeds followed closely behind Waitrose this week, but was let down by availability levels. Our shopper found the store didn't "appear to have any organic fruit & veg" in stock, meaning they had to substitute some lines for non-organic variants. Staff were working on restocking items during our shopper's visit, and the environment was "palatable" enough to comfortably shop in, with enough space to keep a safe distance from other customers and employees.
The Morrisons team members our shopper interacted with were "lovely", including the security guard, who unlocked a trolley for them when they arrived without a £1 coin to unlock one themselves.
Tesco in Hednesford, Staffordshire lost a few points for its store standards as there was "no staff presence to maintain order" around the supermarket's coronavirus procedures at the entrance to the store.
Asda's Swindon branch fared poorly for its availability, losing three of five points. Our shopper said its fruit & veg section "was the worst" and though staff were attempting to replenish stock, there were a few restocking trolleys obstructing isles and some messy shelves to boot.
Asda also lost a point for its failure to ensure social distancing was maintained, with our shopper suggesting the security team could have allowed "too many" customers to enter the supermarket at once, as it felt "too busy".
Sainsbury's in Dartmouth received the lowest overall score this week, with our mystery shopper "tripping over some blue loo roll" left on the shop floor. They also found staff were "not replenishing stock" when needed – indeed it was hard to find them to ask for their assistance to locate items.
Sainsbury's therefore also scored zero for staff politeness, due to our shopper's lack of interaction with team members, aside from at the checkout.
Six items on our shopper's list were not stocked. It did, however, achieve 100% for availability, alongside Tesco and Waitrose, as none of the missing items were out of stock.
This week's results:
WEEK 7: Saturday 25/07/2020 (10.00am - 1.00pm)
Asda
Morrisons
Sainsbury's
Tesco
Waitrose
Location
Swindon
Leeds
Dartmouth
Hednesford
Northampton
Date
25/07/2020
25/07/2020
25/07/2020
25/07/2020
25/07/2020
Time slot
1-4pm
1-4pm
1-4pm
1-4pm
1-4pm
Shop starts
10:59am
10:49am
11:54am
10:39am
10.16am
Visit Duration
00:45
01:02
01:02
00:55
00:49
Shop Duration
00:40
00:54
00:58
00:48
00:46
Car Park (10)
10
10
9
9
10
Signposting (up to 1)
1
1
1
1
1
Queueing time to park (up to 2)
2
2
2
2
2
Trolleys (up to 2)
2
2
1
2
2
Queueing time from parking the car to enter the store (up to 3)
3
3
3
3
3
Feedback (up to 2)
2
2
2
1
2
Yes, there was security staff by entrance and guidance on mask wearing and hand sanitation.
The supermarket was located off a main road and was fairly easy to locate. The car park was quite busy however there were plenty of spaces including disabled and parent and child spaces. I was able to find a space straight away. There were plenty of triplets available however they were £1 coin operated. There were around three staff members plus a dedicated security person available At the entrance to help direct customers into the store. The entrance and exit were both clearly marked. There was actually no queue at all when I reached the store entrance. Wipes, antibacterial hand gel and disinfectant spray were available at the entrance.
This store is situated on the edge of Dartmouth on the main road into town and was well signposted. The store is very small and so is the car park but it was easy to park and there were clear arrows and exit signs on the tarmac and the signage outside the entrance was easy to understand. There were 2 people ahead of me sterilising their trolley handles with the sanitiser and blue roll provided and whilst I waited to enter the store I was under cover so it didn't really feel like I was queueing. The store is already well designed with a canopy over the whole front of the store so a longer queue would not be a problem in the rain. There were clear entrance and exit signs and a really friendly lady called Gaynor was keeping tally of the numbers and allowing us in. There is a Pay at Pump only petrol station in the car park which is the first time I have seen this in a supermarket on my travels round Devon and I was so excited I had to use it! very easy and efficient!
There's was no queue to enter the store but there were barriers and a one way system to allow customers to enter and leave from separate doors. There was no staff member on the entrance. There was a stand at the entrance with hand gel and blue paper towels. There were stickers on the floor to remind customers about social distancing.
Staff on the door checking face masks, clear entry and exits routes, floor markings and a station for sanitised trolleys.
Store standards (20)
10
18
17
15
17
First impression (up to 5)
1
4
5
4
4
Feedback
Store was very busy, loads of staff around and messy shelves.
The store appeared to be calm and ordered with plenty of staff dotted around the store restocking areas. There was signage around the store including arrows on the floor guiding customers where to go, including queue lanes for both baskets and trolleys. There were wipes and spray stations at several places around the store also. It was the first time I had entered a store since it becoming legally required to wear a mask - all customers were wearing a mask. It felt a little strange however there was nice music playing in the store to help create a calming atmosphere and staff were friendly and helpful.
Absolutely everybody in the store was wearing a mask (except the little children) and there was a very peaceful atmosphere within the store. All the safety measures were in place and staff were at the front of the store or near the tills offering support to shoppers. This store is clearly located to attract the holiday makers in the area and this was evident by the wet suits/cool boxes and other summer products arranged around the front entrance. The overall first impression I had was of space and light. The store had a really warm feel to it and everything was neat and clean. There was a kiosk and service point near the door and despite its size there seemed to be a large range of depts. making the best use of space.
The store was quiet but there was no obvious staff presence to maintain order. There was announcements and floor signs to remind us of the 2m rule.
The store felt very spacious, calm and clean, I was able to walk straight in so wasn't very busy. Very clean floor markings especially around the checkouts.
Displays (up to 3)
1
3
2
1
2
Availability and replenishment (up to 5)
3
4
3
3
4
Feedback
Staff was very busy trying to replenish selves, loads of trolleys around the store. Veggie and fruit section was the worse.
Availability was really good generally with only a few out of stocks including in yoghurts however on some out of stocks - for example The Best croissants were replaced with other lines - this meant that the shelves didn't look bare but it was the wrong product and price in that space. The salad bar was stocked with different items too than advertised however this was probably due to Covid. Promotions were well executed and had great availability - the Date Night for two for £12 was very well stocked and had some tempting dinner, dessert and wine options for people wanting a nice treat lockdown. The Carling and Lenor promotions were also well stocked. Plenty of staff were working on restocking shelves and there was plenty of space to enable them to keep a safe distance.
The strangest thing about my shop was that I did not see any staff replenishing stock or moving stock around the building despite the empty shelving in the F&V and Chilled aisles in particular. There were no cages stacked ready to be unloaded either but i would say that about 70-80% of the shelves throughout the store were stocked. Where items were sparse the products were mostly pulled to the front for easy access.
The store was tidy and well stocked. There were members of staff who were restocking and the appeared to be maintaining social distancing. There were a few restocking cages around but most of them were in use with a staff member nearby.
The store was well stocked, ordered and tidy. I didn't see any empty shelves. Only noticed a fair few reduced items in the fruit and veg section and the refrigerated meats.
Obstructions (up to 3)
2
3
3
3
3
Spillages (up to 2)
2
2
2
2
2
Condition of the store in terms of cleanliness (up to 2)
1
2
2
2
2
Feedback
Store standards was in general ok, i believe milk fridge was leaking as there was loads of paper towels on the floor.
The store had great standards - it was very clean and tidy - was impressed with the grocery (fruit and veg) area. The floor was clean and I didn't notice any spillages anywhere. There were no obstructions from any trolleys; they were kept out the way - the only obstruction really was other customers if people were trying to get to popular items and were also trying to avoid each other due to socisl distancing; it did cause queues in certain places just to get past them on the aisle. The Nutmeg clothing section was very tidy and well merchandised.
I loved this little store. I did not expect them to have some of the things on my list (my pick of items this time had been pretty random) but I was very pleasantly surprised. There was only one item that needed a whole new product "swap", the others were a change of size or flavour. The cleanliness was excellent. Great lighting, very wide aisles and I had an overall sense of comfort and peace which was a huge surprise on a Saturday morning!
The store feels spacious and well laid out. There were no obstructions in the aisles and appeared well stocked and tidy.
I think this store must be very new because it felt extremely clean and tidy, with spacious isles.
Store layout (10)
8
10
5
8
10
Did the store layout seem logical and intuitive? (up to 2)
2
2
1
2
2
Was it easy to navigate the store while also feeling safe? (up to 6)
4
6
4
4
6
Did the store offered any Click & Collect services? (up to 2)
2
2
0
2
2
Shop Floor Service (20)
18
17
6
13
18
Product location (up to 5)
5
3
0
3
5
Staff politness/responsiveness (up to 5)
4
5
0
2
5
Feedback
N/A
The staff members I interacted with were very lovely. Luke was helpful in the fruit and veg section, helping me with a couple of queries. I had asked about the location of onions but they were pretty much under my nose so Luke pointed in the general direction. Steve was very friendly in the yoghurt aisle and explained about green and orange stickering and how this showed availability for an out of stock item and when they could be expected to be in. Can I also give full marks to the lovely security guard (didn't see a name but male, very cropped black hair, brown eyes, working on the door) who came to my rescue when I didn't have £1 for a trolley - they used their key so I could get one - thanks so much!
I loved everything about my shop in Dartmouth so I was sad to have to score this a zero. There were no staff that I could see in any other part of the store than the front area and the tills. I did need help on several occasions but despite looking I could not see anyone to help me and I was loathe to go to the front of the store and disturb the staff there.
I asked a member of staff where to find the fly spray and they pointed and told me which aisle I needed to find it but didn't offer to show me. She didn't have a name badge. I then asked another about the frozen salmon, she was restocking the freezers but did not have a name badge visible. She said that if it wasn't out then it probably wasn't in stock. She didn't check and said that they have daily delivery's and to keep checking. As I continued my shop I found the product myself at the end of a different aisle as it was on offer.
I wanted a family pack of donuts, couldn't find them anyone so one lady (no name badge) helped me find individually wrapped donuts but as I wanted a pack of 4 I didn't purchase. She explained that they didn't do these.
Was it easy to find a member of staff (up to 3)
3
3
0
2
3
Were staff easy to identify through their uniform or name badges (up to 2)
2
2
2
2
2
Staff presentation (up to 5)
4
4
4
4
3
Feedback
N/A
Staff were friendly and maintained a safe social distance in all their dealings with customers.
All the staff I did notice/engage with were wearing either a shield or a face mask and gloves.
N/A
Staff were very respectful and kept their distance. Many wore visors instead of masks.
Tills and checkouts (20)
10
19
16
16
19
How well managed were the queues leading up to the till-operated checkouts in terms of maintaining order and social distancing? (up to 2)
1
2
1
2
2
How well managed were the queues leading up to the self-service checkouts in terms of maintaining order and social distancing? (Please observe after you've completed your shop, and include observations around attentiveness to customers requiring help due to flashing lights/unattended items in bagging area) (up to 2)
1
1
1
2
2
How long did it take to queue (prior to scanning) (up to 4)
4
4
2
4
4
Please rate checkout staff on their customer service and safety (up to 7)
2
7
7
5
6
Time for G33 items to be scanned (including payment) (up to 3)
0
3
3
3
3
Was the till receipt free of mistakes? (up to 2)
2
2
2
0
2
Feedback - please provide any further details/feedback on the tills and checkout:
Lady didnt say hello or goodbye, but was wearing face mask.
There were four out of seven main checkouts open and six self checkouts. There was a staff member directing customers to the till area. I was directed almost immediately to till five where there was just another customer ahead of me. It only took a couple of minutes then it was my turn. A lovely staff member called Joyce served me. Joyce was friendly, smiled, greeted me and made eye contact throughout. She didn't ask if I needed help with the packing but asked if I had a Morrisons more card and was friendly in her transaction. There was a glass screen to aid social distancing plus a protector on the card machine. At the self checkouts I did witness the red light flashing a lot. There was a couple of staff members there; I feel they could have been a little quicker to aid the customers.
My checkout lady was called Ginny and was really lovely. She asked me to wait until the customer in front had paid, then thanked me for waiting and apologised for the wait. She was very careful with my shopping and even put my loaf of bread on her receipt box (?) so it wouldn't get squashed when the other stuff came through. She asked for my nectar card and was patient while i packed. The till area had two cages of empty boxes for customers to use which was great but made the area feel busy as it was already very small. The Argos counters are at one end of the tills so there were only 3 checkouts in operation with two queues. The toilets were clean and well stocked and the doors to all were open which helped as I needed to take my trolley with me!
There was no queue at the tills but there were 2 members of staff who seemed to be coordinating and I assume they would have managed queues if they needed to. I was able to load the shopping to the belt immediately and the staff member waited for me to finish before she started scanning. She said hello and asked if I was ok for bags. She was not wearing a mask but there was a screen between us. We had a chat about the fact that the store felt quiet and that most customers were wearing masks.
Simon, who served me was charming, friendly and helpful. Very chatty. Offered to pack. Only 3 tills open but they were well managed and people shown where to stand when queuing,
Availability score (20)
16
10
14
20
19
Of the 33 items on your shopping list how many were:
Available (up to 20)
31
24
27
33
32
Out of stock (-2 per item)
2
1
0
0
0
Not stocked (-1 per item)
0
8
6
0
1
Availability %
93.9
96.0
100.0
100.0
100.0
Please note down the items on your shopping list that were out of stock (please highlight the products that have managed to get a satisfactory substitutions)
Lurpak
Kitkat
The Yeo Valley Kefir natural yoghurt was out of stock because it was on promo to £1. I decided to substitute this with a Yeo Vslley natural Greek yoghurt because it is not too dissimilar.
N/A
N/A
N/A
Please note down the items on your shopping list that were not stocked (please highlight the products that have managed to get a satisfactory substitutions)
N/A
They didn't appear to have an organic range in fruit and veg at all at this store? They definitely did not stock organic red onions but I substituted with a non-organic choice. The garlic and lemon pack sizes which I had originally selected were not stocked at this store but I managed to select just one garlic instead of a two pack I had originally wanted and a bag of Wonky Lemons instead of a two pack - the Wonky Lemons bag was a steal at just 69p. I had to upsize on the Birds Eye Cod fish fingers - they only had 20 in this variant not 10 which I believe is the standard size. Frozen Kale was not stocked at this store - I believe it is a new line so maybe they only stock at larger stores. I couldn't find a substitute for this item. Propercorn, Merchant Goirmet ready to eat Quinoa and the Method Floor cleaner were further products which were not stocked in this store which I could not find suitable substitutions for.
Recycled toilet roll x 9 - subbed for normal toilet roll
Sainsburys Turkey slices x 150g - subbed for taste The Diff Chicken slices x 120g
Sainsburys Summer Edition Mozzarella and Basil Pesto - subbed for Summer Edition Baby Artichokes
Birds Eye Potato Waffles x 1.02kg - subbed for 567g pack
Trewithen Dairy Semi skimmed milk x 2lt - subbed for Sainsburys 2.27ltr Bear YoYo's Apple x 9 - subbed for Strawberry x 9
N/A
Family pack of donuts. They only sold individually wrapped so I thought this was a too expensive way to buy them.
Please give any other details or info about your shopping trip, good or bad
In general good experience, but i feel that store was too busy, maybe security staff let to many people in at once.
I felt this supermarket was well organised in the face of Covid and the staff were really nice and friendly. It definitely made the shopping experience (with masks) a little more palatable.
Despite the limitations on size I was pleasantly surprised that the store had nearly everything I wanted. It is clear that it caters to the tourists that travel down this way and this was evident from the limited package size options for products. The Frozen section was only half an aisle long and the doors were hard to see into because of the condensation. The ice cream section seemed to be working overtime as my tub was covered in ice crystals and took a bit of pulling off of the top shelf. There was an American sweet section on the end of one aisles with a good variety of items that I guess would appeal to the impulse shopper on holiday. At one point I tripped over a Blue roll left on the floor on the corner of aisle 15 so I nudged it into the side a bit further. I thought the fresh flower displays in front of the deli section made a nice display and diverted your attention away from the empty counters. More fresh plants in corner tubs were in the entrance and these were most welcome too. By far my most favourite touch though was the umbrellas. There were a line of Sainsburys umbrellas available for shoppers in the entrance/exit area and as it was absolutely pouring with rtain this was very thoughtful. I enjoyed my shop here, it had what I needed and was an enjoyable hour of my time. The shop was not confusing and I found it very easy to navigate.
The shopping trip was pleasant. It's a nice store and the staff I encountered were friendly and professional. The one mistake on the receipt was the deodorant which should have been half price. I will have to return to the shop as I missed this error when I checked the receipt as I left the store.
I was thoroughly impressed with this Waitrose although I do think it is very new. The staff were all extremely helpful, customers respectful of each other and the store clearly labelled for social distancing measures. I would go back here to shop. Only comment would be some food groups were only offering reduced items because of a short sell by date but this was fine for me.
TOTAL SCORE (100)
72
84
67
81
93