So how many cards did you get? Or is that an awkward question? I do hope this year isn't going to end up like every other year where you get nothing, no one loves you and you're staring down a long dark tunnel called your future?
With any luck you got a card and you're all set for a fabulous evening with your lover. But the last thing you want to do is go to an overpriced restaurant for a heart-shaped chicken kiev. The sensible thing would be to order a takeaway, fire up Netflix, and chill. But if you don't fancy waiting four hours for a cold Chinese, nowadays the supermarkets make it very easy to nip in and out, grab some roses, a card, and a Valentine's meal for two.
So who is doing what in terms of a romantic promotional bundle? And how do they compare on price?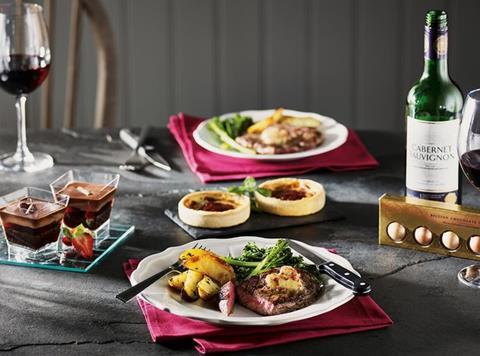 Asda - £15
As you'd expect, Asda is offering what appears to be an excellent value deal. Fill your basket with starters, mains, sides, pudding, chocolates and wine for £15. There is lots of choice, with five starters, seven main courses, four sides and five puddings to choose from. There are also three boxes of chocolates and six bottles of wine. At £15 it's at the cheap end of the deals on offer, but the food (arancini, soufflé, rump steak, duck breast, tenderstem broccoli, cheesecake, viognier) looks premium and comes from Asda's Extra Special range.
Iceland - £20
There is no wine included at Iceland, but the food is super-premium. For £20 you can pick up two Canadian Lobster tails and a 450g chateaubriand. Dauphinoise potatoes (or McCain triple cooked chunky chips) can be added to the side for a bit extra. Or, if you're a bit dull, you can get a selection of vegetables. There is also a choice of four delicious looking puddings. It all looks extremely good, but don't leave it too late if you fancy this deal, as cooking a chateaubriand from frozen is grounds for divorce. An excellent choice for premium palates that plan ahead.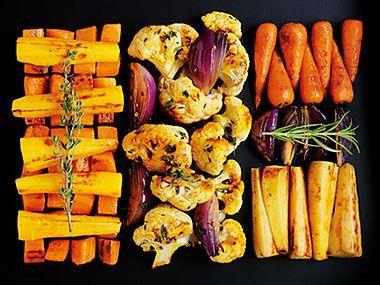 M&S - £20
M&S pioneered the 'Dine in for £' concept, so as competitors muscle in, have they got it right this year? Like Iceland the deal costs £20 and it's a familiar basket of a starter (smoked salmon, the ever-popular coquilles St Jacques and more), a main course (beef wellington, ribeye steak, goat cheese en croute), typical sides (chips, red onion & fontal cheese pantofola) and a selection of puddings (including raspberry and prosecco 'spheres'). You also get a bottle of wine. The range of choices for each course appears to be far wider (eg 10 rather than five products) than at rivals. If you end up in M&S and the shelves haven't been stripped bare you can relax – everything is going to be just fine.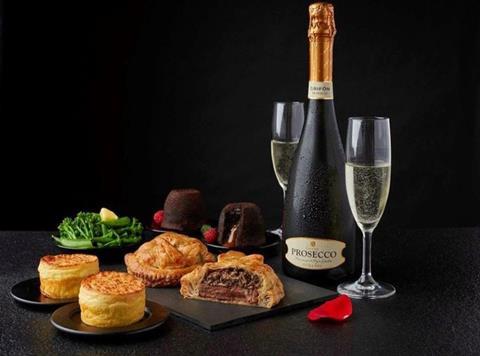 Morrisons - £15
Nothing suggests romance like oysters, and Morrisons is offering them at £3 for a dozen, which represents excellent value. It's so cheap you could wow your loved one with your ability to shuck for ages and still shell out £15 for its Valentine's Meal Deal, where antipasti and soufflé is on offer among the starters. For a main course there is sirloin steak, beef wellington, pork saltimbocca and more, all from Morrisons' new (and well-received) The Best range. As are the mainly potato-based sides. Panna cotta is among the puddings, which is as good a reason to go there as any, and you also get wine, prosecco or chocolates.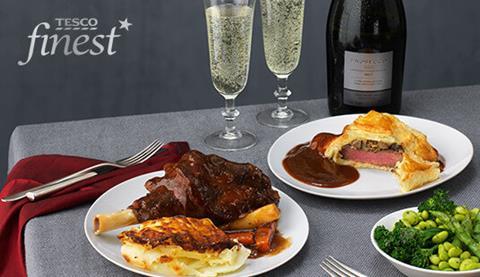 Tesco - £20
Like Morrisons and Asda, Tesco has turned the whole thing over to its Finest range, offering two main courses, two sides, pudding, and wine or chocolates. However, it's charging £20 rather than its big four rivals (Sainsbury's has no Valentine's deal as it's scrapped multi-buys) and there is no starter. Main courses are the usual suspects (beef wellington is everywhere) so that extra fiver appears to pay for an extra side. But the sides and the puddings are a little more imaginative than elsewhere (creamed spinach with Champagne butter, Heritage raspberry & Sicilian lemon dessert) and the wine on offer includes a Sancerre rose, an Argentinian Malbec or Pol Aimé Champagne. So the extra £5 might be worthwhile, especially if you plan to enjoy the wine as much as the food.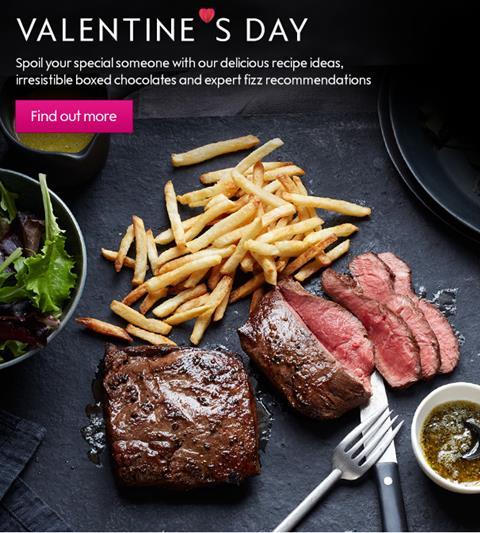 Waitrose - £20
A crisp £20 will get you a starter for two, a main course for two, two side dishes, a dessert for two and wine or chocolates. And Waitrose's deal looks fabulous. Mini dressed Orkney crabs and a Heston Bloody Mary prawn cocktail are among the starters, while a flavourful flat iron steak is on offer for a main course, alongside Heston pies and tuna steaks. The sides are typical (three types of potato or some greens) but the puddings also look good (especially the raspberry profiteroles). The chocolates are Lindt, and there is a Prosecco, a Pinot and a Rioja on offer. And with Waitrose you know the quality will be there.