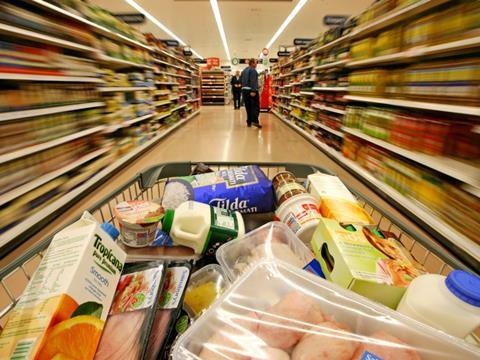 It's a funny one, this. Sales are down at Sainsbury's, but profit forecasts for this year have been upgraded by another £60m in its Q3 update, with £720m the new target for the year ending 31 March.
The dichotomy here is not so much between sales and profits, however, as between profits and inflation.
At a time when there's both cost price inflation in the supply base and higher operating cost inflation within the business (including a 5% pay increase announced this week, on top of pay increases and retention payments that helped Sainsbury's halve its HGV driver vacancy rates since the late summer), it shows just how much of a leg up Omicron has given Sainsbury's. In-home grocery consumption was up despite Christmas coming "later than ever" according to CEO Simon Roberts.
"It was a very 'interesting' week," he recalled on a media call this morning. "In that big peak week, even more went into the end of the week. Monday, Tuesday and Wednesday were slower. It was all about Thursday and Friday. And new year was huge as well."
That translated into a 0.1% increase in grocery sales in the six-week Christmas period, which is nothing to write home about, but that's against tough comparatives (7.7% in 2020), as its London and south east bias meant Sainsbury's traded particularly well last year, and the 6.8% sales comparative against 2019 gives a truer picture.
The other point Sainsbury's might make, in defence of underwhelming sales, is its investment in price. On a basket of the top 100 SKUs by retailer, "we were the most deflationary", Roberts pointed out [NielsenIQ, November 2020-December 2021, average selling price inflation].
Deflation is not a word one expects to hear in the current market of any supermarket, with food prices filtering through in earnest in the latter stages of 2021, and almost 10,000 price hikes introduced last week alone by the leading multiples, according to Assosia data. In fact, Sainsbury's increased the price of 1,179 lines, or 4.6% of its range, while the net 967 price increases last week represented a 0.9% increase.
But Sainsbury's seems to be keeping a decent lid on food price inflation. And especially with its Aldi Price Match.
True, the number of lines matching Aldi slipped in the run-up to Christmas, falling from its 250 pledge to 209, research for The Grocer shows.
Read more:
But in the week leading up to Christmas, Sainsbury's also added a number of key Christmas lines including turkey, ham and other trimmings (plus a rather random chocolate gateau) to its Aldi Price Match.
It was an unexpected and original move and captured the imagination of shoppers, according to Roberts. Not only were sales of these lines up 23% (and 44% vs Christmas 2019), it "provided reassurance and step-changed value perception by 110% in the last week". The biggest benefit was what Roberts called 'secondary shoppers', "giving them key confidence across the rest of the store by winning at the heart of the plate, resulting in a big trade up".
Since Christmas it's also followed that up by updating its Aldi Price Match list. The quantum has not only recovered, but is now higher, matching Aldi on 260 versus the original 250 KVI pledge. And crucially, as Roberts pointed out, with an extra 30 fresh and chilled lines, the mix is more focused on bestsellers. Indeed 90% of the volume (and well over half the lines) is in fresh food.
Sainsbury's is also committed to a far higher number of lines in its simultaneous EDLP campaign: Sainsbury's Price Lock is available on 2,000 lines vs just over 800 at nearest rival Tesco [Edge by Ascential, 5 Jan 2022].
Of course, that's not to say Sainsbury's won't adjust the price of other lines to accommodate these commitments – and the Groceries Code Adjudicator may have some things to say about how it is keeping them – but in this game it's about perception. And with Sainsbury's prices more competitive than they have been for years, it's no surprise customer perception is improving.