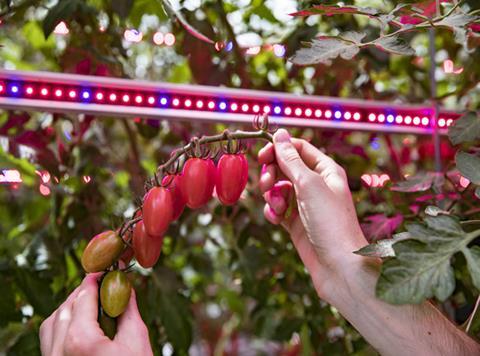 LED-laden vines. Not only would it be an excellent name for a prog-rock band, but it could be the answer to some of Britain's post-Brexit food security woes.
Asda revealed today that Southport tomato producer Andy Roe is using the light technology to supplement natural daylight in his greenhouses, enabling him to supply the supermarket with British tomatoes all-year round. The psychedelic bright pink LED lighting, which is installed between the vines, also slashes the energy needed to run the greenhouses by 35% because it cuts out the need for excessive heating and ventilating.
In the words of Roe, who in fairness would make a great prog rock lyricist: "I could grow a tomato absolutely anywhere – underground, in a Tube carriage, on the Moon."
The prospect of being able to grow fresh produce anywhere and in any weather conditions is certainly comforting when you consider the dire warnings we've had over future food security in this country as we hurtle towards Brexit.
According to NFU figures, just 23% of the fruit and veg we eat in the UK is grown here, and experts warn a failure to secure a trade deal with the EU, meaning a return to WTO rules, would result in a dramatic increase in the cost of importing fresh produce from our biggest supplier, Europe. Even worse, there could be widespread shortages of fruit & veg in Britain when we first exit the EU, with an August BRC report concluding the port of Dover is a "disaster zone" waiting to happen, and totally unprepared for increased customs checks.
Brexit isn't the only danger to our future food supplies. Over half of British farmers have been disrupted by severe weather events over the past decade – suggesting climate change is already putting UK food production at risk.
So all hail the technology that allows us to grow tomatoes on the Tube during a thunderstorm in December. But let's remember that in order to invest in this sort of technology, British growers will need stability and certainty. Roe has been supplying Asda with tomatoes for 20 years, and that's exactly the sort of long-term supply partnerships needed to foster a technological future for British fresh produce.
Co-op boss Steve Murrells recently vowed to make long-term strategic deals with suppliers a key priority and it goes without saying that all of Britain's other major supermarkets should be thinking along the same lines to minimise the impacts of Brexit on food supplies. And they'd better hurry up. Because, in the (almost) words of Britain's prog-rock kings Pink Floyd, the ringing of the division bell has begun.