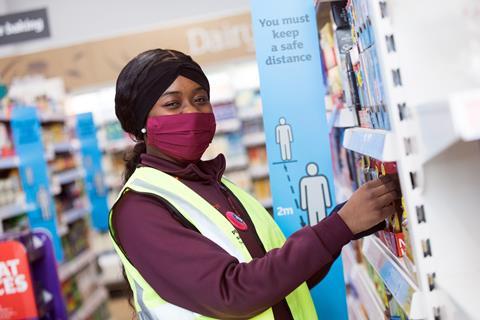 Don't panic. That was the message from Sainsbury's CEO Simon Roberts last week, in a letter to customers last week reassuring them there will be "plenty of food" available this Christmas.
Roberts stressed the retailer was doing everything in its power to "make it a Christmas to remember", taking regular deliveries right up until Christmas Eve to ensure shelves are stocked full of fresh festive products.
This week's half-year results provided an opportunity to look deeper into exactly what it has done to ensure things run smoothly. In the post-earning results conference call, Roberts outlined the scale of the planning for a big Christmas.
One of the most important moves came earlier in the year, when it booked extra freight capacity. Roberts said Sainsbury's was able to secure capacity at an earlier point at a lower cost, which helped to mitigate the impact of the labour shortages. Still, shipping delays and the impact of the global semi-conductor chips shortages on certain general merchandise categories like electronics forced Sainsbury's to push back its usual toy promotions by two weeks. And the GM performance in H1 - declining 5.8% in the first quarter and 11.4% in the second quarter (and Argos sales down 12% in H1) - was a drag on Sainsbury's performance (and presumably the share price, which fell as much as 5% in early trading).
But the real work is being done on grocery availability. Roberts said Sainsbury's had been "moving heaven and earth since the summer" - particularly ramping up efforts in the past "five to six" weeks. To help suppliers struggling to secure trucks, Sainsbury's sent its own trucks to help out.
Keeping supply going was especially relevant in areas like milk, availablility of which tends to impact overall shopper perceptions, he added. "When we went to pick the product, we saw availability improve and customer service significantly improve," Roberts added.
Sainsbury's has been particularly focused on making sure it's got enough drivers this Christmas. So far, it has hired 8,000 seasonal workers (out of 22,000), as part of its largest ever festive recruitment drive, as it prepares for what is expected to be one of the biggest seasons in recent years.
"Whilst there are some challenges in some product areas, we'll have plenty of seasonal products for Christmas – we secured capacity early and we're doing everything we can to get more wheels on the road," Roberts said.
"When I look back to four or five weeks ago and look at where we are now, all of the effort and hard work here is delivering some good progress."
Noting "a lot of interest in delivery and fast-track roles, Roberts said it had "put incentives in" and had recruited "hundreds of drivers", and insisted that interest and applications "keep stepping up", with "good" momentum providing encouragement.
Sainsbury's CEO was also vague when drilled with tougher questions about actual availability figures and price hikes, reminding those attending the call that he couldn't "predict the future", but he firmly and repeatedly stated that the retailer was doing its best to deliver "the Christmas shoppers deserve".
"The challenge continues day in day out. This is an hour to hour, day to day focus. There's more to do and we're adapting all the time [but] the teams are working flat out, and doing a fantastic job."