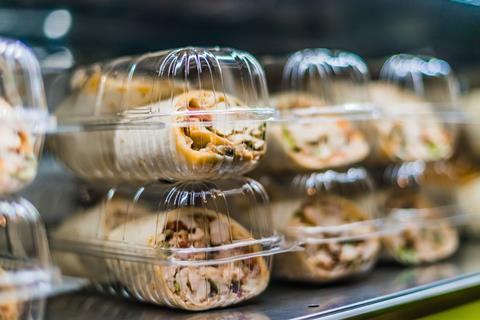 The writing has been on the wall for years now, but it has taken a pandemic and a surge of extraordinary weather events around the world to realise the impact of climate change is not an event in the future. It is happening now. David Attenborough's most recent documentary – Breaking Boundaries – spells it out well. We have already breached many of our planet's boundaries and we can't afford to be complacent about the actions we take to drastically reduce our CO2 emissions.
It appears organisations around the world are now paying attention. Certainly in the UK, retailers are stepping up, with the likes of Co-op, Tesco and Sainsbury's trialling recycling systems for flexible plastics in stores. Tesco has also trialled rigid plastic returns, and reports a staggering one tonne per day is being collected across its stores.
Targeting the packaging and materials consumers are struggling to recycle is an excellent move by the mults. However, with COP26 fast approaching, the food sector needs to take a careful look at how it will achieve carbon neutrality.
High on COP26's agenda is the dramatic reduction of global waste that currently incurs over 1.3 billion tonnes of CO2. Over half of potential CO2 savings will come from increased recycling rates and increased recycled content, yet some of the changes currently proposed by the retail sector are at best ineffective and at worst potentially more damaging than the existing ones.
In the rush to achieve net zero, brands and retailers risk making less appropriate choices when they seek to change their packaging material. One such example is a misguided emphasis on achieving 100% recycled content when there is a valid argument to opt for 30%, to spread recycled material further. Whilst our end goal should indeed be zero waste and 100% recycling, we still have some way to go to before we can achieve this.
At this stage there are important aesthetic hurdles that are much easier to overcome at lower recycled content levels, while the recycling stream of packaging improves. In time, brand owners and consumers will adjust to "circular economy" designs – at which point higher levels of recycled content can be incorporated as they become more widely available.
We are seeing this in our work that centres around food-grade recycled polypropylene (FGrPP). Although food-grade packaging makes up 70% of the total PP market, most food-grade PP packaging has not been designed to be recycled. Whilst the technology now exists to produce FGrPP, we are still catching up with the likes of rPET, which has been in production for years.
By aiming for 30% recycled content, we would be able to spread the limited amount of FGrPP we have across more packaging. This would still have a significant impact. In the UK alone, 210,000 tonnes of food-grade PP packaging is used in pots, tubs, trays and films each year [Wrap 2018]. An equivalent volume of recycled resin, containing 30% recyclate, would save 63,000 tonnes of virgin plastics being produced.
We ran a recent life cycle assessment, together with the Natural Resources Institute at the University of Greenwich, and it forecast that the production of FGrPP generates 80% less greenhouse gases than the production of virgin food-grade PP. That's 324kg of GHG per tonne of FGrPP versus 2,000 kg GHG per tonne of virgin PP – a significant saving.
Therefore, recycling 63,000 tonnes of PP per year would save a minimum estimated 105,600 tonnes in CO2 emissions in the UK per annum.
It is a sobering fact that 80% of the packaging currently produced still goes to landfill, or is potentially destined for waste-to-energy. Yet approximately one tonne of CO2 is saved for every tonne of plastic material diverted from landfill to be recycled.
The likes of waste-to-energy may be heralded as a solution to our waste woes, but in truth the CO2 emissions from producing energy from waste negates its benefits. Likewise, many are pinning their hopes on the optimistic promises of chemical recycling, which will undoubtedly play a role in reducing our mixed and complex waste, but it is still a long way from scaling up. And in the meantime, it still tips our carbon footprint in the wrong direction.
We need to focus on driving rapid already-deliverable improvements in packaging waste through mechanical recycling meshed with cutting-edge sorting and decontamination technologies. This will buy time for those areas of consumption where carbon reductions are harder to achieve, to enable them to develop and test new technologies and approaches.
As we increase the amount of recyclates we can use, we will be better placed to support the world as it shifts its consumption habits in order to minimise the global temperature rise.
First and foremost, brands and retailers need to consider the impact of all their choices. What might appear as an environmentally-friendly solution may have a darker side with concealed side effects.
It has been estimated that by significantly improving waste collection, sorting and recycling, we can reduce greenhouse gas emissions by between 2.1 to 2.8 billion tonnes CO2 per year compared to 'business as usual'. Surely that is worth a rallying call to ensure we're making the right choices?
Edward Kosior is CEO and founder of Nextek