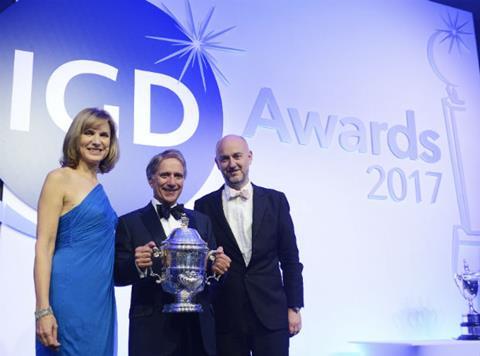 Iceland boss Sir Malcolm Walker has been crowned winner of the Grocer Cup 2017.

Industry veteran Walker picked up the trophy before hundreds of attendees at the IGD Awards Dinner at Westminster's Park Plaza Hotel on Tuesday after being voted victor by readers of The Grocer.

The Cup is awarded to the individual who has contributed most to the industry over the past year by showing exceptional leadership in inspiring his or her company to achieve results.

Walker saw off stiff competition from the likes of Aldi, Tesco and Greencore, with more votes than anyone else in a prestigious shortlist of 10 industry figures.
"Winning The Grocer Cup is one of the absolute highlights of my 53 years in retailing. The fact that it was voted for by my colleagues, competitors, suppliers and customers makes it all the more special. I thank you all for this huge demonstration of your support," he said.

The win follows a big year for the straight-talking Iceland boss, who first launched the frozen food business back in the 1970s, before a disastrous merger with Booker that saw him stitched up and fired in 2001, and then parachuted back in to save the day in 2005.

Walker finally bought back the business in 2012, but the happy ever after for the entrepreneur was cut rudely short in recent years amid the turmoil engulfing grocery. In fact, if you go back to 2015 Iceland was, in Walker's words, "in deep shit" following a "bloody awful" Christmas.

But far from retiring and swanning off into the sunshine, the indomitable Walker has given his invention a radical overhaul. Freezers full of pizza and chips have been revamped to include chateaubriand and premium packaged lobsters, exclusive deals with the likes of Pizza Express and Slimming World have proven phenomenally successful, while Walker tasked son Richard with rolling out the brand new The Food Warehouse concept from 2014, now at 51 stores and growing.

Coupled with flash new formats for its core estate, Iceland is on a roll, with a 2% rise in like-for-like sales in 2016 topped off by a cracking Christmas where like-for-likes were up 4.9%. Six months later Walker even found himself knighted on The Queen's Birthday Honours list.