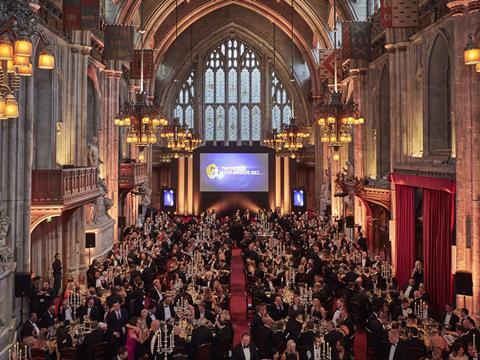 The winners of this year's Grocer Gold awards have been announced.
Nick Carolan from Tesco's city-centre store in Hull was crowned The Grocer Gold Awards Store Manager of the Year – the first of 26 awards handed out at a lavish ceremony held at the Guildhall in London on Tuesday (12 June).
Hosted by actor and impressionist Rory Bremner, the awards celebrated success across the vast and varied £200bn grocery sector, from startups to giant multinationals, and incorporating independent retailers, specialist online players and third-party service providers.
The evening was dominated by disruptors and innovators. Amid huge structural change, uncertainty caused by Brexit, and pressure from new legislation and extra costs, The Grocer of the Year was won by Aldi for the fourth time in the past six years.
The Online Supermarket of the Year was won by Ocado after a barnstorming year in which its technology has driven sales domestically and secured a number of international contracts.
There was a new winner in the Specialist Online Retailer of the Year category, with high protein and sports supplement player MuscleFood beating off strong competition in this emerging space. Also in the online space, Spoon Guru's neat dietary filtering system, which has been incorporated into Tesco's website, won Technology Supplier of the Year.
But the awards didn't just celebrate cutting-edge startups. The Entrepreneur of the Year was Martin Thatcher, who has driven his fourth-generation cider business to market outperforming growth through brilliant leadership, vision and courage.
And proving there is still room for independent entrepreneurial retailers, the Scottish chain Greens won the Independent Retail Chain of the Year award.
The awards were also a reward for established operators who have adapted to the rapid pace of change. Fowler Welch won the Logistics Supplier of the Year award for its clever use of excess capacity, which saved numerous jobs at an old DC.
On the wholesale and convenience side, the Symbol Convenience Retailer of the Year was Londis for its impressive turnaround under Booker.
Competition on the supply side was particularly strong. The Brand of the Year was Anchor, another old brand that has been turned around. The SME Brand of the Year was the fast-growing premium petfood brand, Lily's Kitchen. The Drinks Brand of the Year was AB InBev's Budweiser, and AB InBev was also voted Supplier of the Year in the branded category.
And after being shortlisted on numerous occasions, LDH La Doria was the Own Label Supplier of the Year for the first time.
The strong sales growth achieved through the innovative development of Iceland's Luxury frozen range saw it crowned the Own-Label Range of the Year.
There were also awards for a number of campaigns that are delivering change. The Business Initiative of the Year was won by Women in Wholesale following its ground-breaking work to address the gender pay gap. The Green Initiative of the Year was won by the Co-op, for its pioneering Project Closed Loop, an initiative that kicked off long before the Blue Planet II series aired.
And East of England Co-op won The Grocer's Waste Not Want Not Award for its brilliantly executed and hugely influential work to sell food past its best before dates.
Also on the consumer side, online retailer Master of Malt took home the Consumer Initiative award for its #Whisky Santa campaign.
The continuous improvement at foodservice giant Bidfood saw it win Wholesaler of the Year for the first time, while another foodservice operator – Henderson Foodservice – was voted the Employer of the Year after a new employee programme that dramatically cut staff turnover and significantly improved sales growth.
On the international trade side Ramsden International won Exporter of the Year.
Among the Big Four, Tesco also won the award for Britain's Favourite Supermarket, the only award voted for by consumers. And in The Grocer 33 Awards Asda won the Price award for the 21st consecutive year, while Sainsbury's picked up both the Service and Availability awards, for the sixth consecutive year.
But with Aldi winning the Grocer of the Year award for the fourth time in six years, it was a reminder that it is disrupters and innovators that are driving the market, creating the conditions in which others will either sink or swim.
The winners
Click the award to read more
Brand of the Year - Anchor, Arla Foods
Business Initiative of the Year - Women in Wholesale
Consumer Initiative of the Year - #WhiskySanta, Master of Malt
Drinks Brand of the Year - Budweiser, AB InBev
Employer of the Year - Henderson Foodservice
UK Entrepreneur of the Year - Martin Thatcher, Thatcher's Cider Company
Exporter of the Year - Ramsden International
Green Initiative of the Year - Project Closed Loop, The Co-op
Independent Retail Chain of the Year - Eros Retail / Greens
Logistics Supplier of the Year - Fowler Welch
Online Supermarket of the Year - Ocado
Own Label Range of the Year - Luxury, Iceland Foods
SME Brand of the Year - Lily's Kitchen
Specialist Online Retailer of the Year - Muscle Food
Symbol/Franchise Convenience Retailer of the Year - Londis
Technology Supplier of the Year - Spoon Guru
The Grocer of the Year - Aldi
Waste Not Want Not Award - East of England Co-Op
Wholesaler of the Year - Bidfood
Britain's Favourite Supermarket - Tesco
Branded Supplier of the Year - AB InBev
Own Label Supplier of the Year - LDH
The Grocer 33 Price Award - Asda
The Grocer 33 Customer Service Award - Sainsbury's
The Grocer 33 Availability Award - Sainsbury's
Store Manager of the Year - Nick Carolan, Tesco Hull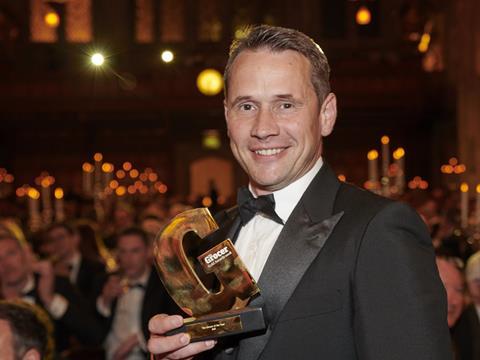 The Grocer of the Year
Aldi
Aldi has reclaimed its crown. Knocking last year's winner Tesco off the top spot, the discounter walked away with the most coveted award of the night as it was named Grocer of the Year, in front of a room packed with its peers, for the fourth time in six years.
Aldi's relentless march on the traditional multiples has continued apace, with double-digit year-on-year growth every year since 2011 and the grocer now accounts for 7% of the market, having overtaken the Co-op in 2017 to become the UK's fifth largest supermarket.
As well as continuing to promise never to be beaten on price, Aldi has stepped up investment in the quality and enjoyment of its shopping experience with its £300m Project Fresh upgrading stores with brand new hi-spec fixtures and fittings, slick new signage and added services such as in-store bakeries as well as extended ranges across fresh, BWS and non-food.
Nearly 350 stores are set to undergo a makeover by the end of 2018, and at those that have undergone the refresh it's making a major difference.
With this substantial investment in its estate Aldi has demonstrated once and for all its "willingness and ability to adapt to the needs of UK shoppers", said our expert judges, formulating an "impressive clarity of offer" as well as a "commitment to do it the right way".
This has included making shopfloor staff the best paid in the industry (while its graduate scheme is consistently named as one of the top schemes in the country) and tackling diversity among senior ranks.
It's also taken major steps to address food waste. From a standing start in 2012 it has now redistributed 1,157 tonnes of surplus food. In 2016 it became one of the first signatories to Courtauld 2025 and in 2018 committed to halving waste by 2030. It has also supported The Grocer's own Waste Not Want campaign.
While it's best known for its lean business model, the application of Aldi's three core values of 'consistency, simplicity and responsibility' are clearly thought through with rigour, whether on pricing, ranging, sourcing, packaging or marketing.
Aldi has also continued to receive plaudits for its dealings with suppliers. In 2017 it topped the league table for its fair treatment of partners across the supply chain in the annual Groceries Code Adjudicator survey for a fourth straight year.
Its attention to product quality also continues to shine through, with Aldi scooping 35 gongs at the Grocer Own Label Awards, including 14 innovation awards - more than any other retailer.
The results are plain to see. In 2017 sales were up 13.5% (versus 12% in 2015) and while big four rivals and their analyst friends point to a drop in profits, it's the result of its rapid investment in its store estate, and a sign of its long-term commitment to this market. Indeed, it's abandoned its target of 1,000 stores by 2022, in favour of a longer term ambition to open multiple stores in UK cities.
As a further sign of its management strength, succession planning following the promotion of CEO Matthew Barnes (with Giles Hurley stepping up) and the retirement of Tony Baines looks to have gone without a hitch.
The discounter has achieved "market-beating growth in a tough market, a strong indicator of success", added judges, with "compelling evidence" across "all manner of metrics".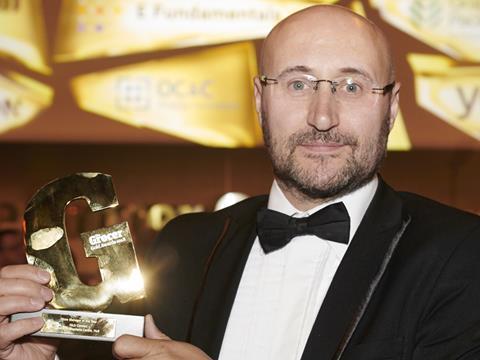 Store Manager of the Year
Nick Carolan, Tesco St Stephen's, Hull
Winner Nick Carolan has faced no shortage of competition at his 110,000 sq ft Tesco store in Hull, which has no fewer than 27 Sainsbury's stores. But the effervescent store manager has embraced the challenge. An exceptional performance over four years has seen him meet targets across 94% of Tesco's core metrics and achieve positive sales growth at the store after six years in decline, including a record-breaking Christmas that saw staff handle no less than 107,000 transactions in a week.
He's achieved that by championing changes to the car park system and overhauling the store layout to look bigger and brighter. But perhaps most important has been his work connecting with both his 400-strong team and the wider Hull community.
As well as national schemes like Community Food Connection, Carolan and his team host lunches in store for local charities, fundraise for the likes of Hull for Heroes and the Hull Homeless Community Project, and sponsor the Hull Food Nights that featured on the City of Culture schedule in 2017.
Not only that but a creative Carolan has successfully tackled shoplifting in the city centre store by inviting local police officers in to use the store as a base for meetings and mealtimes.
An overwhelming number of his staff now recommend it to their friends and family as a great place to shop while the proportion of consumers that feel it has successfully embedded within the community has tripled.
Passionate, energetic and innovative, Carolan is an exemplary store manager and hugely deserving winner of the Store Manager of the Year Award 2018.
The five store managers were nominated by their respective supermarkets from winners of the Grocer 33 Store of the Week competition. They each made a 10-minute presentation on why they should win, before being grilled for a further 10 minutes by a distinguished panel of judges comprising: Andy Cresswell, managing director, MRH; Steven Esom, chairman, Product Chain; Ronny Gottschlich, CEO and founder of Heunadel Retail Advisory; Lorraine Hendle, managing director retail and manufacturing, William Reed; Adam Leyland, editor of The Grocer; and Tim Mason, CEO at Eagle Eye.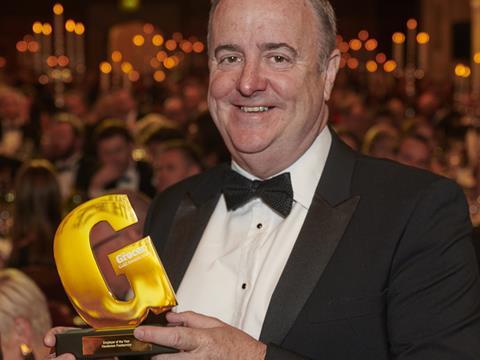 Employer of the Year
Henderson Foodservice
In 2015, voluntary staff turnover was as high as 33% at this Northern Ireland wholesaler, with sales churn a particular concern, due to the cost but also the constant dilution of knowledge and sales. So Henderson Foodservice undertook research to understand why turnover was so high, and has made a number of changes to tackle this.
That's included defining its core values, holding briefing sessions with employees three times a year, conducting annual employee engagement surveys (and then sharing the results and agreeing department action plans), introducing Pride Awards (handed out on a monthly basis), and enhancing its year-round programme of activities under its 'Well Aware' health and wellbeing programme.
Training has also been enhanced, with a leadership development programme devised in partnership with Queen's University Belfast. And a new Xsellerator training course resulted in all members of the sales team increasing sales.
There's also been considerable investment to plug skills gaps across the business, including seven new roles in areas such as meat, telesales, marketing and commercial analysis.
In 2017 Henderson also celebrated its 50th anniversary with an annual conference and gala ball for employees, customers and suppliers, presenting annual Pride awards.
The results have been "impressive" said our judges. "Simple and effective measures have made a real difference", with voluntary staff turnover falling to 7.7%, employee engagement up, and improvements in sales and the number of job applicants.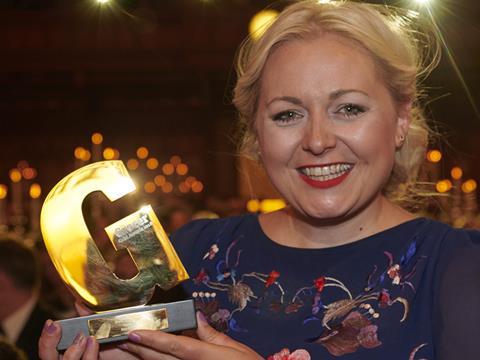 Brand of the Year
Anchor, Arla Foods
In the hard-fought butters and spreads market, where differentiation is tough to create, Arla Foods has achieved the "reinvention and reconnection of a great brand" our judges agreed.
Anchor's success was founded on "creating engagement with customers via brand story" allowing it to take a leading role in the current resurgence of block butter sales and riding its first sales uplift in years.
It marks quite the turn of fortunes compared with 2016, when Anchor's value sales declined ahead of the category. The brand's 'Everyday Richness' positioning wasn't working. It failed to communicate its central theme of rich taste, while overlooking the emerging trend of British provenance.
The answer was 'Real Life Dairy for Real Family Life', a message that "communicated provenance and targeted one of the core needs of consumers: local, sustainable, quality food".
New-look Anchor packaging hit chillers in July 2017, bearing bolder colours, a revised logo, and a Union flag to emphasise the brand's championing of British dairy. Backed by a £4.5m spend, it emphasised the brand's simplicity and featured the return of the Huggables characters.
"Reinvigorating a category and a heritage brand with modern relevance" led to significant commercial success, our judges said. Anchor surpassed its £100m turnover target by £7m, growing its market share from 8% to 10%.
The 132-year-old brand's butters and spreads ended 2017 in strong growth in both value and volume, having had "the courage to take this heritage brand back to its roots and make it famous again", said our judges.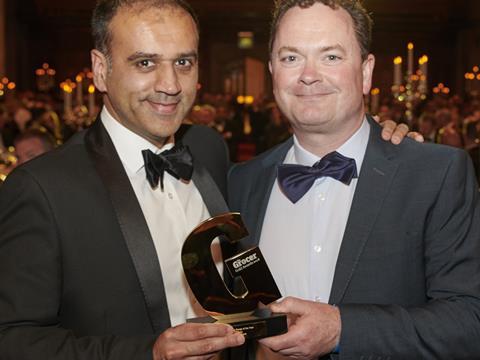 Own Label Range of the Year
Luxury, Iceland Foods
Iceland's Luxury frozen range was expanded from 72 to 129 products last year to widen choice in areas like ready meals and pizzas.
Our expert judges applauded Iceland's "well executed" and often highly original NPD (one product was voted 'Innovative Product of the Year' at The Grocer Own Label Awards and another won the 'Champion of Champions' award).
Backed by its 'Power of Frozen' ads, the range increased category sales but also helped improve Iceland's image, attracting new, affluent shoppers. Crucially the NPD delivered in Q4 for maximum sales impact, turning Iceland into one of the fastest growing supermarkets last year.
"Attracting premium spend is impressive given their core, historical proposition and market perception," said the judges. "It's a quality range that's broadened Iceland's appeal and extended choice in the marketplace."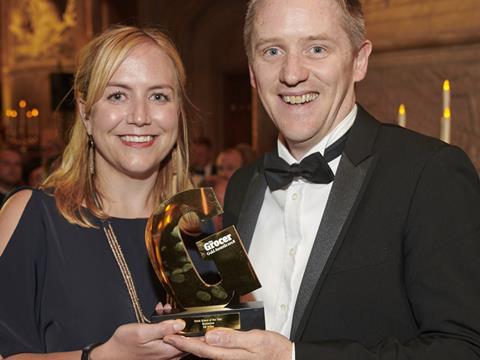 Drinks Brand of the Year
Budweiser, AB InBev
Budweiser's win in this category is no small deal: it's seen off competition from massive names in fmcg such as Coca-Cola, Fanta and Gordon's. But it's well deserved, considering the phenomenal growth the AB InBev brand's had over the last year.
It's delivered this with a relentless focus on big-ticket events, like its partnership with the FA Cup, a barrage of sleek multichannel marketing, and great customer service (AB InBev was also voted Supplier of the Year). It also tapped the low/no-alcohol trend with the launch of Budweiser Prohibition, a new 0% abv brew, which hit shelves in November.
Our expert judges commended Bud for an "outstanding job", and thought it was impressive how AB InBev grew sales so much "in a static category". It was "a great example of a big brand in a tough market, prepared to take risks to make its own luck", they added, loving new launch Prohibition's "brand execution and bravery".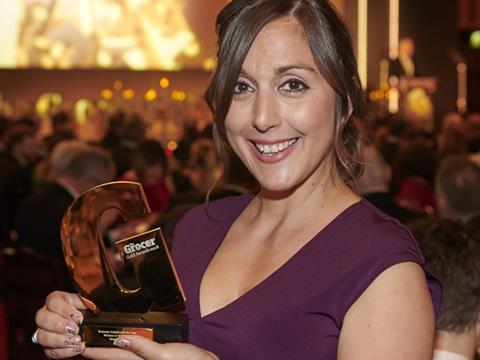 Business Initiative of the Year
Women in Wholesale
Never has there been more awareness of the urgent need to improve diversity among British businesses. And launched in 2016, ahead of the first tranche of gender pay gap data, Women in Wholesale was well and truly ahead of the curve - an initiative to tackle head on the low numbers of women in the senior ranks of the wholesale sector.
Curating a series of conferences designed to empower women (and their male colleagues) and to illustrate the power of a more diverse leadership team, the initiative saw its first event sell out three months in advance. Revealing data collated for its 2017 Women in Wholesale report saw major businesses reassess gender diversity, while its mentoring scheme and speed networking events are already reaping results. Our judges felt this initiative was simply "inspiring" and a "real first for the sector", coming at the opportune time to make a material difference.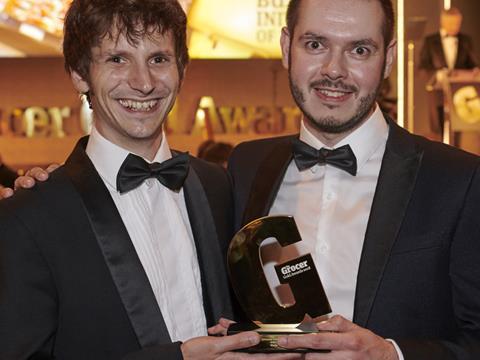 Consumer Initiative of the Year
#WhiskySanta, Master of Malt
Achieving customer engagement many huge brands would kill for, online spirits retailer Master of Malt delivered a "simply brilliant" initiative with its #WhiskySanta Christmas campaign in 2017.
Seen across a staggering 70 million Twitter feeds, it was "simple but exceptionally executed", asking customers to post wishes across social media requesting any 'delicious item' sold by the retailer, with wishes granted (at random) to the lucky winners.
In total, £150k worth of the finest spirits was handed out via social media and at the Master of Malt checkout, including a bottle of Glenmorangie Grand Vintage signed by whisky guru Dr Bill Lumsden, successfully generating huge excitement across its social media channels and millions of organic brand mentions. Shoppers on site also found surprise gifts added to baskets too, from boozy crackers to £1,000 in gift vouchers. In its third year, the latest iteration was so successful it delivered the brand's most profitable Christmas period ever, with order numbers up 104% year on year and nearly 70,000 unique tweets. In peak periods that reached around 40 tweets for the brand per minute, entirely eclipsing the engagement efforts of some of its biggest competitors.
"This campaign was an ingenious example of how to be truly innovative in marketing," said our expert judges. They proved themselves "better than anyone else at reaching consumers and yet the initiative was so simple."
Keen to repeat its huge success, the brand is now looking at how to evolve the offer and keep up momentum for 2018 - to deliver another very merry Christmas.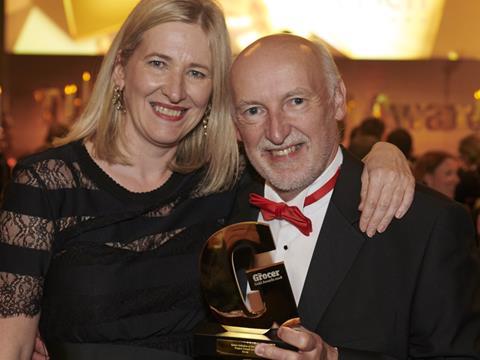 Green Initiative of the Year
Project Closed Loop, The Co-op
Among a raft of internal initiatives have been a commitment to ditch black plastic by 2020, trialling biodegradable teabags and simplified plastic trays - and it was the first retailer to sign up to the Plastic Industry Recycling Action Plan to help improve collection rates. All of this "shows the Co-op was leading the sector" in sustainable packaging and recycling, said our judges, making it "a worthy winner".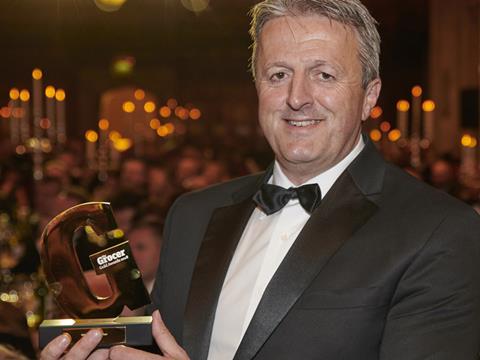 Wholesaler of the Year
Bidfood
From extended telesales opening times and Sunday deliveries to a new e-commerce site, the expansion of the chef team and establishing three new hospitality hubs, foodservice giant Bidfood has undergone wholesale change this past year.
Half way through a five-year plan, the aim is to turn Bidfood from a "complex, rigid, procrastinating, inconsistent, outdated and complacent" operation into a "dynamic, visionary, dependable, passionate, aligned, flexible, streamlined, professional, driven" operator (and to double profits in the process).
In doing so, it's ditched a number of large, unprofitable contracts (which helped profits increase 20%). And in eschewing the trend towards centralisation (investing instead in a wider regional depot network), it was notable that earlier this year KFC returned with its tail between its legs after the logistical meltdown that followed its switch to DHL.
As well as restructuring its sales and operations to be closer to its customers, it's simplified its price list, added 1,700 new products (including more vegan and world foods options and an overall focus on managing inflation), and successfully launched four new specialist ranges (or rolled them out nationwide) across wine, fresh meat, ice cream and coffee.
It also provided full supply-chain traceability on 3,000 British products for the first time and hosted a second plate2planet conference.
Bidfood has also successfully in-sourced IT contracts. In total 60 projects were delivered on time and on budget, reducing costs by 50%, and resulting in a 952% increase in sales on BidFood Direct, its new e-commerce site which includes live pricing and real-time stock information.
Another initiative has been the introduction of depot-wide smart-vehicle tracking technology to help customer service teams keep track of deliveries.
Training has also been key. It's established a 'Care, Share and Dare' culture through workshops and other initiatives, including its Dragon's Den-style contest to encourage recommendations for business change, which has received more than 500 responses. The result has been improved employee engagement.
And perhaps most important, judges applauded its "strong and improving" customer satisfaction rating in the 2017 Advantage Report, where it was once again ranked first but with an improved score.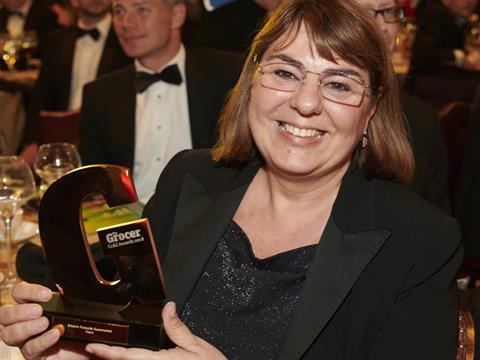 Britain's Favourite Supermarket
Tesco
If Dave Lewis was worried, amid the drama of the £3.7bn Booker takeover, that Tesco would take its eye off the ball and stop delivering its core shopper mission, he needn't have been. Tesco has scooped the award for Britain's Favourite Supermarket for the fourth year in a row - "a strong indication of how good the shopper engagement is now that Tesco is firing again on all cylinders," according to Nielsen head of retailer and business insight Mike Watkins.
The only award voted for by consumers, Britain's Favourite Supermarket is chosen via an online survey sent by Nielsen to its 6,400-strong panel of statistically weighted UK households based on 10 key factors.
Tesco came top across no less than six of those metrics, voted as the leading supermarket when it came to good product availability, a wide choice of products, promotions and offers, good customer service, good overall experience and providing convenient ways to shop.
The supermarket giant also came top in half of the eight sector categories, selected as the best place to shop for beers wines and spirits, health and beauty items and non-grocery products, as well as being the favourite destination for vegan, vegetarian and free-from products.
"Retailers perceived by shoppers to meet the widest needs and who are seen as improving across most of the different attributes are once again, ranked most highly," says Watkins. "This is a reflection of how demanding shoppers are in UK and is a reminder that supermarkets now need to keep reinventing, and not stand still (which some have done in food and drink).
"If there is one thing I would point to about Tesco's performance, it's how consistently well they do on the overall shopping experience," Watkins adds. "We have a pretty promiscuous shopper base in the UK and all the major supermarkets are having to work really hard to address that. But Tesco has been doing the right things for its customers despite those challenges to the big four.
"Yes, they have lost some market share, but that is inevitable given the rise of companies like Aldi and Lidl. But Tesco has very strong brand equity and has more shoppers than it did in 2016; they get more visits and people are spending more money in store."
There was some good news for discounter Aldi though, which came top when consumers were asked to vote on who does the best job on price, which was judged to be the most important factor for customers.
It was also judged the most improved retailer over the course of the past 12 months and, as well as holding onto the top slot for fruit & veg, made significant strides in the BWS category, where it entered the top three, behind Tesco and Asda, for the first time, on the back of new merchandising, layout and its new location in store, another move shoppers have recognised.
"Price is still the most important factor," says Watkins. "But overall shopping experience, promotions and offers, and providing convenient ways to shop have become more important.
"Project Fresh has clearly made an impact, relative to what many of the supermarkets have done - it's a step change," he adds.
But when it comes to finding favour with shoppers across the broadest range of metrics, Tesco has proved once again it still leads the way.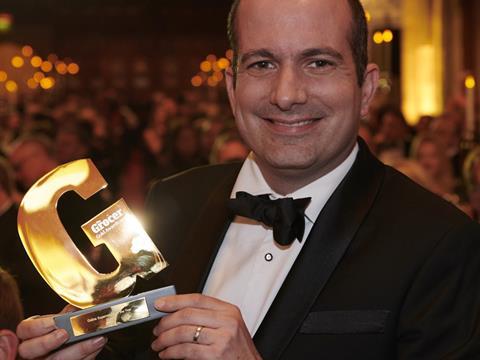 Online Supermarket of the Year
Ocado
It takes ground-breaking innovation to stay ahead in the rapidly evolving online grocery market, and Ocado has proved yet again its technology is delivering.
In 2017 it became the first retailer to develop an Amazon Alexa skill for voice shopping, a channel tipped by experts as holding huge growth potential for grocery. It also expanded its next-generation Andover fulfilment centre, fulfilling more orders and creating 200 new jobs, with plans to open a second in Kent this year. Deliveries became more efficient too, with each van dispatching 182 orders per week, up from 176.
Using search data, Ocado predicted and developed ranges to meet demand, including vegan and free-from, and to suggest the next products most likely to be on a shopping list, saving consumers time and effort.
It introduced Shelf View, showing products online as they would appear on a shelf in store, with images correctly sized in relation to the surrounding items.
It formed new partnerships to introduce premium ranges from Hotel Chocolat, Harvey Nichols and French brand Picard, and showed commitment to supporting smaller business, with SMEs making up 70% of its supplier base. And it achieved results, increasing sales by 12.7% to £1.43bn and weekly orders by 14.3% to 263,000 on average, at a time when overall online grocery growth is slowing.
But perhaps the biggest landmark of Ocado's year will be the licensing deals with overseas retailers, taking its advanced online grocery delivery technology beyond the UK. It signed Sobeys in November, with Casino and Kroger swiftly following.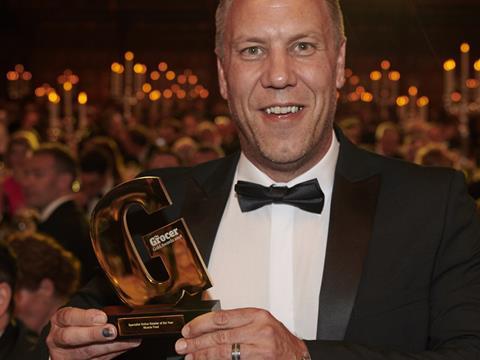 Specialist Online Retailer of the Year
Muscle Food
In the four short years since it launched, Muscle Food has surpassed £100m in turnover and now sells an impressive 53,000 products a day on average.
It's achieved this by deepening its understanding of customers and introducing brilliant new ideas like 'Do The Unthinkable', a subscription-based service giving consumers everything they need to get fit and lead a healthier lifestyle. Products are now sortable based on protein, fat, sugar and carbohydrate content.
It topped these innovations in 2017, though, with its Easy Cook meal kit ranges, including 10-minute curries, four-minute soups and 12-minute stir-fry kits, as well as winning listings in retailers including Sainsbury's, Morrisons, Co-op, Spar, Poundland and the Musgrave Group. Such growth is "very impressive," said our judges, and has meant the business has scaled beyond its original body builder base."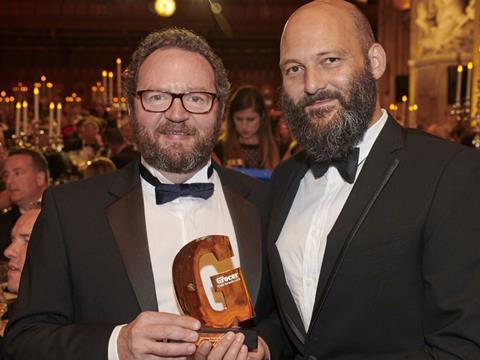 Technology Supplier of the Year
Spoon Guru
"Why has this never been done before?" This was how our judges reacted to the "incredibly useful" technology created by winner Spoon Guru to respond to the diverse set of dietary needs and restrictions with which modern retailers must grapple.
Its unique food classification platform is capable of processing more than 2.5 million statements, 64 million tags and 16.3 million words on a daily basis, and allowing shoppers to quickly and easily track down foods that fit into their diet, be it gluten-free, vegan or an allergy to nuts. Its partnership with Tesco, announced in 2017, has provided the multiple with valuable differentiation online with a concrete impact on KPIs already. "This is a highly useful tool that taps into a very current challenge for retailers and offers a drastic and demonstrable improvement on the limits of some of the search engines they retailers rely on at the moment. An excellent idea."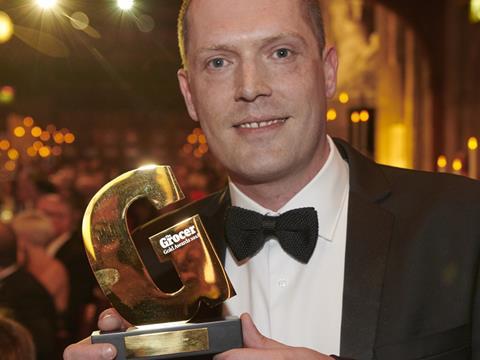 Logistics Supplier of the Year
Fowler Welch
When Dairy Crest sold off its liquid milk business to Müller in 2014, the future of its state-of-the-art Nuneaton national distribution centre, capable of handling double the capacity it now needed, was unsure.
Thankfully logistics expert Fowler Welch leveraged its long history of collaboration to come up with a solution that our judges described as "creative" and a "genuine win-win for all involved".
And so it was that when Müller finally exited the site in August 2017, reducing throughput volumes by 26%, Fowler Welch seamlessly secured it (and the 104 Dairy Crest jobs within it) by attracting brand new suppliers, including Quorn and Winterbotham Darby, and all while providing its own operations with a strategic base in the Midlands, too. It was a strategy that had "a significant positive impact" on both companies and their staff and applied "innovative thinking" to avoid a crisis.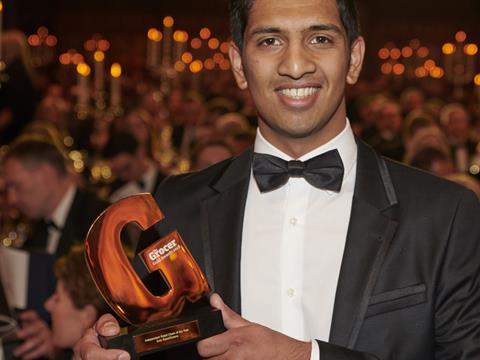 Independent Retail Chain of the Year
Eros Retail / Greens
Fast-growing Eros Retail has been delivering on all fronts while sticking to its core principles of supporting local suppliers and communities.
The seven-strong c-store chain, run by Harris Aslam and Raza Rehman, is planning to add a further five stores in the current financial year, having grown turnover by 110% with profits up 13% last year.
The judges were impressed by the Scottish chain's "effective use of local concessions" and the way it has been "pushing fresh food and local supplier engagement to drive growth".
Eros successfully rolled out a local bakery concession to all stores last year and also developed an in-house fresh meat range.
On top of this, the retailer has fully embraced the SGF's Healthy Living Programme, to hold various healthy eating events both in store and in local primary schools.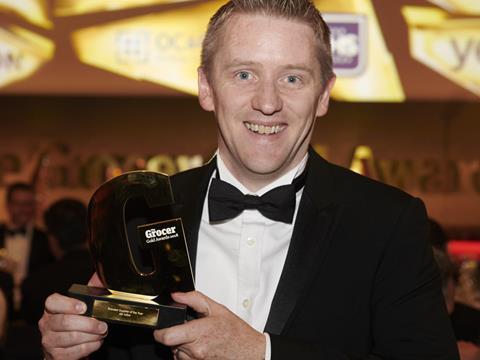 Branded Supplier of the Year
AB InBev
Brewer AB InBev emerged victorious in the contest for best branded supplier thanks to a combination of fantastic NPD, strong growth and superb customer service.
Praised by retail buyers for being "fully supportive and available when needed" as well as "consistently thinking of new and innovative means to drive sales" in their business and effectively promote a wide portfolio of brands, the global player took top spot in the alcoholic drinks category in the first round of judging.
But securing the support and appreciation of category buyers is one thing. In our second round, AB InBev was considered by a select group of commercial directors from leading supermarkets, wholesalers and symbol groups alongside 11 other category champions, including the likes of Unilever, Arla and P&G.
It was a close call too, one that saw our expert judges score suppliers across category management skills, consumer insight, production quality and technical knowhow. AB InBev emerged triumphant though, garnering praise from some of the most powerful operators in the industry.
The company "engaged in all our touchpoints and helped bring our business to life" around major sporting events, said one of our judges. "AB InBev have been a great partner to our business over the past 12 months, working with us on testing innovation and helping us improve our online content," said another.
And for a third, the supplier was a deserving winner for "achieving the highest growth in the premium category" and for its "dedicated national account manager".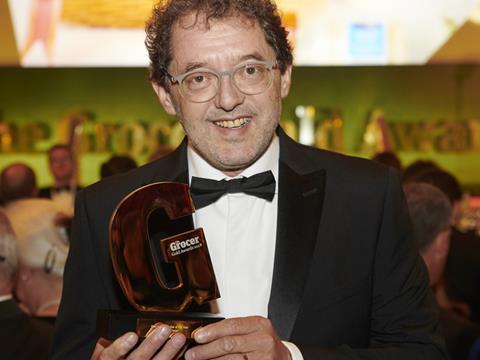 Own Label Supplier of the Year
LDH (La Doria)
There was high praise right from the outset for ambient food supplier LDH (La Doria) with supermarket buyers lauding the company's "inclusive, transparent and genuine" culture and its philosophy of the "customer comes first" in the first round of judging.
Having made it through to the finals on many occasions, this was the first overall victory for the Cambridgeshire-based business, beating 11 other category champions in the process. In the second round of judging, leading commercial directors said the supplier was "focused, quick to respond" and willing to "take complete ownership of the projects in question" - all qualities that are top priorities for retailers operating in an increasingly pressured climate.
"A great example of a 'customer intimate' business, it knows its customers well and will do anything for them," added another very happy customer.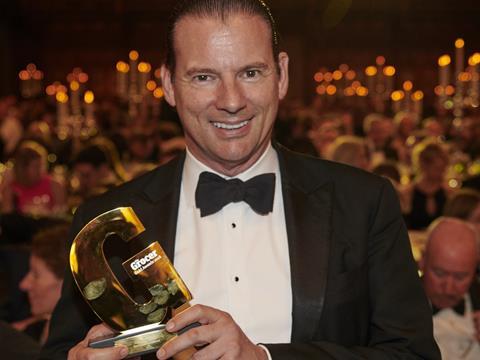 Exporter of the Year
Ramsden International
The launch of its own label Kingsbury brand swung it for Ramsden International, with our judges hugely impressed the feat was pulled off against the backdrop of Brexit uncertainty.
A specialist exporter, with 23,000 products sold in 133 countries, the wholesaler took the "bold" decision to leverage its British values further through its own brand.
With 100 products to be launched this year across the biscuits, confectionery, crisps and snacks categories, the range is sold exclusively by Ramsden (preventing competition on price) and designed for 'ease of import' with multi-language translations on packs and international compliance built in. Ramsden has already fulfilled orders in 10 countries and is targeting sales of £2m in three years.
The "slick operation" used "entrepreneurial flair, backed by innovative processes, to drive performance", said judges.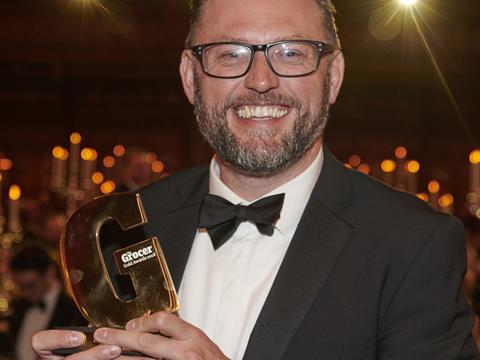 Symbol/Franchise Convenience Retailer of the Year
Londis
The turnaround since Booker took over Londis in 2015 ago continues to impress, with judges calling it a "clear winner" in this year's competition.
"Standards across the estate have improved significantly," and the numbers don't lie: after growing sales 30% in 2016, non-tobacco sales rose 18.9%, with like-for-likes up just shy of 5%, as the 2,000-strong symbol group added over 250 stores to the estate, attracting more than 100 of these from other symbol groups, while losing just six stores, showing Londis is not just an attractive proposition for prospective new members but that existing Londis retailers are happy where they are.
One reason for the improvement is lower prices, but range improvements have also been key: last year Londis introduced Discover the Choice, a 130-strong chilled ready meals range, ramped up its food-to-go offer, and ploughed into free-from.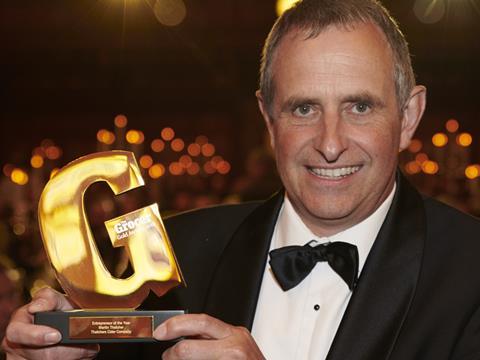 UK Entrepreneur of the Year
Martin Thatcher, Thatcher's Cider Company
When fourth generation cidermaker Martin Thatcher took over as MD in 1992 he set out a vision to grow the family-owned Somerset firm - without compromising on its quality, heritage and expertise.
An "outstanding performance" in one of the biggest branded categories has seen Thatcher outstrip the market, with sales up 38.9% this past year, compared with 5.2% for the category, under Martin's "entrepreneurial flame", as he's driven "innovation and risk" and set a target to be sustainably trading 100 million litres by 2021.
Technological investment and a focus on quality has helped fuel increased distribution among the mults, despite 'flavour fatigue' in the cider sector.
"In family businesses, previous generations can cast a long shadow. Martin has put himself in the spotlight and driven a renewal of the business to release its potential," said one judge.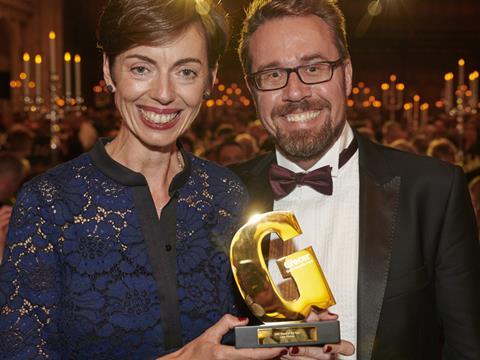 SME Brand of the Year
Lily's Kitchen
Lily's Kitchen, the fastest growing petfood company in 2016-2017, shows no signs of slowing down.
On the listings front, it's gone into Sainsbury's and Morrisons, and increased penetration by 5%. On the marketing side, its largest ever campaign ('It's not loopy, it's love') was its biggest ever (£1.5m), and the engagement for #itsnotloopy confessions via social media was "fantastic".
The judges also praised Lily's Kitchen for its "insightful innovation" this year: ranging from a new 14-strong line of dogfood tins aimed at increasing ease of access to the brand (each costing 99p) and six new recipes, among them Great British Breakfast. This is a brand that is "taking on the 'big boys' and forcing them to change," as the ethos of health and fresh ingredients in pet food continues to spread across the wider market. It also published an agenda-setting sustainability report: 'Paw Prints for Progress'.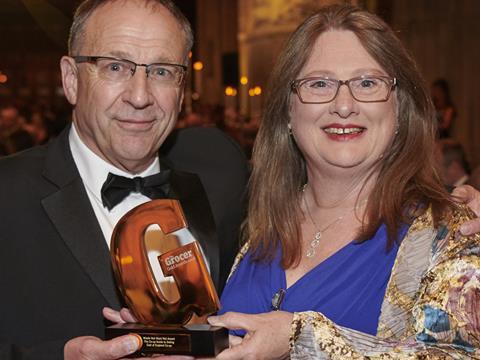 Waste Not Want Not Award
East of England Co-op - The Co-op Guide to Dating
"Truly pioneering" is how one of our judges summed up East of England Co-op's decision to become the first major UK retailer to sell food beyond its best before date. Its Guide to Dating initiative ('Don't be a binner, have it for dinner'), rolled out nationwide in December, saw ambient packets, jars and cans sold for a nominal sum of 10p after their best before dates had expired. It's an entirely safe and legal move but one which more powerful retailers have been too scared to consider.
Yet so popular has the scheme proved with shoppers the cooperative expects to save at least 100,000 products from waste in the first 12 months alone, worth about £3,000 per week.
First revealed by The Grocer, it's also generated huge amounts of positive publicity for the regional co-op. It was reported across every major news outlet in the UK and across international publications as far reaching as the US and Australia.
More recently it's added fresh fruit & veg, bread and cake to the scheme, and is now predicted to save two million tonnes of food waste a year.
And crucially it has sent ripples through industry, putting pressure on the multiples to rethink their own policies, with Tesco announcing last month it would axe best before dates entirely across certain fresh fruit & vegetables. "A bold initiative that could act as a tipping point for more commonsense approaches to date labels," said one judge. "A piece of action leadership that is for others to follow, and follow they will," another predicted.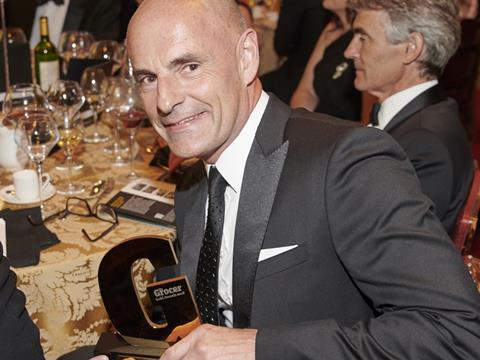 The Grocer 33 Price Award
Asda
At the end of the last Grocer 33 pricing year and for a good chunk of this one, there was strong evidence to suggest Asda's two-decade-long reign as winner of The Grocer 33 Price Award could be under threat, with Tesco and Morrisons in a tight battle with Asda until the end of September. Asda had a slender lead with five weekly pricing wins versus four for Morrisons and three for Tesco.
However, from that final quarter, Asda never looked back as it racked up 12 weekly wins on the spin from 7 October, interrupted only by a win for discounter Aldi. That run of form continued, with Morrisons and Tesco scoring just one further victory each across the rest of the year.
The gap was borne of US-owner Walmart's strategic u-turn in 2016, moving away from its policy of protecting its £1bn profits at all costs and actually to start delivering on its low price proposition in a bid to narrow the gap to Aldi and Lidl.
With the big four retailers all making further pricing moves, the purple patch of wins represented a real statement of intent and helped Asda deliver its most successful Christmas for years in terms of sales.
Asda's dominance continued in 2018 with newly promoted CEO Roger Burnley at the helm. It finished the Grocer 33 year with 32 victories from 50 weeks. Morrisons managed five wins, Tesco four, while Sainsbury's grabbed two wins late in the year (just as its proposed merger with Asda was announced).
Aldi and Lidl claimed convincing wins as guest retailers - three wins a piece. Iceland was victorious in just one of its three guest slots, another sign of Asda's resolve.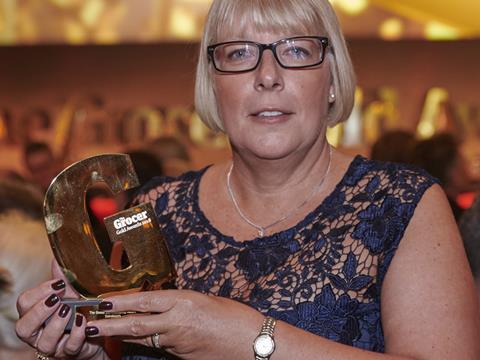 The Grocer 33 Availability Award
Sainsbury's
With 33 full baskets and availability of 97.4%, Sainsbury's has won this award for the sixth year on the trot. But in a process of continuous improvement it rolled out top stocking last autumn on the back of a 2016 trial.
This new approach, in which Sainsbury's has reduced its range but stacked popular lines on the top shelves, for easier replenishment, "means we've got as much stock as possible on our shelves to give moments of certainty to customers," explains retail director Simon Roberts, and ensured Sainsbury's was "really well prepared for the peak Christmas trading period".
It's not the only initiative though. "Online and convenience shopping are growing faster than ever, so having good availability in those areas has been critical.
"The whole organisation needs to be really joined up. We're obsessive about maximising availability and reducing waste," Roberts adds.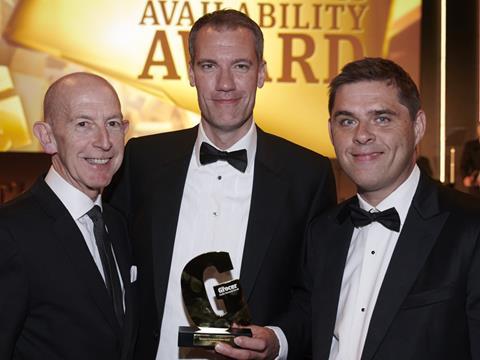 The Grocer 33 Customer Service Award
Sainsbury's
A new stripped-down store management structure has been put in place at Sainsbury's this very week, so it will be interesting to see what happens to Sainsbury's exemplary customer service.
Its sixth consecutive win was based on winning 19 weeks in this year's Grocer 33 year - seven more than nearest rival Tesco. And a lot of work has been done to improve customer service still further, including the introduction of SmartShop to 67 stores, and top stocking to improve availability and increase efficiency.
With colleagues "well aware of the challenges Sainsbury's and the retail industry as a whole is facing," retail director Simon Roberts believes Sainsbury's has to get "even better" at customer service. From September, it will "reward employees for their hard work by becoming the market-leading supermarket in terms of pay, investing £110m", with a base pay rate of £9.20, and £9.80 in London.
Thank you to our sponsors