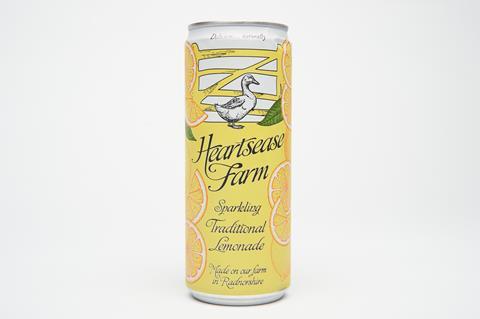 Winner: Heartsease Farm Sparkling Traditional Lemonade
With a brand story beautifully integrated into the on-pack design and a nostalgic feel that plays perfectly to consumer interest in more traditional products and formats, this lemonade from Heartsease ticked all the right boxes with out judges. Made using sun-mellowed Sicilian lemons and Radnorshire spring water, the product launched in December 2020 targets a thirst for high quality adult soft drinks, made using natural flavour profiles, and delivers light bubbles with just the right level of sweetness. A great no-nonsense soft drink that does exactly what it says on the can, and then some.
Judges thought this high-quality lemonade from Heartsease Farm delivered with aplomb. They called it a quality, no-nonsense lemonade which does not disappoint on taste, and lauded its lovely, premium branding and clear messaging.
Highly commended: Ribena Sparkling Blackcurrant
Finalists:
Aqua Libra Sparkling Water infused with Raspberry & Blackcurrant
Belvoir Farm Non-Alcoholic Passionfruit Martini
Caleño Dark & Spicy Tropical Non-Alcoholic Spirit
Coca-Cola Zero Sugar Zero Caffeine
Lo Bros Organic Kombucha Peach & Ginger
Vimto Real Fruit Squash - Blackberry, Raspberry & Blueberry
With thanks to our sponsors