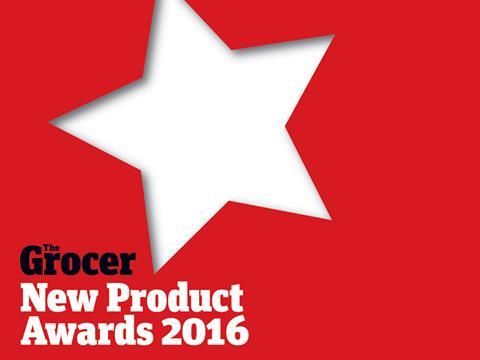 Every year the bar is raised. And every year fmcg delivers. In 2016 over 200 entries across 32 categories battled it out to be crowned a winner this week at London's Marriott Grosvenor Square. So which new products emerged victorious?
Adult drinks
Shloer Celebration Pink Fizz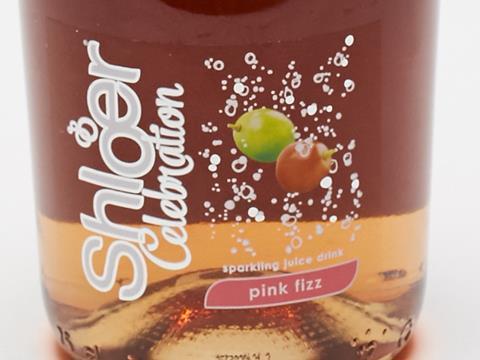 Our expert judging panel said this product was a "playful" take on a Prosecco-style drink (rsp: £2.99/750ml). One in four of the consumers were definite buyers after tasting, with some commenting that it was "ideal for family occasions" and "a nice bottle for a party".
Finalists
Ice & Easy Frozen Alcoholic Drinks Margarita
Lipton Raspberry Ice Tea
Muddle & Mash Passionfruit & Vanilla Pornstar Martini
Fentimans Sparkling Lime and Jasmine
Tango Orange Sugar Free
Zeo Soft Drinks Cloudy Lemon
Ambient Desserts
Joe & Seph's Salted Caramel Sauce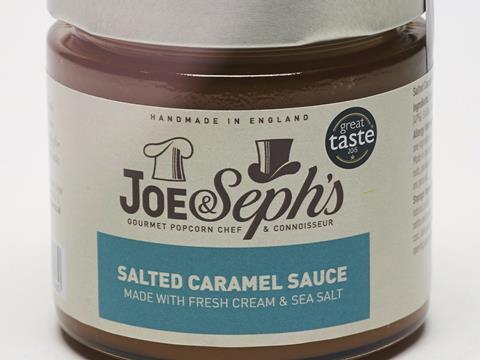 "Heavenly" said our consumer testers when tasting this product. Every bit as indulgent as the packaging suggested, they loved the "creamy" mouthfeel of the caramel, which had a touch of sea salt in it. The judges commented on the quality of the rich product, which features 49% double cream (rsp: £4.99/230ml). Over three in four of consumers rated this product "better than" other brands, with 88% considering it new and different.
Highly Commended
Cadbury Hot Cakes Chocolate
Finalists
Hartley's Fruit in Jelly Pots Peach in Strawberry Jelly
Ambient Ready Meals
Urban Noodle Satay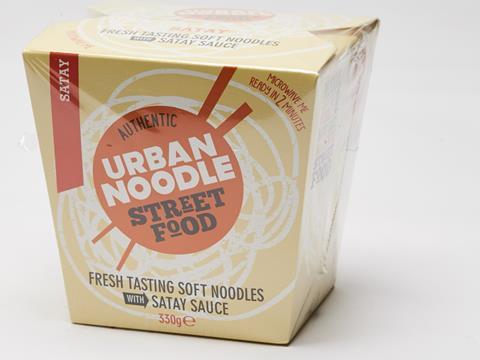 Consumers were impressed with the "authentic" taste these noodles delivered (rsp: £1.99/330g). With the strong taste of peanuts and mild spicy hit in this ready meal, consumers thought it tasted like "scrummy" street food. The "soft" and easy to eat noodles were a popular feature, while the judges thought it would appeal to those seeking quick lunches. The "bright" carton also made the product stand out, with over 40% considering at least a monthly purchase.
Finalists
School of Wok Black Bean Noodle Kit
Santa Maria Pulled Chicken Dinner Kit
School of Wok Pad Thai Noodle Kit
Breakfast Occasions
BelVita Soft Bakes Red Berries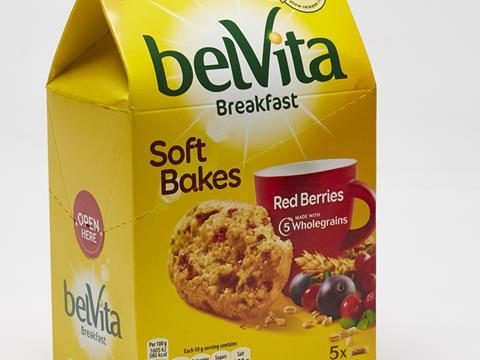 These soft bakes were said to have "excellent softness" and "good flavour" by our judges. Consumers also praised the texture of the biscuit, which had "lots of filling" and lived up to its 'soft bake' name (rsp: £2.79/250g). Half of those who tested the product were keen to recommend it, while one in four said they would definitely buy the biscuit, which was "eyecatching", "not too sweet" and "better than most breakfast cereal bars".
Highly Commended
Warburtons Giant Crumpets
Finalists
Cheerios Cinnamon Oat Crisp
Oomf Golden Syrup 75g Porridge Pot
Cakes & Biscuits
Thorntons Double Chocolate Wafer Rolls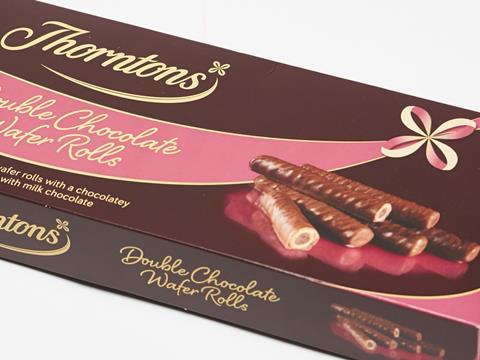 Seven in 10 consumers were keen to try these wafer rolls "a lot" prior to tasting thanks to the packaging and tempting description. The price of £1.50 per 110g encouraged consumers to consider it as a regular purchase. The expert judges thought there was a "great mix of textures" while agreeing on the value for money for this "high quality" product.
Highly Commended
Graze Lemon Drizzle Flapjack
Finalists
Cadbury Amaze Bites Chocolate
McVitie's Digestives Nibbles Milk Chocolate
Coffee
Dualit NX Intense Espresso Coffee Capsules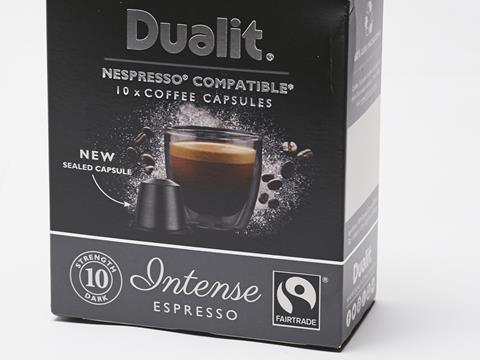 The intensity of flavour prompted some polarisation among the consumer panel, with some considering it "bitter". However 48% said the product was "ideal when entertaining". The expert judges were less divided on taste and thought the product was "surprisingly good" and "better than espresso" (rsp: £2.90/100g). A good selling point for consumers was the capsules' compatibility with Nespresso coffee machines.
Highly Commended
Lavazza Prontissimo Intenso
Finalists
Dualit NX Single Origin Indian Monsoon Coffee Capsules
Coconut Based
Ape Crispy Coconut Curls Lightly Salted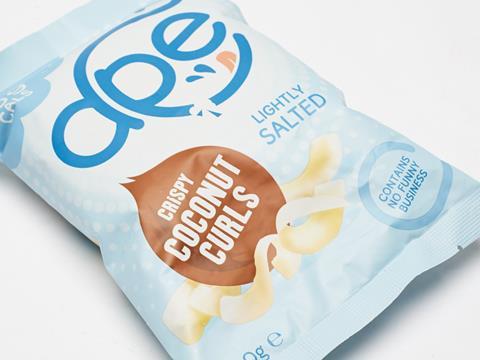 This product "brings new excitement to the maturing coconut trend" according to our experts. The coconut curls (rsp: 99p/20g) were popular with the consumer panel, who liked the low calorie content and the "moreish" saltiness. The product was particularly popular with 18 to 34-year-olds.
Highly Commended
The Groovy Food Company Organic Coconut Flour
Finalists
Blue Elephant Coconut Cream
The Groovy Food Company Organic Cooking Spray with Virgin Coconut Oil
Vita Coco Chocolate
Chocolate
Kinder Joy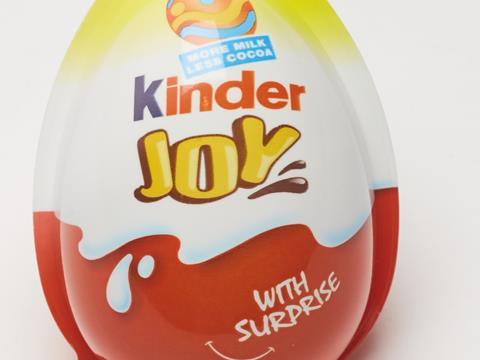 This new line comes in a plastic shell (so the chocolate doesn't melt), and is a real step up from the Kinder egg: rather than a basic shell egg, it splits in two: on one side is creamy white chocolate with crispy balls; on the other side is a novelty toy. The expert judges said it was "very innovative" and a "great way to entertain kids" (rsp: 99p/20g). Some also preferred the taste combo. Eight consumers out of 10 considered it a "lovely idea for a party".
Highly Commended
Cadbury Dairy Milk Medley with Fudge & Biscuit
Finalists
Kinder Sharing Bag Choco-Bons
Chilled Desserts
The Collective Scottish Raspberry Gourmet Yoghurt + Seeds, Nibs 'n' Coconut
This yoghurt's packaging set it apart from other brands, and looked "upmarket" according to consumers. The expert judges thought the flavours presented a "good marriage of health meets indulgence" (rsp: £1.29/147ml).
Highly Commended
Naughty but Rice Salted Caramel
Finalists
Arla Protein - Blueberry
Tims Dairy Bio-Live Greek Style Yogurt with Raspberry
Pots & Co Little Pot of 70% Chocolate
Müllerlight Goodies Lemon
Canned Fish Products
Princes Mackerel Fillets in a Tomato and Roasted Onion Sauce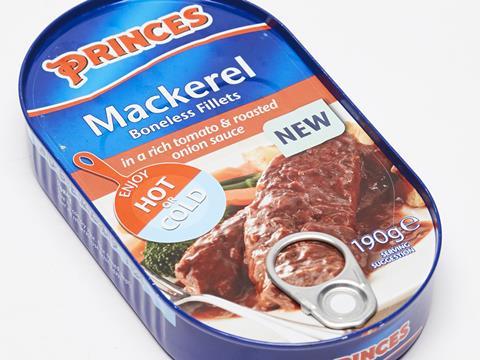 "Would be decent on hot buttered toast" said our judges about this product. They also thought the more classic flavours offered here "can be superior to more faddish flavours". The consumer testers also enjoyed the product, with over one third saying they would buy the mackerel at least fortnightly, with just under 50% considering it to be a good standby or midweek meal solution (rsp: £1.69/190g).
Finalists
Princes Mackerel Fillets in a Hot and Sour Sauce
Princes Mackerel Fillets in a Texas BBQ Sauce
Condiments
Santa Maria Extra Fine Selection BBQ & Grill Mesquite Grinder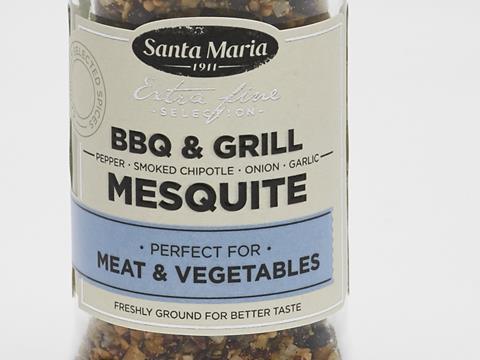 Both our consumer and expert judges thought this spice mix would enhance a range of foods, with 74% of consumers saying they would purchase the product occasionally. Scores were above the category average, with some commenting that it was "very tasty" (rsp: £3.99/85g).
Highly Commended
The English Provender Co Pickled Onion Pickle
Finalists
Eaton's Jamaican Jerk Sauce
Meat Lust BBQ Mop Sauce
Red's True Barbecue Sauce Range
Red's Kansas City BBQ Sauce
Cooking Sauces and Marinades
Oxo Stock Pots: Succulent Chicken with Garlic & Thyme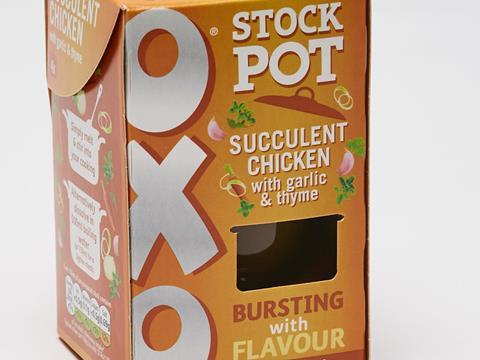 The combination of a great flavour and innovative design meant this stock pot was considered "essential" for the store cupboard by the judges, who said it had a "real taste of meat juices". Consumers called the pack "cute", while some said they preferred it to plain chicken Oxo and Knorr stock products (rsp: £1.45/4x80g).
Highly Commended
Homepride All American Sticky Hickory Smoked Maple Cooking Sauce
Finalists
Blue Elephant Thai Red Curry Cooking Set
Lee Kum Kee Sauce for Spicy Garlic Aubergine
Dairy Based
The Laughing Cow Mini Cravings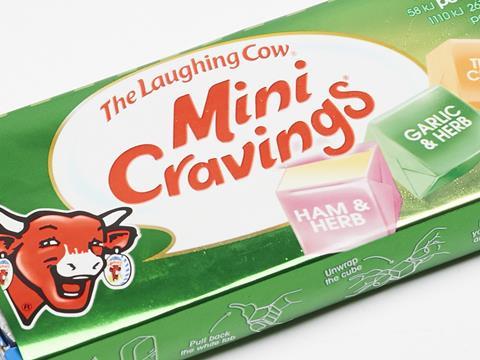 "Little hands would love them" said consumers about this cheese offer from The Laughing Cow. The 24-cube pack contains three different flavours: Ham & Herb, Garlic & Herb and Three Cheese, which consumers thought were great as a lunchbox option. The familiarity of the brand was a key selling point, alongside the "excellent" packaging and "moreish" flavours. Our expert judges said the little cheeses had "good delivery on all levels" and were "inspired" (rsp: £2/125g).
Highly Commended
Arla Best of Both Milk
Finalists
Up & Go Banana & Honey
Free From Biscuits
Prewett's Gorgeously Gluten Free Spiced Ginger & Chocolate Cookie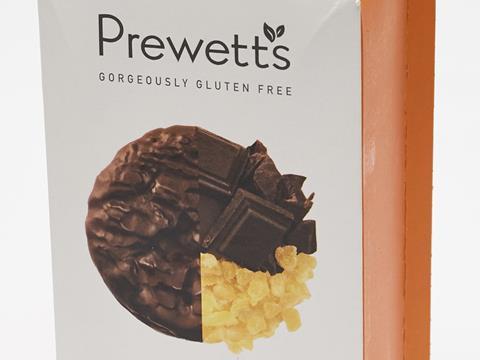 This cookie was expected to become a regular weekend treat for the coeliac consumer panel. The texture was almost as popular as the taste, with over half of consumers "definite" buyers and over 50% saying they would recommend the product, which had identifiable ginger that was "not too strong". The expert judges called this offering "scrummy" with a "strong slap of chocolate" (rsp: £2.25/150g).
Highly Commended
Prewett's Chocoful
Finalists
Mrs Crimble's Choc Macaroon with Stem Ginger
Free From Other
Nutribix Gluten Free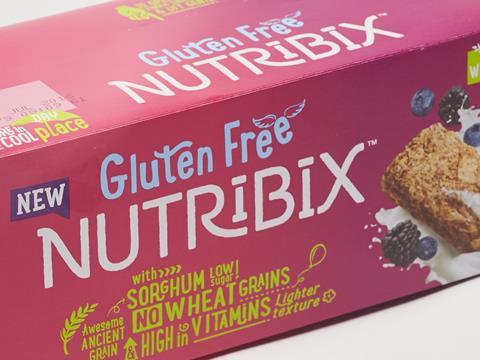 For those following a gluten-free diet, this cereal, which is made with sorghum, was considered a good alternative to Weetabix. Two thirds of consumers rated the product as "good" or "excellent", with 86% believing it offered something new and different to the market and over half saying the "bright" and "bold" packaging would stand out on shelf. The expert judges also thought this cereal should be commended for its low sugar content, which also scored well with consumers (rsp: £3.79/375g).
Finalists
Matthew Walker Gluten Free Chocolate Sponge Pudding
Nestlé Gluten Free Go Free Coco Rice
Free From Savoury
Doves Farm Foods Buckwheat Penne Pasta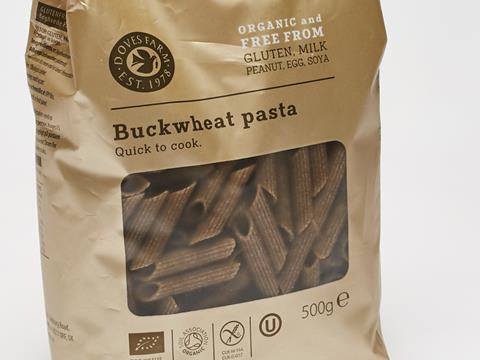 Though buckwheat pasta was a new experience for many consumers, most said it had "good texture" and that it "tastes like real pasta" (rsp: £2.99/500g). Judges agreed, calling this product a "breakthrough in gluten-free pasta".
Highly Commended
Goodfella's Gluten Free Pepperoni, Ham & Mushroom Pizza
Finalists
Mrs Crimble's Cheese Straws
Flora Freedom
Genius Gluten Free Sausage Rolls
Bfree Foods Quinoa and Chia Seed Wrap with Teff and Flax Seeds
Meal Accompaniments
Albert Bartlett Rooster Homestyle Chips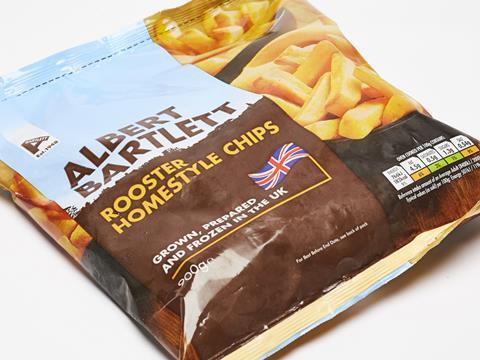 "Great texture" said our expert judging panel of these chips. Seven out of 10 consumers said the chips were better than what's out there and over 90% said they were "good value for money" (rsp: £1.75/900g). Despite not being a new concept, 57% judged this product to be new and different.
Highly Commended
Mash Direct Carrot and Parsnip Fries
Finalists
Aviko Rib Cut Sweet Potato Fries
Heinz 50% Less Sugar Beanz
Jazzy Potatoes
My Skinny Easy Cook Basmati Rice
Infants
For Aisha Babyfood - Chicken & Sweet Potato Curry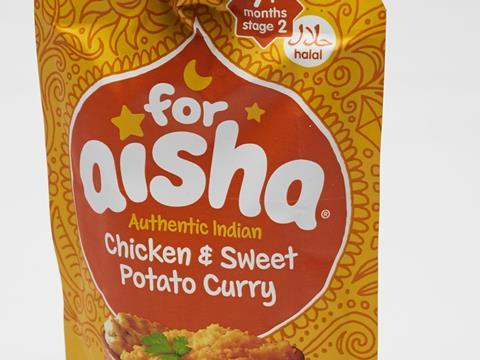 Consumers said this halal product for babies seven months and up would be "great for introducing spicy foods" (rsp: £1.45/130g). Over 80% thought the product offered something new and different to the market, while the judges were particularly impressed with the "beautifully packed" design.
Highly Commended
Kiddyum Fish & Veg Pie
Finalists
Babease Organic Stage 1 Sweet Potato & Pear with Coconut Water, Brown Rice & Quinoa
Kiddylicious Crunchy Pea & Sweetcorn
Household Products
Bloo Foam Aroma Ocean Mist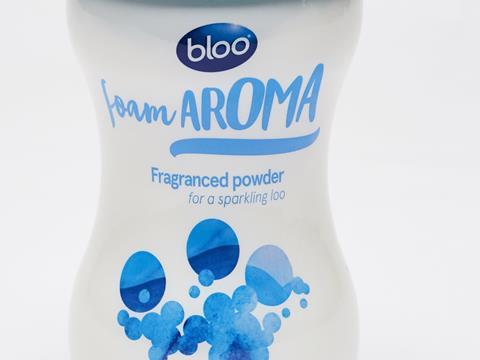 This toilet cleaner was considered an innovative entry with a competitive price at £3.49 per 500g. The foaming feature scored well with consumers, who felt they could see the product working and liked the "lasting" smell it omitted. Some consumers said it was an "exciting way to clean the loo", with one in three testers calling it a "must buy" product.
Highly Commended
Surf Sensations Golden Blossom Liquid (23 washes) laundry detergent
Finalists
Comfort Intense Fuchsia Passion (38 washes)
Trolley Bags Original Vibe
Functional Drinks
Sunsoul 100% Natural Energy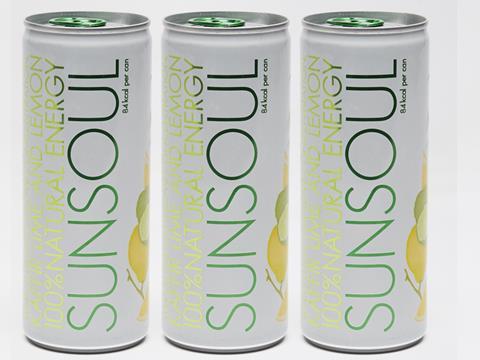 Over one third of consumers said they would recommend this low calorie energy drink (rsp: £1.29/250ml), with its "natural" ingredients appealing to the older consumer testers especially. Triallists thought it would make an ideal mixer or a quick energy boost. The expert judges said Sunsoul was "not at all like an energy drink" but instead "very clean" and "uplifting".
Highly Commended
Scheckter's Organic Energy Green Tea & Ginger
Finalists
Monster Energy Ultra
Savse Protein Punch
Frozen Meals/Centres
Goodlife Foods Leek & Caerphilly Glamorgan Sausage with Wholegrain Mustard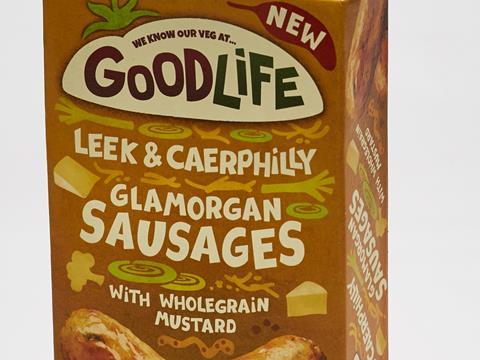 This vegetarian sausage exceeded the expectations of our consumer testers, with some commenting on the "good colour and flavour" while the judges said it had "strong flexitarian appeal" (rsp: £2.49/250g).
Highly Commended
Slimming World Chicken Saag
Finalists
Gourmosa Chicken Tikka Samosas with Spinach and Quinoa
Goodlife Foods Mushroom & Spinach Kiev with a Creamy Garlic & Cheese Sauce
Slimming World Chicken & Chorizo-Style Sausage Paella
Frozen Desserts
Magnum Pink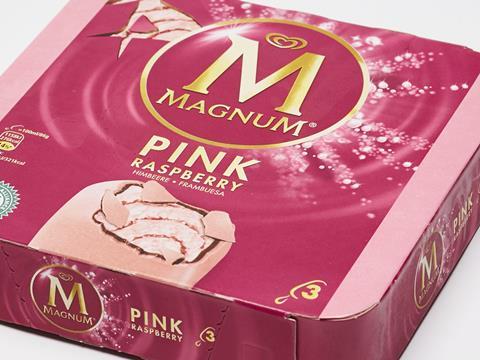 The bright pink colour of the pack was expected to stand out on shelf, with almost three out of four consumers keen to buy it despite reservations over the price (rsp: £3.35/110ml). Over 70% of consumers thought these handheld ice creams would be a good weekend treat. The judges agreed, believing the colour was a "great presentation of chocolate" alongside the "fresh raspberry flavour".
Highly Commended
Simply Ice Cream Peanut Brittle Ice Cream (in partnership with Fudge Kitchen)
Finalists
Goodfella's Sweet Fella's Chocolate Brownie Pizza
Teas & Infusions
Tetley Super Fruits Boost Blueberry and Raspberry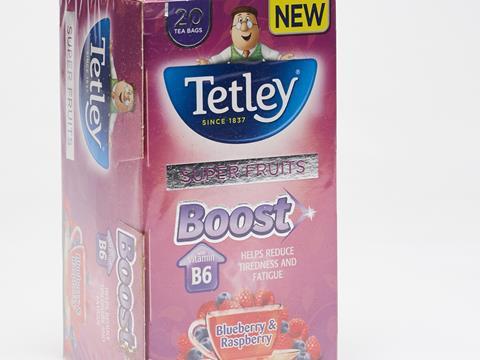 The trusted Tetley brand attracted a high level of pre-trial interest in this product, and overall the delivery of the infusion was well received. There was some regional difference in opinion, with the North more positive about the flavour compared with the South. Consumers called it "refreshing" with a "nice mix of flavours" (rsp: £1.59/40gml). The judges appreciated its "subtle fruit flavours" and thought it presented "a change from added vitamins".
Finalists
Dualit Fine Tea Green Tea Capsules
Dualit Fine Tea Peppermint Infusion Capsules
Sweet Snacks
The Snack Organisation Presents…Freeze Dried Strawberries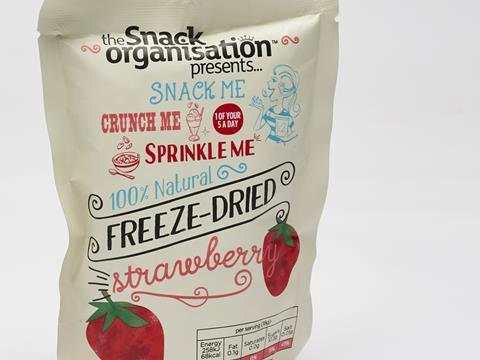 "The perfect healthy snack" said our expert judging panel, who thought this was excellent and appreciated that nothing was added to the strawberries. The "intense" but natural flavour went down well with consumers, with one in four saying they would be weekly buyers of this snack. Two thirds of consumers would recommend the snack, with the attractive, "quirky" packaging and competitive price at £1 for 18g boosting opinions from pre-trial.
Highly Commended
Kind Maple Glazed Pecan & Sea Salt
Finalists
Bear Claws Strawberry & Butternut
Sugar Confectionery
Tic Tac Mixers Cherry Cola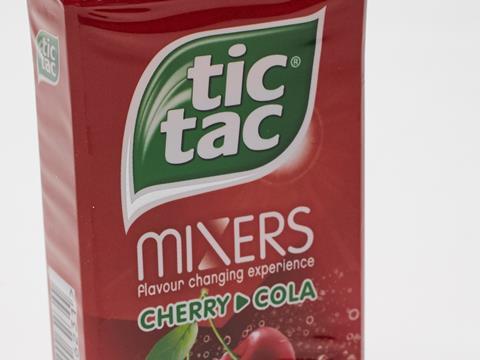 Consumers said this product was "unique" and "bursting with cherry flavour" with a "kick of cola (rsp: 58p/18g). Over 40% of triallists said this product could become a weekly or fortnightly treat, while one third said they were "definite" buyers, with the price encouraging purchase intention. Our expert judges said Tic Tac remained a "reliable brand", and admitted to being "pleasantly surprised" by this offering thanks to the flavour of the cherry cola product.
Highly Commended
Chupa Chups Candy Mini Pizza
Finalists
Skittles Bottle
Smint Strawberry Mix
Soups
Yorkshire Provender Thai Green Chicken Noodle Soup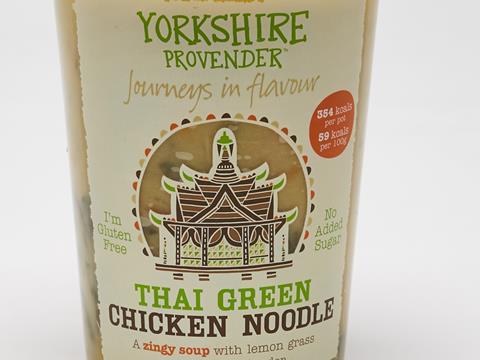 More adventurous soup buyers in the consumer panel appreciated this product, particularly the younger consumers looking for a midweek meal solution (rsp: £2.49/600g). The judges said both the taste and smell of the product delivered.
Highly Commended
Yorkshire Provender Indian Spiced Vegetable Soup
Finalists
Baking Buddy 100% Natural Pumpkin
New Covent Garden Soup Co Skinny Thai Sweetcorn Chowder
New Covent Garden Soup Co Taste of Health Chicken & Leek with Pinhead Oats
Savoury Snacks
Manomasa Tomatillo Salsa Tortilla Chips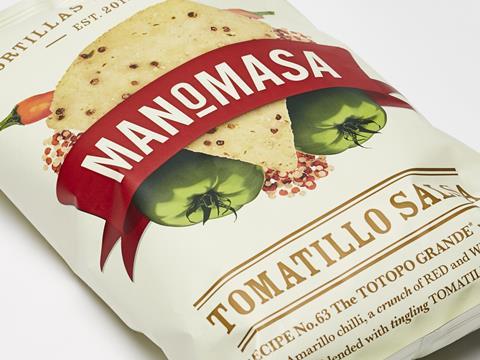 Made with whole white corn flour, and thus gluten free, coeliac testers said this product was "an all-round winner" with mainstream potential, while the judges called it "authentic" (rsp: £2/160g).
Highly Commended
Jacob's Cracker Crisps Sweet Chilli
Finalists
The Snack Organisation Presents… Sweet Chilli Rice Crackers
Kettle Bites Maple Barbecue Wholegrain Waves
Ritz Crisp & Thin Cream Cheese & Onion
Yushoi Snapea Rice Sticks Sweet Chilli & Lemon
Potato Crisps
Walkers Tear 'n' Share - Cheese & Onion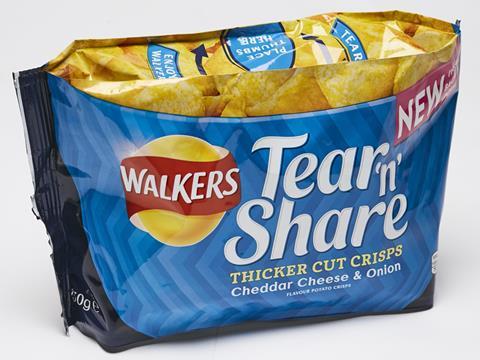 The strong brand and different packaging concept meant there was good interest in this product. Consumers and judges both agreed the crunch was "fantastic" and the flavour "strong" (rsp: £1.99/150g). Many triallists appreciated the "hand-baked" appearance of the crisps, considering it better than other Walkers products.
Highly Commended
Ten Acre Pastrami in the Rye Hand Cooked Crisps
Finalists
Cookes Chip Strips Sea Salt & Vinegar
Scott Farms Orange, Purple and White Sweet Potato Chips
Popcorn
Ten Acre Lucia Popperley's Cappuccino Popcorn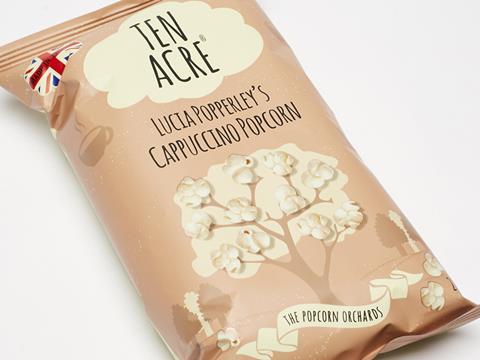 This popcorn lived up to its name with a mild, creamy coffee flavour, according to the consumer judges. Words like "delicate", "fresh" and "original" were used, while the expert judges were impressed with the balanced sweetness of the popcorn. Despite some caution from consumers at the start, half of all those tested would buy the product for a weekend treat, while nine out of 10 described the snack as "new and different" (rsp: 69p/28g).
Highly Commended
Propercorn Smooth Peanut & Almond
Finalists
Lord Poppington's Chilli & Lime Popcorn
Petfood/Treats
Pooch & Mutt: Daily Dental, Grain-Free Dog Treats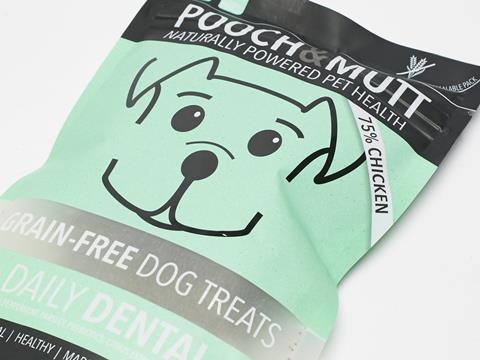 The experts said this doggie treat offered a "good health message on pack", reflecting its dental hygiene credentials on the "appealing" packaging. Consumers loved them. Or at least their dogs did: they were "very excited" and "loved them" according to triallists, with seven out of 10 rating their pet's enjoyment as "excellent". Over 60% said they would definitely or probably buy the product, which had an "eyecatching design" and a "reasonable price for a dental product" at £1.99 for 80g.
Finalists
Harringtons Mixed Selection Box - Dog Food
Personal Care
Beverly Hills Formula Perfect White Black Mouthwash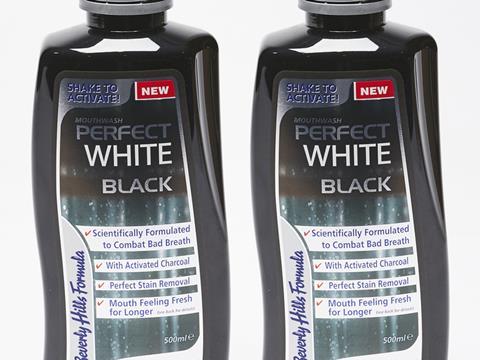 "Charcoal is the new buzz in teeth cleaning" according to some consumers, who thought this mouthwash offered something new to the category as well as its "refreshing taste". Our expert judges agreed, saying this unusual line would get people "ready for the hot date" (rsp: £4.49/500ml).
Highly Commended
Aquafresh Intense Clean
Finalists
Dove Men + Care Cool Fresh Shower Gel
Simple Kind To Skin Micellar Cleansing Water
Sure Woman Antibacterial Odour Protection Compressed APA
Meat
Moy Park Good Kitchen Roast in the Bag: Extra Tasty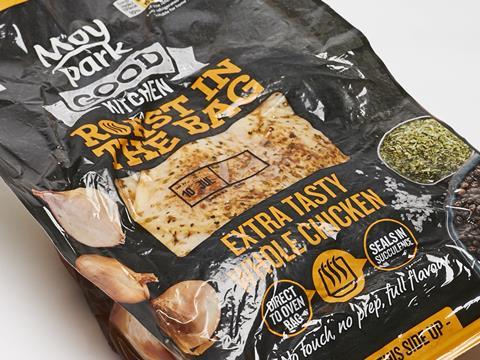 Consumers thought this chicken lived up to its "extra tasty" name, with two in three voting it "better than" other brands. Most liked the convenience and safety aspects, and its £5 price for 1.48kg of chicken was considered good value. Only 2% said it wasn't for them. The judges called this "an attractive solution to a consumer concern".
Highly Commended
Danepak Rapid Rashers Smoked Bacon
Finalists
Fire & Smoke
Debbie & Andrew's Harrogate 97% Pork Sausages
Mattessons Savagers Chorizo
Are you interested in entering next year?
If you would like to enter The Grocer New Product Awards in 2017 you can start by registering your interest at thegrocernewproductawards.co.uk. You'll then be kept up to date with all the latest information so you won't miss a thing.
In terms of criteria for the awards, The Grocer is looking for new products that are either new to the UK market, reformulated, repositioned, targeted to new markets or significantly repackaged. Additions, variants or extensions to existing product lines are also included.
"Winning a top award at The Grocer Branded Excellence Awards was a fantastic recognition to the authenticity of our Melton Mowbray Pork Pies," says Dickinson & Morris, a winner in 2015. "Rewarding the taste and quality of our products has reinforced our brand's premium credentials with our retailers and has given us more opportunities for improving our listings."
And Clare Logan, Unilever's brand manager for Persil (another winner in 2015), says: "It is fantastic to have the product's superior formulation and innovative pack design recognised by consumers in this way - without their loyalty and support, winning prestigious awards like this wouldn't be possible!"
Judging takes place in two parts. First consumer panel testing is conducted by Cambridge Market Research, an independent market research agency with more than 25 years experience in food and drink testing. All entrants receive a copy of the FoodFax consumer report they compile for each product.
Entries who go through to the next stage are evaluated by an expert panel of judges. Winners, Highly Commended and Finalists all receive New Product Awards logos to use on products, in ads, on social media, at events etc. etc. Examples of how the logo has been used by winners in 2015 are available on thegrocernewproductawards.co.uk.