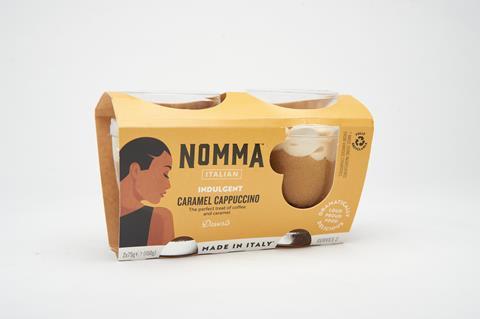 Winner: Nomma Italian Indulgent Caramel Cappuccino
Judges loved the uniqueness of this Italian dessert, which is served up in sleek glass espresso cups. A layered dessert made with caramel sauce, biscuit crumble, caramel and coffee mousse, topped with yet more caramel sauce, the product is both decadent and delicious, with the added flair of drawing on authentic Italian cuisine. Simple and elegant packaging creates a bold look on shelf too. Launched into Tesco from May 2021, the dessert is designed to 'capture all the flavour, passion and drama' of Italy, while adding a unique format to entice shoppers in the chilled dessert aisle.
Our judges thought this product was really innovative and it was made all the more appealing as the desserts come packaged in little coffee cups. More importantly, judges were really impressed with the product itself which encompassed a lovely mix of textures and caramel and coffee flavours.
Finalists:
Alpro Double Chocolate Mousse with Almond
Charlie Bigham's Lemon Drizzle Pudding
Gü Inspirations 2 Chocolate & Honeycomb Desserts
Gü Inspirations 2 Cookies & Cream Desserts
Gü Mousses 2 Milk Chocolate with Caramelised Biscuit
unearthed 6 Pastel de Nata
With thanks to our sponsors