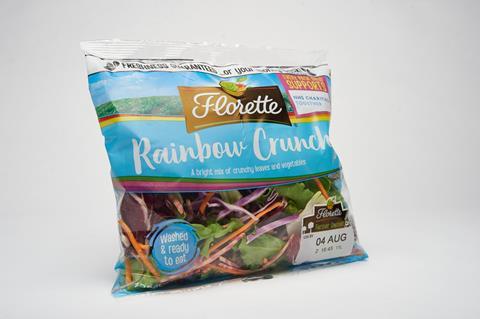 Winner: Florette Rainbow Crunchy
It isn't always easy to bring standout value to the salad fixture. But with its colourful assortment of mild leaves with eye-catching veg, including carrot, pink cabbage and candy-striped beetroot Florette has managed its with its Rainbow Crunchy packs, launched in April. What's more it's added inspiration to the category, working with its team of in-house chefs to create recipes that pair perfectly with the salad and which feature at the heart of its £1m marketing campaign. Going one step further still, it has also shown itself a brand with its finger on the pulse of what consumers care about, pledging a 2p donation to NHS Charities Together for every pack sold.
This product won because our judges said it delivered exactly what they hoped it would. We loved the mix of colours and the sweet beetroot pieces balanced out the bitterness of the leaves. The packs also provide good value for money with a generous amount of salad in the bag. We also liked the fact that sales of the product supported the NHS Charities Together and the freshness or your money back guarantee.
Finalists:
Driscoll's® Victoria ™ Sweet Blackberries
Holy Moly Tomato & Mango Salsa
With thanks to our sponsors