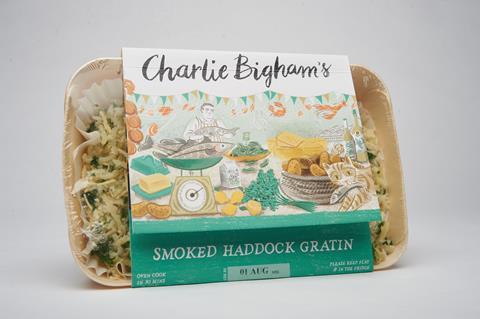 Winner: Charlie Bigham's Smoked Haddock Gratin
This smoked haddock gratin is emblematic of why Charlie Bigham's walked away as Food Brand of the Year at this year's Grocer Gold awards, having successfully grown sales by 27.5% in 2020 despite the huge surge in home-cooking in the UK. Its ultra-premium range of pre-prepared meals plugged a gap left by the closure of the hospitality industry by using a mix of high-end ingredients and restaurant-style recipes, with this NPD no exception. Added to the range in April 2021 its smoked haddock is cooked in a crème fraiche and white wine sauce with spinach and topped with a potato rosti and mature cheddar crumb. With absolutely delicious results.
Despite fierce competition in this category judges voted for this product as the winner due to its impressive flavour pay-off. They agreed that it tasted like a high-quality restaurant dish, rather than an oven meal and particularly loved the smoky flavour of the haddock and the crunchy cheddar crumb topping. Although it had a premium price tag, judges felt it was worth it for the quality of the product.
Highly commended: Pukka Chicken & Bacon Pie
Finalists:
Charlie Bigham's Butter Chicken Curry & Pilau Rice
Charlie Bigham's Chicken & Ham Gratin
Charlie Bigham's Smoked Haddock Gratin
Charlie Bigham's Stir-Fry Chicken Pad Thai
Charlie Bigham's Vegetarian Cottage Pie with Sweet Potato Mash
Nomma Italian Passionately Plant-Based Pumpkin & Sage Creamy Ravioli
Pukka Just For Two Steak & Red Wine Pie
With thanks to our sponsors