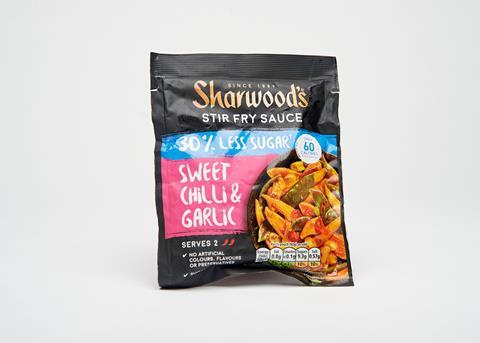 Winner: Sharwood's Stir Fry Sauce 30% Less Sugar - Sweet Chilli & Garlic
Sugar isn't only a problem across confectionery and soft drinks. And in recent years there's been steadily rising consumer awareness of – and rebellion against – its presence in plenty of savoury categories too, with pre-prepared sauces a big area of contention. That's what makes this launch by manufacturer Premier Foods in September 2020 such a topical entrant into the market, creating reduced sugar versions of some of its most popular stir fry sauces under the Sharwood's brand, including this sweet chilli and garlic flavour which has 30% less sugar than the category average. It's a really meaningful reduction, one that will appeal to the sharply growing number of health-conscious home cooks.
Sharwoods Sweet Chilli and Garlic sauce proves that a product that is traditionally rich in sugar can still be as tasty and flavoursome when levels are reduced. Our judges said, "Reducing the sugar in this sauce allowed the other flavours to come through, and it remains a well-balanced sauce that packed a chilli kick." A great instant sauce reasonably priced.
Highly commended: Hullabaloo - Caramelly
Finalists:
Minor Figures Semi Oat M*lk
With thanks to our sponsors