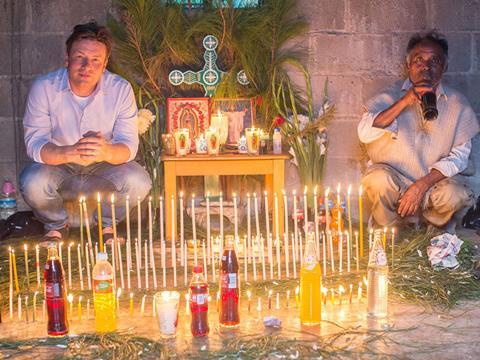 You can see the full list of food & drink's most influential people by clicking here.
TV chef and campaigner Jamie Oliver has topped The Grocer's list of the most influential figures in food and drink, closely followed by the relatively unknown Instagram favourite and fitness fanatic Joe Wicks.
Bloggers, supermarket CEO's and social media gurus all feature in the ranking after being scored against "four key areas of real-world power, online activity, presence in newspapers and TV and their brand's reputation," said Chris Moon, head of insight and analytics at advertising agency Telegraph Hill, which crunched the numbers.
By scrutinising everything from Twitter followers to Google searches and social media mentions, we scored each contender on brand strength, online and offline, before compiling them to give them an overall influence ranking.
Using this method Oliver took top spot, closely followed by Wicks, who now has nearly one million Instagram fans, and has sold almost 400,000 copies of his debut cookbook Lean in 15. It's currently number one on the Amazon bestseller list.
"Joe Wicks, aka the Body Coach, may be a surprising entry to some but his inclusion shows the immense impact of social media," added Moon.
"With over 1.7 million social media followers, two books and soon a Channel 4 TV show Joe Wicks is now a media force to be reckoned with. He's probably the UKs first Instagram diet guru, but he won't be the last. Social media is the perfect place for a food guru to find their audience, grow it and then move to more traditional channels".
The Grocer's list also features another six influencers that built their reputation on social media, including Ella Woodward and Madeleine Shaw.
"I can't believe that I've come in at number two," Wicks told The Grocer. "All I ever set out to do was to help change people's bodies and get them lean and happy. Eighteen months ago I was just a guy on social media shouting about midget trees and coconut oil in my kitchen, with hardly anybody paying attention to me. Fast forward and I'm on a list with my absolute idol Jamie Oliver. Social media has been so key in my success, I call my followers my 'leanies' and without them there's no doubt I wouldn't have landed my book deal and all the success that has followed."
Also speaking to The Grocer, Jamie Oliver said it was a "fantastic honour to be the most influential person in the food industry. This is thanks to the tireless work of my team and all the amazing friends we've made over the last few years on the campaigning trail - you know who you are.
"But influence can only take you so far and I truly believe we'll see a big change in attitudes to unhealthy food and drink as our industry pulls together to help rather than hinder - some manufacturers have already started.
"Everyone knows we need a global food revolution to tackle the problems of obesity and diet-related disease. And I'd like to think the tide is finally turning."
Methodology
The analysis was carried out by audience-first advertising agency Telegraph Hill using its TrueScore tool, which determines influence based on online activity, presence in traditional media such as newspapers and TV, reputation and brand strength.
Telegraph Hill looked at 100 of the most notable people in the food and nutrition sector and found the top 20 influencers were a blend of celebrity chefs, lifestyle experts and the CEOs of the big supermarkets.
The research included more than 2,000 individual measurements split into three equally-weighted categories:
1. Online, which looked at presence, frequency and quality of content, number of followers and objectives of their social media channels.
2. Offline, which examined their ability to affect the laws, price or availability of food, appearance in offline channels such as books and TV and the objectives of those media.
3. Brand Strength, which looked at the number of social mentions of themselves and/or their brand, amount of mentions online returned in the last year, increase or decrease in mentions in the last year, are they known as a spokesperson for an area of the industry or creators of original material such as diets.
Tweet us @TheGrocer using the hashtag #TheInfluencers to let us know who you think are the most influential figures in food and drink.